Summary
Bought a new OnePlus smartphone you like best? You probably feel excited and want to use it immediately. However, there is no data you need on the new phone, such as contacts, photos, documents, and more. Thus, the first thing to do is data migration. Wonder how to transfer data from an iPhone to OnePlus without effort?
Please don't worry about that because you are here. This article has provided 4 ways on iOS to OnePlus data transfer below. You can transfer files with useful guides below.
Part 1: How to Transfer Data from iPhone to OnePlus with iOS to OnePlus Transfer (Fast)
This iOS to OnePlus transfer software - Samsung Data Transfer, is a hassle-free program to move multiple data types. You can transfer contacts, text messages, videos, photos, and more from your old iPhone to your new OnePlus phone at once. What's more, you will get the data on your OnePlus device with original quality.
This iPhone to OnePlus data transfer software can also help you:
- Copy music, documents, and so on from iPhones to OnePlus.
- Move data from iOS to Android seamlessly.
- Transfer photos, apps, contacts, call logs, SMS, and other media files from Android to Android.
- Fast transmit notes, calendars, books, bookmarks, and contacts from one iPhone to another.
- Clear data on the OnePlus phone before copying.
- Scan and display different data types on the panel.
Additionally, this program supports almost all iOS and Android phones/tablets, including iPhone 12 Pro/12/11/X/XS/8/7, OnePlus 9 Pro/9/Nord N10 5G/Nord 100/Nord/8 Pro/7 Pro/7/6, Samsung Galaxy Tab A7/Tab S7/Tab A 8.4, Sony Xperia 1 III/Xperia 5 III/Xperia Pro/Xperia 5 II, LG, ZTE, OPPO, Vivo, iPad, iPod, etc.
Download the mobile data transfer software for free below.
Guide on switching data from an iPhone to OnePlus 6 in 1 click:
Step 1. Set Up a Connection
Once you download and install the software on your computer, you can use a data cable to connect your smartphones to your computer.
Step 2. Select Data by Category
After connected, please ensure your OnePlus cellphone is the Destination device on the right side, and pick the file types you want to transfer on the panel.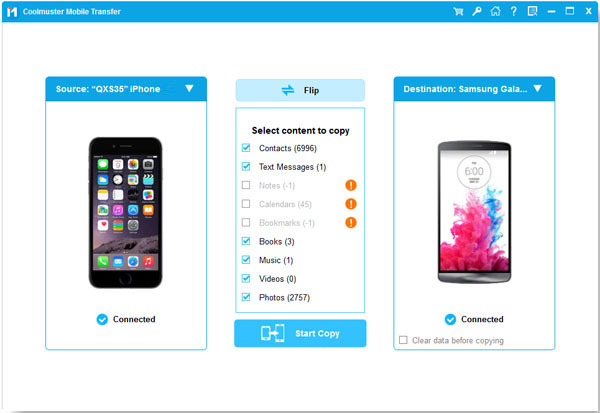 Step 3. Transfer Data from the iPhone to OnePlus
Once selected, you can tap the "Start Copy" icon to begin moving data. Then the software will display the transfer progress bar on the interface. As it shows 100 percent, the data migration is finished.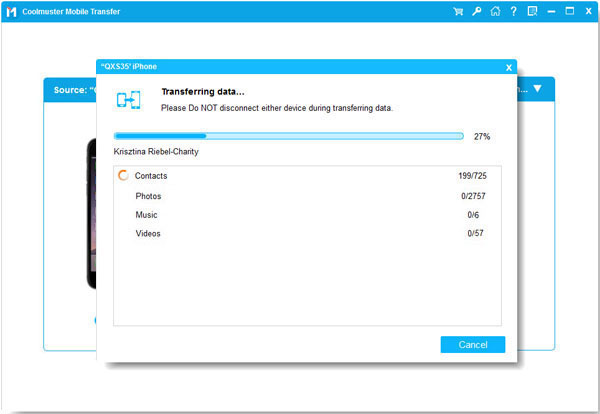 Bonus:
Plan to transfer files from OnePlus to a computer? You can utilize these 4 efficient methods here.
Why are my OneDrive files not syncing on my Windows PC? Open this link, and follow the way to repair OneDrive.
Part 2: How to Transfer Data from iPhone to OnePlus via OnePlus Switch
OnePlus Switch is an app to move your old phone data to a OnePlus phone without a wire. It supports sending call history, calendars, audio files, and the like. Also, it can back up the data on your OnePlus phone as a compressed archive. If needed, you can restore data from backups at any time.
Here's how to transfer data from an iPhone to OnePlus 6 via OnePlus Switch:
Step 1. Open the App
- You can go to Settings > "Advanced" option, and open the app on the OnePlus phone. Then download and install the OnePlus Switch iOS version on your iPhone.
- By the way, please go to Settings > "Device Management" > "Gemstones and Diamonds Exchange sro" option, and trust the app.
Step 2. Connect iPhone to OnePlus
- Open the app on both phones, and allow it to access your devices. Next, tap the "I'm a new phone" option on OnePlus, and select the "iPhone" > "CONTINUE" icon. Then you will get a hotspot name and password on the screen.
- Please click the "I'm an old phone" option on iOS, and hit the "Connect" icon. Next, please let your iPhone connect to the hotspot.
Step 3. Start Data Migration from iOS to OnePlus
Once connected, you can select the desired data types on the iOS device, and hit the "Start switching" button to begin the procedure.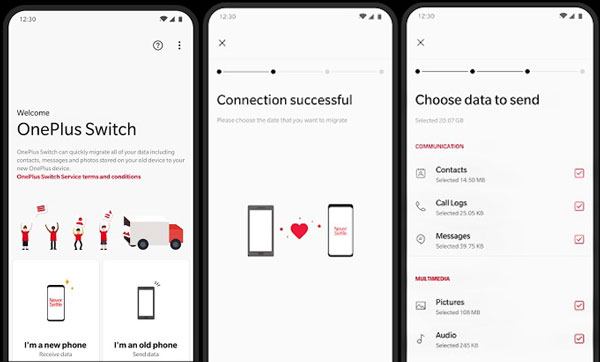 Tips: Does OnePlus Switch work with iPhone? Yes, as long as you download the OnePlus Switch for iPhone, you can send the iPhone files to your OnePlus device. What if you encounter the OnePlus Switch not working? Don't worry. You can get practical tips in this post to fix it.
Part 3: How to Switch iPhone Data to OnePlus with AirMore
As we know, AirMore is a cross-platform app to transfer multimedia data. People often use it to connect a mobile phone and a computer wirelessly. In fact, it is also helpful to transfer data from an iPhone to OnePlus 7T. It can easily send your pictures, songs, movies, documents, and more from an iOS device to OnePlus.
Steps on how to transfer data from an iPhone to OnePlus 7 Pro using AirMore:
Step 1. Download AirMore on Both Devices
Please visit the AirMore website, and download different installation packages to your mobile devices.
Step 2. Link the iPhone to OnePlus
Click the "More" > "Phone Transfer" option on them. Then they will begin looking for available devices. As your device appears on the screen, please tap on it for connection.
Step 3. Select and Transfer Files to OnePlus 7
You can now tick the files you want on the iPhone, and click the "Send" icon to copy the selected files to your OnePlus smartphone.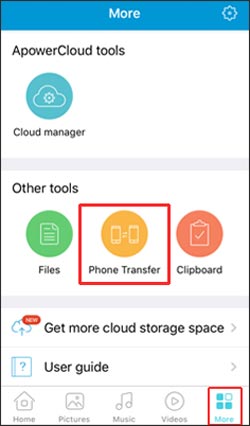 Further reading: With it, you can swiftly transfer OnePlus files to Samsung with ease. Let's take a look.
Part 4: How to Transfer Files from iPhone to OnePlus Using Google Account
Using your Google account can back up your contacts, calendars, emails, and notes from your iPhone. Besides, if you want to sync your iPhone photos, videos, and more to the OnePlus phone, you can use Google Drive. Anyway, you can synchronize data between both cellphones via mobile data or Wi-Fi.
Here's how to transfer files from an iPhone to OnePlus 6T via a Google account:
Step 1. Back Up iPhone Data to Your Google Account
Please launch the Settings app, and click the "Passwords & Accounts" > "Add account" > "Google" > "Continue" icon. Then you can type your Google account on the screen, and enable the synchronization icon next to data types.
Step 2. Restore iPhone data to OnePlus
- Open the Settings app on your OnePlus phone, and choose the "Accounts" > "Add account" > "Google" option to enter the same account here.
- Next, tap it and click the "Menu" > "Sync now" button. It will synchronize your iOS files to your OnePlus phone.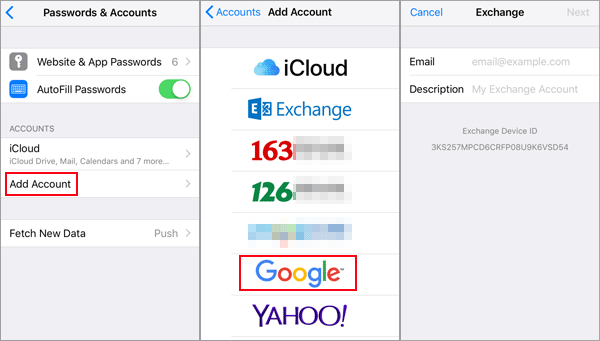 Check if you need: Intend to switch OnePlus to an iPhone? Perhaps you will need to transmit files to your new iPhone, so please don't miss this link.
Conclusion
Undoubtedly, you can use these 4 ways mentioned above to switch your iPhone to your OnePlus phone without trouble. Moreover, the iPhone to OnePlus transfer tool - Samsung Data Transfer, is an all-in-one program, so that you can transfer groups of iOS files to your new OnePlus device. Welcome to have a try.
Related Articles
OnePlus Backup to PC: Back Up OnePlus Data with 4 Ultra Methods
Transfer Photos from iPhone to Android Effectively [Full Guide]
Transfer Music from iPhone to Samsung | Freely Select 5 Smart Methods
4 Ways to Transfer WhatsApp from Android to iPhone without Hassle
How to Transfer Notes from iPhone to iPhone without Effort? Check It Out
[Ultra Guide] 8 Excellent Options of Android Data Eraser Software