Summary
Having a ringtone of a hit song on your Android is one of the coolest things ever! Most of us are still using songs as ringtones on our smartphones. This means, ringtones not only inform us of incoming calls or messages but are also part of our music collection. If you always set up alarms, ringtones are probably what you hear first thing in the morning. Thus, understanding how to transfer ringtones from Android to Android is paramount.
The feeling of assigning various ringtones to different phone contacts is quite amazing. If you have many ringtones collections, you should know how to send them to Android. Fortunately, this article shows you the practical ways to move ringtones from one Android to another.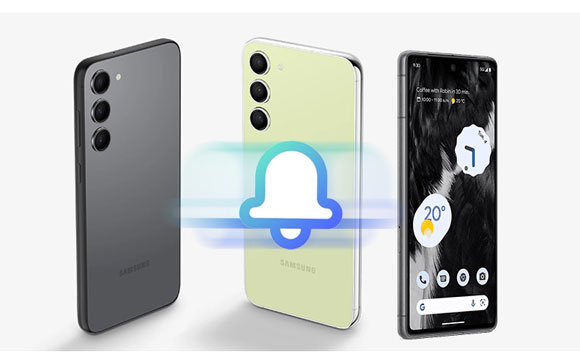 Part 1: Can I Share Ringtones Between Android Phones?
Yes. Like other phone data, you can migrate your ringtones from one Android to another. In fact, there are simple ways to do that. You can use a USB cable, Bluetooth, or share via email. Also, third-party apps can help you share your ringtones between Androids without a problem.
With the right approach, you can effortlessly move your ringtones between Androids.
Part 2: How to Transfer Ringtones to New Android Phone
Transferring ringtones to the new Android is no big deal. Here, we explore different ways to do that.
Method 1. Share Ringtone to New Phone Through Bluetooth
Bluetooth comes in handy whenever you want to move files between Android devices. Without cables and apps, it will be a straightforward process to transfer ringtones to another phone.
But, it is worth stating that the transfer speed is quite sluggish. In addition, the devices should be closer to each other for the transfer to occur. To know how to send ringtones via Bluetooth, these are the steps:
Step 1: Activate Bluetooth on your devices from the notification panel. Now click on the "Bluetooth" option to turn it on.
Step 2: Pair the devices and click on "File Manager" to go to all files. Now head to the folder containing your ringtones.
Step 3: Choose the ringtones to be shared from the share list. Choose "Bluetooth", and when your other Android's name shows, choose it to start sending the files.
Step 4: On receiving device, click on "Accept" and then wait. After the process finishes, the ringtone files will be stored in a default folder on your new Android phone.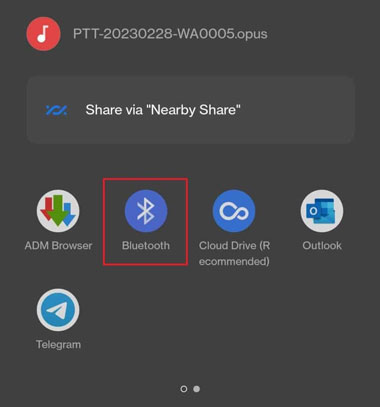 See more: Easily Transfer Ringtones from iPhone to iPhone | 5 Excellent Tricks
Method 2. Transfer Ringtones to New Android Phone via PC
Also, you can use a computer to share ringtones from one Android to another. Here, you have to transfer ringtones to the computer first, then send them to the other Android. After that, you can set your ringtone on the other device.
Step 1: Plug in the old Android to a computer with a USB and choose "MTP File Transfer". Wait for the PC to recognize it. You will see the device's name on the left panel of the Windows File Explorer.
Step 2: Click on it to open. It is on the left panel under "This PC" on Windows computers. Click on the "Ringtones" folder and choose the ringtones you want to transfer to the PC.
Step 3: Eject the device from the computer, then connect your other Android. Wait for the computer to detect it. Make sure you've chosen "MTP" to be able to transfer files.
Step 4: Lastly, paste the ringtones you've saved on the PC on your new phone.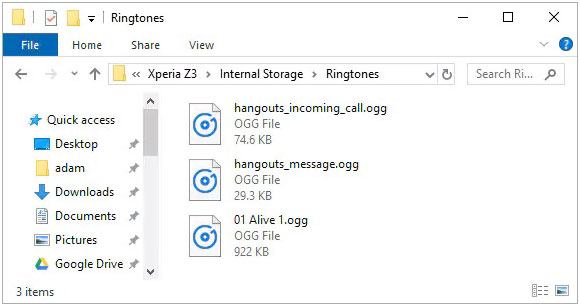 Read also: Copying music between Android devices is efficient now. Open this guide to get the approaches.
Method 3. Send Ringtones Android Through Email
Another way to share ringtones between Android phones is by using an email. It is a better way to migrate Android files online without any issues. However, this approach has its downsides. The size of files you can send at a time is 25MB, and you need an internet connection for the process to work. The best thing is that your devices need not be closer.
Step 1: Head to the ringtones folder on Android through the "File Manager". Select the ringtone to share, then open the file-sharing menu.
Step 2: Choose the Gmail option from sharing menu. You will get a new mail template with the ringtones added as an attachment.
Step 3: Input the recipient's address, then send a file. On another Android, open the email you have received, then download your ringtones.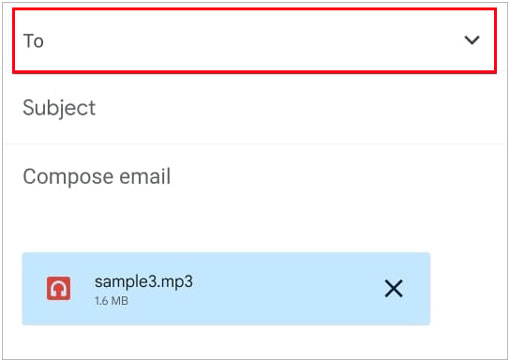 Method 4. Migrate Ringtones from One to Another Android with File-Sharing App
You can also share your ringtone with another phone with a file-sharing application. Apps like SHAREit, Xender, etc. can be helpful when looking for a way to move the ringtones to a new phone. So, how do I send ringtones from one Android to another using this SHAREit? Here are the steps:
Step 1: Install the file-sharing app on both devices from Play Store and open it. Ensure Bluetooth is enabled on the devices as well.
Step 2: On the source device, click "Send", then choose the ringtone files to transfer and click "Send".
Step 3: Click on the button for the device you are sending files to. On the receiving phone, tap "Receive", all your files will be sent conveniently.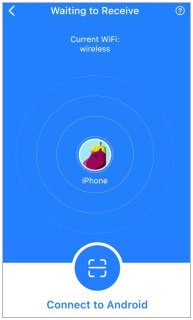 Bonus: How to Copy Files from Android to Android in 1 Click
Transferring ringtones when switching to a new Android is crucial. Similarly, moving other files like apps, contacts, photos, videos, and SMS is also a must-do task because you also need them on your other phone.
Though you can transfer ringtones between Android with Bluetooth, email, or USB, they aren't the best options when you want to transfer other types of files. They come with limitations that hinder the smooth transfer. In this case, you can use Samsung Data Transfer, a comprehensive data migration program for Android and iOS devices. With it, you can copy multiple file types between your Android devices at once without any restriction.
What's more, it supports a wide range of mobile devices, like Samsung, LG, OPPO, ZTE, Motorola, Sony, OnePlus, iPhone, iPad, and more. So, give it a shot.
Closing Remarks
Hopefully, you can now share your priceless ringtones to your new Android without much fuss. You can achieve that in various ways, as mentioned in this guide. You can now worry less knowing your ringtones are safely stored on another device.
Besides, a tool worth noting is Samsung Data Transfer which lets you transfer data from one Android to another in just a click. It's all in one package tool that will save you from more troubles and loss of time.
Related Articles
[Ultimate Guide] 4 Effective Methods to Permanently Delete Photos from Android Phone
How to Transfer Files from Android to PC with Original Quality
Step-by-Step: Restoring WhatsApp Backup from iCloud to Android
Print Out Text Messages for Court from Your Android Phone and iPhone
How to Add Music to Google Pixel without Effort | 4 Reliable Methods
4 Ways to Help You Deftly Transfer Music from iPod to Android