Summary
Text messages are an ever-growing source of evidence in judicial proceedings. They are an invaluable tool that is accepted by justice systems worldwide. We all know how much it frustrates to be in court, but having printed text messages could make an already painful process a little bit easier.
Legal professionals mostly request text messages that can help in solving cases, so printing them out is becoming an everyday activity. In this article, we will provide you with a step-by-step guide on how to print out text messages for court. So, continue reading.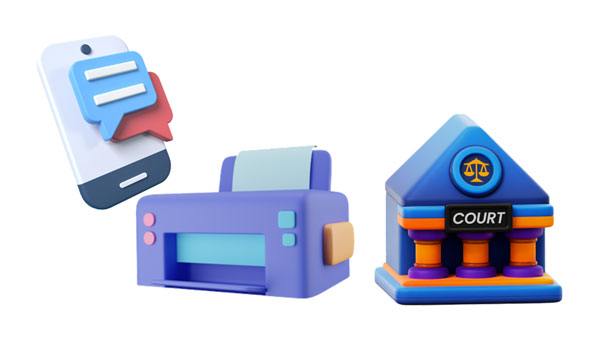 Part 1: How to Print Out Text Messages for Court from Android
Do you own an Android phone and need to print text messages for legal purposes? If so, there are several ways to get this done. Whether for a court case or simply out of necessity, texts are essential. Additionally, you can back them up before printing them out. Let's see the best ways to easily print text messages for court from Android.
Way 1. Print Text Messages for Court on Android via Samsung Messages Backup
Samsung Messages Backup is the go-to choice for managing your Android data. It allows you to quickly and easily transfer text messages from Android to a computer. Thus, you can use it to print text messages for court on Android. Besides, you can receive and reply to text messages on a computer.
If you want to back up and restore your Android SMS in 1 click, you can go to the Super Toolkit tab. The software can also transfer your contacts, photos, videos, music, apps, and more from Android to your computer. What's more, this program supports most Android OS, from Android 4.0 to upper.
Check out the features of the message manager:
- Export your Android text messages in multiple formats, such as XML, HTML, or Text format, making the latter two ideal for printing purposes.
- Manage your Android SMS on a computer via editing, deleting, adding, exporting, etc.
- Back up your SMS from an Android phone to a PC or Mac without effort.
- Support transferring Android photos, movies, apps, and more without losing data.
- Enable you to print all your Android contacts with ease.
- Wide compatibility with the most popular devices, including OnePlus, Honor, LG, HTC, Samsung, LG, Xiaomi, and the like.
Download this software to print out text messages from Android.
Follow these simple steps to see how to print out text messages for court on Android:
Step 1. Lunch the Software on Computer
First, install the Android data assistant on a PC, launch it, connect the phone via a USB cable, and enable USB debugging. Wait as the program recognizes the device and shows detailed information on the primary interface.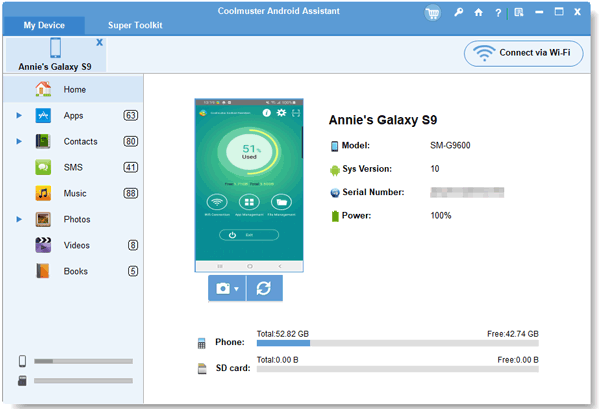 Step 2. Move the Messages from the Phone to the Computer
- Once the device is detected, all files will be displayed in the menu bar. Choose the "SMS" option from the left sidebar as you preview the text messages.
- Choose those you wish to copy and click the "Export" tab on the top menu. Choose the output format, either HTML or Text.
Step 3. Print Ourt the Android Text Messages
After saving the messages from an Android phone to a computer, you can double-click the file to open it on your computer. Then print them on paper as long as your computer is connected to a printer.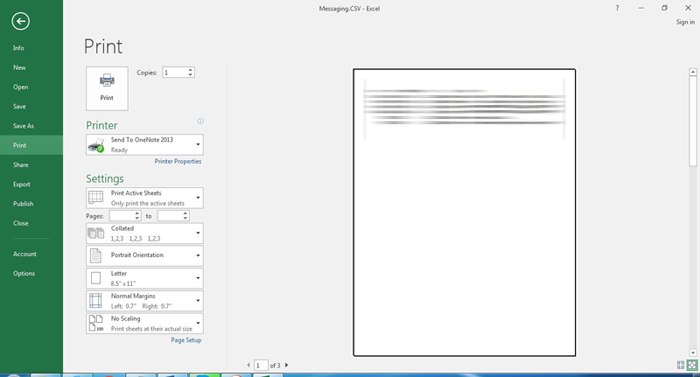 Maybe you like: Do you want to save your text messages from Android to PDF? Then you can refer to this tutorial.
Way 2. Print Text Messages for Court on Android by Taking a Screenshot
How to print text messages from Android for court use for free? It is easy; just take screenshots of the messages and print them out. However, the process might be more cumbersome and hectic to sort the pictures. Besides, you must capture all messages you want to use and use tools to print out those screenshots. Nonetheless, if you still want to go ahead with this method, here are some simple steps that can make things easier:
Step 1: Open the Messages application on an Android device and open the conversation you wish to print. Now start taking the screenshot of the conversation one at a time for printing.
Step 2: To take a screenshot of a particular conversation, swipe down on the screen from the top using your finger to open a quick settings page. Look for the "Screenshot" option and click on it.
Step 3: After capturing the screenshot, you'll see it showing on the phone's screen. Save all the captured screenshots in the Photos application in a folder. Now print the images one at a time with a printer. You can still transfer them to the computer and print them out if you like.
Way 3. Print Android Text Messages via Email
Do you know you can also use an email to print your text messages? In fact, it is a quick and easy way to create court-ready documents. You'll need to forward the text message to an email address first and print the email like any other document. This method ensures that your text messages are printed clearly, with accurate timestamps.
It also provides that your records are easily accessible and securely preserved. But ensure that your Message app offers an email feature. Here are simple steps to go about it:
Step 1: Open the Messages application on an Android device and long-press on the text message you want to print, and tap "Copy text" to copy the message.
Step 2: Now open the Mail application on the Android phone and enter the email address to send the chats. Paste the copied messages to the message field.
Step 3: After sending the email, you'll log in to the email account on the computer and check the texts you sent. Next, open the message in your email and click "Print" to print the messages from the PC.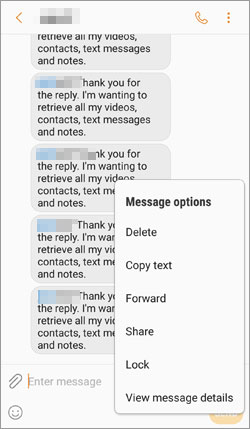 Further reading: How can you completely remove deleted SMS on Samsung? Open this guide to get an effective guide.
Way 4. Print Text Messages Using Super Backup App
There is an easy solution if you're uncertain of how to print text messages from your Android device by taking screenshots. You can use a third-party app, such as Super Backup. The app can back up and store text messages on your device or cloud storage. Plus, it allows you to export the texts as PDF files that are compatible with most printers, making it a super tool for printing purposes. Here is how to print text messages for court via the Super Backup app:
Step 1: Install the Super Backup app on an Android phone and open it.
Step 2: Click "SMS" from the screen of the app. You will see many options for managing chats on your device.
Step 3: Press the "BACKUP CONVERSATIONS" tab and choose the conversation to be printed. Then choose one or many conversations as required and hit the "View Backup" option.
Step 4: Choose the specific backup file containing the messages you wish to print. Tap on the printer icon and choose the option for cloud print to send the files to the printer.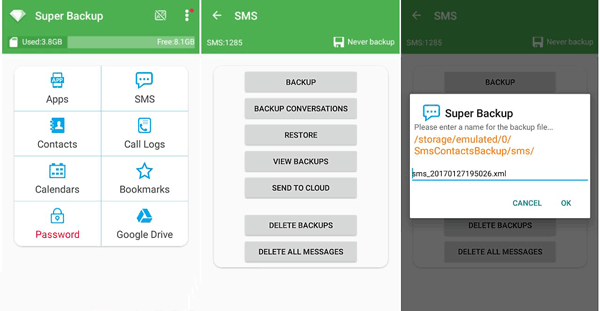 Part 2: How to Print Text Messages from iPhone for Court
Even though you do not always have to print the SMS from your iPhone, sometimes you have no choice but to do that. Read on to learn ways to print text messages from iPhone for court purposes.
Way 1: Print Text Messages from iPhone for Court via iPhone Data Manager
In fact, you can fast print your text messages from an iPhone for court so long as you transfer the SMS to a computer. If you want to print out many or all SMS, this iPhone Data Manager program can help you. Additionally, you can export your messages in HTML, TXT, and CSV formats. Whichever you choose, you can open the file and view the SMS without hassle.
Also, this iOS manager can copy your songs, movies, pictures, notes, and the like, from an iOS device to a PC. It will not damage the file quality. At the same time, it supports most generations of iPhones, iPads, and iPod touch devices.
Download the iOS data assistant.

Follow this guide to print out iMessage for court via the iOS data manager:
Step 1. Install the Data Management Software
Please install and open the software on your PC, and connect your iPhone or other iOS device to the computer with a USB cable.
Step 2. Make the Device Trust the PC
- Tap the "Trust" icon on your mobile device to build up the connection. Then you can check your phone's info on the interface.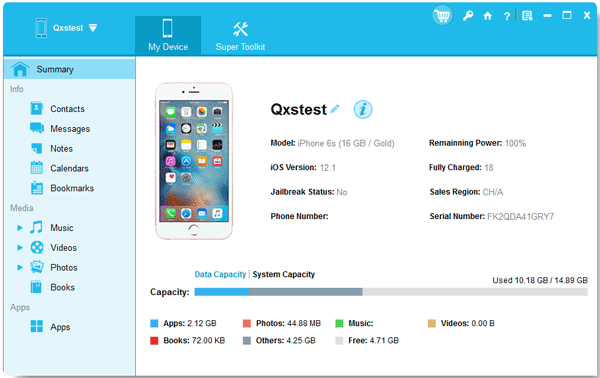 Step 3. Export the SMS from iPhone for Printing
- Choose the "Messages" option, and select your wanted SMS by checking. Then click the "Export" icon to save the messages on your PC.
- Once done, open the file, and tap the "Ctrl" and "P" keys to print out the SMS. Then you can use them for the court issue.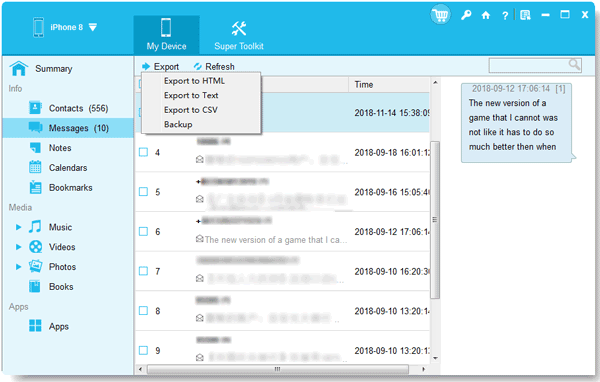 Way 2. Print Out Text Messages from iPhone via Messages & SMS Export to PDF App
If you want to effortlessly print out your long text message thread without having many screenshots, there is an app for that! There are numerous options available on the App Store, but you can use Messages & SMS Export to PDF app. It's free and has in-app purchases, too, if extra features suit you. So save yourself time scrolling through all those conversations by following the steps below:
Step 1: Install the app and launch it. Click on the PDF option since you'll be using it. Also, ensure you grant permission for the application to access the photos.
Step 2: Click on the screenshots you want to combine, change them to PDF, and choose "Select". In the preview, click "CONVERT TO PDF".
Step 3: Input the file name and hit "Create file". Now click on the "Share" icon. Next, select the "PDF (Multiple Pages)" option.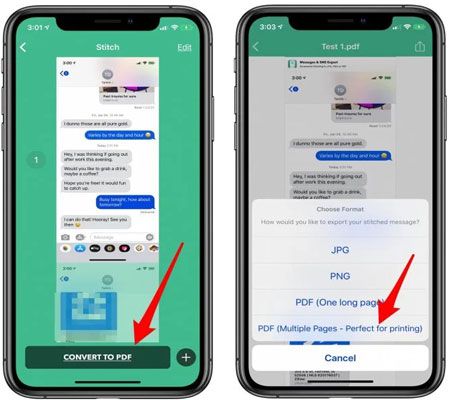 Way 3. Print Text Messages from iPhone for Court by Capturing Screenshots
With an iPhone, you can snap a screenshot of everything displayed on its screen - maps, conversations, and text messages. Once these images have been taken, printing them becomes an effortless process. Amazingly simple, isn't it? Let's look at how we could do this step-by-step:
Step 1: Open a conversation to print, and hold the "Side" + "Volume Up" buttons to capture the screenshot. Ensure you press the button at the same time.
Step 2: Now, head to the "Photos" application on an iPhone to see the captured screenshots. Choose the pictures and send them to the printer.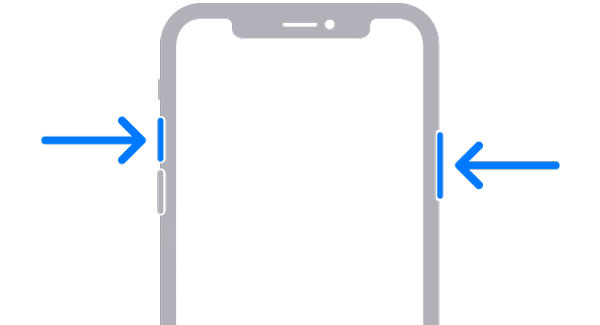 Conclusion
Now you know how to print text messages for court on an Android phone and iPhone. It's an easier process, provided you follow the steps mentioned here. If you have multiple conversations to print out, we highly recommend using the Android data assistant - Samsung Messages Backup. It allows printing out all of your Android's text messages quickly and conveniently after copying them to a computer.
But if you desire to print many messages from an iPhone, you can choose the iPhone Data Manager program. It can export your iOS messages to a computer without trouble.
Related Articles
How Do I Transfer Text Messages from My Sony Xperia to My Computer [3 Super Tips]
Back Up Text Messages Android Device with 5 Approaches [Safe]
Messages Didn't Transfer to New iPhone | Work It Out via 9 Tricks
How to Recover Snapchat Messages on Android? (3 Easy Methods)
How to Permanently Delete Deleted Text Messages on Samsung | 3 Efficient Ways Here
How to Transfer Messages from Android to Mac Easily? 4 Helpful Tips Here