Summary
Looking for how to restore WhatsApp backup from iCloud to Android? Then it means you are switching from iOS to Android. And when doing that, you don't want to leave behind your priceless WhatsApp chats and the memories you created. But, there is no official method to export WhatsApp backup directly from iCloud to Google Drive. This is because WhatsApp will only support direct transfers for account info and not the chat history while switching between different operating systems.
You are probably now wondering why moving files from iPhone to iCloud or Android to Google Drive is possible but impossible to move from iCloud to Android. It is simple; Google Drive does not recognize iCloud databases because they aren't compatible. So, if you are looking for an official way to move files between these two services, then know it is impossible. You require an alternative way to do that.
This article introduces methods on how to restore iCloud WhatsApp backup in Android. Check it out!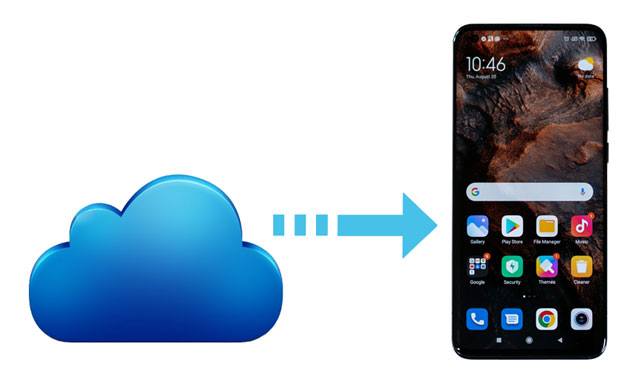 Part 1. Is It Possible to Restore WhatsApp Backup from iCloud to Android Directly?
No. You cannot recover iCloud WhatsApp directly on an Android due to incompatibility between Android OS and iCloud service. Even though iCloud enables users to keep their files in the cloud, you cannot move this backup directly to your Android phone. On the other hand, it is designed to only work with Apple devices and also sync files on various platforms.
Bonus:
How to Recover WhatsApp Photos in Android with 4 Methods (Ultra Guide)
Where Are WhatsApp Messages Stored on Different Devices? [Latest Guide]
Part 2. What Should You Do Before iCloud WhatsApp Backup to Android Restore?
How do I restore WhatsApp backup from iCloud to Android? As said, you cannot directly recover iCloud WhatsApp to Android. In that case, you must know the basic things to do first before you can restore the files in alternative ways.
1. Turn on iCloud Drive: Before restoring WhatsApp files, you must activate iCloud Drive. To do that, head to Settings, then click on your profile. You will see a menu after you tap on your profile. Find the iCloud Drive option and turn it on.
2. Backup your files to iCloud: Make sure WhatsApp files are backed up to iCloud. This will make it easier to restore them to your Android. You should do that by opening WhatsApp app and clicking on "Settings" to get to all settings. Choose the "Chats" option and find "Chat Backup". Choose either an automatic or manual backup option to save your chats. Ensure you keep the backup enabled so the chats will always be saved automatically.
Auto backup has time intervals where your files are saved at a particular time. It is better if you activate this option. Alternatively, you can choose "Backup Now" to save the chats manually.
3. Restore your backup to Android: If your backup is successfully made, you have to reinstall WhatsApp, and after that, you will be notified of the backup you can restore. You may now be able to restore the files to your iPhone and copy it to Android.
Read Also:
How to Recover Deleted PDF Files from WhatsApp on Android and iOS Devices
How to Print WhatsApp Messages Easily on Android and iOS Devices
Part 3. How to Get WhatsApp backup from iCloud to Android via Email
When moving WhatsApp chats from an iPhone to Android, you can't copy everything. As for your chats, it is impossible to synchronize them in the WhatsApp app while migrating them from an iPhone to Android. Additionally, you'll get different items for every contact. So, how to transfer WhatsApp backup from iCloud to Android? Here's how to transfer WhatsApp backup from iCloud to Android via email:
Step 1. Open the WhatsApp app, then choose the conversation to export. Click on WhatsApp contacts at the upper part of the iPhone's screen.
Step 2. Scroll to locate "Export Chat," then choose the option.
Step 3. You'll see a window asking if you will Attach the media or not. Choose your preference.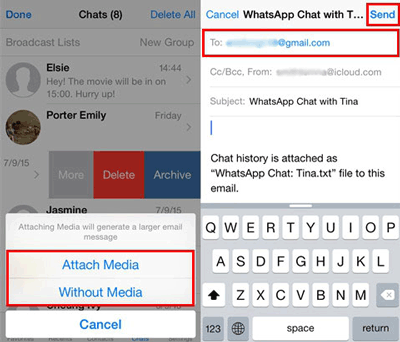 Step 4. Choose the "Mail" option to share chats through an email.
Step 5. All your conversations and attachments will upload to an email. Now enter an email address in "To" field and press "Send".
Step 6. You can view the chats in TXT file. Log into the email on an Android phone, where you've sent your backup, and view the files in inbox. However, you can't sync the messages to the WhatsApp app on Android.
Part 4. How to Download Whatsapp Backup from iCloud to Android via iCloud Website
Another way to recover WhatsApp backup files directly from iCloud to an Android device is via the iCloud site. The best thing is that you do not require a computer. However, you'll need a stable and strong internet connection to download the files from iCloud site. Here are the steps to follow:
Step 1. Head to iCloud website on any browser using your phone. Proceed to the iCloud web, and log in with the correct Apple ID. If you can't log in, click on "Menu" button on the screen and choose "Request Desktop website". You will be able to log in without any issues.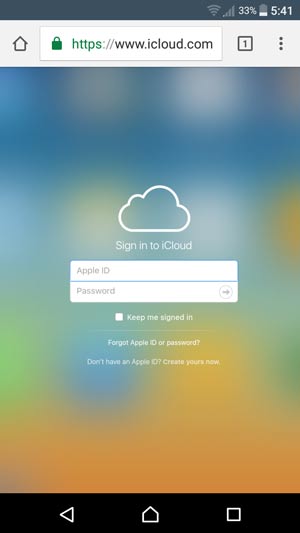 Step 2. Locate the particular iCloud backup containing WhatsApp backup files and download them on your Android. (How to access WhatsApp backup?)
Part 5. How to Restore WhatsApp Backup from iCloud to Android Using Smart Switch
Suppose you are a Samsung user; you can use the Smart Switch app to migrate your WhatsApp backup files from iCloud to the phone. Smart Switch app is an incredible tool from Samsung to enable Samsung owners to transfer their files from iOS and other Android devices to Samsung phones.
Note that the Smart Switch app only operates on Android version 4.0 and above. As for iOS, it can work on iOS 9.0 and above. It doesn't support the transfer of files from Android to iOS. Here are the steps:
Step 1. Install the application from Play Store on your Samsung, then open it and proceed to "Wireless".
Step 2. From there, click "Receive," then select "iOS".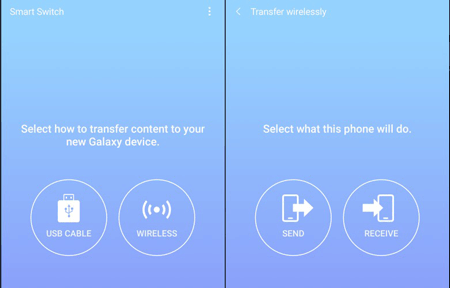 Step 3. Click "Sign In" and enter the correct Apple ID & passcode.
Step 4. From there, choose WhatsApp files to move to Android.
Step 5. Click "Sign in" and enter the Apple ID & Passcode. From there, choose WhatsApp files to be transferred to Samsung from iCloud, then hit "Import".
Part 6. How to Transfer WhatsApp Data from an iOS device to an Android device
WhatsApp Transfer is a reputable tool that provides great features to help users switch from iPhone devices to Android and vice versa. If you are experiencing challenges moving your WhatsApp conversation from iOS to Android, this is the tool to go for.
Due to its unique functionalities, WhatsApp Transfer has gained the interest of many phone users worldwide. This makes it a very important tool available in this era. After restoring your iCloud backup to your iPhone, you can use this tool to move the files to an Android.
Transferring WhatsApp files from iPhone to Android is very easy with this app. It operates on major OSes, Windows and Mac, and almost all iOS & Android versions. What's more, it is easier to use and will help back up and restore WhatsApp & WhatsApp business chat history.
Key Features of WhatsApp Transfer:
- Transfer WhatsApp data between Android and iOS.
- Migrates WhatsApp Business chats between Android and iOS devices.
- You can back up your Viber/LINE/Kik/WeChat chat history.
- You can Backup then recover WhatsApp and WhatsApp businesses.
- Supports almost all Android and iOS devices.
Here's how to transfer WhatsApp data from iOS to Android by using WhatsApp Transfer:
Step 1. Install and run WhatsApp Transfer on your PC and link the devices to the same computer with USB cables. After successfully connecting them, click "Toolbox" and select "WhatsApp" option from the interface.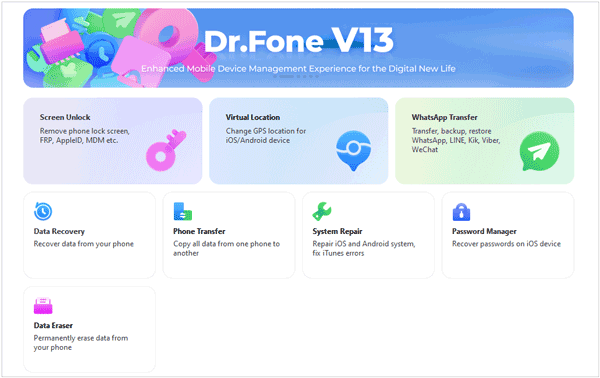 Step 2. Choose the "Transfer WhatsApp messages" option from the new window.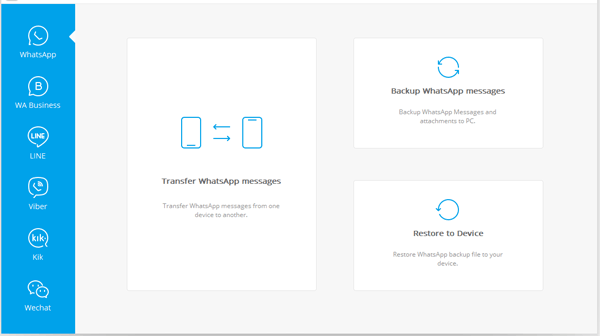 Step 3. On the next screen, you'll have to place the devices in their correct positions. The iOS device should be the Source, and the Android be the Destination. You can tap on "Flip" to switch them. Once done, click on the "Transfer" button at the bottom.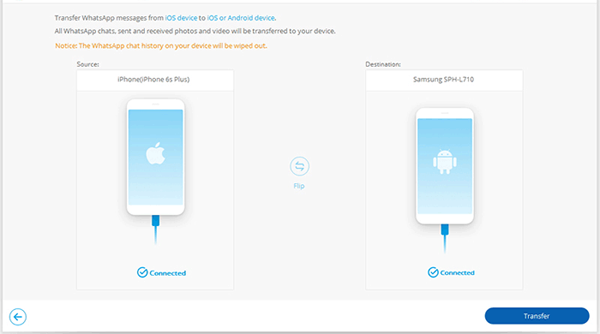 Step 3. You will get a prompt warning on the WhatsApp file on the destination phone. You can decide to back up first before transferring the files. To proceed with the transfer procedure, hit "Continue".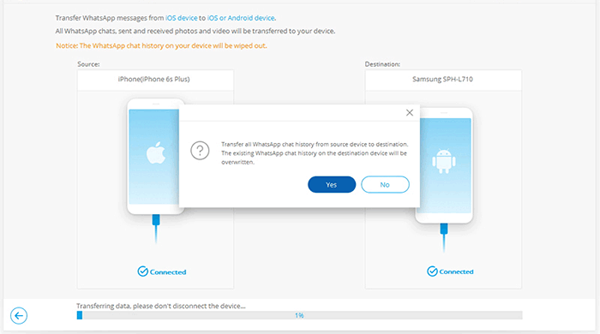 Step 4. The process will initiate; wait for it to complete. You can click "Cancel" if you don't want to proceed.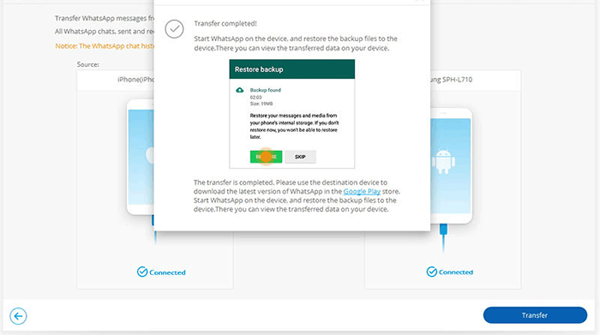 Conclusion
Hopefully, you can now restore your WhatsApp backup from iCloud to Android. We have discussed possible ways to achieve that. However, we strongly recommend using the WhatsApp Transfer to transfer your WhatsApp files from iPhone to Android after you restore them from iCloud.
Related Articles
Which Is the Best WhatsApp Recovery App? Take A Look At These Options
How to Transfer WhatsApp Backup from Google Drive to iCloud? Complete It in 3 Steps
How to Transfer Photos from Mac to Android in 5 Expeditious Ways
How to Transfer Files from Android to Android in 2023?
3 Ways to Quickly Transfer Messages from iPhone to Samsung (Latest)
Export Text Messages from Android to PDF Handily (Advanced Tutorial)