Summary
In today's age, phones have become a necessity. We frequently find ourselves upgrading to the latest iPhones. In such cases, we require a way of transferring our old smartphone's data to the new one. Imagine you are a music enthusiast and have upgraded to the latest iPhone. How will you move your favorite playlist to your new iPhone? Can you Airdrop music from iPhone to iPhone?
As we all know, Apple devices have the AirDrop feature that provides an easy and convenient way of transferring your songs from iPhone to iPhone. But how can you use this feature? This article shows you how to transfer songs from iPhone to iPhone using Airdrop. Let's dive into it!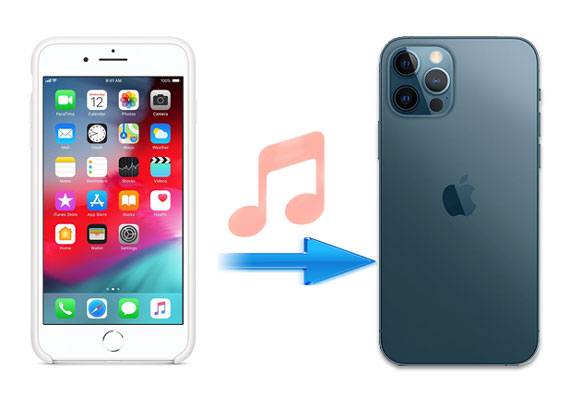 Part 1. Can You Airdrop Music from iPhone to iPhone?
Yes. You can easily Airdrop your songs from one iPhone to another. This possibility is because iPhone and AirDrop are Apple products, so they are compatible. The transfer process is wireless. However, AirDrop has limitations as it can only share a link to the songs with the other iPhone, and the music to be shared must be in the Apple Music Store. Moreover, the new iPhone must have an Apple Music subscription with the rights to play the shared songs.
If your devices meet the conditions mentioned above and you are willing to use a link to share the song, you can transfer songs from your old iPhone to the new iPhone by following the simple steps in this article.
Bonus:
[9 Ways]How to Transfer Music from iPhone to iPhone in 2023
Top 5 Ways on How to Transfer Contacts from iPhone to iPhone without iCloud
Part 2. How to Transfer Songs from iPhone to iPhone Using Airdrop
There are things to do before you can transfer music from one iPhone to another through Airdrop. First, your old iPhone should have songs from Apple Music, and your devices should meet the requirements to use Airdrop.
Step 1. Download Songs to an iPhone from Apple Music
One of the most popular ways of downloading music into your iPhone is using Apple Music. However, you will be required to subscribe to Apple Music. After that, you can easily download songs and share them. Below are a few simple steps for downloading songs to your iPhone from Apple Music:
1. Launch the "Settings" application on your iPhone. Find the "Music" app, tap on it, and ensure the "Sync Library" option is enabled.
2. After this, your music will sync across all iPhones signed in using the same account.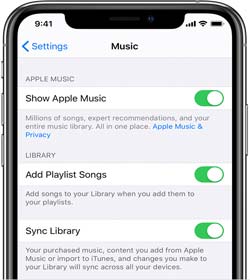 Step 2. Prepare to Airdrop Your Music Files
To successfully transfer songs from one iPhone to another, you must prepare for the process. Below are some tweaks performed to do before using AirDrop:
1. Ensure the two iPhones are at a close range of not more than about 30 feet radius from each other.
2. Ensure the Wi-Fi and Bluetooth features are enabled on both iPhones. Airdrop requires Wi-Fi and Bluetooth signals to establish a connection between the devices.
3. Ensure personal hotspots are turned off to prevent unexpected Wi-Fi shutdown.
Step 3. Airdrop Songs to Another iPhone
If your iPhones meet all the requirements, transferring them from iPhone to iPhone will be straightforward. Here is how to airdrop songs between iPhones:
1. On your "source" device, access the "Control Center" and turn on the "AirDrop" feature by tapping on it. Do the same to the "destination" iPhone.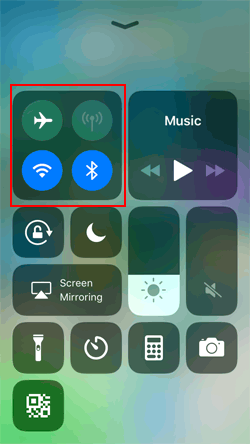 2. After AirDrop is enabled on both iPhones, open the "Music" application on your source iPhone to access the songs you want to transfer. Hit on the" three dots" while the song is playing to trigger the "Share" menu.
3. The share menu will open multiple options. Hit on the "Share Song" option(this is an arrow-like button facing upwards). This way, you can share the song with the receiving iPhone.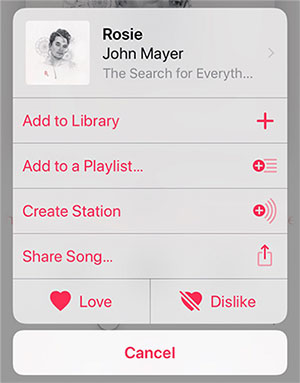 4. From the iPhone's screen interface that appears, hit on the name of receiving iPhone at the top in the AirDrop section. On the receiving iPhone, you will receive a prompt requesting you to allow it to receive the sent songs. View the songs to confirm if they are the songs you want to share by hitting on the "View" button.
5. Finally, hit the "Accept" icon to finish transferring songs to your other iPhone.
However, as stated earlier, the receiving device should be subscribed to Apple Music. Otherwise, the link won't work.
Read Also:
How to Transfer Ringtones from iPhone to iPhone Easily? Here Are 5 Excellent Tricks
How to Transfer WhatsApp from iPhone to iPhone [4 Smart Ways]
Part 3. How to Share Music Between iPhones via a Professional Tool
Are you looking for a way of sending songs from your old iPhone to your new iPhone or sharing your songs with a friend? As you have seen from the previous part, sharing music using AirDrop has many challenges. Fortunately, you can use a third-party application to send songs between iPhone devices faster and more efficiently. One of the most reliable iOS data transfer applications is iPhone Music Transfer. This app is primarily designed for sharing data between iPad, Android, iPhone, iPod touch, and computers. It is fast, reliable, and secure.
It also allows you to manage all your iPhone's data, such as audio, videos, pictures, contacts, voice memos, messages, and more. With iPhone Music Transfer, you can preview the files before sending them, convert HEIC images to different formats, use its in-build functionalities to create a personalized ringtone, and more. It is trusted and used by thousands around the globe due to its cutting-edge features, such as:
- Enable users to transfer songs and other data types between iOS, Android, and computers.
- Allow users to back up their smartphone's data, such as messages, music, contacts, photos, and videos, into a computer.
- Manage Android and iOS smartphone data.
- Work natively on all iOS and Android devices, including iPhone 14 Pro/14/13/12/SE (2nd generation)/11/11 Pro/11 Pro Max/Xs Max/Xs/XR/X/8/8 Plus/7 Plus/7/SE (1st generation)/6S Plus/6S/6.
- Has an easy-to-use user interface.
Steps to transfer songs from one iPhone to another via iPhone Music Transfer:
Step 1. Download the iPhone Music Transfer on your computer and run it. Use working lighting cables to connect the two iPhones to the computer. Authorize the connection by tapping the "Trust" option on your iPhone's screen with a "Trust This Device" popup message.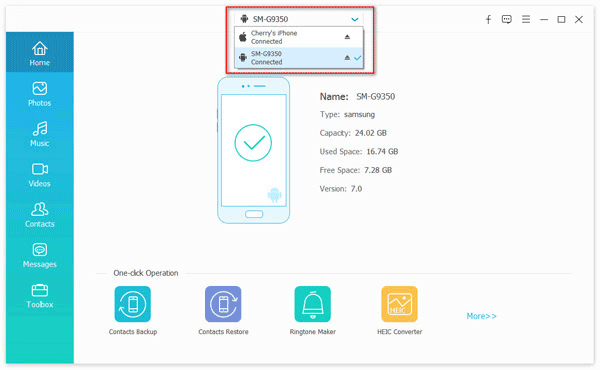 Step 2. Set up the "source" iPhone on the application's screen. You can select it from the drop-down menu on the computer screen's upper part. An interface containing the destination's iPhone data categorized into folders will appear. Click on the "Music" folder on the left side of the screen and select the songs you want to transfer.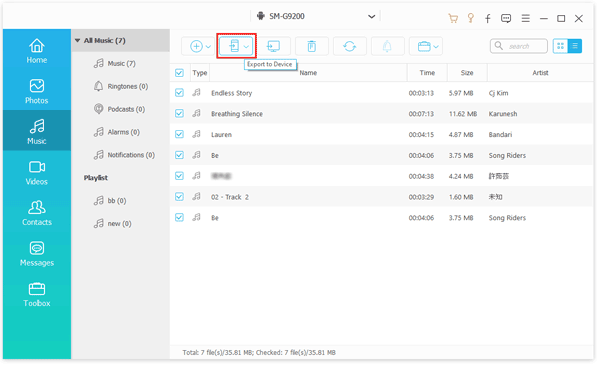 Step 3. Finally, tap the "Export to Device" button to transfer data to the destination iPhone. Wait for the process to finish. You can now access your songs on the new device and listen to them anytime.
FAQs of Using Airdrop on iPhone
Q1. How to find the AirDrop files you've received on your iPhone or Mac
AirDrop offers an easy, quick way of sharing files across Apple's devices. Any files received through AirDrop on an iPhone go to applications associated with their file types. On the other hand, Mac files received through AirDrop are stored in the "Downloads" folder.
Q2. How to fix AirDrop not working on your iPhone, iPad, or Mac
AirDrop may fail to work from time to time. To fix AirDrop issues, you should ensure that your iPhones' Bluetooth or Wi-Fi features are enabled, the AirDrop feature is turned on, and the two iPhones must be up to date.
Wrapping Up
Airdrop is an Apple feature that helps in transferring files between Apple devices wirelessly. You can use it to share files between iPhone devices. However, it has limitations. For instance, it transfers a track rather than a file.
Due to that, we advise using the iPhone Music Transfer tool to share your files conveniently between iPhone devices. You can send as many songs as you want, which saves you time and effort.
Related Articles
How to Transfer Messages to New iPhone in 4 Ways [Worked Out]
How to Transfer Photos from iPhone to Huawei in 5 Effective Ways?
Transfer iPhone to Samsung with 5 Hassle-free Methods [Easy and Safe]
How to Transfer WhatsApp from iPhone to Samsung with 4 Ideal Methods
3 Ways to Quickly Transfer Messages from iPhone to Samsung (Latest)
iPhone to Android Transfer - How to Transfer Data from iPhone to Android?