Summary
Android contacts disappeared out of expectation? In the digital era, most people have experienced losing contacts. Perhaps you are going through the same case. But don't be panic. You can now recover the lost contacts on Android with ease. This post will tell you why your contacts disappeared, how to deal with them, and how to avoid losing again. Thus, let's check it out.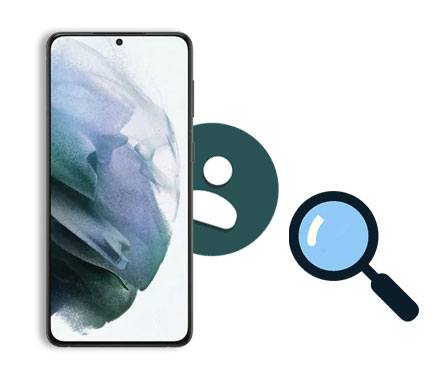 Part 1: Where Did All My Contacts Go?
"My contacts disappeared from Android suddenly. Why have my contacts disappeared from my Android phone?" Many people asked this question in some tech communities. If you also want to know the answer, please don't miss this section.
1.1 Ensure all contacts are displayed on Android
Did you update Android but lose contacts? Maybe your Android system has hidden your contacts so that you cannot find them on your cellphone. Thus, please ensure all contacts are displayed on Android in advance.
Go to the Contacts app.
Tap the "Menu" icon and select the "Settings" option.
Then click the "Contacts to Display" and "All Contacts" icon.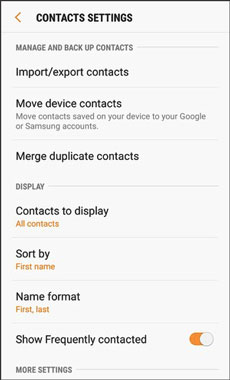 1.2 Why have my contacts disappeared from my Android phone?
"What happened to all my contacts?" Actually, many reasons that can cause missing Android contacts.
Your Android phone gets stuck when you update the OS.
You install the wrong apps.
You click the Contacts app by mistake.
You store your contacts on the SIM card and you remove the SIM card.
...
1.3 Where are the deleted contacts on your phone?
So, where are the deleted contacts on your phone? Generally, although you can't see the deleted contacts, they are still on your handset. However, the new data will replace them probably. You'd better recover them as quickly as possible.
Part 2: What Can You Do When Android Contacts Disappeared?
The second part will tell you 3 useful methods to recover lost contacts. You can try them with the detailed guide at any time.
2.1 Recover lost contacts using Android Contact Recovery (Internal Memory & SIM)
Contact names disappeared on Android? Or some contacts disappeared from Android? Don't worry. This recovery software - Samsung Data Recovery, can dig out most deleted contacts and recover them without a hitch. It also supports you to preview and select the lost contacts on the interface. Besides, it works with other Android files.
What's more, it is highly compatible with lots of Android devices, such as Samsung Galaxy S21/S20/S10/S9, Google Pixel 5/Pixel 4a/4 XL/4/3a, HTC Wildfire E1 lite/Wildfire R70/Wildfire X, Sony, ZTE, Motorola, Huawei, OnePlus, and more. Hence, whether your Samsung contacts disappeared or HTC contacts disappeared, it can recover them seamlessly.
Hallmarks and highlights of this Android contact recovery tool:
- Recover deleted Android contacts without backup.
- Recover photos, videos, documents, text messages, music, etc.
- 2 scanning modes for your choice.
- Allow you to back up existing and deleted files from Android to the computer.
- Support SD card recovery.
Download the contact recovery program for free below.
Here's how to recover contacts when the Android phone contacts disappeared:
Step 1. Installation
Please download and install the program on your computer. Then connect your Android device to the computer via USB.
Step 2. Setup
Check the "Contacts" or "Select All" option, and tap the "Next" icon. Then select the Quick Scan or Deep Scan mode on the interface.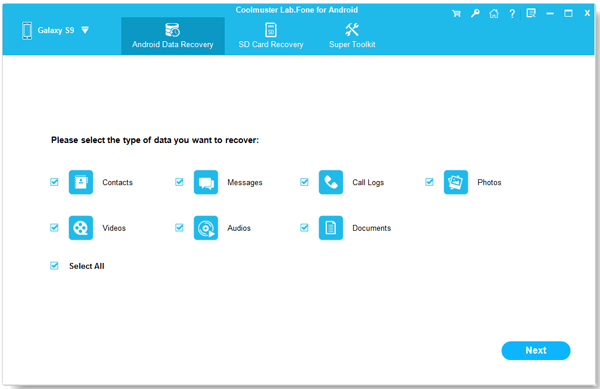 Step 3. Recovery
After that, please click the "Contacts" category on the left panel. Finally, pick the desired contacts and tap the "Recover" icon to start the recovery procedure.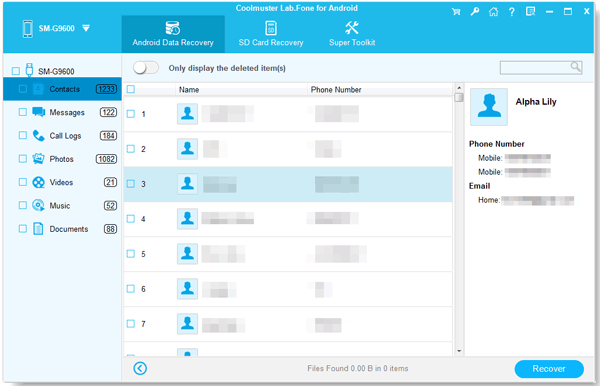 Tips: This is a post about SIM card data recovery for Android. If needed, please click it.
2.2 Get lost contacts via Gmail account
Lost Android contacts after an update? Have you stored your Android contacts in your Gmail account? If so, you can restore contacts on Android via your Gmail account. Additionally, you can restore other backup files from your Google backup as well. By the way, the steps will vary slightly with different Android phones.
Steps on restoring contacts via a Gmail account as the phone contacts disappeared:
Step 1. Open the Settings App
Please open the Settings app on your Android device.
Step 2. Add Your Google Account
Add your Google account that backed up your contacts to your Android device. Click the "Accounts and backup" > "Accounts" > "Add account" icon.
Step 3. Sync Backup Contacts to Android
Then click your account, and select the "Sync account" > "Contacts" option. To sync the contacts to your Android device, please hit the "Menu" > "Sync now" icon. Then you will restore your contacts on Android.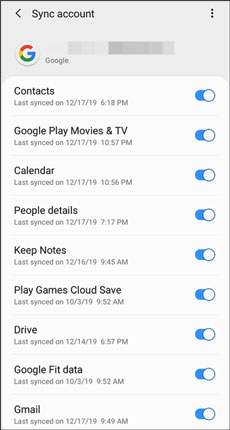 Further reading:
Can you transfer contacts from the iPhone to the Pixel phone? If you know this tutorial, you will make it easier.
Looking for a solution to recover your deleted Android files? You can now get help from this article.
2.3 Restore contacts via Android SD card
If you had backed up your contacts on your SD card before all your Android contacts disappeared, congratulations! You can easily restore Android contacts from your external storage space. Furthermore, you can finish the restoration on the Contacts application.
Here's how to get back the Android losing contacts from the SD card:
Step 1. Run the Contacts App
Launch the Contacts app on Android, and click the "Menu" icon on the top left.
Step 2. Import Contacts from SD Card
- Click the "Manage contacts" > "Import or export contacts" > "Import" > "SD card" option. Then select the contact file and click the "Done" icon.
- Finally, select a location to save your imported contacts, and tap the "Import" button.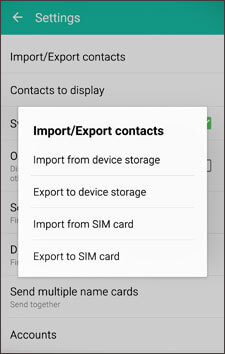 Read also: Wonder how to recover deleted videos from an SD card? There are 4 useful methods for your inference.
Part 3: How to Avoid Losing Android Contacts?
It is easy to recover your disappeared contacts on Android with the professional tool, but nobody wants to experience data loss again. To avoid the data loss, you can regularly back up your contacts and other important files to the computer or the cloud storage space. Even if an accident happens, you won't lose all your data.
Wrapping Up
Does this post help you solve the problem of losing Android contacts? The approaches mentioned above are all proven by many people. So, you can use them without worry. And the contact recovery tool - Samsung Data Recovery, can recover your missing contacts without backup. Please try it without hesitation.
Related Articles
4 Simple Ways on Contact Backup and Restore for Android (New)
ASUS Backup and Restore: How to Conduct ASUS Zenfone Backup and Restore in 3 Simple Ways? (Proven)
How to Transfer Contacts from Android to Android in 2023? [Solved]
Recover Deleted Documents on Android: Vital Tips and 4 Recovery Tools
How to Recover Deleted Photos from SD Card on Android Phone with or without Backup? (2023 Updated)
[Great Recovery] How to Recover Deleted Files from Android? 3 Wonderful Ways