Summary
Feeling a thrill of excitement after getting a new iPhone? Can't wait to use this new gadget, right? But if you want to contact your colleagues, friends, families, etc., you need to copy your phone numbers to the new phone. To solve this issue, we'll focus on how to transfer phone number to a new iPhone via 5 methods.
Furthermore, these methods are easy to use, and you can follow the steps below to complete the transmission without difficulty.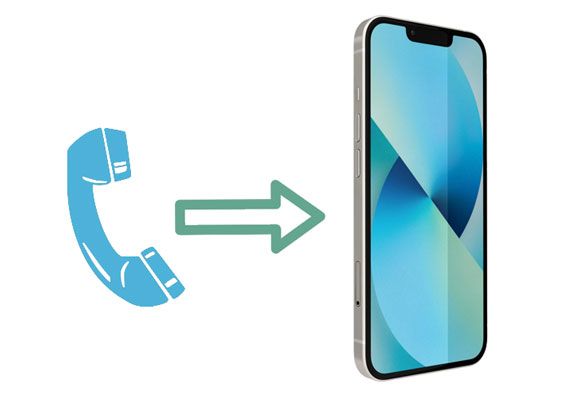 Part 1: How to Transfer Phone Number to New iPhone in 1 Click?
It is viable to transfer all phone numbers to a new iPhone at once, because there is an efficient tool - Samsung Data Transfer to assist you in data migration. Whether your old device is Android or iOS, you can copy your contacts to your target device without a hitch.
Besides, this desktop app helps you establish the connection between your mobile devices via USB, and achieve the one-stop transfer without data loss. Also, you can transfer notes, books, bookmarks, and calendars from iPhone to iPhone.
Key characteristics of this phone number transfer software:
- Effectively transfer unlimited phone numbers to another iPhone.
- Support iOS and Android devices, like iPhone 13 Pro/13/12/11/XS/X/XR/8/7, iPad Pro, iPad Air, iPad mini, Samsung, OnePlus, Google, ZTE, Xiaomi, and more.
- Allow you to transfer other data types from an old iPhone to the new one, including bookmarks, books, notes, etc.
- Enable you to transfer contacts and documents from Android to a new iPhone, and move videos, music, photos, SMS and more from iOS to Android.
- Compatible with Android OS 4.0 or higher, and iOS 5.0 and upper.
- The trial version allows you to transfer 10 contacts for free.
Download this data transfer software below.
Guide on how to switch your phone number to a new iPhone at once:
Step 1. Install the Transfer Program
Please download, install and launch this program on your computer, and connect your old gadget and new iPhone to the computer via USB cables.
Step 2. Trust the Computer
Click the "Trust" option on your iOS devices if prompted. Then the program will recognize your devices fast. Ensure your new iPhone is on the "Destination" side. If not, click the "Flip" icon.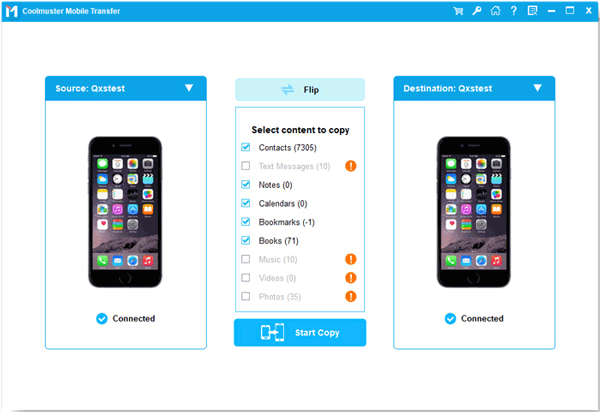 Step 3. Copy Phone Number to the New iPhone
Select the "Contacts" category on the panel, and tap "Start Copy" to begin the procedure. After finished, you can view the phone numbers on your target iPhone.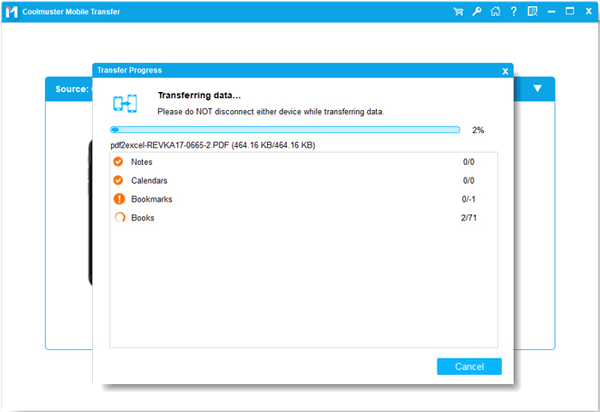 Bonus: You can retrieve text messages from your old phone number with this guide. Let's check it out.
Part 2: How to Switch Phone Number to New iPhone via iCloud?
You can use iCloud for synchronization if both your phones are iOS. As long as you haven't run out of the cloud space, there is no doubt that you can complete the phone number migration without a wire. By the way, please connect your mobile phones to a stable network.
Here's how to transfer the iPhone phone number to a new phone via iCloud:
Step 1. Go to Settings
Please open the Settings app on your old iPhone, and click your username and "iCloud".
Step 2. Sync Phone Number
Turn on the "Contacts" option on the screen. Next, take out your new iPhone and sign in with the same Apple ID. Next, switch on the "Contacts" icon to sync your phone numbers between two iPhones.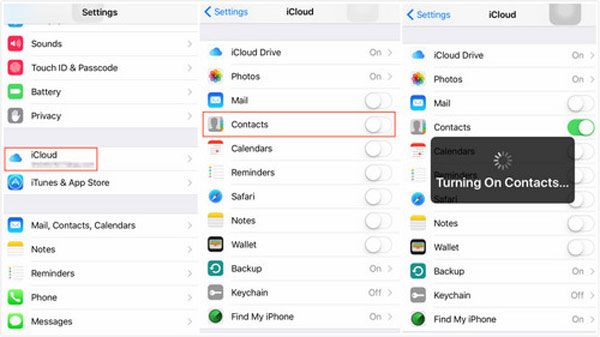 Read also: These 5 ways aim at helping you retrieve your deleted contacts from an HTC phone.
Part 3: How to Transfer My Phone Number to My New iPhone via eSIM?
What if you transfer to transfer your own phone number - your SIM, to your new iPhone? In this case, eSIM is a perfect choice. With eSIM, you needn't install a physical SIM card on the new iPhone. You can also use the eSIM on your Apple Watch to make calls, answer the phone, etc., without your iPhone.
Of course, it requires the current carrier you are using to support eSIM. Plus, eSIM is supported on iPhone XS, iPhone XS Max, iPhone XR, and later.
Here's how to add your phone number to a new iPhone via eSIM:
Step 1. Go to Cellular Settings
After finishing the setup on your new iPhone, please unlock it, and navigate to the Settings app > "Cellular" > "Add Cellular Plan" > "Convert Cellular Plan" > "Convert to eSIM" > "OK".
Step 2. Wait for the Plan to Activate
Click the "Transfer" icon on the old iPhone, and the cellular plan will be activated on your new iPhone. After that, your physical SIM will be deactivated.
Step 3. Continue to Complete the Plan
- Click it when your new device shows "Finish Setting Up Your Carrier's Cellular Plan" on the screen. Next, click "Continue" to open the webpage of your carrier and transfer your eSIM.
- After that, you will succeed in transferring your phone number to your new iPhone.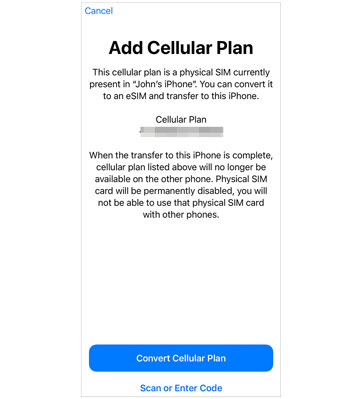 Further reading: Want to delete your useless Android contacts completely? You can browse this practical tutorial.
Part 4: How to Add My Phone Number to New iPhone via iTunes?
Another safe and easy way is to use iTunes, which can sync your phone number from the previous iPhone to the new one by utilizing your computer as a transit station. Additionally, you can also transfer all the data from the old device to the new iPhone through backup and restoration.
Steps on how to move your phone number to a new iPhone via iTunes:
Step 1. Launch iTunes
Please launch iTunes on your computer, and connect the previous device via USB.
Step 2. Sync Contacts to Computer
Click the iPhone icon, and choose the "Info" option. Then check "Sync Contacts" and tap "Apply" to sync your contacts to the computer.
Step 3. Sync Contacts to the New iPhone
Once done, disconnect the device, and link the new iPhone to the computer. Go to "Info" and tick "Sync Contacts". Finally, hit "Apply" to import the contacts to your new device.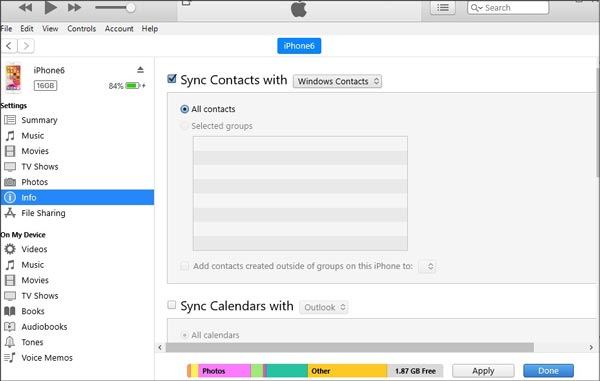 Part 5: How Do I Transfer My Number to a New iPhone via AirDrop?
You can also directly AirDrop your contacts to your new iPhone, which is to use the built-in feature to share your phone number one by one. It is an easy way but inefficient. When planning to transfer groups of contacts, you will repeat the same steps hundreds of times.
Tutorial on how to get your numbers onto a new iPhone via AirDrop:
Step 1. Enable AirDrop
Please go to the Control Center, turn on AirDrop on both iPhones, and choose "Everyone" on the new iPhone.
Step 2. AirDrop Contacts
Open the phonebook on your old iPhone, and tap the contact you want to send. Then click "Share Contact" > "AirDrop" > your new device. Then you will receive the contact on your target iPhone.
Step 3. Repeat the Steps
After sending one contact successfully, you can repeat the steps mentioned above to share the other contacts.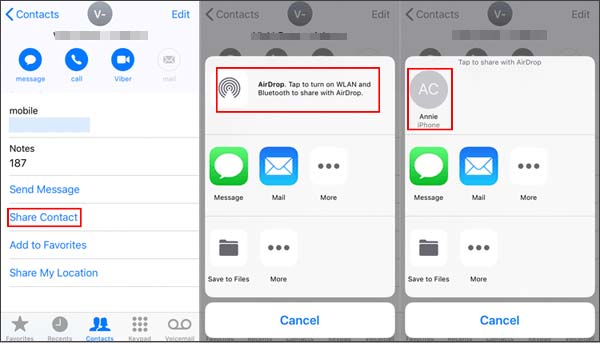 Bonus: Why didn't my phone number transfer to my new phone? If you only change your phone, you can dial ##CLEAR# and tap the Call icon. Then enter ##UPDATE# and tap Call. But if you also change the carrier, you need to offer your account and PIN to the new carrier. Plus, this full guide can help you solve the issue of contacts not transferring to a new iPhone, which has described detailed operation on the transfer.
Conclusion
These 5 methods have told you how to put a phone number on a new iPhone. Subsequently, you can start to transfer your phone number with them. If you choose Samsung Data Transfer, this program can safely transfer all phone numbers in 1 click to your new iPhone or Android phone. It will be usefull when you desire to move other files. Anyway, hope you can complete the transfer breezily. Thanks for reading.
Related Articles
Share Contacts on iPhone without Trouble (5 Fabulous Approaches)
How to Recover Deleted WhatsApp Contacts Android in 3 Valid Ways
Where Are Contacts Stored on Android? Find and Export Contacts Easily
Transfer Contacts from OPPO to Samsung Efficiently [5 Proven Methods]
How to Transfer Contacts from iPad to Android Smoothly | 6 Wise Methods
[Fast Transfer] How to Transfer Your Photos from iPhone to Android Effectively?