Summary
It is common and important to set a lock on the Android phone to protect your privacy from others, especially when you lose your smartphone. However, if you forget your password on the lock screen, you will have to reset your phone to access it.
To reset your handset smoothly, you'd better know how to reset your Android phone when locked. So, take a look at these 5 approaches, and you can follow the steps to reset your locked phone.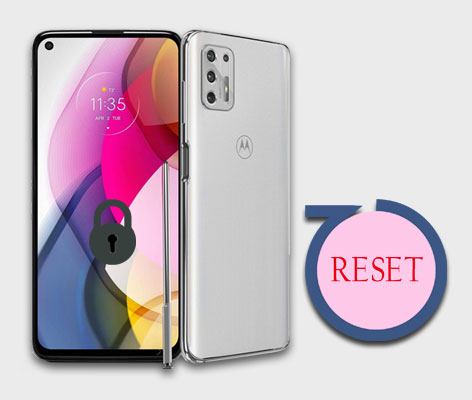 Part 1: How to Reset Android Phone When Locked without Losing Data?
How to reset an Android phone without a password? You can make it easy with this Android Unlock Software. It can quickly remove 4 types of lock. Furthermore, it works with many Android devices, Samsung Galaxy S21/S20/S10/S9, Sony Xperia 5 II/Xperia 1 II, Huawei, OnePlus, Motorola, and more. What's more, it can unlock the Samsung and LG phones without losing data.
Key features and highlights of this Android unlocking program:
- Reset a locked Android phone with a few clicks.
- Safely unlock your Android devices.
- Remove the lock on Samsung and LG phones without data loss.
- Eliminate 4 kinds of screen lock, such as password, PIN, fingerprint, and pattern.
Download the Android locked screen removal software for free below.

Here's how to reset a locked phone without a password via the unlocking program:
Step 1. Connect Android to PC
After downloading, please install it on your Windows computer. Then launch it, choose the "Unlock" tab, and connect your locked Android phone to the PC via USB.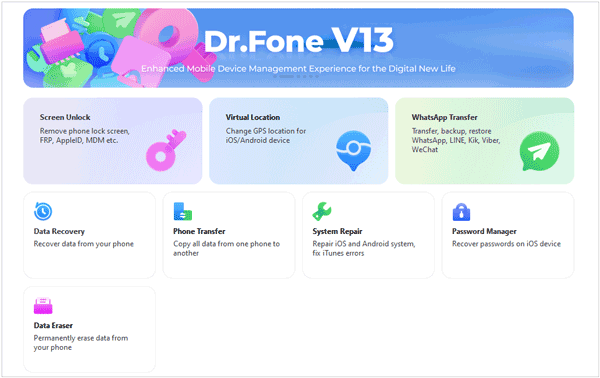 Step 2. Select Your Device Model
Choose the "Unlock Android Screen" icon, and set your device model, including the brand, name, and model. Then click the "Next" icon and follow the on-screen guide to enter the Download Mode.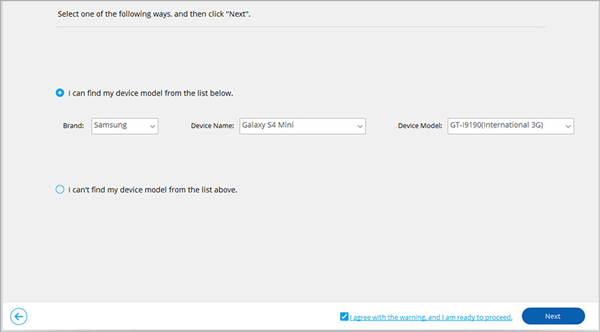 Step 3. Reset and Unlock Your Android Phone
After entering the Download Mode, the software will automatically download the recovery package. Once finished, to reset and unlock your Android phone, please tap the "Remove Now" button.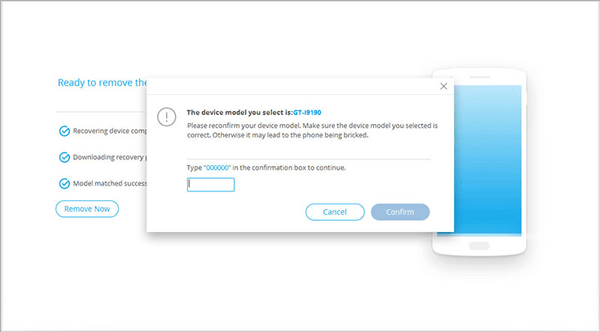 Bonus:
To avoid losing data, please back up the Android phone before factory reset with these easy methods.
To help you get your Android device out of recovery mode, we have summarized effective methods in this article.
Part 2: How Can I Factory Reset My Android Phone without Unlocking It?
How to wipe a locked Android phone if you forget your password? Let the factory reset function help you out. In this way, you can easily reset your locked phone without accessing it, but you will lose all your content on the phone. If you have backed up your data, that will be great.
Guide on how to factory reset the phone with lock:
Step 1. Power Off Your Phone
Please press the Power button to turn off your locked Android device.
Step 2. Enter Android Recovery Menu
Press and hold the Volume Up and Power keys at the same time. Then release them until the Android mascot shows up. Please choose and confirm the "Wipe data/factory reset" option using the Volume and Power keys.
Step 3. Factory Data Reset Android
Select the "Factory data reset" > "Reboot system now" option. Then you will complete the reset process.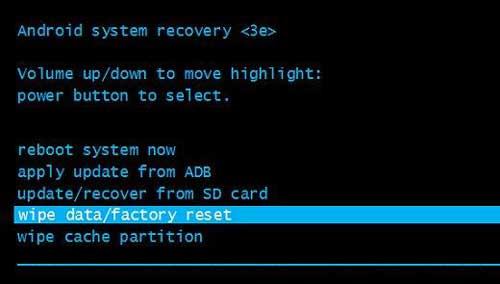 Read also:
Want to clone your Android phone? Here are 7 dedicated tools for your inference.
Planning to factory reset a Samsung phone without a password? You can work it out with this guide.
Part 3: How to Reset a Locked Phone Using Forgot Pattern (Android 4.4 and Lower)?
If your locked phone uses Android OS 4.4 or lower, you can reset your locked cellphone with the Forgot Pattern feature. This is an old function for old Android OSes, so it is not suitable for the devices with Android 5.0 and upper. Another premise is that you have added your Google account to the locked phone.
Here's how to reset the Android phone without the passcode using the Forgot Pattern feature:
Step 1. Enter a Random Passcode
Please type a random password several times, and you will see the "Forgot pattern" icon on the screen.
Step 2. Input Your Google Account
- Tap the "Forgot pattern" icon, and enter the user name and password of your Google account attached to your locked phone.
- Then you can reset your screen lock on the Android phone.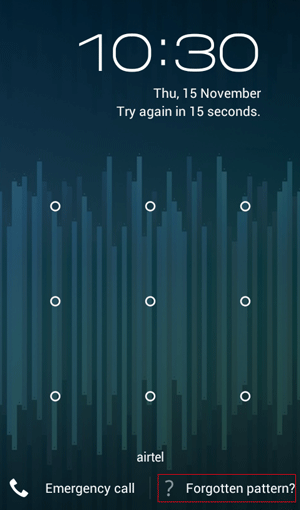 Further reading:
If you like to transfer files from the PC to the Android phone without USB, please don't miss this article.
Want to get a practical guide for Sony Xperia unlocking? Here it is.
Part 4: How to Reset Android Phone without Password via Find My Device?
Find My Device can help you find, lock and erase your Android phone remotely. It would help if you met several prerequisites. First, you have signed in with your Google account; second, you have turned on the Location and Find My Device features; third, your phone is connected to Wi-Fi or the mobile network. If you have met the conditions, please go on.
Steps on how to reset Android without the password via Find My Device:
Step 1. Go to Find My Device
Please open the Find My Device webpage on your computer.
Step 2. Enter Your Google Account
Please import the Google account that is connected to your locked phone. Then click your Android phone.
Step 3. Reset Your Locked Phone
- To reset the locked phone, please tap the "ERASE DEVICE" option. After clicking the "ERASE DEVICE" icon, you're required to type your Google account again.
- Finally, hit the "Erase" option to reset your phone. As it completes, you can access your phone without the password.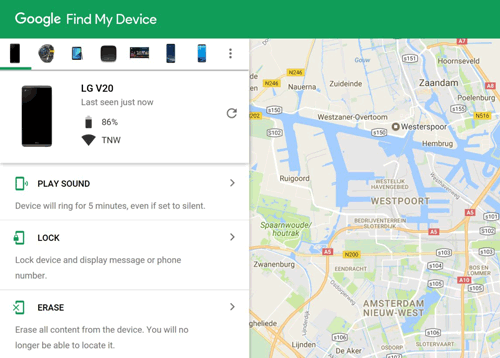 Maybe you need: For safety, please wipe your Android phone before selling with these effective approaches.
Part 5: How to Reset a Phone without Password via Find My Mobile (Samsung Only)?
Find My Mobile is similar to the previous tool, but it supports Samsung Android devices only. It can unlock your screen when you forget the password. Powerfully, it will only delete your biometric data. Now, please make sure you have added your Samsung account on your locked phone, and turn on the Remote Unlock feature on Settings.
Here's how to reset your smartphone via Find My Mobile:
Step 1. Browse the Website
Please browse the Find My Mobile website on another device.
Step 2. Log In
Log in with your Samsung account used on your locked device.
Step 3. Unlock Your Phone
Tap the "Unlock" feature on the interface. Then click the "Unlock" icon and enter the password of your Samsung account. After a while, it will unlock your phone.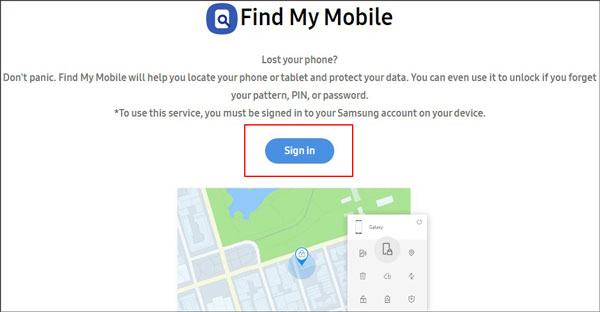 Conclusion
Even if you have forgotten the password of your Android phone, you can now reset the locked Android phone with these 5 practical ways. Although you don't add any account on your locked phone, you can use this Android Unlock Software to reset your phone without effort, which can remove 4 types of Android lock. After resetting your phone, please keep your lock code in mind.
Related Articles
How to Recover Deleted DCIM Folder from Android Phone Effortlessly? (New Approaches)
How to Uninstall Apps on Android Phone from Computer Easily? (The Easiest Way)
How to Wipe a SIM Card with Android Completely? 3 Tips You Need to Know
How to Transfer Photos from Android Phone to USB Flash Drive with 3 Practical Ways
6 Ways on How to Send Video from iPhone to Android Phone in Minutes
Android to Android Transfer - How to Transfer Data from Android to Android?