Summary
Have you ever tried to change the GPS location on your Android phone for some reasons? Maybe you want to meet new friends online, play a joke, or for other reasons? Anyway, the point is that you want to change GPS location on Android, right?
Actually, many Android users have met this situation and found effective measures. Now, we place these useful ways in this post, so you can utilize them directly. There is no location restriction when you surf the Internet.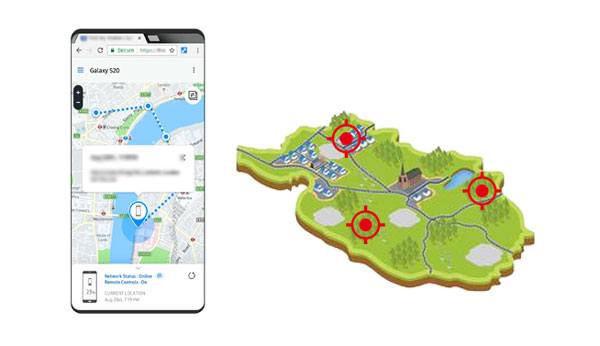 Part 1: How to Change GPS Location on Android with Location Changer?
Want to change your location on your Android phone in 1 click? Come here. This Location Changer software is a reliable tool for you. With it, you can easily fake GPS for your social apps and mobile games. Moreover, it will not jump out of the new place suddenly.
Also, you can design special routes when playing AR games, and freely change the moving speed whenever you need. For instance, you can use it to fake GPS when playing Pokemon. Then you will pass the game smoothly. Plus, as long as you like, you can save your routes to a GPX file.
Other features and highlights of this GPS location changer:
- Allow you to control your virtual location with a joystick.
- Support most Android phones, like Samsung, OPPO, Vivo, LG, Xiaomi, OnePlus, and more.
- Compatible with Android OS 5 to Android OS 12.
- Capable of faking iOS location as well.
Download the location changer program below.
Here's how to change your GPS location on Android via this software:
Step 1. Install the Software
- After downloading this virtual location changer on your computer, please double-click the file to install it. Then launch it on the desktop and tap "Get Started".
- Then connect your Android device to the computer via USB, and choose your device on the interface.
Step 2. Choose a Mode
Allow USB debugging on Android, and select a location mocking mode on the computer.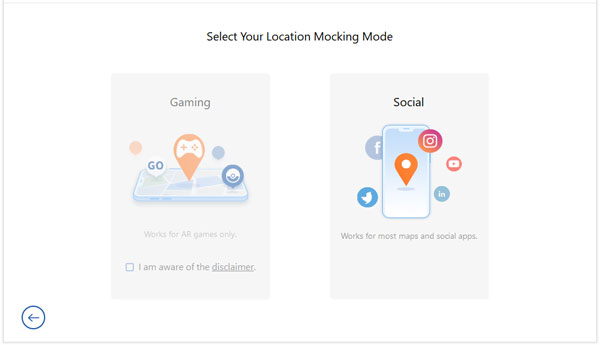 Step 3. Fast Change Your GPS Location
Choose the "Teleport" icon on the right top corner, and type your location or directly select a position on the map. Then click the "Move" icon to change your Android phone's GPS location.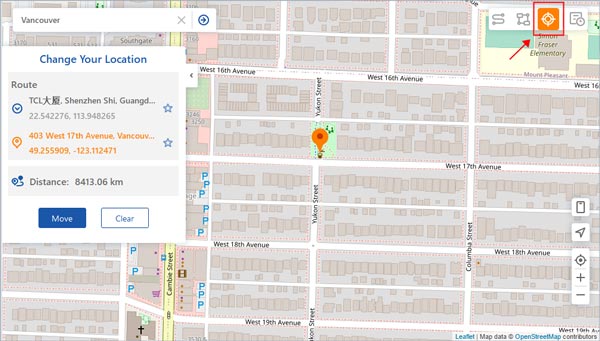 Bonus: Want to change the location on Snapchat on your mobile phone? Read this guide, and get 5 useful methods.
Part 2: How to Change Location on Android Phone via Google Location Services?
You can also modify the GPS location on an Android device via Google location services, but it cannot fake your location to another area. It can only hide your accurate location in this way. Then no one can know your exact location on the Internet.
Here are the steps:
Step 1: Go to the Settings app on your Android device, and find the "Location" option.
Step 2: Click the "Advanced" > "Google Location Accuracy" icon. Then switch off the "Improve Location Accuracy" toggle.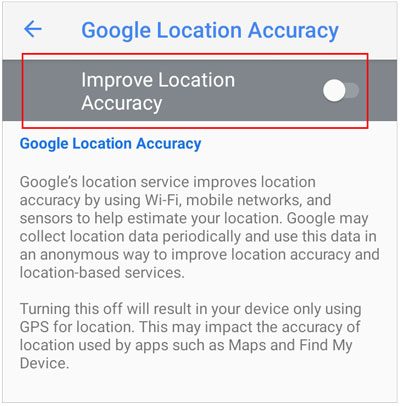 Read also: How can you select an excellent app to fake GPS? Don't worry. You can get 10 tools from this list. Let's select one.
Part 3: How to Change Your GPS Location on Android via Fake GPS Location?
Fake GPS Location is an easy app to help you set a new location on an Android device, and you can download it from Google Play Store. It can change GPS without a computer, but some tests and users reported that it sometimes could not return to the real position after changing the GPS.
Use this Android app to change location:
Step 1: Install the app on your Android smartphone, and open it.
Step 2: Go to the Settings app, and turn on "Developer options". Then tap "Select mock location app" > "Fake GPS".
Step 3: Go to the app, and select the location you want to change.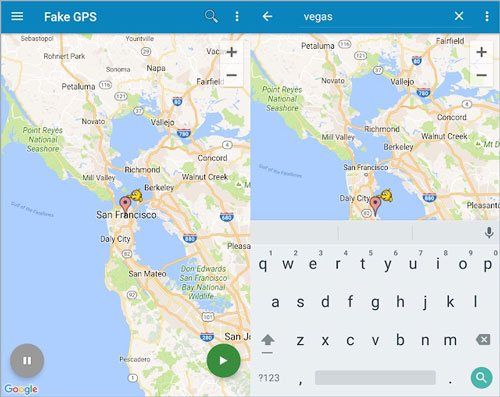 Further reading: With this detailed guide, you can safely use a mock location on your Huawei phone.
Part 4: How Do I Change My GPS Location with Fake GPS Location Spoofer?
Another Android app is Fake GPS Location Spoofer, which can spoof almost all Android OSes. It also supports joystick operation, and enables you to create routes on your own. But you need to watch a 20-minute ad video before using it. If you want to skip ads, you can purchase the full version.
How do I change my GPS location with this app? Here's the guide:
Step 1: Open Google Play and install the GPS location spoofer app on your Android phone. Then open the app, and allow it to access your device's location.
Step 2: Go to the "Developer options" on the Settings app, and choose this app as the mock location app.
Step 3: Go to this spoofer app, and tap the "Teleport" icon on the top menu to search for the current location. Then choose a new location on the map, and click the "Play" icon to change your location.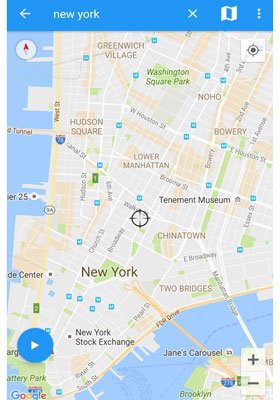 Bonus: Where is GPS location settings on an Android Phone? In general, scroll down the screen on your Android phone, and you will see the "Location" feature. Long-press the icon to enter the GPS settings. Then you can manage your location.
Conclusion
As you can see, it is easy to change GPS location on an Android device, since there are more and more GPS faking apps on the market. If you want a more stable program, you can choose the Location Changer software. It can change the GPS location to any place in the world, and keep the setting steady if you don't modify it.
Related Articles
9 Best Android Phone Cleaner Apps: Optimize Android Phone without Effort
How to Recover Deleted PDF Files on Android | 3 Approaches and Extra Tips
How to Change Location on Skout for Android and iOS Users? (Ultra Guide)
How to Access WhatsApp Backup Seamlessly | Support Android and iOS
12 Great Apps to Transfer Data from Android to Android [One-stop Transfer]
Transfer Files from Android to USB Flash Drive with or without OTG