Summary
Managing Android storage is necessary to maintain your Android device in good condition. Undeniably, when the storage is full, your Android device will slow down or even become stuck. So it's time to get a nice Android storage manager, which will clear up Android space and make the operation smooth.
Today, we provide not only the built-in storage analyzer but also 5 third-party managers for Android here, so that you can pick your favorite one to manage your Android space.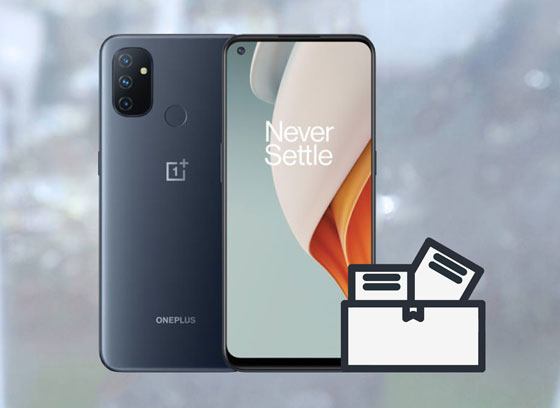 Part 1: How to Free Up Space with Built-in Android Storage Manager
Almost every Android phone has a built-in utility that you can free up your device storage space directly. It will help you quickly eliminate junk data. Also, you can clean up your phone deeply by deleting unnecessary files and apps.
Here's how to free up space with the built-in Android storage manager:
Step 1. Launch Settings App
Please open the Settings app and find the "Storage" option.
Step 2. Select Files
Tap the "Free up space" icon and you will see the different data types on the screen. Please select the useless items and it will show how much data you will remove. Hit the "Free up X GB" icon to begin the cleaning.
Step 3. Uninstall Apps
You can remove the redundant apps from Android to get more space. Long-click the unwanted app on the screen and choose the "Uninstall" option. Then you will remove it immediately.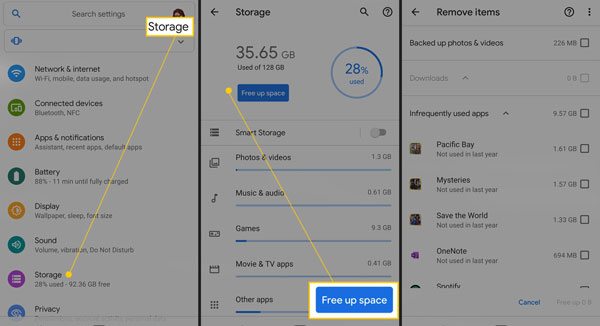 See also: Looking for an app like Google Photos but provides more storage space? Open this guide to get this list.
Part 2: How to Manager Android Space with Top 5 Storage Manager for Android
If you wonder about other Android space managers to cope with the internal memory, please don't miss this section. It will show you 5 excellent storage manager for Android with informative descriptions, so that you can pick out the suitable one based on your requirements.
2.1 The Best Android Storage Manager - Samsung Messages Backup
Samsung Messages Backup, recommended as the best Android storage manager, can assist you in organizing various files on the computer. You can release the memory by transferring Android files to the computer in 1 click and deleting unwanted files and apps after previewing. Also, you can modify and add contacts, receive the reply to text messages, and group your music and photos, etc.
Main characteristics of the Android memory organizer:
- conveniently install and uninstall apps on the computer.
- Preview and handle Android data without hassle.
- Manage contacts, text messages, photos, documents, call logs, music, videos, and more on the computer.
- Back up Android files to the computer in 1 tap.
- Quickly restore backups from the computer to any Android phones/tablets.
- Selectively edit, delete, copy, move, import, and export files.
What's more, it is highly compatible with most Android devices, such as Samsung Galaxy S23/S22/S21/S20/S10, Huawei nova 11 Ultra/nova 11 Pro/nova 11/nova 10/nova 9nova 8, LG K62/K52/K42/K71, Google, OnePlus, Motorola, ZTE, HTC, Sony, OPPO, Vivo, Xiaomi, and so on.
Download the storage manager for free below.
Here's how to back up Android files to free up space with this Android file manager:
Step 1: Download the Program
Please download, install and run the program on the computer.
Step 2: Connect Android Phone to Computer
Connect the Android phone to the computer with a USB cable. Then enable the USB debugging feature on the mobile phone.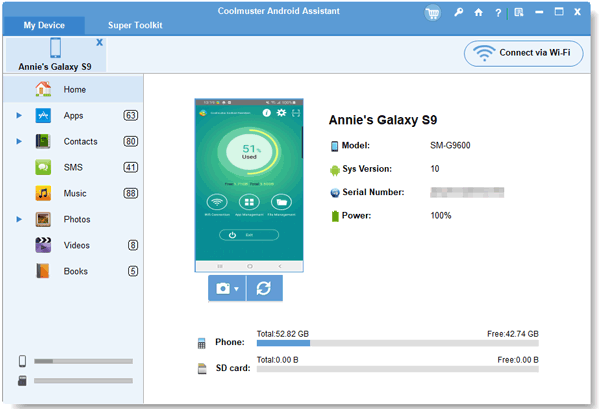 Step 3: Back Up Android to Computer in 1 Click
- To free up the Android space without losing data, you can back up your phone to the computer. Click the "Super Toolkit" tab > "Backup" option, and select the data types.
- Tap the "Back Up" button to begin the process. Once done, you can clean up your phone at any time. If you want to regain the backups, you can restore them conveniently.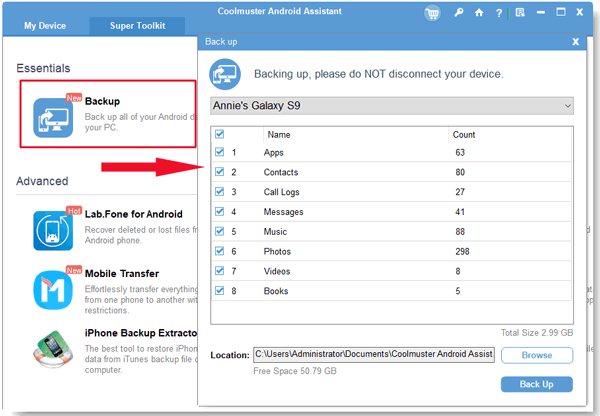 Tips: How to manage your Android space directly? When your Android internal storage is full, you can also use this Android assistant (mobile version) on your phone, and release the storage space.
2.2 Helpful Storage Analyzer for Android - Storage Analyzer & Disk Usage
Storage Analyser & Disk Usage is an application that you can handily check Android internal and external storage information. It will display the usage of kinds of data types with sunburst charts and other helpful modes. Powerfully, you can also know your cloud storage in a clear graphical form.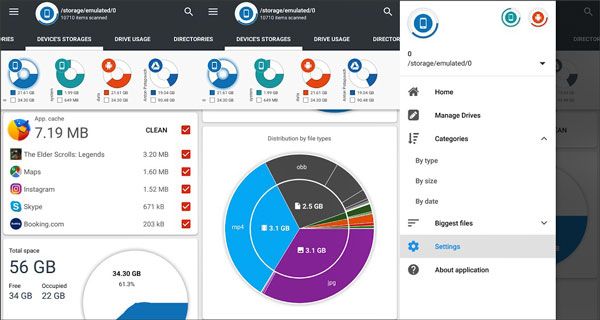 Main characteristics of this storage analyzer for Android:
- Provide clear and detailed info about Android storage usage.
- Clean the file trash quickly.
- Help you search for files by size and remove the big files quickly.
Pros:
- Display your files in different structured ways, so you can know the usage by category, file size, and date.
- Its top 10 files feature will let you know which files occupy the most storage space.
- Click on the chart sector to view and manage your Android files.
Cons:
- Can't back up data.
- Sometimes too many carts that you will be in bewilderment.
Bonus: Desire to free up space on the Samsung tablet? Please have a look at this post with 5 useful tips. It is easy to make it.
2.3 Powerful Phone Storage Manager - Files by Google
Files by Google, a file management app for Android, is good at freeing up storage space, finding, sharing and backing up files. You will know how much free space on your Android device with ease. And with the help of this phone storage manager, managing your files is a piece of cake.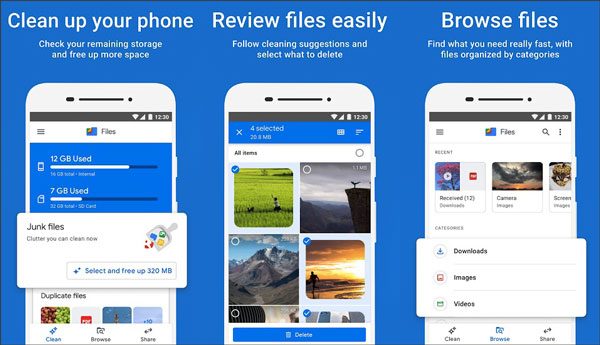 Main characteristics of the File by Google:
- Free up space on Android with a few clicks.
- Delete photos and memes from various chat apps without trouble.
- Directly clear cache, remove duplicate files, and erase unwanted applications.
Pros:
- Back up important files to Google Drive or other cloud storage to keep them forever without taking up space on your phone.
- Transfer large files to the SD card.
- Encrypt files before sharing with WPA2 encryption.
Cons:
- The instructions are not informative.
Check if you need: Is it possible to recover deleted photos on Android internal storage? Yes. You can do it with 3 proven methods.
2.4 Useful Android Space Manager - DiskUsage
DiskUsage is a simple device storage analyzer to help you find files that consume much space. The diagrams are displayed with directories according to the size. It also supports SD cards on Android.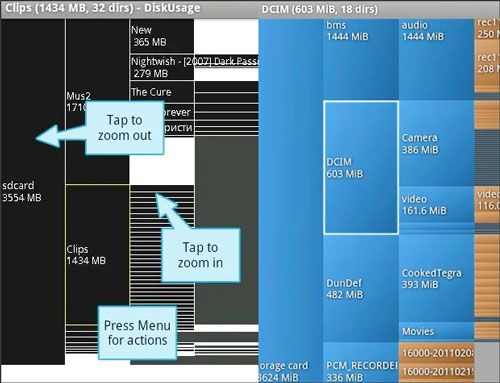 Main characteristics of DiskUsage:
- Really brief interface.
- Guide you to eliminate unused files with a diagram.
Pros:
- Work as described and there is no cumbersome design.
- No ads on the interface.
Cons:
- The layout is out of date.
- No removal function on it.
You might like: Want to manage messages on the computer? Here are 3 practical tips about the Android SMS manager for your inference.
2.5 Effective Storage Analyzer for Android - Cx File Explorer
As an Android storage analyzer, Cx File Explorer is created to browse and manage data on the cell phone with an intuitive interface. Besides mobile phones, it also supports cloud storage and computers. Similar to your file manager on Android, it has more features than it with the visualized analysis.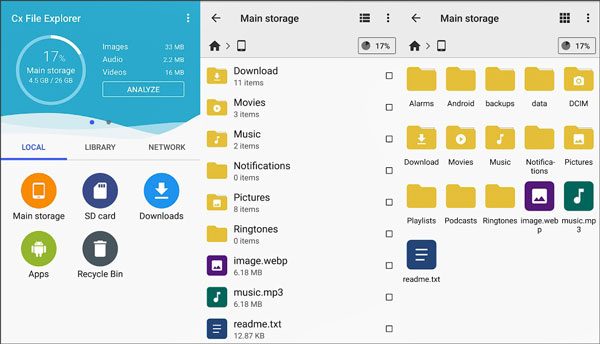 Main characteristics of Cx File Explorer:
- Remove, extract, compress, copy, rename, etc. Android files without effort.
- Manage the data on your cloud storagae space.
- Access the internal and external memory and preview files directly.
Pros:
- Display your files in folders, so that you can easily find what you want.
- Only 5.7 MB in size.
Cons:
- Cannot show the hidden files.
- Can't upload files via FTP.
Read also: Thousands of music files on Android perhaps would be a disaster, so let the Android music manager help you.
Extra: Tips on How to Manage Android Storage in Daily Life
We need to be careful with our Android storage, which helps maintain a good Android handset condition. For instance, you can clean up your Android phone at regular intervals with the storage analyzer for Android mentioned above. And you can follow the suggestions below to organize your Android memory.
1. Don't randomly install apps on your Android device, which will occupy the RAM to slow down your device.
2. When uninstalling apps, you need to delete their files in the file manager completely.
3. Store big files in the cloud space.
Conclusion
As we all know, the full storage will make the Android device stuck or blocked, so it's necessary to use the Android device manager to release space. If you don't want to delete files, Samsung Messages Backup is your best choice. It can back up the Android data to the computer in 1 click. Then you can remove data from Android without worry. As you want, you can restore your data by category.
Related Articles
How to Back Up and Restore Android Phone/Tablet on Computer? (5 Ways)
[5 Best Ways] How to Transfer Music from iPhone to Android in Ease
[Practical Guide] Transfer Files from Android to iPhone with 8 Tips
[Best Guide]How to Delete Photos from Android Phone Permanently in 4 Ways
Android Manager for PC: Manage Your Android Phone on the PC Easily
Top 11 Android Sync Managers to Sync Android Devices with Ease (Latest)