Summary
Bluetooth is a wireless technology for sending and receiving data from one device to another. However, the devices should be within the Bluetooth transmission range of approximately 10M (approximately equal to 32.8084 feet). Various devices employ Bluetooth technology to facilitate data transfer. But can you share apps via Bluetooth? Yes, you can share non-system applications between devices using Bluetooth technology.
When transferring applications from Android to Android via Bluetooth, we generally send their APK files. This makes the transfer much simpler. Therefore, for the application to work on the receiving device, it should be in the APK format. Then how can you Bluetooth your apps? This article will guide you in different and practical ways.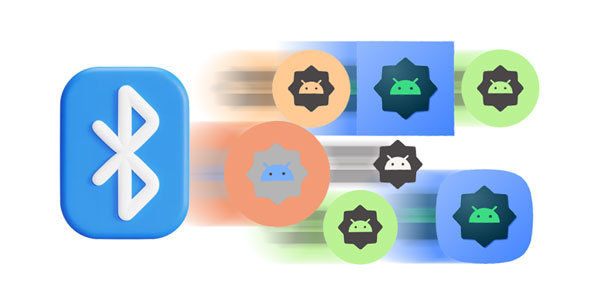 Part 1: How to Share Apps via Bluetooth Directly
Can I send apps via Bluetooth directly? Yes. You can send applications from one device to another via Bluetooth without needing any other third-party tool. However, this is only applicable if the applications you want to transfer are already in the desired APK format, which is compatible with Bluetooth transfer.
The following steps outline how to transfer apps from Android to Android via Bluetooth:
Step 1: Switch on the Bluetooth feature on your Android devices. Do this by swiping down from the top of your Android phone's screen and tapping the "Bluetooth" icon to turn it on. Alternatively, open "Settings" by clicking on the gear sign, tap on "Connections", and toggle the "Bluetooth" button to turn its "On" mode.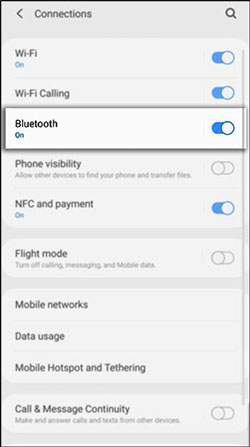 Step 2: Ensure both devices are discoverable. Use one device to search for the other device's signal. After they are discoverable, the names of available devices will appear on the "Available devices" list. Tap on the target device to establish a connection. A notification will appear requesting to pair the two devices. Tap the "OK" button to pair the devices.
Step 3: To share applications from the source Android phone, you need to open the "File Manager" app, navigate to the folder directory containing the .apk applications, and select the apps you wish to share. Tap on "More" and hit on the "Share" icon.
Step 4: Select the "Bluetooth" option once the sharing options appear. Then choose the target Android device and await a confirmation notification. Tap the "Accept" button on the destination device to allow the device to receive the application.
Step 5: Check at the top of the screen for a progress bar indicating the status of your transfer. Wait for the file to be received successfully.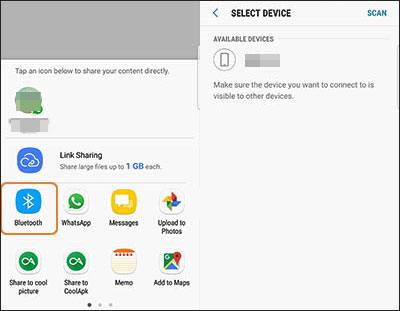 See more: How Can You Back Up Android Apps on Computer (PC & Mac)?
Part 2: How to Transfer Apps Through Bluetooth with Third-Party Apps (3 Options)
Another great way of sharing applications from one device to another through Bluetooth is using a third-party application. The main work of a third-party application is to convert the app to APK format, supported by Bluetooth.
2.1 How to Share Apps via Bluetooth Using App Share
Apps Share enables users to transfer applications between Android devices seamlessly. Once this app is installed, it will show a list of all applications installed on your Android device in APK file format. This application lets you swipe through and select your application of interest.
Here's how to transfer apps from Android to Android via Bluetooth using Apps Share:
Step 1: Visit Google Play Store, download, and install the application on your Android phone.
Step 2: Turn on the Bluetooth feature on both Android devices and open the installed "Apps Share" app. Choose the apps you want to transfer from the application's interface.
Step 3: Afterward, tap on the "More" icon and choose "Bluetooth". Then select your target device, and the app will send the selected apps to another Android phone via Bluetooth.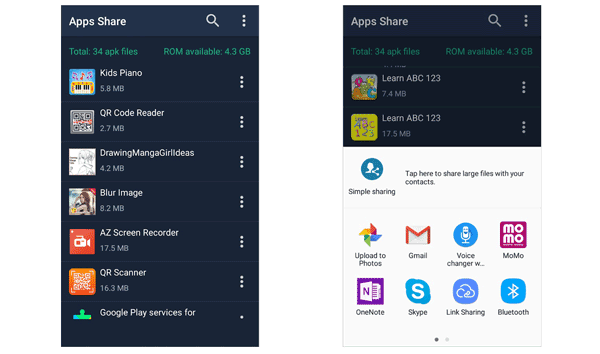 Maybe you like: Do you want to run Android apps on your PC with a large screen? If yes, don't miss this tutorial.
2.2 How to Bluetooth Apps to Another Phone Using Apk Extractor
How do you Bluetooth an app on your Android device with ease? You can use Apk Extractor. This free Android application saves all installed applications on your Android phone as APK files.
Here's how to Bluetooth apps from one phone to another via Bluetooth using Apk Extractor:
Step 1: Download the Apk Extractor app from Google Play Store using an Android phone containing the applications to be transferred.
Step 2: Launch the app and enable Bluetooth on both devices. Then choose the application(s) you want to transfer from the Apk Extractor's interface. To do this, press and hold on to the application of your choice. This activates the checkbox menu, allowing you to select multiple applications.
Step 3: Tap on the "share" button and hit the "Bluetooth" icon. Choose the "Receiving" device from the list that appears.
Step 4: Once the app has been received successfully on the receiver, you can locate it in the "Downloaded" folder. From here, you can now install your application on your phone.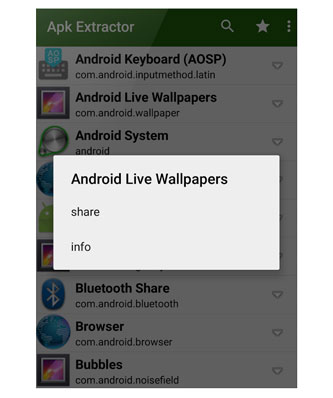 Read also: Back Up Android to SD Card Swiftly: 4 Easy Approaches Here
2.3 How to Bluetooth Apps to Another Device via Nearby Share
Nearby Share is a feature introduced on Android devices to enable users to transfer apps and data via Bluetooth. Bluetooth enables the creation of a connection between two devices for the smooth transfer of applications. However, the Android devices should be close to each other for the Bluetooth signals to be established successfully.
Guide on how to transfer apps through Bluetooth using Nearby Share:
Step 1: Run Google Play Store and tap on your "Profile" icon at the screen's top right-hand side. Choose "Manage apps and device" on your "Sending" Android phone.
Step 2: Hit the "Send" button next to "Share apps" on the "Overview" panel, and tap the "Continue" icon to proceed to the next screen. Hit the "OK" button to activate your Android location and permit Play Store access to your location data.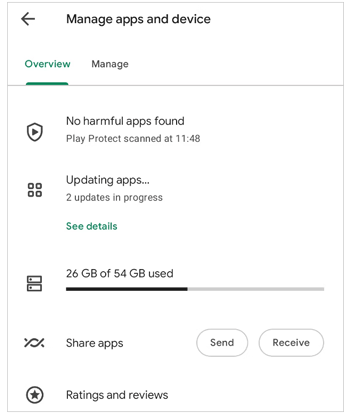 Step 3: Repeat the above steps on your receiving device until you reach the "Manage apps and device" option. Tap the "Receive" button and permit if prompted.
Step 4: Once permission is granted, the apps' selection page will appear on the "Sending" device. Choose all the apps you want to transfer from here and hit the "Send" button on the top right-hand side. Afterward, tap on the "Receiving" phone's name on the pop-up window that will appear.
Step 5: Key in the provided pairing code, and the sharing process will begin. Once the operation is complete, you can install the app on your "Receiving" device.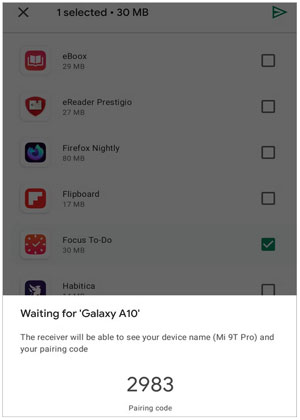 Tips: Why can we send apps via Bluetooth using a third-party program? Because the third-party tool can locate APK files on your phone, and share them directly. As long as you haven't uninstalled the apps from your phone, the tool can find and send their APK files.
Part 3: How to Transfer Apps from Android to Android in 1 Click Without Bluetooth
Evidently, the use of Bluetooth to share applications is inefficient. Intelligent software like Samsung Data Transfer can be useful for transferring applications from one Android to another. It is faster and has an intuitive interface.
Whether you are tech-savvy or a novice, this is your go-to tool that can handle the app transfer process effectively. In just a click, you will have your user applications transferred to the other Android.
This powerful tool also lets you transfer your contacts, call logs, SMS, music, photos, documents, and videos between Android devices. Moreover, it is not just limited to supporting the Android system; but also the iOS system, so you can transfer data between iOS and Android devices.
Download the app transfer software.
How to transfer apps between Androids at once:
Step 1: Download and install the transfer software on a computer. After that, run it, and you will see a toolbox; then choose "Mobile Transfer".
Step 2: Plug your Android devices into the PC using USB cables and follow the instructions on the screen to activate USB debugging. Also, ensure you grant the necessary permissions on the phones. After establishing a connection, make sure the devices are in the correct positions. To change them, use the "Flip" button.
Step 3: Select "Apps" by checking the box. Next, tap the "Start Copy" button to transfer your applications to another Android phone.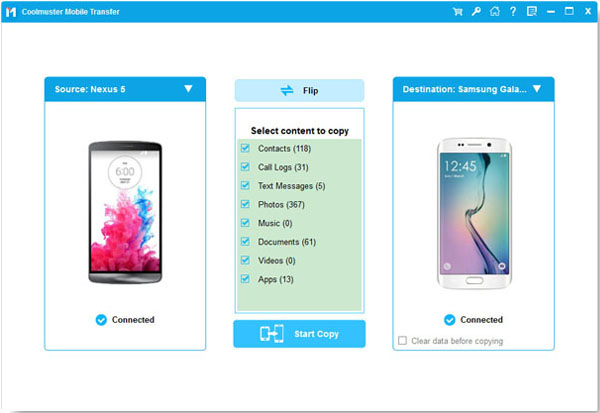 Conclusion
You now understand how to Bluetooth share apps from one device to the other directly and using a third-party application. Undeniably, Bluetooth is slow and cannot transfer large/many applications efficiently. As such, we advise you to use this professional application - Samsung Data Transfer, to move non-system applications. With this software, you can copy your apps fast and securely.
Related Articles
Android File Transfer Alternatives: Can't Miss the 5 Best Apps for Mac
[New and Tested] Best Screen Share Apps for Different Devices
Fast Sync Apps from iPhone to iPad in 3 Practical Ways
Uninstall Apps on Android Phone from Computer (Easiest)
9 Best Android Phone Cleaner Apps: Optimize Android Phone without Effort
How to Transfer Apps from Samsung to Samsung? 7 Effective Ways for You