Summary
We have all been at a point where we accidentally deleted important messages and later regretted and thought it might not be possible to recover them. Technically, the message is not erased; it is stored on your Android phone for some time.
It is possible to perform Android SMS recovery since it takes time for it to be permanently erased from your android phone. All SMS are stored on your Android device's database, and you can locate the SMS database folder in the internal memory.
This article is all about SMS recovery on any Android device. We will discuss several authentic ways of SMS recovery. Moreover, we will discuss the best message recovery applications.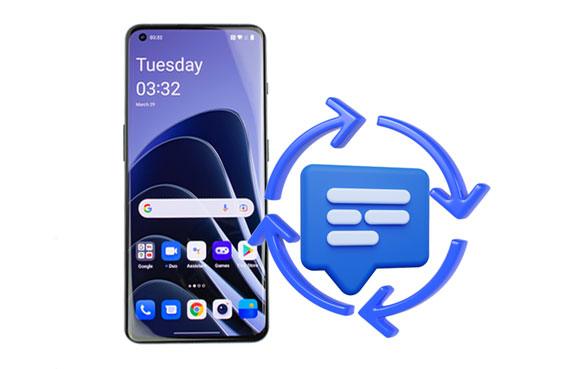 Part 1: What to Consider When Choosing the Best Android SMS Recovery Software
Before reviewing these applications, let us guide you on what you should check before choosing a text message recovery app for your Android phone.
1. Software Recovery Success Rate
You should always check the success rate of the Android SMS recovery software you are considering. It is essential to know how successful the message recovery app is.
2. The Ability of In-depth Scanning
Choose a text recovery app that can carry out an in-depth scan. This will ensure more data and information will be recovered successfully.
3. Support Different Android Models
Make sure the app to retrieve deleted text messages you choose supports different smartphone models. That way, even if you switch to a new Android phone, you can recover your lost messages from your current device.
4. Data Privacy
Data privacy and security are of utmost importance in android SMS recovery. Choose software that keeps your data safe and secure, and don't settle for anything less.
5. User Reviews
One of the best ways to find whether an app for deleted text messages meets your needs is by reading user reviews. This will give you an idea of how effective the software is and if it's worth investing in.
Part 2: The Best Android SMS Recovery Apps
From the criteria discussed in this article, below are the best SMS recovery apps that you can use when you accidentally delete text messages.
1. Powerful Android SMS Recovery Application - Samsung Data Recovery
Retrieving your deleted text messages, call logs, or any other kind of data is mission-critical. Fortunately, this Android SMS recovery app - Samsung Data Recovery, has you covered with its deep scan technology and reliable performance!
This desktop app can find more deleted text messages from Android internal storage, and list them on the interface, so that you can preview your deleted SMS before recovering them. Also, you can get your deleted contacts, call logs, photos, and other files back without trouble.
Key features of this message recovery for Android:
- Have a high success rate of recovering deleted Android SMS.
- Work natively with lots of Android phones and tablets, including Samsung, LG, OPPO, Vivo, Xiaomi, etc.
- Help you transfer your messages from Android to your computer for backup.
- Effectively recover deleted PDF documents from Android.
- Support data recovery from SD cards without rooting.
Pros:
- The Deep Scan mode can find more deleted files.
- You only need a USB cable to recover deleted files without a network.
- Great data privacy with no ads.
- You can download it for free and use it to preview your Android files.
Cons:
- You have to pay for the full version.
- Its deep scanning option is relatively slow because it needs to dig out more deleted data.
- It will remind you to root your phone if you want a full screen to find your deleted files.
Download this Android message recovery software.
Use this app to recover deleted text messages:
Step 1: Launch the Program on a Computer
After downloading and installing the software on your computer, launch it, and you will see an interface with a toolbox. Click on the "Android Recovery" option to access it.
Step 2: Connect Your Android Device to Your Computer
- Use a USB cable to connect your Android device to the computer. On your Android device, enable USB debugging mode. Then the connection will be successful. Then select the "Messages" option and click on the "Next" button to continue.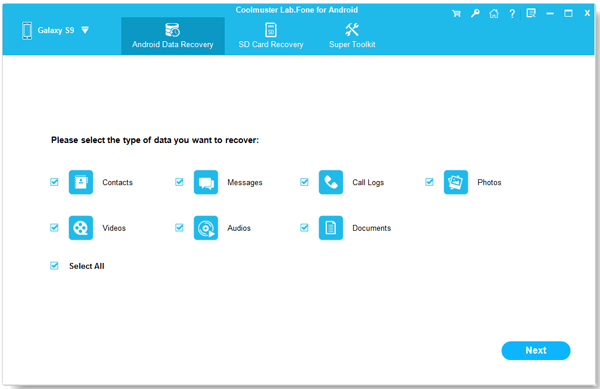 - Next, select either "Deep Scan" or "Quick Scan" and click on the "Continue" button to scan your android phone data.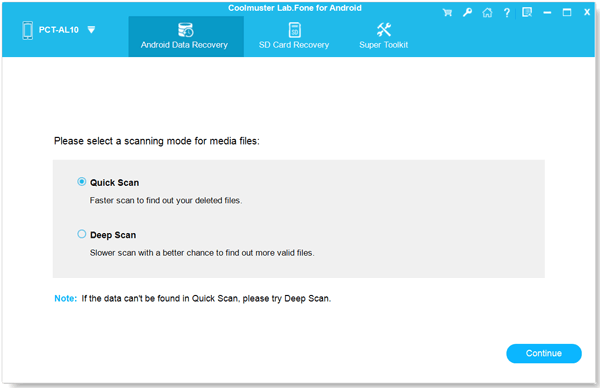 Step 3: Preview and Recover Text Messages
- After scanning your deleted messages from your Android phone, they will be arranged on the left in categories. Click on the "Messages" folder to open and preview your SMS.
- Select all the messages you want to recover and click the "Recover" button to save the data to your computer with just one click.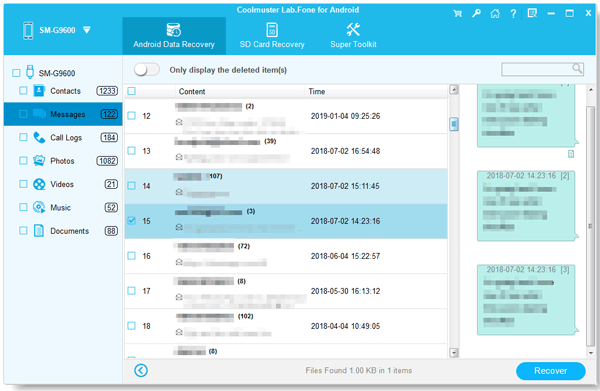 See more: How to Print Out Text Messages from LG Mobile Phones? [2 Ways]
2. GT Recovery for Android
Are you still looking for a handy app to recover deleted text messages? GT Recovery stands out among helpful apps for restoring Android SMS. This application offers text message recovery, contact recovery, and photo recovery. It is fast and easy to use.
The latest update has enabled it to recover text messages from the latest Android versions. GT Recovery for Android is an efficient and secure tool that helps you to retrieve over 13 types of data from EXT3, FAT, and EXT4 drivers.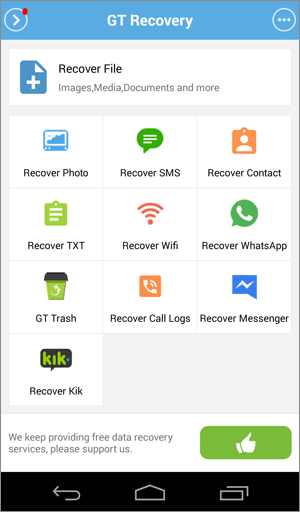 Pros:
- Fast data recovery
- Recover different types of data, like SMS, photos, and contacts.
Cons:
- Need some permissions.
- Most of its features work with rooted phones only.
Maybe you need: Can you fix Android system crashing? Are you tired of this problem? Don't worry. You can solve it with this guide.
3. Undeleter Recover Files & Data App
This application is one of the text message recovery applications with the ability to search and recover your phone's data. Undeleter Recover Files & Data app helps users quickly recover text messages, contacts, call logs and images. The application can be used to restore data from both internal storage and external SD card.
It is made without hassle as the user only needs to install the app from Google Play. In exchange for the data retrieval service, it displays video ads. In addition, you can also upload your retrieved data to Dropbox or Google Drive. It is more than an Android SMS recovery application that can enable you to retrieve Android deleted text messages for free.
Pros:
- You do not need any backup to carry out SMS recovery.
- Back up data on Dropbox and Google Drive.
- Restore different data types, such as call logs, messages, etc.
Cons:
- Low data recovery success rate.
- Require root access.
Guess you like: You can also recover deleted Kik messages on your Android device. Let's check it out.
4. SMS Backup & Restore App
This is a reliable app to restore deleted text messages on your Android phone. SMS Backup & Restore helps you back up text messages from internal and external memory. It also allows you to back up phone call logs and other data. You can select text messages from all conversations in one go or backup text messages from selected conversations. However, it cannot get deleted messages back if you don't have a backup.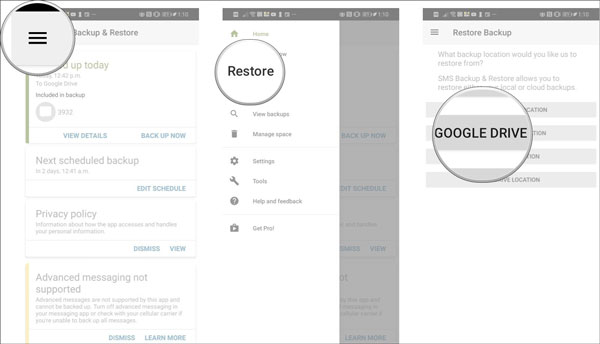 Pros:
- Easily restore your messages from local or cloud backup files.
- You can also back up messages and call logs to the local storage.
- Enable you to back up files to your OneDrive, Dropbox and Google Drive.
Cons:
- It does not support restoring data selectively.
- Require a backup before restoring data.
5. EaseUs MobiSaver
EaseUS MobiSaver is a useful program to retrieve deleted messages from Android phones. For people who want to retrieve deleted text messages from Android for free, EaseUs MobiSaver's free version is the perfect solution.
Also, this app support SD card recovery. If you want to restore images and other media files from your micro SD card, you can try this app. But if you want a more powerful recovery feature, you need to install the software, which is not a free tool.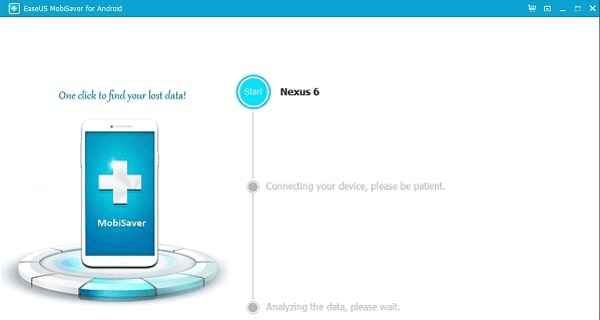 Pros:
- Work with SMS recovery software and other types of files.
- The program can solve data loss in different life scenarios.
- Speedy performance for detecting, scanning and retrieving data.
- It is secure to use it.
Cons:
- Lower success rate when compared to its competitors.
- Cannot recover the data lost from a SIM card.
Conclusion
Text message recovery is tedious, but you can make it easy with one of these excellent text recovery apps. Each text recovery app has pros and cons, so take a look at all the features before deciding which one is right for you. You can restore text messages quickly and easily with any text recovery app. Samsung Data Recovery is a potent text recovery application. It has helped many Android users to get back their deleted files.
Related Articles
Fast Export Android SMS to CSV: Make Messages More Readable (2 Methods)
Android SMS Manager: How to Manage Messages on Android with 3 Practical Methods
How to Back Up Viber Messages on PC Swiftly | 5 Effective Solutions
How to Retrieve Text Messages from Old Phone Number without Difficulty
How to Transfer Messages to New iPhone in 4 Ways [Worked Out]
How Do I Recover Deleted Facebook Messenger Messages on Android? (Solved)