Summary
Thanks to technological advances, our world is rapidly advancing, and communication costs have significantly decreased. Despite the emergence of new forms of communication, many people still rely on text messages. To protect our irreplaceable data from accidential deletion due to lost phones, system malfunction, or factory settings, regular backup is essential, specifically for crucial conversations. So, how can you properly back up text messages on Android devices?
Luckily, it's possible and can be much easier than you think. You can securely back up SMS on Android devices and restore erased text messages. Are there any straightforward and reliable methods to backup text messages on Android? Continue reading through this article to learn how to save text messages on your Android phone.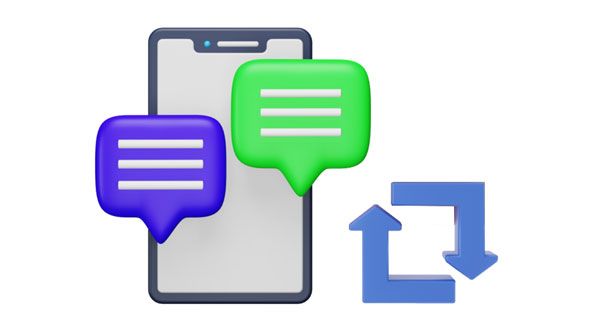 Method 1. Back Up Text Messages on Android Phone Using Google Drive
Google Drive offers an easy backup solution for almost all Android devices. Not only will it protect your messages, but it will safeguard other important data on your device. You can be assured that nothing significant is ever lost with a full backup like this. At the same time, you don't need to install an app on your phone.
Here's how to back up text messages on Android without app using Google Drive:
Step 1. Open the Google Settings
Open the "Settings" application on your Android device, scroll down to tap on the "Accounts" button.
Step 2. Add Your Google Account
Please click "Add account" > "Google" to enter your Gmail address. Then return to the "Settings" page.
Step 3: Back Up SMS on Android without App
Go to "System" > "Backup" to enable the "Back up to Google Drive" feature. Then tap on "Back up now" to save your text messages from the Android phone to Google Drive.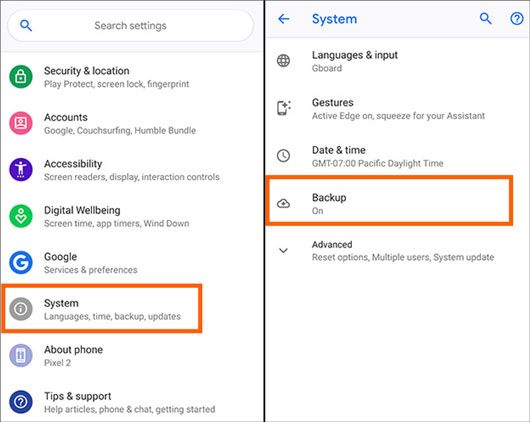 Bonus: How to Forward Text Messages on Android Devices with 4 Easy Approaches
Method 2. Back Up SMS on Android Using SD Card
Another method for backing up text messages on Android is using an SD card. However, to use this method, you need an app to back up text messages. Some of the applications that you can use are SMS Backup+, Super Backup and Restore, SMS Backup and Restore, etc.
We shall use SMS Backup and Restore to export text messages from Android to an SD card:
Step 1. Download and Install the App
Begin searching for "SMS Backup and Restore" on the app store. Download and install it on your phone. After that, launch the application.
Step 2. Set Up the Backup
- Grant the application the required permissions so that it can access call logs and messages. Tap on the "GET STARTED" button and allow the permissions of progressing.
- Tap on the green button named "SET UP A BACKUP" on the screen.
https://www.cloudwards.net/wp-content/uploads/2021/07/backup-sms-backup-and-restore-set-up-backup.png
Step 3: Back Up Messages from Android to SD Card
Select the "Messages" option to back up text SMS, and then tap on the "Next" button. Now, you can tap "LOCAL BACKUP LOCATION" to select your SD card, and click the "BACK UP NOW" icon to start the process. Once done, your SMS will be saved to your micro memory card.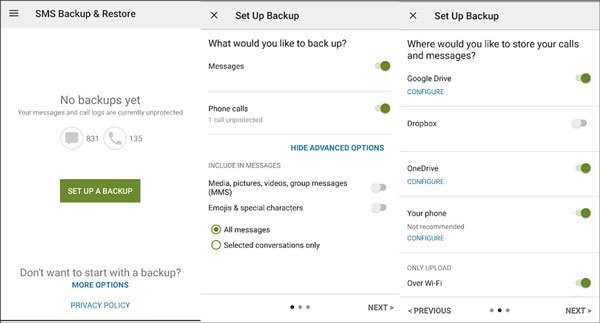 Read also: How to Transfer Messages to New iPhone in 4 Ways [Worked Out]
Method 3. Save Text Messages on Android via IDrive
IDrive is another way to back up SMS on Android. It is an online backup service that automatically backs up your data on your device.
Follow the steps below to learn how to back up text messages via this cloud service:
Step 1. Download and Install IDrive
Open your Play Store and find the IDrive application. Install the application and launch it.
Step 2. Create an IDrive Account
Create an IDrive Account if you do not have one. To boost security, ensure that you enable the "Private Encryption" option.
Step 3. Create a Backup
- Tap on the red button named "Backup" in the center of your device's screen. Doing this will direct you to "Backup the Device" option.
- Ensure that you select the "SMS" before creating a backup. If you had forgotten to select "SMS", go through the process again.
Step 4. Start the Backup Process
- Click on the "Backup Now" button to begin backing up your SMS. You can now view your backup by tapping on the "Access and Restore" button and clicking on the "My Phone Backup" option.
- Tap on the "SMS" button to view your backup messages. Doing that will let you know if you have successfully backed up all your SMS.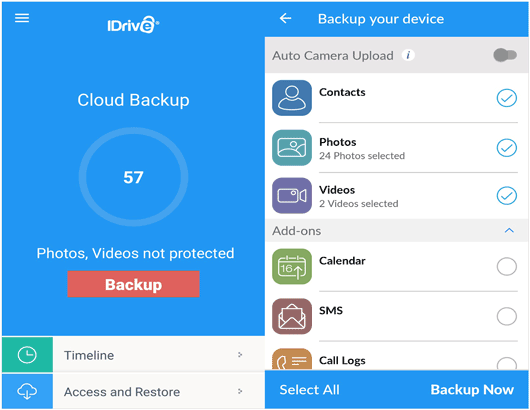 Further reading: Want a solution to recover deleted text messages from a Google Pixel phone? Then there are 4 easy tricks to help you.
Method 4. How to Save Text Messages Android Using SMS Organizer
SMS Organizer is an Android app that allows you to back up and restore your SMS on your device.
You can back up Android SMS by following the below simple steps:
Step 1. Install the SMS Organizer Application
Launch SMS Organizer after downloading it. After that, select the three vertical dots and tap on "Settings".
Step 2. Select the Backup and Restore Option
Add the Google Account to the backup SMS Android application. After that, choose how often you would like to back up text SMS applications and hit on the "Back Up" button to start backing up the texts that are stored on your Android Phone.
Step 3. Wait for the backup Process to Complete
Wait for the process to complete, and the SMS on your Android phone will be backed up.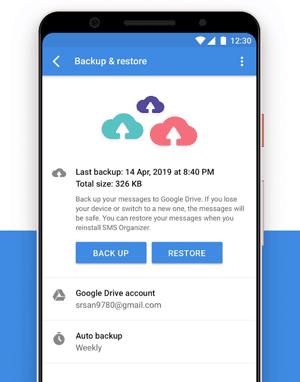 Method 5. Export Text Messages from Android to PC Using Samsung Messages Backup
Samsung Messages Backup is a great tool for backing up SMS from Android. You can export text messages from Android to PC with 1 click. Also, you can preview your Android SMS on the computer in advance, and select the messages you want before the backup.
With this software, the backup messages will be saved as a readable format - XML. Thus, you can view your messages on the computer without hassle. What's more, it allows you to reply to your messages and send your messages to multiple contacts at one time on your computer. If you want to restore your backup messages, you can make it easy, too.
Highlights of this Android message backup software:
- One click to back up text messages from Android to computer.
- Support previewing and selecting your Android messages.
- Enable you to send and receive text messages on your PC or Mac.
- Help you remove your useless messages at once.
- Transfer Android photos, contacts, music, videos, and other data types to your computer for backup.
- Fast restore your Android SMS from the computer to any Android device.
- Work for many Android devices, like Samsung, LG, OPPO, Vivo, Google, OnePlus, Motorola, ZTE, and more.
Download this software to back up your messages.
Here's how to export text messages from Android to a PC via this program:
Step 1. Download the SMS Backup Software
Launch the desktop application on your computer after installing it, and tap on the module named "Android Assistant".
Step 2. Connect Your Android Phone to the Computer
Use a USB cable to connect your Android Phone to the computer. Enable the debugging mode on your phone. The program will detect and recognize your Android device automatically.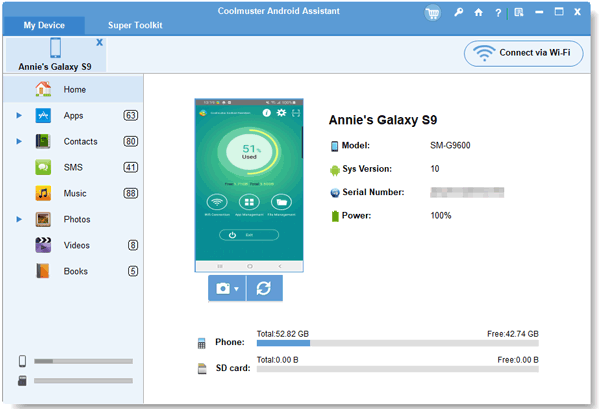 Step 3. Back Up Your Android Phone SMS to the PC
Select the "SMS" option as the data items you want to back up. Click on the "SMS" icon on the left, and you will see all the messages on your phone. Check on the messages that you want to back up and click on the "Export" button to backup text messages Android to PC.
You might need: How to Transfer Text Messages from Android to Android? [4 Easy Ways]
FAQs on Backing up Messages on Android
Q1. How to back up text messages on Android without app?
You can use Google Drive to back up SMS without an app. You only need your Google account and a stable internet connection to backup text messages Android to google drive.
Q2. Can I do Android SMS backup on a PC?
Yes, you can use the Samsung Messages Backup application to create a backup SMS Android on your PC.
Q3. Are there any Android messages apps for backing up SMS?
Yes, there are many Android messages app backup, such as SMS Backup and Restore, SMS Backup+, etc., that you can use to back up Android messages.
Conclusion
Backing up all your important SMS messages on your phone is essential for any Android user. You can use various ways to backup text messages on Android. Depending on your preference and convenience, you can use any of the above methods to back up text SMS from your Android phone. Make sure to choose a reliable way that will help you keep your data safe and secure. We highly recommend using Samsung Messages Backup due to its reliability and ease of use. Be proactive with your data security and back up your SMS messages today.
Related Articles
Does Samsung Smart Switch Transfer WhatsApp Messages? (Ultra Guide)
How to Transfer Text Messages from iPhone to Computer - 5 Flexible Ways
How to Permanently Delete Deleted Text Messages on Samsung | 3 Efficient Ways Here
How to Back Up Viber Messages on PC Swiftly | 5 Effective Solutions
My Text Messages Disappeared on My Android - Find the Cause and Fix It
Android SMS Manager: How to Manage Messages on Android with 3 Practical Methods