Summary
WhatsApp is one of the most popular instant messaging apps. Its features and capabilities are vital for keeping in touch with friends and family. It improves communication and an individual's social life, thanks to its numerous functions. Whatsapp also allows you to remain in contact with clients and business partners. However, many users have encountered problems involving WhatsApp.
When you encounter WhatsApp restoring media is stuck, how can you cope with it? Easy. You do not have to worry about this error anymore because we will guide you on restoring WhatsApp media on iPhone and Android by solving this problem.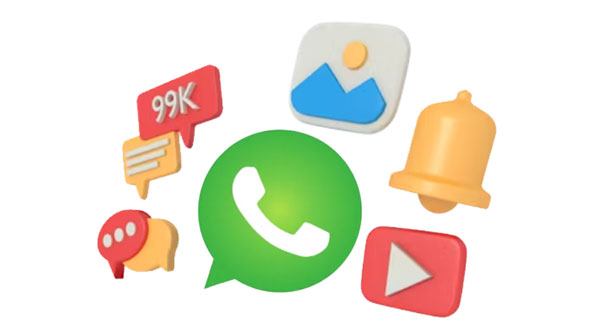 Part 1: 5 Basic Solutions for WhatsApp Restoring Media Stuck on Android/iPhone
WhatsApp allows Android users to restore their backups on a new phone from their Google Drive, and iOS users can restore WhatsApp data from iCloud backup. But at times, WhatsApp is stuck on restoring media data. How can you fix it when you can't restore WhatsApp backup? We have listed the four possible solutions for this error on android/iPhone devices.
Solution 1: Ensure Your Device Is Connected to a Reliable Network Connection
It is necessary to check your network when you can't restore WhatsApp backup on your mobile phone, for WhatsApp needs a stable network to work. If there is a low connection, then it may take a lot of time to download the media. If there are connections, your WhatsApp application can continue while you are in the process.
Follow the steps below to learn how to connect your iPhone/Android device to the internet.
Step 1: Launch the "Settings" application on your phone
Step 2: Tap on the "Network & Internet" button on Android. As for iOS, please choose "Wi-Fi" or "Cellular".
Step 3: Check the situation of the network connection on your phone.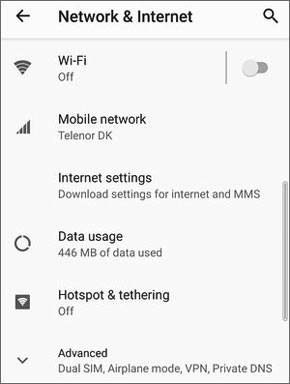 See also: But can you recover deleted pictures from WhatsApp on a Samsung phone? Open this article, and you will know how to handle it.
Solution 2: Ensure Your Phone Has Enough Memory
"My WhatsApp restoring is stuck on my iPhone at 99%. I'm sure the internet is available, but it still failed." It is common to encounter that restoring media on WhatsApp is stuck at 99%, even though your device is linked to a steady network. Why?
In fact, lack of enough memory can be a reason for the WhatsApp app being stuck. Check if your phone has enough memory by going to the settings on your phone, and you will be able to see the amount of memory being used. If you need more memory, you must delete some unwanted files first. Follow the below steps to check what you can delete from your smartphone.
On an iOS device:
Open the "Settings" application on your phone, and choose "General" > "[Device] Storage". Then you can check the internal storage directly.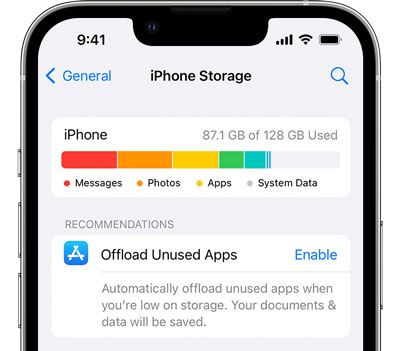 On an Android device:
Please go to "File Manager", and you can view the storage space usage. Then you can remove useless files from your folders. But on some old Android phones, you need to go to the "Settings" app, and choose the "Storage" option.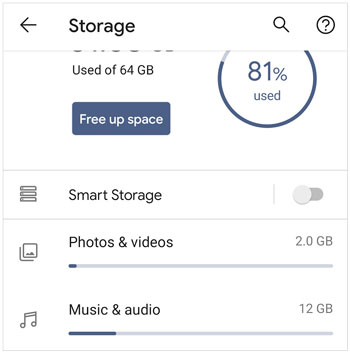 Now you can know what is occupying much space on your device. Identify what you can delete to get some extra memory space. The problem will now be solved if the issue lacks enough space.
Solution 3: Clear Cache and WhatsApp Application Data
App's existing data can also make the application get stuck while restoring the media files. On Android phones, this problem can be solved by deleting the cache and WhatsApp application data.
Step 1: Unlock your iPhone/Android device and tap on "Settings" and "Storage", and then click on "Apps".
Step 2: Now look for the "WhatsApp" application and click on it. Tap on the "Storage" button.
Step 3: After that, tap on the "Clear cache" and "Clear data" buttons to delete all the app-related data. The stuck problem should end once you clear your phone's cache and WhatsApp data.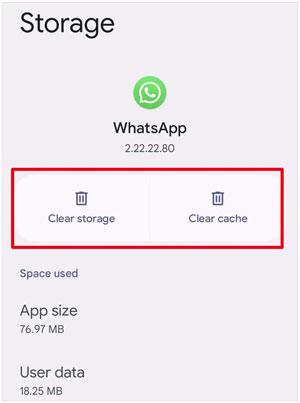 Note: On iPhone/iPad/iPod touch, there is no way to clean the WhatsApp cache in the Settings app. You can only uninstall the app to clear the cache.
Solution 4: Reinstall WhatsApp App
If you can't restore WhatsApp backup from iCloud, you can reinstall the WhatsApp app. Before uninstalling your WhatsApp application, make sure to back up your chat, contacts and media files. Follow the below steps to uninstall and reinstall WhatsApp.
Step 1: Hold on to the WhatsApp application icon for a few seconds, and a pop-up with some options will appear. Click on the "Uninstall" option to remove the application from your device.
Step 2: Download and install the application from App Store or Play Store. Then set it up and restore your WhatsApp chat history from your backup.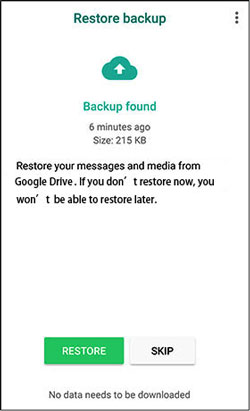 You might need: How do you transfer WhatsApp chat history to a new phone? If you don't have any good idea, you can refer to this guide.
Solution 5: Update Your Phone's Operating System
Most of the problems concerning WhatsApp are related to the operating system itself. That is why we suggest you update it if needed. Follow the below steps to be able to update:
On Android:
Please open the "Settings" app, and search for "Software update". Then click "Download and install" to update the latest OS.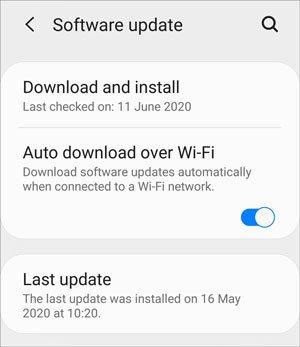 On iOS:
Navigate to "Settings" and choose "General" > "Software Update". Then you can download and install the newest iOS.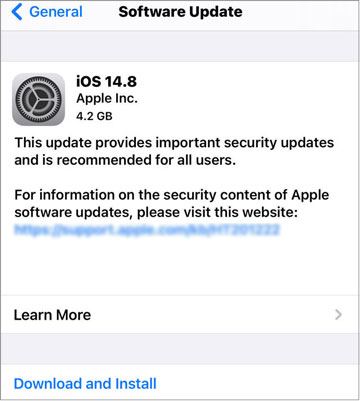 Guess you like: How to Restore WhatsApp Backup from Google Drive to iPhone with Ease
Part 2: How to Back Up and Restore All WhatsApp Media Data without Bugs
Is there a powerful tool to help you back up and restore WhatsApp data without hassle? Of course, WhatsApp Transfer can make it. With this software, you can easily transfer your WhatsApp chats and media data from your Android or iOS device to your computer.
Besides, you are able to restore your WhatsApp data from the backup to your phone or tablet. It will not lose any data in the restoring process. What's more, you don't need a network for the backup and restoration because this software can achieve the data transmission via USB. You can also move your WhatsApp chat history from Android to iPhone and vice versa.
Main features of this WhatsApp Transfer software:
- Fast back up all WhatsApp data from an iPhone or Android phone to a computer.
- Powerful and seamless transferring features make you avoid WhatsApp backup getting stuck.
- Allow you to preview your WhatsApp backup data on the interface.
- Selectively restore the WhatsApp backup to your mobile device.
- Back up Viber, WeChat, Line, and Kik messages from iOS to a computer with ease.
Download WhatsApp Transfer on your computer.
Here's how to back up and restore WhatsApp data with this program:
Step 1. Open WhatsApp Transfer
Start by downloading, installing, and launching the software on your computer. After that, click on the "WhatsApp Transfer" tab.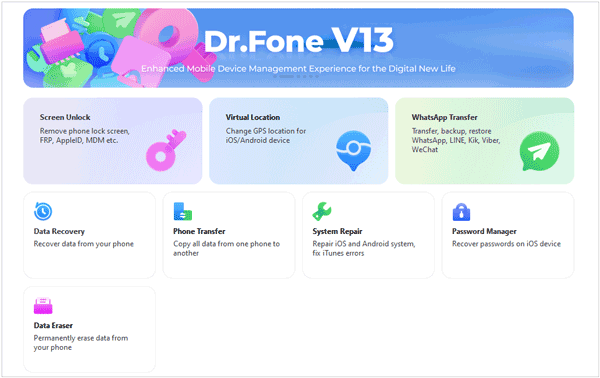 Step 2. Connect Your Phone to the Computer and Back Up WhatsApp
Use a USB cable to connect your phone to the computer and click on the "Backup WhatsApp messages" button. Then the program will back up your WhatsApp data to the PC/Mac.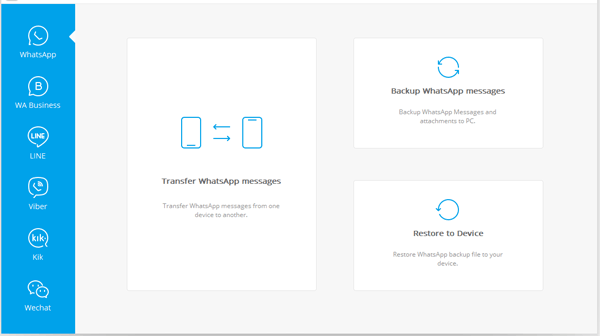 Step 3. Restore WhatsApp Media Data Easily
To get your WhatsApp data back, you can click the "Restore to Device" option, and choose a backup file you want. Then tap "Next" > "Restore" > "Continue" to start the restoration. Once the process is over, the backup will be retrieved on your mobile phone.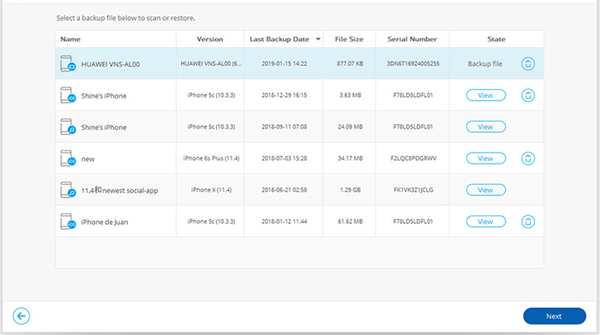 But please note that the restored data will replace your current WhatsApp data on your cell phone.
Conclusion
You can use the methods discussed in this article to solve the "Whatsapp restoring media stuck" problem. Ensure that you back up your data before trying to fix the problem. We highly recommend using WhatsApp Transfer as it is easy to back up/restore WhatsApp data on Windows and Mac computers with no trouble.
Related Articles
WhatsApp Backup & Restore - How to Back Up And Restore WhatsApp from Android?
How to Transfer WeChat History to New Phone Smoothly [3 Helpful Methods]
How to Retrieve Deleted Kik Messages on Android without Trouble
How to Back Up LINE Chat on iOS and Android Devices (4 Efficient Ways)
Restore Android Phone from Backup via Practical Approaches [Easy Guide]
Back Up and Restore Google Pixel: 3 Ways Make It Easier