Summary
In this digitized age, a mobile phone is an important device to have. It's no secret that we all rely on these devices. Though the main purpose of this device was for calling and messaging, a lot has happened in technology. For those important files stored on Android devices, backup is an effective measure. Then you can directly restore Android phones with backups. Continue reading if you want more restoring approaches for your Android device.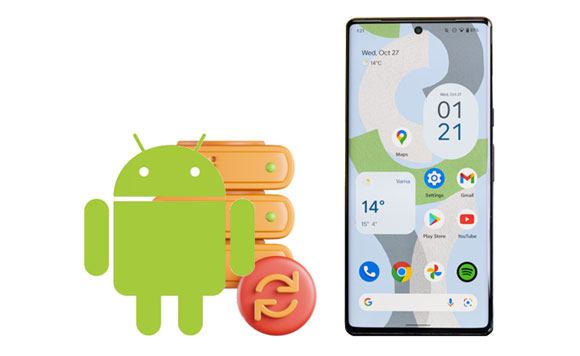 Part 1: Why You Should Back Up the Data on Your Android Device
The fact that you have contacts, messages, photos, documents and other data stored in your Android device makes it clear that you often use them. Now let's look at why you should back up your phone's data.
- If your phone is accidentally damaged, the damage's extent makes you lose your data. In this scenario, the backup will still have your data in a safer place where you can access it easily.
- You may lose all of your important data when your device gets lost accidentally or stolen. However, recovering the data will be easier if you do a backup of the data before the incident.
- Virus attack. One of the situations that can lead to data loss is a virus attack. Accessing the internet or connecting to other devices that are infected by the virus can lead to losing your data. If this happens, you can recover any damaged or lost data so long as you have backup your data.
- Accidental deleting. Another major cause of data loss is accidental deletion. Some apps have the functionality to undo the deleting, while others do not. If this is the case, then through your backup, you can restore the data without any problem.
Bonus: If you don't have backups, how can you recover deleted files from a Samsung phone? Read this guide if you want to know it.
Part 2: How to Restore Android Using Coolmuster Android Backup Manager
The first and most efficient way to restore Android phones is by using this backup manager - Samsung Backup and Restore. This is an all-in-one tool for backing up and restoring data on Android in just one touch. What's more, it can back up contacts, SMS, call history, music, videos, apps, and more. It also allows you to select the file types you need before backup and restoration.
Another good thing about this software is that it can support a wide range of Android brands, like Samsung, Google, OnePlus, ZTE, Sony, Motorola, etc. All the operating procedure is simple, and you can perform the Android backup and restore to a new phone without the hassle.
Key features of this Android restoring software:
- Back up your Android phone data to a computer in a single click.
- Restore Android phones and tablets with backups without any hassle.
- Support many files or data like call logs, contacts, messages, music, photos, videos, apps, and books.
- Compatible with those Android devices running Android OS 4.0 and upper.
- The read-only mode makes the data transfer safe.
- Allow you to manage multiple Android devices.
Download and install this backup and restore program.
2.1 How to Back Up Android Phone to Computer in 1 Click?
Step 1: Download the software and install it into your pc. Once done, launch it and click on the "Android Backup & Restore" option.
Step 2: Take the USB cable and connect the Android phone to the computer. Then enable the USB debugging feature on your mobile device.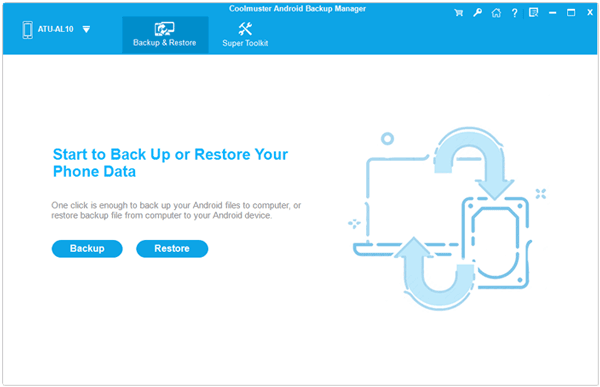 Step 3: After the program recognizes the device, tap the "Backup" option and choose the files you wish to back up. Tap "Back Up" to start the backup process.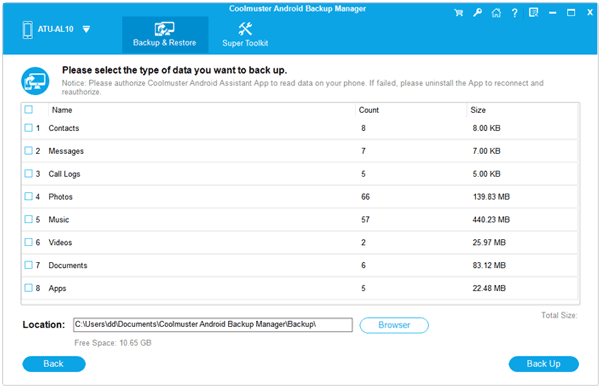 2.2 How Do I Restore My Phone with the Backup on the Computer?
After backing up your data successfully, restoring it will be easy when you do this:
Step 1: Launch the program on the computer and choose the module for "Android Backup & Restore".
Step 2: Build the connection between your Android device and the computer.
Step 3: Tap the "Restore" button, choose the backup data types you would like to recover, and click "Restore" again to start the process.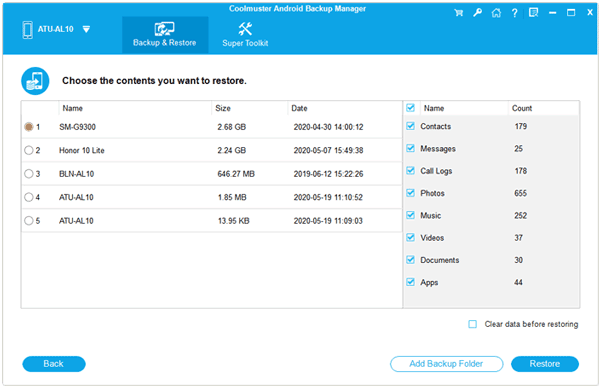 Read also: Seamlessly Back Up and Restore Text Messages on Android [5 Proven Methods]
Part 3: How to Restore Android Phone via Google Backup
Google Backup is a very useful service for Android users. It is a system that allows you to easily back up and restore important data on your Android phone. This service works by backing data to the cloud, and when your device gets lost or is damaged, you can restore the data. Now let's see how to restore Android via Google backup, but before that, you should back up your data first.
3.1 How to Back Up Android Phone to Google Drive on Settings?
You can back up your data types like SMS messages, apps, call history, photos, and videos to Google Drive and restore them later. The simplest way around this is via Settings on your Android device. Here is how to back up files to Google Drive via settings:
Step 1: From your Android device, go to the Settings app, search for the "Google" option, and tap on it.
Step 2: On the Google option, tap the "Backup" button, and enable the "Backup by Google One" button.
Step 3: If you want to back up specific data like notes, contact, calendar, and many others, tap on a button named "Google Account Data".
Step 4: Now you can navigate to the back page and click on the button named "Back up now" option so that you can start backing up your mobile data.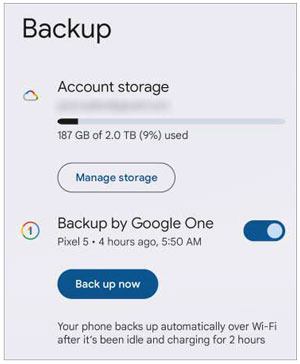 3.2 How Do I Restore My Android Phone from Google Backup?
If you back up your phone's data on your Google Drive, you can restore data easily. Here is a simple step-by-step procedure to restore the data from Google backup.
Step 1: Download the Google Drive application on the device and log into your Gmail account.
Step 2: Look for the three-dot menu next to the Home tab and tap "Backups" to get the Android phone backups.
Step 3: Choose those files you want to restore and choose the "Download" button to download the backup to your device.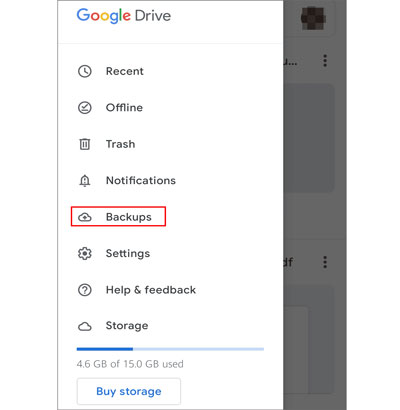 Further reading: Recuva Software for Android: Useful Review and 5 Recuva Alternatives
Part 4: How Do I Restore My Phone via Data Restore Tool
Data restore tool is an Android app with an exclusive feature to help you get back your cloud backups. Of course, you can use a USB cable to restore your data from an old phone. So, it depends on where you back up your Android data. By the way, it only works when the destination device is Android.
Here is how to restore data on Android via Data Restore Tool:
Step 1: Install Data Restore Tool from Google Play Store on your Android phone and the source phone.
Step 2: Connect both phones via a USB cable and adaptor, and tap "Next" on the screen.
Step 3: Sign in with your Google account when it pops up, and choose the data types you want. Then click the "Copy" icon to restore the old phone data to your target Android device.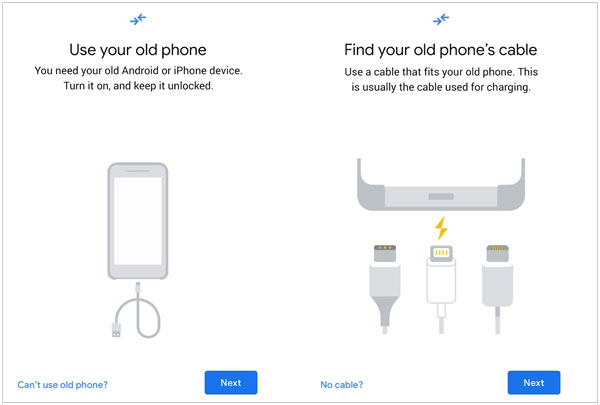 Part 5: How to Restore Android Backup via SD Card
If you have an SD card installed in your Android phone, you can easily back up your data to an SD card and restore the data to your phone.
5.1 How to Back Up Android Data to SD Card?
Step 1: Open your Android device and head to "Settings".
Step 2: Look for the "Accounts & backup" option and click on "External storage transfer". You'll get to the next page for "SD card"; click on it.
Step 3: Then click on "Backup" As easy as that.
5.2 How to Restore Data to Android Phone from the Backup on SD Card?
Step 1: To restore data from the SD card, take the SD card you had backed up and insert it into the device to which you want to restore data.
Step 2: Go to the Settings page and click "Accounts and backup". Next, tap the "Backup and restore" button and look for the "External storage transfer" option. Click on it to proceed. Hit the "Restore" button.
Step 3: You'll see all files from the backup. Hit "Restore" to start the restoration process.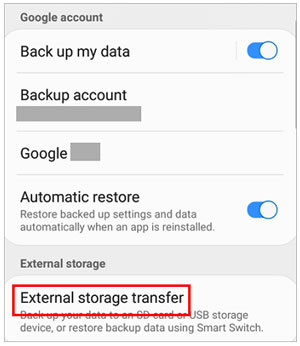 Conclusion
Many can attest that restoring Android isn't hard. Provided you did a backup, and everything will be easy. All you need to do is to follow the above steps, and you can restore everything from your old phone. The faster, easier, and sure way of backing up and restoring Android data will be through Samsung Backup and Restore. It works for most Android phones and tablets, and restores Android data with original quality. Try it!
Related Articles
How to Recover Deleted PDF Files on Android | 3 Approaches and Extra Tips
How to Get Out of Android Recovery Mode | Ultimate Solutions
How to Transfer Files Between Android Devices via Wi-Fi | 4 Easy Ways
SHAREit Review - Everything to Know: Price, Features Pros, Cons, Interface
How to Transfer Videos from Android to iPad without Losing Quality
12 Great Apps to Transfer Data from Android to Android [One-stop Transfer]