Summary
In some cases, you need to store your WhatsApp chat history as a portable file, and you can view and manage it whenever and wherever you like. For example, you need your WhatsApp chats as proof, or want to share interesting conversations with others, etc. Anyway, you are lucky because you will get 4 handy ways to export the WhatsApp chat to PDF. Now, let's take a look.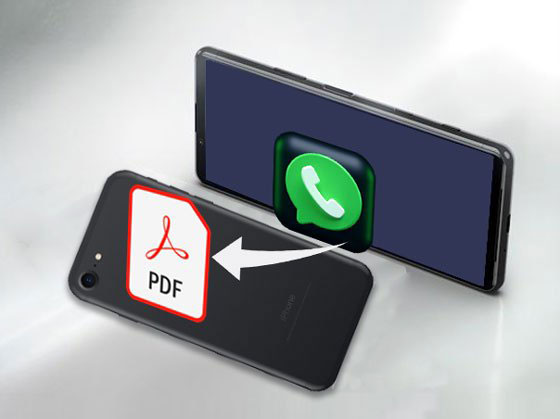 Tips: What you need to know before exporting Chats to PDF
In general, there are many texts and media files in WhatsApp conversations. It is much more time-saving to save texts only, since Office Word can make it directly. Thus, please make sure whether you need to export your media files as PDF in advance.
Part 1: How to Export WhatsApp Chat to PDF via WhatsApp Transfer
Wonder how to save WhatsApp chat in PDF in an efficient way? This WhatsApp Transfer software can give you support. First of all, it can transfer all your WhatsApp chat history to a computer in 1 click, including texts, photos, videos, voice chats, stickers, and more. Furthermore, it can smoothly transfer WhatsApp history from Android to iOS and vice versa.
This WhatsApp chat transfer software can also:
- 1-click to back up all WhatsApp chats from your mobile device to the computer.
- Allow you to export WhatsApp chat into PDF on the computer with ease.
- Easily restore your backup WhatsApp files to your Android or iOS device.
- Back up WeChat/LINE/Viber/Kik chat history from iOS devices to a computer.
- Support you to transfer WhatsApp Business chat history.
- Works for plenty of iOS and Android phones and tablets, such as iPhone 12 Pro/12/11/X/XS/XR/8/7, iPad Pro, iPad Air 2, iPad Air, iPad Mini, iPad 4, ZTE Axon 30 Ultra/Axon 30 Pro/S30/nubia Z30 Pro, Samsung Galaxy S21/S20/S10/S9, Samsung Galaxy A7/Tab S7/Tab S7 FE/Tab A 8.4, Huawei, Vivo, OPPO, Xiaomi, Google, Sony, etc.
Download the WhatsApp chat transfer software for free below.
Steps on how to convert WhatsApp messages to PDF via this tool:
Step 1. Install and Connect
Please download and install the transfer program on your computer. Then run it, choose the "WhatsApp Transfer" module, and connect your mobile device to the computer via a USB cable.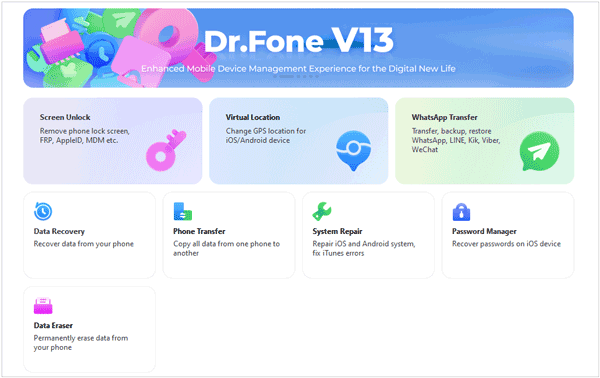 Step 2. Back Up WhatsApp Messages
Click the "Backup WhatsApp messages" tab to transfer your WhatsApp chat history to your computer. Then follow the prompts to complete the backup.
Step 3. Export WhatsApp Chat to PDF
- After the backup, to save your backup WhatsApp chat as PDF, you need to click the "Restore to Device" tab, and tap the "View" > "Next" icon. Then select the chat history you want and export them to the computer as an HTML file.
- Finally, please open the HTML file and convert it into a PDF file on your computer.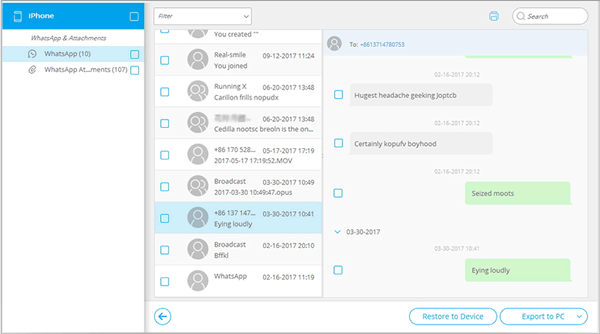 Tips: If you do want to save it as a PDF, you can use an online PDF converter. But actually, the HTML file is also portable, and you can copy it to your mobile phone without hassle.
Part 2: How to Save WhatsApp Chat in PDF via Email
Using your mail app is also helpful to make a PDF file in WhatsApp. In other words, you can manually export your WhatsApp chat history via email with or without media. If you attach to media files, they will be added as attachments. Additionally, how much chat history you can export at one time depends on the maximum email size.
Here's how to convert WhatsApp chat to PDF via email:
Step 1. Launch WhatsApp
Please open your WhatsApp, and choose the chat you want to export. Then tap the "Menu" > "More" > "Export chat" option.
Step 2. Send the Chat History to Yourself
Choose the "Attach Media" or "Without Media" option, and select your mail app. Next, please enter your email address and send it to yourself. Then you will receive the chat as a TXT document.
Step 3. Create PDF in WhatsApp
To convert the chat into PDF, you can download the email on your computer, and open it with Office Word. At last, save it as a PDF file. Please note that it doesn't contain your media data.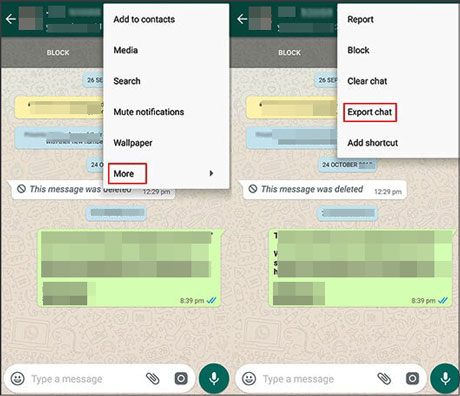 Read also: Want to restore deleted WhatsApp messages without backup? Then, please don't miss these 3 viable methods.
Part 3: How to Convert WhatsApp Messages to PDF Using WhatsApp Database (Android Only)
If you want to export WhatsApp chat into PDF on Android devices, you can directly get help from the WhatsApp database. In this way, please ensure your built-in file manager is accessible. If not, you cannot access the database on your device. By the way, you can also install a file explorer to access the database.
Guide on how to make a PDF file for WhatsApp chat history via WhatsApp database:
Step 1. Navigate to Database
Open File Manager and navigate to the "WhatsApp" > "Database" folder.
Step 2. Transfer the WhatsApp Chat File to the Computer
After accessing the folder, please find the file called "mgstore.dbcrypt12" (the number at the end is variable). Then link your Android device to the computer, and copy the file to the computer.
Step 3. Convert WhatsApp Chat to PDF
- To view the WhatsApp messages on the computer, you can download the WhatsApp Viewer software. Then launch it and click the "File" icon on the top left. Next, you can choose your chat file to view your chat history on the interface.
- Please export the history as a TXT file, and copy the content to a new DOC document. Then you can save the document as a PDF file.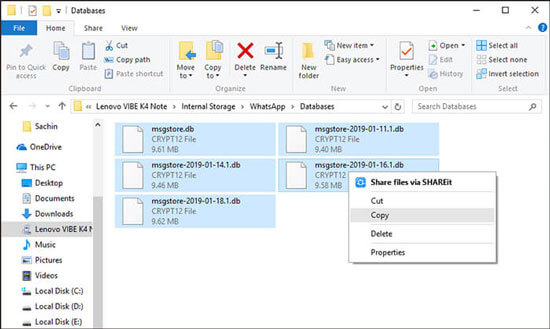 Further reading: This article will help you quickly transfer text messages from Android to Android. If needed, please take a look.
Part 4: How to Save WhatsApp Chat as PDF via Exporter for WhatsApp
Another method to save WhatsApp chat as PDF is to use Exporter for WhatsApp. You can download it from Google Play Store. It can help you convert WhatsApp chat as PDF, CSV, HTML, TXT, and more. However, it allows you to export only 8 WhatsApp messages for free. Thus, you need to purchase the service if you want to export more messages.
Tutorial on how to save WhatsApp chat into PDF via this app:
Step 1. Install the WhatsApp Exporter App
Please download and install it on your Android phone.
Step 2. Select WhatsApp Messages
- Run the app, and click the "GET STARTED" > "OPEN WHATSAPP" icon. Then go to WhatsApp, choose a conversation, and hit the "Menu" icon on the top right.
- Next, choose the "Export chat" option and the Exporter for WhatsApp app. Now, you can select the messages you want.
Step 3. Export WhatsApp Messages as PDF
After selected, click the "EXPORT" > "PDF Document" option. And the app will save the messages as a PDF file on your phone.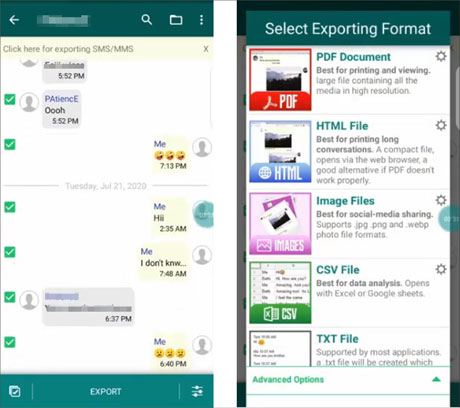 Final Thoughts
As you see, it is easy to export WhatsApp chat to PDF, as long as you get the hang of the approaches mentioned above. So, please select a tool to convert your WhatsApp chat without delay. Moreover, it is recommended to select the WhatsApp Transfer software. It can transfer all chat history to the computer at a time, and allow you to achieve the PDF conversion at once.
Related Articles
How to Print Out Text Messages from Android Phone? [4 Methods]
Transfer Text Messages from Android to Computer in 7 Powerful Methods?
How to Retrieve Contacts from SIM Card with 3 Useful Methods (without Backup)
How to Transfer Messages from Android to Mac Easily? 4 Helpful Tips Here
[Informative Introduction] 8 Top Options of Android Data Eraser Software
How to Save WhatsApp Photos on Android Fast via 3 Proven Methods [Solved]