Summary
"How can I recover 1-year-old deleted WhatsApp messages? I mean those WhatsApp messages deleted one year ago. I have still regretted those lost chat history up to now. Is there any way that can give me a hand?"
Most of us like to chat with friends and families via WhatsApp, which will generate more and more chat history on the app. Once you clear your apps without backing up WhatsApp data, you will probably lose your WhatsApp messages, including texts, photos, videos, and more. If you wonder how to recover 1 year old WhatsApp messages without backup, please don't miss this article. It will give you 5 recovery methods, including Android and iOS users.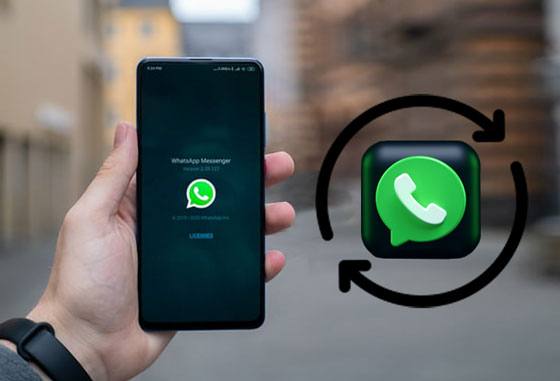 Part 1: How to Recover 1Year Old WhatsApp Messages on Android?
How can I get my old WhatsApp messages back without backup on Android? Don't panic. This part will teach 3 solutions to regain your WhatsApp history seamlessly, even though you deleted them more than 1 year ago.
1.1 How to Recover 1 Year Old WhatsApp Messages without Backup
Wonder how to recover 4-year-old WhatsApp messages on your Android phone? Have you tried this Android Data Recovery? It can easily recover lost WhatsApp files without backup on Android. Of course, it can also recover lost contacts, photos, videos, documents, and more, as long as the new data hasn't overwritten your lost files.
Highlights of this comprehensive Android data recovery software:
- Effectively recover WhatsApp data and WhatsApp attachments without backup.
- Display the deleted and existing WhatsApp files on the interface for your selection.
- Support you to directly back up your WhatsApp data from Android to the computer.
- Recover photos, call logs, SMS, message attachments, audios, and more file types from Android devices.
- Access your mobile device with read-only mode.
- Not scan your files without your permission.
What's more, this software can work for many Android phones and tablets, including Huawei P40/P30/P20, Sony Xperia 1 III/5 III/10 III, Samsung Galaxy S21/S20/S10/S9/S8, Google Pixel 5/4/3/2, ZTE Axon 30 Ultra/Axon 30 Pro/S30/nubia Z30 Pro, Motorola, etc.
Download the Android WhatsApp recovery program for free below.
Here's how to recover 1 year old deleted WhatsApp messages via this software:
Step 1. Establish a Connection
When installing the software on your computer, please choose the "Android Data Recovery" tab, and connect your Android device to the computer via a USB cable. Then enable the USB debugging mode on Android.
Step 2. Select File Types
After connecting, please select the "WhatsApp" and "WhatsApp Attachments" categories on the interface. Then click the "Next" icon. It will begin to scan your WhatsApp files.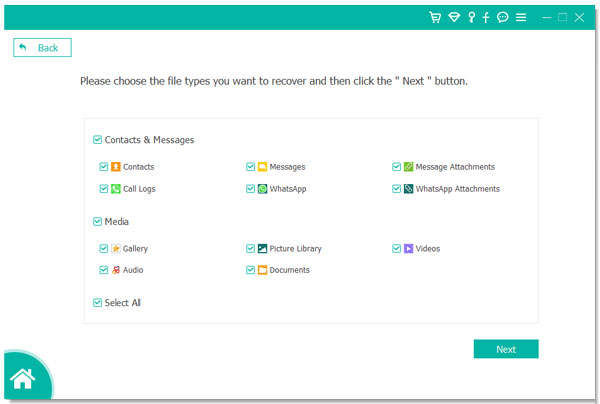 Step 3. Recover WhatsApp Chats on Android
After scanning, you can pick the WhatsApp data you want by ticking, and tap the "Recover" button to save the recovered files to your computer. Then you will complete the WhatsApp old data recovery task.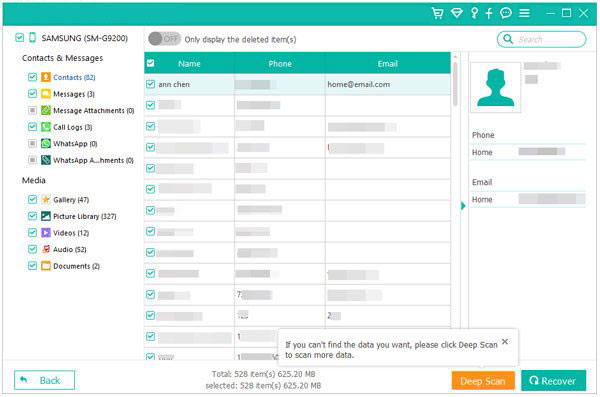 Bonus: Here are 3 proven methods to help you recover deleted files from Android internal storage without hassle.
1.2 How to Restore 2 Year Old WhatsApp Messages from Google Drive
Want to find your 2-year-old WhatsApp messages from Google Drive? If you have backed up your WhatsApp messages lost in the past 2 years, you can make it without a hitch. But if you deleted the WhatsApp backup files from your Drive, you will fail to restore the files. Thus, please check if there is a WhatsApp backup file on your Google Drive first.
Here's how to retrieve very old WhatsApp messages via Google Drive:
Step 1. Uninstall WhatsApp
Please open Google Drive on the computer and log in to your account, and make sure you have the WhatsApp backup file on Google Drive. Then you can uninstall the WhatsApp app from your Android smartphone.
Step 2. Reinstall the App
Reinstall WhatsApp and follow the popups to complete the setup.
Step 3. Restore the WhatsApp Backup File
When you see the "Backup found" screen, please tap the "Restore" icon to get the backup file onto your WhatsApp.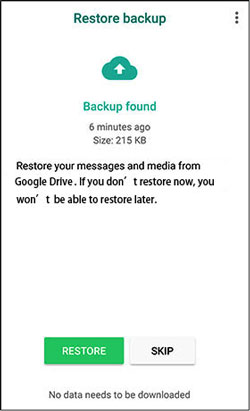 Tips: With these methods, you can fast recover deleted data from your Samsung tablet.
1.3 How to Get Old WhatsApp Chat from Local Backup
Some WhatsApp users don't like to back up data on Google Drive. They prefer to save the backup files locally. Are you the same as them? If so, you can get the old WhatsApp chats back from your local backup. By the way, please find the WhatsApp backup data on your phone in advance.
Steps to recover WhatsApp messages older than 7 days from local backup:
Step 1. Reinstall WhatsApp
To start with, please reinstall the app on your mobile phone. Then open it and type the same account.
Step 2. Restore Deleted WhatsApp Messages from Internal Storage
After that, it will detect your backup data from your Android phone. Please tap the "RESTORE" button, and complete the profile info on the screen. Then you will get your WhatsApp chats back.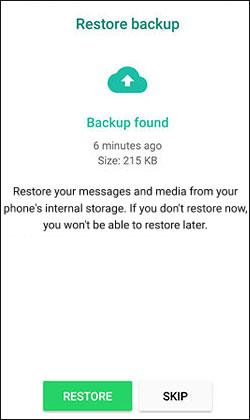 Maybe you like: This is a full guide on how to back up and restore WhatsApp for Android. Let's check it out.
Part 2: How Can I Get My Old WhatsApp Messages Back on iPhone?
What if you are an iPhone user? How can you recover deleted WhatsApp messages on your iPhone? Relax. It is also simple to solve this problem. You can follow these 2 approaches in this section.
2.1 How to Get Deleted WhatsApp Messages Back without Backup
How can I recover deleted WhatsApp messages without backup on iOS devices? Actually, you can also choose an iOS recovery program. Nowadays, there are many iPhone data recovery tools on the Internet, so that you can easily select a reliable and professional tool to regain your lost WhatsApp chat history. But please pay attention to that what data they can recover without backup.
In addition, their usage is similar to using Android recovery software. Furthermore, you can get detailed guides from their official website with ease. Therefore, this part will not repeat the steps.
Further reading: Want to transfer WhatsApp messages from iOS to Android? You can use these 5 powerful ways to complete the transfer.
2.2 How to Retrieve Very Old WhatsApp Messages via iCloud
Of course, lots of iOS users are accustomed to backing up WhatsApp chats to iCloud. What about you? Have you saved your WhatsApp messages on your iCloud? If yes, you can quickly retrieve them from your iCloud backup. By the way, it requires your device to run iOS 9.0 or later, and you need to turn on iCloud Drive.
Here's how to get old WhatsApp chats via iCloud backup:
Step 1. Install WhatsApp
Please remove the WhatsApp app and install it again on your iPhone.
Step 2. Restore Chat History from iCloud
Open the app, accept the terms of service, and follow the verification prompts. Next, click the "CONTINUE" > "Allow" > "Restore Chat History" > "Done" icon. You will restore the WhatsApp chats to your iPhone.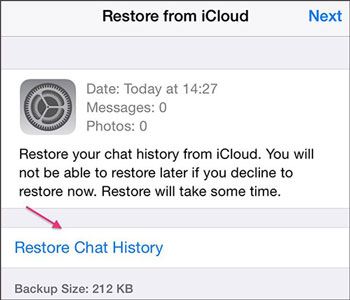 Wrapping Up
In a word, if you want to achieve the WhatsApp old data recovery without backup, you can choose to use recovery software, such as the Android data recovery program. If you have backed up your WhatsApp chats before losing them, you can directly restore them from backups. No matter what cases you encounter, you can select one solution from the previous sections without effort. Thanks for reading.
Related Articles
3 Ways to Quickly Transfer Messages from iPhone to Samsung (Latest)
How to Transfer Messages from Android to Mac Easily? 4 Helpful Tips Here
Proven: Help You Fix Photos Disappeared from Android Phone without Hassle
How to Recover Lost Contacts on Huawei Smoothly: Use 5 Ways to Make It
[Can't-Miss!] How to Effortlessly Transfer WhatsApp Messages from Android to Android?
Android SMS Manager: How to Manage Messages on Android with 3 Practical Methods