Summary
You may hear of Jihosoft Android Data Recovery but don't know its details, such as its key features, tech specifications, advantages, disadvantages, and so on. Furthermore, you wonder whether it can recover your lost Android data or not. To help you learn about this hot recovery software, we have summarized this Jihosoft Android phone recovery review by researching and testing. We hope that this article will be useful for your further reference.
Part 1: What Is Jihosoft Android Phone Recovery?
Jihosoft Android Data Recovery, as its name suggests, is a recovery program for Android data. It can recover deleted contacts, photos, videos, WhatsApp, and more from Android devices. Besides, its Windows and Mac versions are available for download and installation.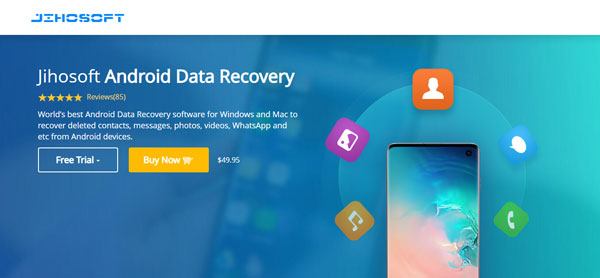 Main features of Jihosoft Android phone recovery software:
- Help you recover deleted Android files on a computer via a USB connection.
- Support multiple file types on Android, including messages, call history, contacts, photos, videos, audios, documents, WhatsApp, and Viber.
- List your deleted and existing files on the interface after finishing the scanning process.
- Support Android OS from Android 2.0 to Android 9.0, compatible with many Android phones, like OnePlus 7 Pro/7T/7/6/5, Samsung Galaxy S10/S9/S8/S7/S6, Honor 8A/8S/20/20SHTC, LG, ZTE, Huawei, and so on.
- Most media file formats are supported, including JPG, PNG, GIF, BMP, MP3, MP4, AVI, WAV, AIFF, MPG, etc.
Pricing:
Just as other recovery programs, Jihosoft mobile recovery software for Android is not free to use. It has 2 kinds of lifetime licenses, personal edition, and family edition. The former allows you to recover data for a device on a computer and costs &49.95. The latter can be used for 5 Android devices on 5 computers, which costs $99.9.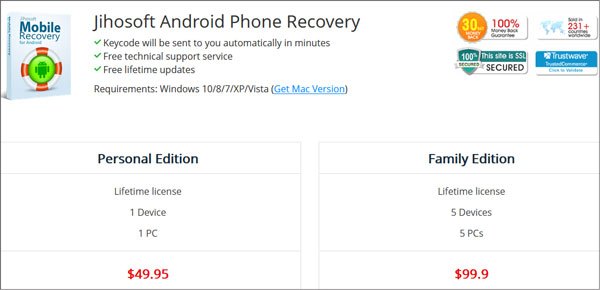 Bonus:
5 Practical HTC Sync Manager Alternatives [Worth Getting to Know]
Samsung Smart Switch Alternative: 6 Options Worth Pursuing
Part 2: What Are Tech Specifications of Jihosoft Android Data Recovery?
So, what about its tech specifications? Let's talk about it in the following.
Jihosoft Android recovery software works for Android OS from 2.0 to 9.0. That means it only supports the Android phones released in 2019 and before. For Mac, it requires Mac OS X 10.7 or later; and for Windows, it can work in Windows 10/8/7/XP/Vista.
By the way, there is no other spec data on its website, but we have proved that this software supports 32bits and 64bits for Windows PCs.
Learn more: Want to restore your contacts on OnePlus Nord? You can follow these 4 approaches.
Part 3: What Are Authentic Jihosoft Reviews? (Including Pros and Cons)
To evaluate the quality of this Android data recovery software, we have also focused on Jihosoft reviews. Thus, we extracted multiple comments written by different users.
Comment 1: Downloaded the trial version, then purchased the software. And it really recovered the files I attempted to recover.
Comment 2: JIHOSOFT was able to recover my full video! I couldn't believe it for a while.
Comment 3: I have installed this app on my computer, but it cannot search for deleted files, and shows nothing after the scan.
Comment 4: It recovered most of my photos, but some of them have not been recovered.
Comment 5: It did not work. The free trial is not available and cannot recover any deleted files. I have tried it several times.
We found that some users had recovered their files successfully, but some were not. To get further evaluation, we have tested this desktop application. The following are its pros and cons:
Pros:
- Easy to install, and quickly scan files out from an Android device.
- After the registration, it can transfer deleted and existing files from Android to a computer.
- Support users to preview and select files before saving them to the computer.
- Support recovery of WhatsApp and Viber files.
Cons:
- The free trial can neither find deleted files nor save Android files to the connected computer.
- It can recover more deleted files from the rooted Android devices, but there is no root prompt during the recovery process.
- If you tap the "Home" icon to select other file types, the program will start to scan the connected Android device again.
- It is inconvenient to select specific files because the software selects all files by default.
- At present, it cannot support Android 10 and upper.
Further reading:
Titanium Backup Alternative - 10 Helpful Options to Back Up Android Files
Swiftly Stop Parents from Tracking Your Phone (Android and iOS)
Part 4: How to Use Jihosoft Android Phone Recovery?
Jihosoft recovery program is straightforward to use. As long as you follow the prompt to enable the USB debugging feature on Android, it will recognize your Android handset swiftly.
Step 1. Install the Jihosoft Mobile Recovery
- Please visit the Jihosoft website, choose the "Android Data Recovery" software. Next, tap the "Free Trial" icon to select a version to download and install the software on your computer.
- Then, launch it and select the file types you attempt to recover on the interface.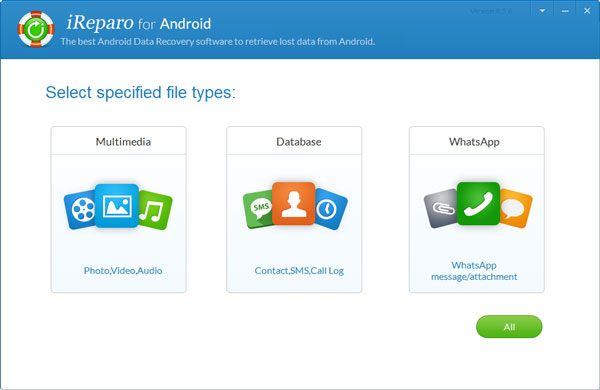 Step 2. Establish a Connection
Connect your Android phone or tablet to the computer via a USB cable, and choose the "MTP" option on Android. Then follow the guide to enable USB debugging mode on your mobile device.
Step 3. Select and Recover Deleted Files
After the connection, it will scan your selected files and list them on the interface. Now, please tap on one category, and preview your deleted files. Finally, click the "Recover" icon to save them to your computer.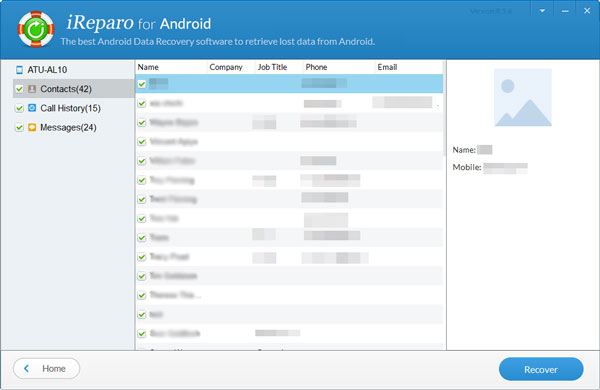 Tips: If you haven't registered the software, you can preview your Android data only.
Part 5: What Are FAQs of Jihosoft Mobile Recovery?
Perhaps you can find the answer you want by checking the frequently asked questions of Jihosoft Android Data Recovery from this part.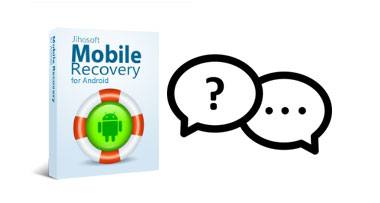 1. Is Jihosoft safe?
Yes, this Android recovery software is safe and has been proven by many users and our tests. It uses the read-only mode to protect users' information from leakage. If you don't believe it, you can disconnect the network of your Android device and computer during the recovery.
2. Do I need to root my Android device?
Yes, rooting your Android phone or tablet can allow the software to access the internal memory for data recovery. Otherwise, it will fail to find the deleted files.
3. Can Jihosoft recover deleted data from Apple and Windows smartphones?
No, this Android recovery program supports Android mobile devices only.
4. Can it recover deleted files from an inserted SD card on the Android phone?
No, it cannot restore files from any SD card, even if you install the card on your Android device.
5. Why it can't recognize my connected Android phone?
In this case, please make sure your phone runs a supported Android OS (from Android 2.0 to 9.0) first. Then check if you select the MTP transfer mode and enable the USB debugging feature on the phone. Next, check your USB cable and port. If the hardware is damaged, the connection won't be successful.
Part 6: What Is the Excellent Alternative to Jihosoft Android Recovery?
If you want to recover deleted files from your Android device running Android 10 and upper, you can use this alternative to Jihosoft Android recovery - Samsung Data Recovery. This program is highly compatible with most Android phones and tablets. Additionally, it can recover deleted files from Android internal storage and SD cards. Moreover, you needn't root your device if you intend to recover data from an SD card.
Here's how to use this Jihosoft Android recovery alternative:
Step 1. Download the Package
Download its package, and install the program on your computer. Then connect your Android phone to the computer via a data cable.
Step 2. Select File Types and a Scanning Mode
- After setting up the connection, you can tick the files types you want on the interface. Then tap on the "Next" to go on.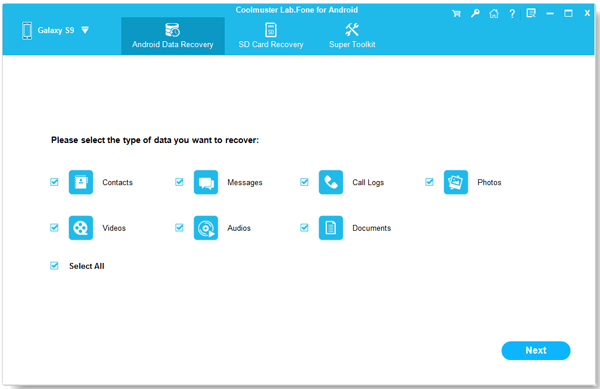 - Here, you can select a mode for scanning your deleted Android files, then click the "Continue" icon to start scanning files.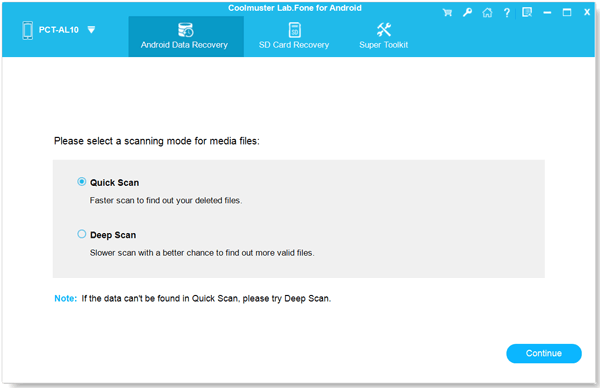 Note: It will remind you to root your device if you haven't rooted it. But it is unnecessary to root your phone when you restore deleted files from external storage space.
Step 3. Recover Deleted Android Files
Choose a category from the left panel, then select the files you want to recover. Next, click the "Recover" button to save them to your computer.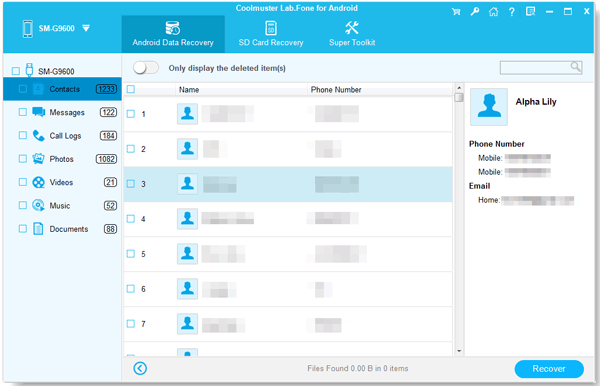 Conclusion
So, what do you think of Jihosoft Android Phone Recovery? Is it the best Android data recovery software in your mind? Maybe you are going to compare Jihosoft and other recovery programs further. If so, Samsung Data Recovery can meet your needs, because it can recover deleted files from Android internal and external memory. What's more, it has stronger compatibility so that it can work for more Android devices.
Genuinely, thanks for reading.
Related Articles
[Informative Introduction] 8 Top Options of Android Data Eraser Software
How to Transfer Videos between Phone and Computer in 6 Easy Ways
Fixed: Why Samsung Cloud Backup Failed? And How to Fix It without Hassle?
How to Transfer Data from Android to iPhone 12/12 Pro/11/11 Pro Max (Easiest)
How to Transfer Photos from Android to PC Windows 10 [Handy Guide]
How to Transfer Contacts from Android to Outlook via 3 Essential Ways