Summary
Do you want to reset your LG device but are still stuck on FRP bypass? This is a common problem that many Android phone users face while trying to rest their devices. The FRP bypass process becomes even more tricky if you can't crack this code and verify the account previously used on the device.
When it comes to bypassing LG FRP, you have a variety of methods at your disposal. However, not all are worth trying. Only a few produce tangible results. To ensure success when bypassing google lock on LG, you must meticulously follow the right step; otherwise, your attempt may prove futile.
The LG FRP bypass concept isn't child's play. It's complicated and needs much scrutiny before you can succeed. But you have nothing to worry about because we will show you sure ways to bypass LG FRP and the easiest way to remove screen locks from LG devices.
Before we jump into the methods that will help you instantly bypass FRP on LG, let us quickly cover some of its basics.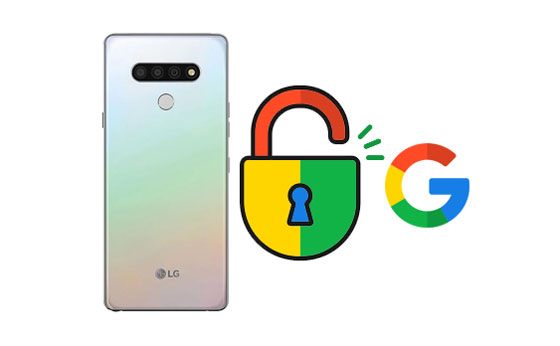 Part 1: Why Bypass FRP on LG
Google Account Verification, commonly known as Factory Reset Protection (FRP), is a robust security protocol introduced in Android devices operating on the 5.1 Lollipop version. Before its introduction, users could bypass the lock screen by factory resetting devices with recovery mode.
But not anymore; after you've performed a reset on your device, Google will prompt you for the associated account login details before granting access to it again. Thus, when you factory reset your LG phone, you need to input your Google account info. Otherwise, you cannot reset your device.
Part 2: How to Bypass LG FRP Lock in Top 3 Ways
Unlocking your LG phone has never been easier, thanks to the numerous solutions. They make FRP bypass a piece of cake. To help simplify the process, we present you with the most effective methods to bypass the LG Google account. With these reliable options, it's just a matter of finding out which one works best for your needs, and you are good to go.
Method 1. How to Bypass Google Verification on LG with Language Settings
Bypassing your LG FRP lock is easier only if you know what to do. You can remove the FRP through the Language Settings. Here's how to bypass Google account on LG Tracfone via Language Settings:
Step 1: Connect the LG phone to the Wi-Fi network and return to the home page. From there, tap "Language Settings" and select the third language from the list of options.
Step 2: Head to the Wi-Fi settings and "Add a network" press down on the plus icon at the bottom of your keyboard.
Step 3: Next, click that option under the keyboard; on the next window, click on the blue option. Look for the language with an arrow, then click on three dots at the top of this window to open a range of languages.
Step 4: From there, click on the second option, then click "Search". Now search for "About Switch Access", press the "Share" icon, then share it on Google. Then select the option from the window, then tap the blue icon at the bottom.
Step 5: Head to "Google", switch to "Language settings" in your keyboard to English, and type "albastuz3d.net" into the search bar. Download and install the Google Accounts Manager app and FRP Bypass app.
Step 6: Once you are redirected to the login page, enter your new Google Account information. Then you will complete the LG FRP bypass.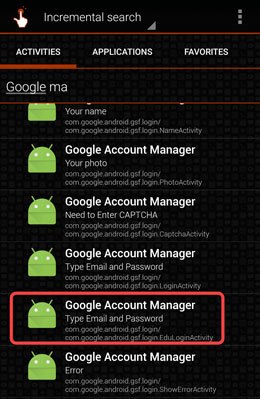 You might need: Are you searching for the way to transfer text messages from an LG phone to a computer? Then you can read this post to get useful solutions.
Method 2. How to Reset LG Phone without Google Account Using a SIM Card
You can use a SIM card to quickly bypass LG Factory Reset Protection. Even though it is a simple method, it's quite lengthy. Despite that, you will easily bypass FRP on your LG and get past the security barriers. Here's how to bypass factory reset protection LG:
Step 1: Take your SIM card and insert it into your LG phone. Connect to Wi-Fi and click on the "Calling" button. Now add a contact by tapping "Emergency Information" and clicking the pencil icon. After that, just select "Add contact".
Step 2: You should add the contact number of your choice and click "Contacts Number" and "Change data". Next, click on the three-dot menu at the top right of your screen, select "Share", "Share via MMS", and "App info", and choose "SMS App" one at a time. Next, press on "Opening Links" > "YouTube", and choose "App Notifications".
Step 3: Navigate to "Additional settings", proceed to "About", and click on the "YouTube Terms of Service" option. Your phone will automatically open the Chrome browser.
Step 4: Search http://albastuz3d.net/, then download Google Account Manager.apk with Quickshort maker.apk. Click on "Google Accounts Manager" from the files you downloaded.
Step 5: After the pop-up appears on your screen, click "Settings" and activate the "Allow From This Source" option. Go back to Google Accounts Manager, then follow the installation steps. Install the Quickshortcut app as well.
Step 6: Launch the app and search "Google Accounts Manager". Click on it, then select "Try". Click on "Three Dots" and browse "Sign In". Lastly, hit "OK". Doing this will reset your password and take you to a new sign-in window. For a successful sign-in, kindly enter valid Email credentials, and follow the given steps to finish signing in.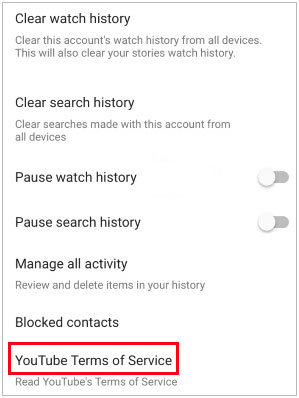 Read also: iPhone to LG Transfer Guide: Swiftly Transfer Data from iPhone to LG
Method 3. How to Bypass Google Lock on LG with Third-Party Apps
Unlocking an LG phone does not have to be a painstaking task. You only need the right program to get it done. This section will cover two of the finest tools for LG Google account bypass.
App 1. FRP Bypass APK
To help users with Google account verification woes after a factory reset, LG has come up with the FRP APK tool. This bypass tool is compatible with all Android phones above version 5.0 and can bypass Google verification without hassle.
FRP APK only works with LG phones to bypass a Google account. The process can be very tedious, with long steps, which can be forgotten, thus interrupting the whole process. Before starting, ensure your LG phone has a strong and stable connection.
The good thing with this app is that you don't need a computer to bypass the LG Google account. Besides, it's compatible with most LG phones. Here is how to carry out LG bypass Google account without a computer:
Step 1: Boot the device into Recovery Mode. To do that, simultaneously press and hold the "Power" + "Volume Down" + "Volume Up" buttons.
Step 2: Power on your phone, and proceed through "Setup Wizard". Once you get to the main display, tap on "Accessibility".
Step 3: In Settings, choose the key combination for the overview and click "OK" from the pop-up window. On the Accessibility page, select "Talkback". Then choose "Vision" and scroll down to "Settings". Click on it and then on the "Privacy Policy".
Step 4: Go to a browser and in the address bar, enter this: "lg.bypass.google.verify.apk". After downloading the apk file, press the "Volume Down" button to activate "Dual Window" mode.
Step 5: Now, proceed to File Manager, and access your "Downloads" folder. Once you locate your apk file, simply click it to install. Open it, head to "General", and then choose "Users".
Step 6: After that, go to "Settings" and change your account. Lastly, type in a new password for your device to reset it.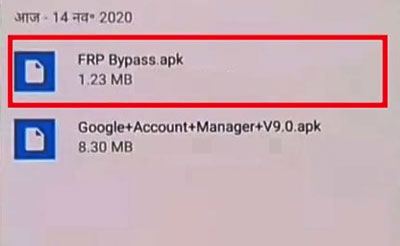 App 2. Tungkick Bypass Tool
If you have reset your LG phone and now need to bypass the FRP lock, you can use Tungkick. Normally, you bypass the FRP lock if you forget the account used and its password. Tungkick's LG bypass app comes in handy in such cases. Resetting your device won't be impossible when you have this tool ready to remove the lock.
Tungkick is free and compatible with many LG tablets and phones. Besides, you don't need your username or passcode to bypass Google verification. Here's how to bypass Google lock on LG with a computer:
Step 1: Plug the device into the computer while pressing the "Volume Down" button to enter the device to Download Mode.
Step 2: Activate the "Tungkick" app by navigating to the directory where you extracted its contents and double-click on tool.exe.
Step 3: Wait as the app starts up. When it does, it will show a selection of LG devices that are compatible with it. After the app starts, choose your LG device, and the app will start bypassing the FRP lock.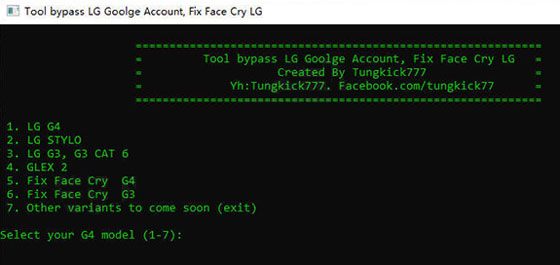 Read also: Samsung FRP Bypass Tool - Fabulous Tips and Tricks in 2023
Bonus: How to Remove Screen Lock on LG Devices Without Effort
Bypassing FRP LG isn't a task that can be taken lightly, considering its technical aspects. Every measure must be followed keenly; any misstep could interfere with the progress of unlocking your device.
After learning how to bypass FRP lock on your LG, you can also know how to bypass the lock screens. You never know when the need arises. For instance, you might have purchased a device that has a lock screen problem, or you forgot the lock screen passcode. In that case, you must use Android Unlock to bypass the screen lock on an LG.
Android Unlock is a super cool software that removes Android screen locks in several minutes. It removes all screen locks such as PIN, password, pattern, and fingerprint without losing data. Moreover, no tech skills are needed. Not only is it compatible with LG devices, but also with Samsung, Xiaomi, OnePlus, and Motorola smartphones that are running on Android 2.1 or a newer version of the OS. By the way, you can use it to remove FRP lock on Samsung.
Download this Android Unlock software.

Follow these steps to easily bypass your LG device's screen lock:
Step 1: First, download the Android Unlock app on your PC and install it. Run it and select "Screen Unlock" from the available options. Connect your LG mobile device to the PC with a USB cable. Finally, hit on the "Unlock Android Screen/FRP" option.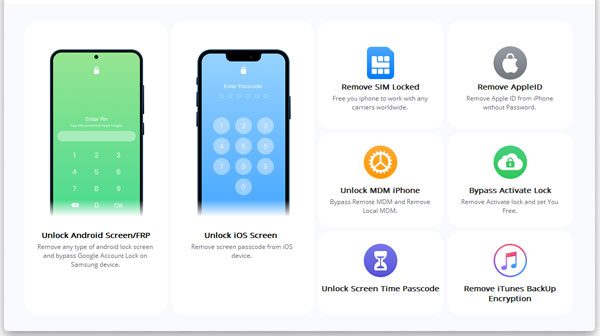 Step 2: Choose "100% Remove Screen Lock". This feature will erase your lock and all settings from your LG phone. Then select the phone info on the interface, and tap "Next". Once done, boot your device into download mode. First, power it off, hold both "Power + Home + Volume Down" keys for a few seconds and release the "Power" and "Home" keys while pressing "Volume Up".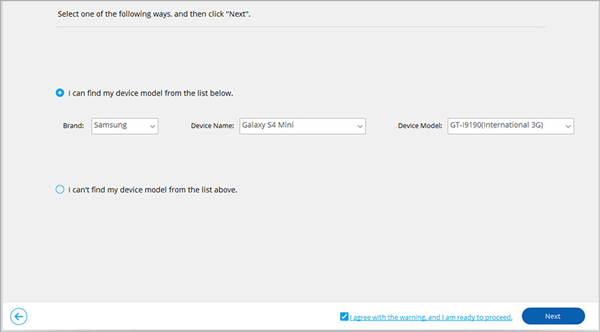 Step 3: The phone will start to download the recovery file, and when finished, click "Remove Now", and your LG's screen lock will be removed instantly.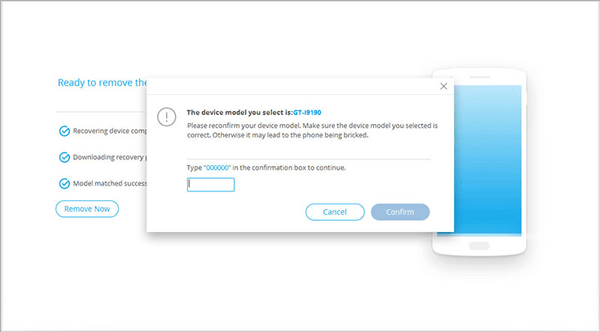 Conclusion
Bypassing FRP Google lock on LG is a tricky task that requires using the right tool and following the correct steps. In this article, we have given you methods to bypass FRP lock on your LG device. Though they may appear a bit complicated to use at first glance, you will find at least one that will help you do LG Google bypass without any issue.
Similarly, if you don't want to struggle with lock screen removal after bypassing the FRP lock on LG, Android Unlock is an excellent software that never fails. It removes any type of screen lock quickly. Furthermore, this software will become stronger in the future to bypass FRP lock on more Android devices.
Related Articles
How to Transfer Data from LG to Motorola Fast | Support Most Data Types
Wonder How to Transfer Contacts from LG to Samsung? 5 Ways You Cannot Miss
LG Backup & Restore - How to Back Up & Restore My LG Device in 2023?
How to Retrieve Deleted Text Messages from LG Cell Phone in 2023 [Solved]
LG File Transfer to PC in 4 Practical Solutions [Solved]
Unlock Android Phones - How to Unlock Android Phone?