Summary
FRP is a security mechanism Google added to the Android operating system; it's activated automatically when setting up a Google account on Android phones. This feature is undeniably superb, as it prevents any unauthorized access. When you try removing your Google account that was initially set up, the device will automatically get locked. So, how to bypass FRP Google Account? Is it possible to disable Google account verification FRP? You'll know all that from this post. Just continue reading.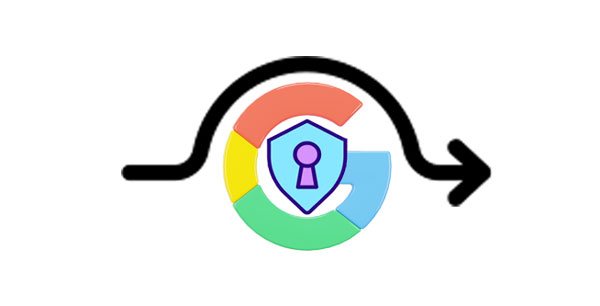 Part 1: FAQs on Bypassing FRP Google Account
Q1. Will factory reset remove FRP on my Android phone?
No. FRP lock is a protective mechanism that automatically activates after setting up your device. After you do a factory reset, the device gets locked and only unlocks when you enter the Google account that was initially used on the device during the setup. So, a factory reset won't remove the FRP lock from your device.
Q2. How do I delete my Google account from an Android phone before factory resetting?
Step 1: Open the "Settings" application and head to "Password and accounts".
Step 2: From the "Accounts" page, click on your email address for the specific Google account you wish to delete.
Step 3: Click the "Remove account" tab. Review the pop-up and click "Remove account" and "OK" to confirm the action.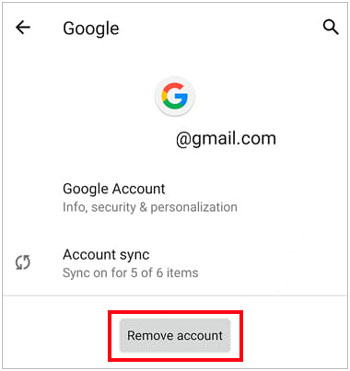 See more: What if your phone is Huawei? Then how can you bypass Google account on Huawei without a PC? To solve this problem, you can read this guide.
Part 2: What Is FRP, and Is Bypass FRP Google Account Possible?
FRP stands for Factory Reset Protection and is an Android security feature that comes with Google Account set up for Android smartphones. It's basically a security feature that helps in keeping the device safe from malicious intrusions. If a user removes their Google account from the device, it will lock automatically and become unusable until its FRP is removed.
There is no official way to bypass FRP lock on Android phones, but you can still achieve that through third-party apps. Although it's not entirely safe, sometimes you have no choice. Let's say you did a factory reset on the Android phone; it restarts, then appears as if you're stuck. To get past this, you must sign into your Gmail account linked to the device, and if you can't remember, you'll forever get stuck there. In such cases, you only have an option of bypassing the FRP google account from the device to continue using it.
Read also: How to Bypass Samsung Lock Screen without Losing Data for Novice Users
Part 3: How to Bypass FRP Google Account?
Once you do a factory reset, you'll obviously get trapped in the verification page. Well, that is for security purposes. If you try accessing your device, it'll show you the Google Account sign-in page and ask you to type in the original email address or phone number linked to it. This is how Google prevents any unauthorized access. However, there are FRP Google account bypass and flashing tools, like the ones mentioned below.
Method 1. Bypass FRP Google Account Verification on Samsung Devices in 1 Click
There are several tools to remove FRP lock on Android phones, but not all are as vigilant as Android Screen Unlock. This tool does well in bypassing Google account verification FRP lock on most Samsung devices even when you do not know the OS version.
It lets you get to your Android phone's home screen without a hassle after it successfully removes FRP lock. It doesn't matter if you've forgotten your Google account or just purchased a used device; this tool disables Google account in one touch. Plus, it can unlock the Android screen when you forget the PIN/pattern.
Top Highlights of Android Screen Unlock:
- Bypass FRP lock on Android Samsung devices in 1 click.
- Guide you to disable FRP bypass Google account lock step by step.
- Support most Android operating systems.
- Remove screen lock from some LG and Samsung phones without erasing data.
- Support most Samsung devices.
Download this Google account manager for FRP bypass.

Here is how to bypass google account verification FRP on Samsung Android devices:
Step 1: Install the program on the computer, launch it, and choose the module for "Screen Unlock".
Step 2: Head to the next page and click the option for "Unlock Android Screen/FRP" to proceed. On the following page, you'll see the option for "Remove Google FRP Lock", click on it. If you don't know the version of the Samsung phone, choose the option for "All Android versions (One-Click Removal)" to continue.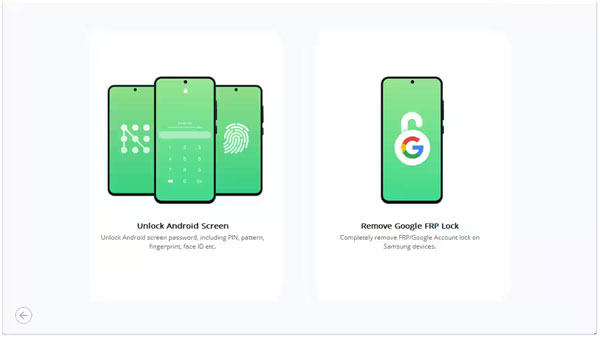 Step 3: Take the Samsung device, open it and look for the "Emergency Call" option. Input "*#0*#" on your device, then dial it. You'll see the secret menu displayed. Enable USB debugging and tap "Authorized" on the computer once done turning on debugging mode.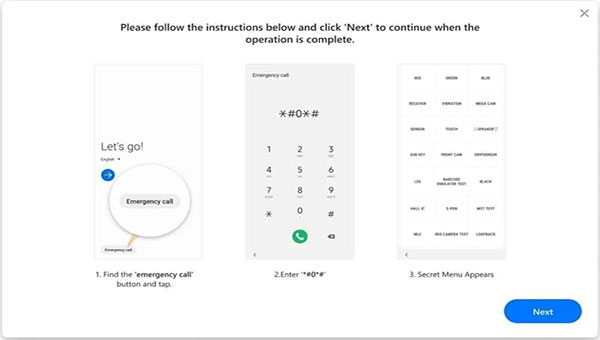 Step 4: Then the program will start removing the FRP lock, which you can see on the screen. After the process completes successfully, you'll see a prompt page on the computer. Just hit "Done" to finish.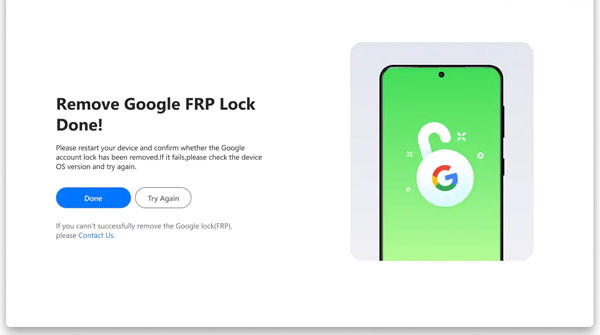 See more: Samsung FRP Bypass Tool - Fabulous Tips and Tricks in 2023
Method 2. Disable Google Account Lock FRP on Android Phones via FRP Bypass APK
If you don't have a computer and you want to remove the FRP lock on your Android phone, you can try using the FRP Bypass APK. It's a mobile app that will assist you in disabling Google account verification on almost all Android devices. If you have an LG, Huawei, Samsung, or any Android device, you can use the FRP Bypass APK to remove that annoying lock after factory resetting your device. Just download this mobile APK and start bypassing the FRP lock. In addition to FRP Bypass APK, Google Account Manager 9.0 APK for FRP Bypassing is another helpful tool that you can choose. Below are the steps to follow:
Step 1: Download the app on your Android phone. After that, copy the app to the flash drive.
Step 2: Connect the flash drive to the phone using an OTG. When File Manager pops up, the APK will automatically launch.
Step 3: Once done, head to your phone's Settings and select "Backup". Proceed to "Reset" > "Factory Data Reset" and then "Reset Device".
Step 4: Wait for the device to reboot and check if the FRP lock was removed.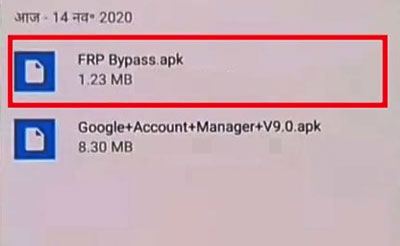 Further reading: By the way, if you worry about data loss when bypassing FRP lock, you can take a full backup of your Android phone in advance.
Method 3. Contact the Former Owner or the Merchant
If you still can't remove the Google account verification for your Android smartphone, you can try to locate the former owner, who might be able to help. Although it might not be a guaranteed method, a simple phone call sometimes works wonders.
Conclusion
FRP is a vital security feature that Google has introduced to keep Android phones safe. But sometimes, you have no choice but to remove it. The above are fantastic ways to quickly get past that annoying lock. If you have a Samsung phone, the easier way to bypass FRP lock would be to use Android Screen Unlock. It's a simple tool that bypasses your Google account on your Android device and makes it usable again.
Related Articles
Top 8 Android Phone Unlocking Software to Unlock Your Android Phone (Thorough Comparison)
[Solved] How to Get into a Locked Phone with 5 Detailed Ways
How to Unlock ZTE Phone Pattern without Losing Data [5 Effortless Methods]
Android SIM Unlock Guide: Fast Unlock SIM Card on Android
How to Reset a Motorola Phone That Is Locked - 5 Useful Tricks
Android Data Recovery on Mac: A Full List with 7 Reliable Tools