Summary
When you upgrade your handset from LG to Motorola, you will be worried about easy and effective ways to share your data. Luckily, there are many apps and methods to move data, and you can restore information easily. We will talk about how to transfer data from LG to Motorola in the following. With these tips, you can finish the data migration without effort.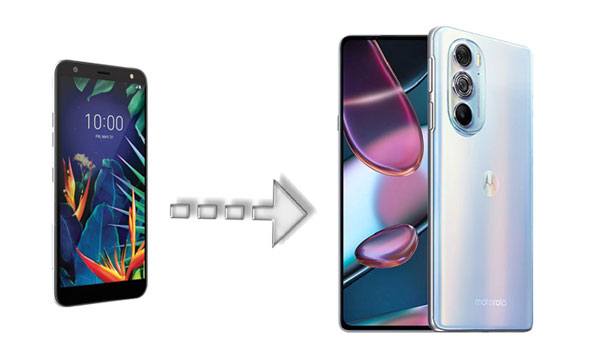 Part 1: How to Transfer Data from LG to Motorola with LG to Motorola Mobile Transfer
The LG to Motorola data transfer tool - Samsung Data Transfer, is a secure and easy way to move multiple data types from one device to another. Thus, you can use it to transfer text messages, photos, contacts, apps, music, videos, and more from your LG to Motorola phone. The process is simple, stable, and swift, and you can trust it to move files between Android and iOS devices.
Moreover, the software supports Windows XP/Vista/7/8/10/11, Mac OS X 10.9, and later versions. It also supports Android OS 4.0 or upper, and iOS 5.0 or higher, so you can use it on most Android and iOS mobile devices. It is nice for you to choose it as the first data export option.
Download the transfer software for free.
Step 1. Launch the Data Transfer Software
Install the data export software and launch it on your laptop. The software interface will show the source and destination devices and a menu. The menu allows users to select the file types they wish to move.
Step 2. Connect the LG and Motorola Phones to the Computer
- Connect the LG and Motorola phones to the computer using appropriate USB cables. The program will automatically detect the phones.
- Enable USB debugging on both Android devices, and the software will recognize them immediately. Confirm your LG phone is the "Source" device, and Motorola is the "Destination" device. If not, please tap the "Flip" icon.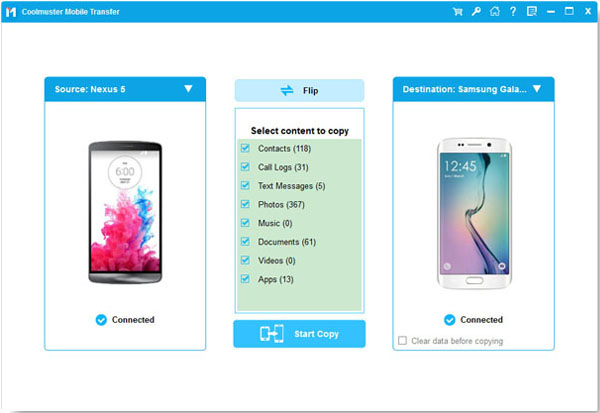 Step 3. Transfer data from LG to Motorola
- Select the data types you want to move from LG to Motorola on the software interface. Then click the "Start Copy" icon to transfer data to your Motorola phone.
- Once the progress bar shows the transmission is over, you can disconnect your smartphones from the computer.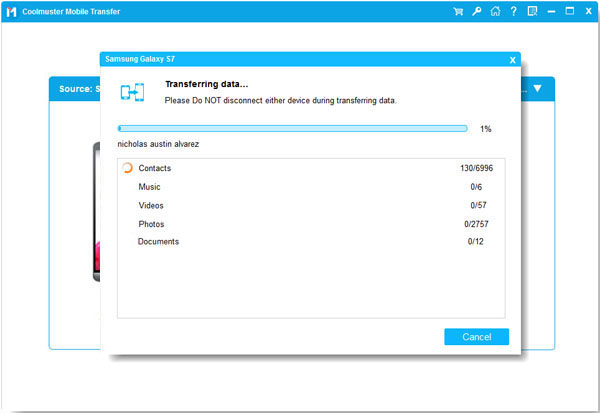 Tips: In addition to the USB connection, this data migration tool allows users to export files wirelessly since it can connect Android phones via Wi-Fi. The process is swift, and you can migrate your information without a hassle.
See also:
This article has listed 5 reliable ways of transferring text messages from Motorola to a computer.
Click here to get useful methods to unlock LG phones if you forget the passcodes totally.
Part 2: How to Transfer Data from LG Phone to Motorola Phone with Motorola Migrate
Motorola Migrate is an old transfer app designed by Motorola. It cannot support Android 6.0 and later, so it is incompatible with the new LG and Motorola phones. If you plan to use it to move data, please check the OS versions of your cell phones.
How do I transfer files from LG to Motorola with Motorola Migrate? Here's the guide:
Step 1. Open the App
Download and install the app on your smartphones. Then run the Motorola Migrate app and click the "Send data TO this device" option on Motorola.
- Choose the "Send data FROM this device" option on LG, and tap the "NEXT" icon.
Step 2. Select Content Before Transferring
Please tick the content you intend to bring on your Motorola phone, and click the "NEXT" > "CONTINUE" icon.
Step 3. Make a Connection and Transfer LG Data to Motorola
Scan the QR code for connection, and the app will send data you have ticked from the LG phone to the Motorola phone.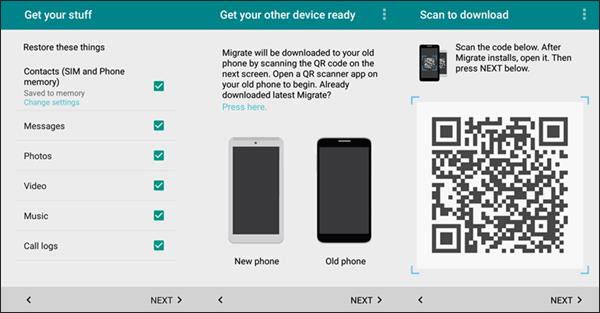 Read also: How do you quickly copy files from an old iPhone to Motorola? Please click this comprehensive guide to get help.
Part 3: More Tips on LG to Motorola Data Transfer or Vice Versa
3.1 Contacts Transfer from LG to Motorola via Bluetooth
The Bluetooth is inbuilt on both the Motorola and LG smartphones, and you can use it to transmit data. Pair the phones via Bluetooth and move files via special radio frequencies.
First, you would enable Bluetooth on both LG and Motorola phones, click one device on the list to pair the phones.
Go to File Manager on LG, and send the desired file via Bluetooth. Then choose the Motorola device you wish to send the files to, and accept the Bluetooth authorization. Next, you will receive the file on the Motorola device.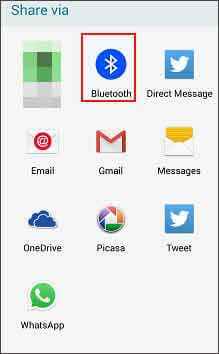 3.2 How to Export Text Messages from LG to Motorola using Google Backup
The Google backup feature is available on LG and Motorola mobile devices, hence you can sync your text messages from LG to Motorola via your Google account.
First, back up the messages from LG to Google Drive. Go to Settings, and click the "System" > "Backup" > "Google backup" option. Then enable the "Back up to Google Drive" switch.
Tap the "Account" icon to input your Google account. Then add the same Google account on your Motorola phone. Your data, including messages, will be synchronized to this device.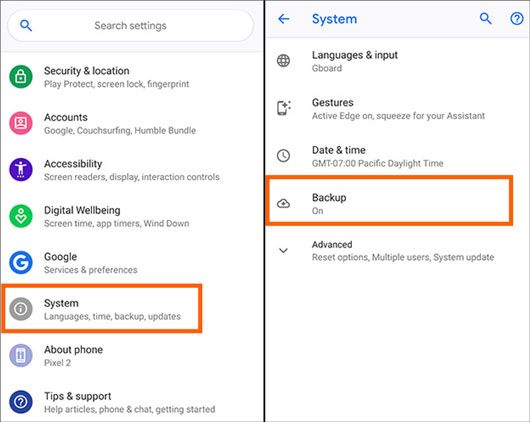 You might like: Want to print out messages from your LG phone? There are 2 possibilities to make it.
3.3 How to Transfer Photos and Videos from LG to Motorola via Google Drive
You can also wirelessly transfer photos and videos from LG to Motorola via the Google Drive app.
Install and download Google Drive on both Android devices. Then launch it and log in to your account.
On the LG phone, tap the "+" icon to upload the desired photos and videos to the cloud space. The process might be time-consuming, and you would pay for the Google Drive space if you run out of free space.
Refresh the Google Drive on your Motorola phone. You will see the uploaded files. Now, you can directly access and download the files.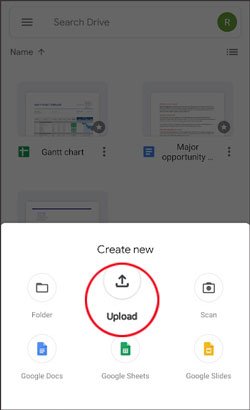 3.4 How Do I Transfer Files from Motorola to LG with LG Mobile Switch
Using LG Mobile Switch can copy files from Motorola to LG, such as media files, SMS, apps, etc. Plus, you can download it from Google Play.
Open the Settings app on LG, and choose the "System" > "Backup" > "LG Mobile Switch" option. Then install and run LG Mobile Switch on another mobile phone.
Opt for "Wireless" > "Send" on LG, and choose "Receive" on Motorola. Then tap the "Start" icon to establish the connection.
Select your LG phone and data types on Motorola. Then tap the "Receive" icon on LG to get the data.
Bonus: What if LG Mobile Switch is not working? Don't worry. You can fix it with these tips.
Conclusion
Don't lose your information when you buy a new phone, as you can learn how to transfer data from LG to Motorola quickly. After buying a new phone, you would be worried about transferring from Motorola to LG. However, this is possible using this transfer tool - Samsung Data Transfer. The software is good at transferring all files at once, and it is safe to use without viruses and malware. You will not lose the video, photo, and other data quality. Alternatively, you can opt for Bluetooth, Google Backup, and Google Drive to move the data.
Related Articles
LG Backup & Restore - How to Back Up & Restore My LG Device in 2022?
How to Recover Deleted Photos from LG Phone with 3 Professional Solutions
[Updated] Retrieve Contacts from LG Phone with 4 Hassle-free Solutions
[Proven] Motorola to Motorola Transfer: Transfer Data from Motorola to Motorola in 6 Simple Ways
Easily Transfer Contacts from Motorola Phone to Computer in 4 Simple Ways
How to Back Up Moto X: Motorola Backup and Restore (Effortlessly in One Click)