Summary
Sharing your real-time location with your friends, family, and colleagues is a great security measure. However, there are times when you need to keep your location private and anonymous. Zenly keeps track of your real-time location. You may need to change your real-time location, or move to another place without telling others. In this case, you will need to know how to change Zenly location.
With this post, you can learn 4 safe ways to fake your location on Zenly. Then nobody knows your real position. If you are interested in this topic, please go on reading.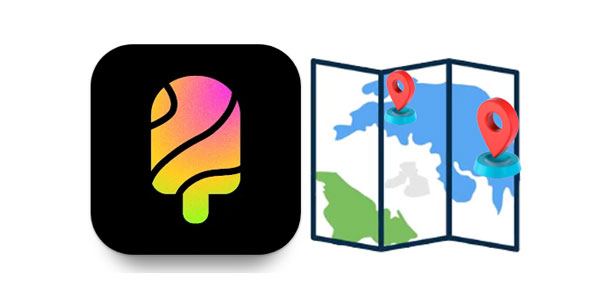 Part 1: Understand Zenly Application in Details
1.1 The Meaning of Zenly Application
Zenly is a mobile phone application that helps people to share their real-time location with their family, friends, and colleagues. It is available for free in Apple App Store and Google Play Store with functions such as sharing location, searching for a location, and tracking.
Zenly is also a social app with the feature of liking another user's posts, and if you do not like the post, you can comment in the comment box. Other features include viewing photos taken by other users and browsing photos shared by other users.
1.2 How Zenly Works
The working of the Zenly application is quite simple. A map will appear on your phone's screen once you launch the Zenly application. Here you can view your friends' location details alongside their profiles. You can add friends by inviting them to be your friends. You will be able to view their profile and location information once they accept your invitation.
On the other hand, your Zenly friends can view your profile and location information. You can be able to send messages to your friends as well as track their best routes.
Bonus: Wondering which is the best spoofing app for playing Pokemon Go? Read this guide and refer to the list. Maybe you will get a practical tool.
Part 2: Why You Need to Fake Your Zenly GPS Location
Why do you need to freeze, hide, or fake your location on Zenly? The common reasons are included in the following:
1. Privacy
One of the main reasons for faking your Zenly location is privacy. When you want to move to specific locations without the knowledge of your friends, family, and colleagues, you can fake your location. For instance, you may want to go on a romantic date with your partner but do not want others to know about it. To prevent other people from knowing about your secret date, you can fake your Zenly location.
2. Security
Faking your Zenly real-time location keeps you safe from prying eyes in various situations. You can blur your location on Zenly to fool the people tracking your routes. This will keep you safe because no one can track your real location with the Zenly app.
3. Avoid Being a Victim of Identity Theft
Another reason you need to fake your Zenly GPS location is to avoid being a victim of identity theft. The application will show that you are somewhere else when you fake your location. This will help in preventing other people from knowing where you are and what you are doing.
Read also: Open this link to learn about changing your Skout location on Android and iOS devices. Let's get started.
Part 3: How to Change Zenly Location via 4 Methods
Method 1. How Can I Fake My Location on Zenly via Ghost Mode?
Zenly has a privacy feature known as Ghost Mode that allows its users to change their GPS location. The Ghost mode feature has three options: frozen, blur, and precise. The frozen mode will make you appear at the same location as your current address even when you are not there.
To activate the frozen mode, you need to tap the location button and select the frozen option. The blur option will blur your friends by showing the location near your real-time location. The precise mode will make your visible location very accurate. You can use the frozen or blur Ghost Mode options to hide your Zenly real location as explained beneath:
Step 1: Launch your Zenly application, and tap on the profile icon and "ghost mode" button.
Step 2: Select the friend you want to hide the location from or select all friends by selecting the "SELECT ALL" option.
Step 3: Choose the "ghost mode" option of your choice. You can choose "BLURRED LOCATION" or "FROZEN LOCATION" to hide your Zenly's real GPS location.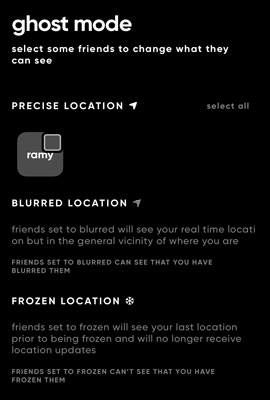 Note: This method will help you change your Zenly GPS location, but it has some challenges. Your friends will know you have blurred them when you use the "blurred" Ghost Mode option. Your friends will also be able to see your last location details if you use the "frozen" Ghost Mode option. This is not an intelligent way of hiding your Zenly location details.
Method 2: Can You Freeze Your Location on Zenly Using Fake GPS?
Fake GPS is a powerful application that will fake your location on Zenly on Android devices. The application is available for free on Google Play Store. It has an intuitive user interface that makes it easy to use, even for the newbie.
You can use this application to set your location to any place in the world by only one click. Ensure you turn "Allow Mock Location" feature in the settings to allow the Fake GPS application to run smoothly. Here's how to hide my location on Zenly using the Fake GPS app:
Step 1: Navigate to the Google Play Store on your Android phone, and install the Fake GPS Zenly application.
Step 2: Open the Fake GPS application on your device and select the location of your choice. Click on the map location where you want to relocate to or enter the coordinates of the location where you want to relocate to.
Step 3: Click on the "Start" button to relocate to a new location. You can also disconnect from the location by clicking on the "Stop" button. Open the Zenly application, and you will be connected to a new location.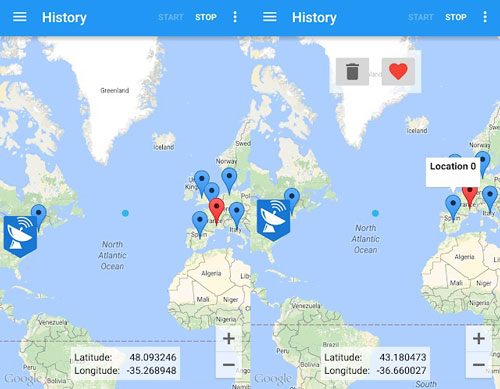 Note: This method is quite easy to use, but it has some drawbacks. It can sometimes stop working and expose your real location without your consent. Users have also complained about inconsistency since it returns to its location when refreshing. The other disadvantage of this method is that it only applies to Android phones.
Method 3: How to Hide My Location on Zenly via Hola?
Hola is a free app that helps you fake your location on the Zenly application on iPhone and iPad devices. Hola is a geo-location-enabled proxy service that allows users to access geographically restricted content. Hola is more of a VPN than a location-spoofing application. It has the capability of changing your IP address and making you appear to be somewhere else. Follow the steps explained beneath to use Hola to fake your Zenly Location:
Step 1: Use App Store to download, install and launch the Hola app on your iPhone. Then choose a region you want.
Step 2: Navigate to the "Settings" application and turn off the location services, and tap on the location spoofing option after launching the application.
Step 3: You now have a new GPS location, and can open your Zenly application to use the new location.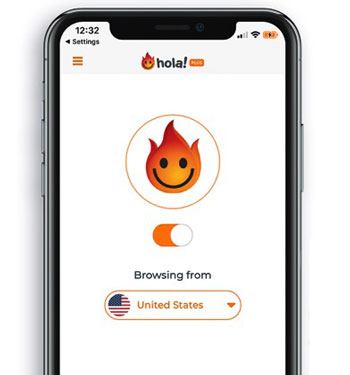 Method 4: How to Fake Location on Zenly Android or iPhone via Location Changer [Professional]
Location Changer is a professional location spoofing tool for iOS and Android devices. This tool is designed to help you fake your GPS location on Zenly or other social platforms. It is easy to use and has an intuitive user interface that allows it to be used even by the newbie. With the help of this location changer, you can easily change your GPS location to any place in the world.
Also, you can use it to spoof your location when playing Pokemon Go and other AR games. There is no difficulty in operation, and it comes with powerful features that make it hard to expose your real location.
Key features of this location changer:
- Fast change your Zenly location to any place.
- Fake GPS on Android without root and iOS without jailbreak.
- Allow you to create your own routes and movement speed to play AR games.
- Export/import your GPX files to save your best routes.
- Support zooming in or out on the map.
- Work for many Android and Apple mobile devices.
Download this GPS changer.
Follow the steps to change the Zenly location via this software:
Step 1. Open the GPS Changer
Download, install, and open the program on the computer, then click on "Get Started" to go on.
Step 2. Connect Your Mobile Device to the Computer
- Use a USB cable to connect your Android or iOS device to the computer.
- On an iPhone, please unlock the device and tap on the "Trust" button. Re-enter the passcode to confirm that you want to connect the devices. Then select your device and click "OK".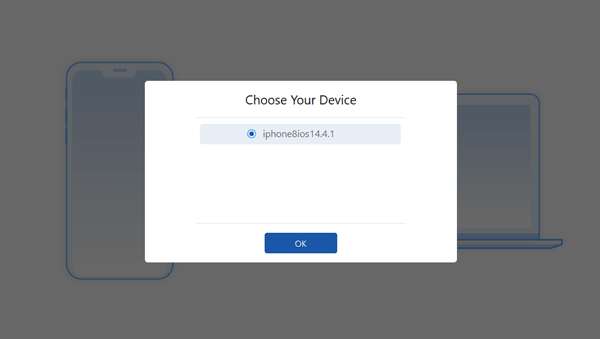 - On an Android phone, please choose the "MTP" option and enable the USB debugging mode.
Step 3. Load the Map and Fake Zenly Location
- The map will load automatically when the software detects that you have connected a phone to the computer. Find the location where you want to relocate to.
- On the upper right corner of the screen of your computer, select "Teleport Mode" so you can select a destination. You can also enter the GPS/address in the upper left corner to search for a destination.
- A sidebar will appear showing your destination details, such as distance, name, and coordinates. Click on the "Move" button to relocate to the new location.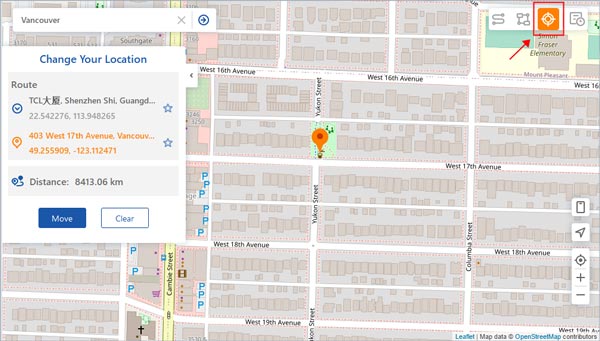 Conclusion
In a nutshell, you can use any of the above-discussed methods to change your Zenly location. Each of them has its benefits. For instance, method 1 is quite easy, but it can get you into trouble since it sometimes stops working, exposing your real location. To be safe, it is prudent to use a professional location spoofing tool. Location Changer is a secure and reliable GPS-changing tool that allows you to fake your GPS location, so you can use it to change your Zenly position without trouble.
Related Articles
Easily Fake Twitter Location on Your Device [Informative Guide]
Which Is the Best Fake GPS App? Check the List - 10 Excellent Options
How to Change Location on Instagram via 4 Hassle-free Methods
How to Restore WhatsApp Backup from Google Drive to iPhone with Ease
Android to iOS Transfer - How to Transfer Data from Android to iOS Device
Swiftly Restart Phone without Power Button [Guide for Android and iOS]