Summary
Google Drive is a reliable cloud-based storage application. We use it to store our files securely, organize them, and collaborate with friends when working on joint projects. Its intuitive user interface makes it easily usable by the young, middle-aged, and elderly. However, despite being robust, Google Drive faces some errors, such as Google Drive not working problems on Android and other devices. What will you do when you encounter such a Google Drive problem on your device? This article will teach you how to fix the problem using different techniques.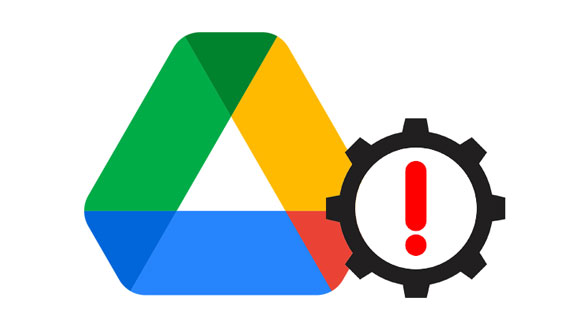 Part 1: Google Drive Not Working Troubleshooting Techniques
Are you encountering Google Drive not responding errors while using it on your phone or tablet? Below are some methods for fixing Google Drive issues:
Method 1. Ensure Your Device Is Connected to a Stable Internet Connection
Although it may sound obvious, you need a stable internet connection for the Google Drive application to work efficiently. Google Drive won't load if your device is not connected to an accessible network. Below is how to check if your Android device is connected to a working internet connection:
Step 1: Launch the Chrome browser on your Android device and check the speed of your internet connection by navigating to the "fast.com" website. You can also visit a site that worked for you in the past. If it takes a long to load or doesn't load, know that a poor internet connection causes the problem.
Step 2: Improve your Wi-Fi connections by resetting your router. A router slows down the internet connection as it accumulates memory over time.
Step 3: To reset your router, press the "Reset" or "Restart" button for some seconds before powering it again.
Step 4: Resetting a router frees up its space and improves the internet speed, resolving Google Drive issues.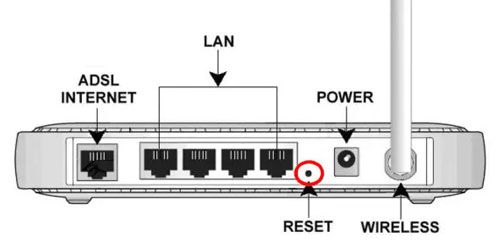 Read more: Quickly Transfer Music from Android to Android in 5 Ways
Method 2. Clear Your Browser's Cookies and Caches
One of the major causes of Google Drive not loading issues when trying to access it using a browser is too many saved caches and cookies. Below is how to clear the Google Chrome browser's cookies and caches:
Step 1: Launch the Chrome browser on your Android phone.
Step 2: Navigate to the application's "Settings" section.
Step 3: Tap on the "Setting" button, hit on "Privacy and security", and select the "Clear browsing data" option.
Step 4: Close the browser, open it again, and the Google Drive error should disappear.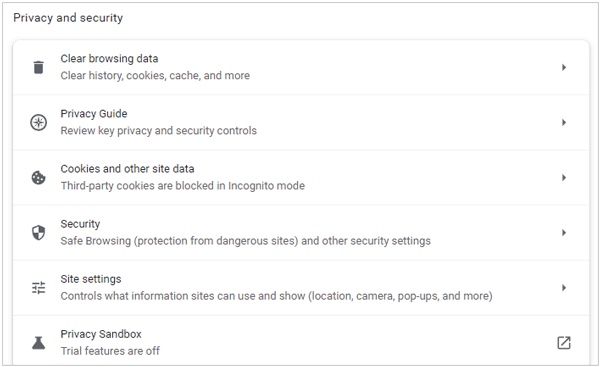 Method 3. Update the Browser
An outdated Chrome browser can be the reason why you are unable to access Google Drive. Follow the below simple steps to update your Chrome browser:
Step 1: Launch the Chrome browser on your Android phone.
Step 2: Tap on the three dots at the upper right corner of the device's screen. Scroll down and hit the "Settings" button on the drop-down list.
Step 3: Tap on the "About Chrome" option to see the "Checking for updates" section. When you see the "Checking for updates" section, your Chrome browser is up to date, and the version of your browser is not the reason why you can't access Google Drive. However, there will be an "Update" button if your Chrome browser is outdated. Click the "Update" button to download and install the available updates.
Step 4: Restart your Chrome browser after the update, and the Google Drive not loading error will disappear if it occurs due to an outdated browser.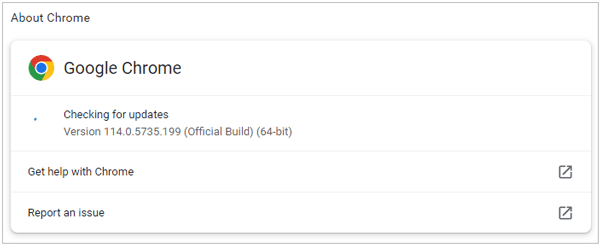 Method 4. Enable Your Chrome Browser's Offline Cache Mode
One technique for fixing the Googledrive.com not working issue is enabling your Chrome browser's offline cache mode. It is an in-progress, unfinished feature that can affect your browser's experience negatively. However, you must be very keen when enabling this feature to prevent unexpected issues. Below are the steps for enabling the Chrome browser's offline cache mode:
Step 1: Key in "chrome://flags" on your Chrome browser and hit the "Enter" button.
Step 2: Locate the "Show Saved Copy" Button feature. You can easily find it by typing "Show Saved" on the search flag. Click on the "Default" option to open a drop-down menu.
Step 3: You have enabled your Chrome browser's offline mode, and the Google Drive not responding issue will disappear.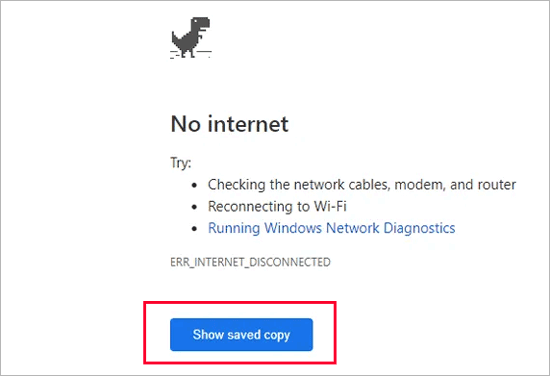 Further reading: Is Google Photos Backup Stuck? 8 Methods to Fix It Fast
Method 5. Review Your Android Device's Virus Scanner
Virus scanner applications are very helpful as they protect our devices from threats and viruses. However, these applications can negatively interfere with other applications. Below is how to check if your Android device's antivirus program is causing Google Drive not working Android device's problem:
Step 1: Launch your Android device's antivirus application.
Step 2: Tap on the antiviruses "Settings" section. Check to find out if "Google Workspace" is among the applications blocked by the antivirus.
Step 3: If Google Workspace is listed as one of the applications blocked by the antivirus, unblock it by granting it all the required permissions.
Step 4: If you are encountering a "Google Drive can't scan this file for viruses" error, it means you downloaded a file larger than 100MB.

Method 6. Remain Patient For a While
Fast internet speed has become habitual, and we expect Google Drive to also work at an exceptional speed. If you delay getting the Google Drive documents you are searching for, you should remain patient, provided you don't find an error such as "Temporary Error (502)" because it may take longer than usual. If Google takes longer than you expected, refresh the tab or close the Chrome browser and open it again.
See more: What if Android File Transfer cannot work on Mac? In this case, follow this guide.
Part 2: Best Google Drive Backup Alternative
Backing up your Android phone's data on Google Drive has challenges, such as small free storage space, Google Drive not working, Android errors, etc. As such, looking for an effective Google Drive alternative is prudent. What is the best Google Drive backup alternative? There is a reliable tool - Samsung Backup and Restore, to help you back up your Android data to your computer without Google Drive.
It works natively on almost all Android devices, including the latest models, and supports various data types, such as text messages, videos, call logs, applications, documents, contacts, videos, music, and more.
Besides, it scans Android files fast, and allows users to preview data before transferring it to a computer. The application has a very intuitive user interface that makes it easily usable, even by novice computer users.
Key features of this Google Drive alternative:
- Easily transfer various Android files to a computer for backup.
- Restore your backup data to any Android device with original quality.
- Support USB and Wi-Fi connections.
- One-stop data transmission without cloud storage.
- Support transferring contacts, apps, call logs, media files, etc.
Download this backup software to replace Google Drive.
Below is how to use this program to back up your Android device's data to a computer:
Step 1: Begin by downloading, installing, and launching the application on your computer. After that, hit on the "Android Backup & Restore" option and move to the next step.
Step 2: Use a USB cord to link the Android phone to the computer. Enable the debugging mode on your Android device and move to the next step. Next, the software will install its Android app on your Android phone for the connection.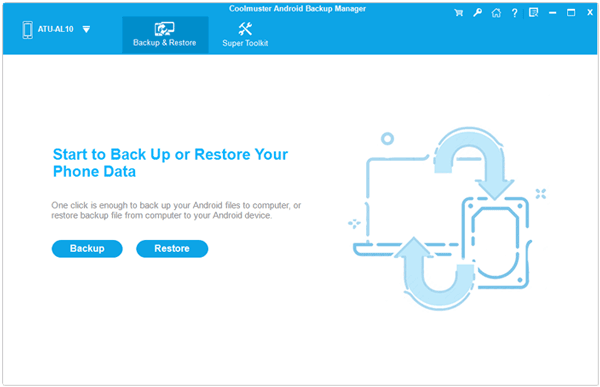 Step 3: Hit the "Backup" option, select the data you want to back up, and hit the "Browse" button to choose a PC location to store the data. Finally, hit the "Back Up" button to save the selected data on the PC.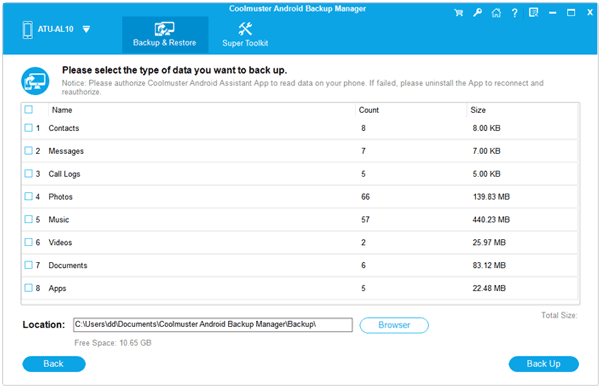 Read also: Effectively Back Up and Restore Android Phone/Tablet on Computer
Part 3: Frequently Asked Questions on Google Drive Not Loading
Q1. Why is Google Drive not working?
Several things can make Google Drive fail to work as expected. Some include poor internet connection, antiviruses, outdated browsers, caches, cookies, etc.
Q2. Is there a Google Drive alternative?
Of course, there are many useful replacements for Google Drive, and Samsung Backup and Restore is one of them. You can use it to back up and restore your Android files on a computer without using cloud servers.
Conclusion
We have discussed the various ways of fixing Google Drive issues. If the Google Drive issues persist, try an alternative like Samsung Backup and Restore to back up your Android device's data. With it, you can back up almost all Android devices without storage restrictions.
Related Articles
[Solved] Bypass Android Lock Screen without Google Account with 5 Ways
9 Google Photos Alternatives: Manage Photos and Videos Easily
How to Transfer WhatsApp Backup from Google Drive to iCloud? Complete It in 3 Steps
Easy Steps: How to Restore Call History Backup from Google Drive
How to Fix Samsung Smart Switch Not Working [2023]
[Solved] Xperia Transfer Mobile Not Working? Get 10 Practical Fixes