Summary
Google Drive is arguably the best cloud storage service and backup platform for Android users. With over a billion user base, its popularity is truly unmatched. Most Android users prefer keeping their files in Google Drive. Reason being? It is well-established and highly integrated. Moreover, it offers free storage of 15GB to allow you to keep most of your important files. Besides, many people nowadays use email, so they are conversant with this peerless product by Google.
Obviously, you have stored some of your files on Google Drive, including call history, documents, media files, and calls, just to name a few. This way, you will be safer when the unexpected happens. Though creating a backup is easy, many are clueless about how to restore call history backup from Google Drive. If you're in the same situation, this guide is for you. Better read until the end to understand what should be done to successfully regain your call history.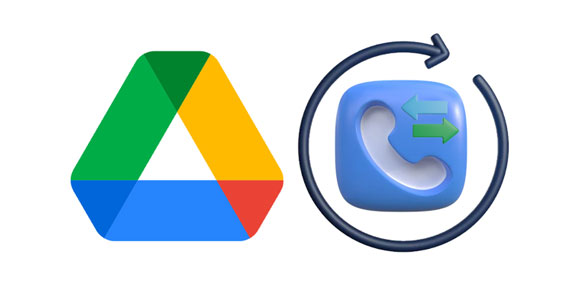 Part 1: How to Restore Call History from Google Drive Backup Directly
Using Google Drive itself is the most common way to restore files such as call history, SMS, contacts, etc. The process will be fast and effortless if you have already made a backup. You can take your backup on Google Drive and set settings to automatically save the files. With an internet connection, you can access call logs from a smartphone. But you must backup the files first before you can restore them.
Back up call logs to Google Drive:
Step 1: Launch "Settings" on your device, and tap on the "Backup" option. Or, you can search if you can't locate it.
Step 2: Now turn on the "Back up to Google Drive" option. If it is turned on, just press the "Back up now" button.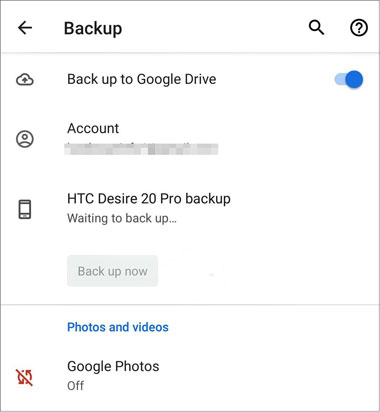 You can back up call history and other data, like apps, SMS, photos, device settings, and more, to Google Drive.
Restore call history backup from Google Drive:
After successfully backing up all your call history and other data to Google Drive, you can now go ahead to restore it by doing this:
Step 1: Erase your phone by clicking on the "Factory reset" option in the "Settings". To do this, head to "Settings" > "Additional settings" > "Reset" > "Factory data reset".'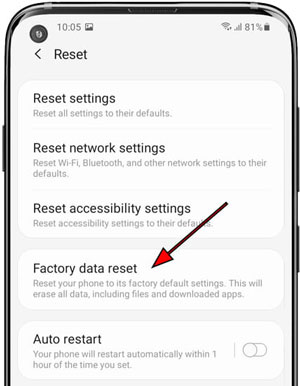 Step 2: When the device restarts, follow the instructions on the screen to start the setup procedure.
Step 3: After setting up the device, you will get an option to retrieve the files from available backups on Google Drive. Choose the latest backup.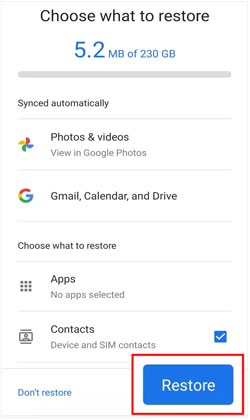 This method has disadvantages. You can't restore only the call history from a backup file. Also, you can't preview the call history in your backup, and resetting your device will lead to data loss. So, proceed if you have backed up all your files already.
See more: If you need to print your call logs from your Android phone, follow this guide here.
Part 2: How to Restore Call History from Gmail Using SMS Backup+
You can backup call history to Gmail and restore, but you require an application like SMS Backup+ tool to help upload the call logs. You can easily download it from the Play Store. Then use your account to access the call records with an internet connection.
Back up your call logs using Gmail and SMS Backup+:
Step 1: Open the SMS Backup+ app after installing it. Click "Backup settings" and enable "Backup Call log".
Step 2: Return to the main screen, then click the "Connect" option to link the Gmail account.
Step 3: Click the "Backup" option, then begin backing up the call records.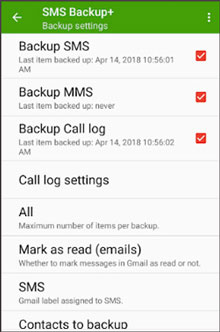 Restore the call logs:
Step 1: Open SMS Backup+ on your phone, and choose the "Restore settings" option.
Step 2: Check "Restore call log" on the app, and ensure you log in with the Gmail account that you backed up your call history.
Step 3: Finally, click "Restore" on the next screen. You will get back your call logs soon.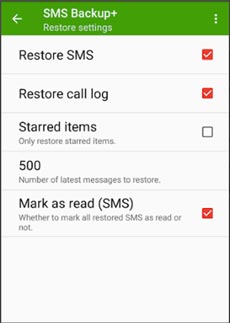 Part 3: How to Restore Call History from Google Drive Using SMS Backup & Restore
You can also back up your call logs to Google Drive with SMS Backup & Restore, a robust backup service that adds flexibility. Of course, it can help you restore your backup call logs from the Google cloud server.
Back up call history to Google Drive with SMS Backup & Restore:
Step 1: Download the SMS Backup & Restore tool on your phone and grant all permissions.
Step 2: Click "SET UP A BACKUP", choose Call logs, and hit "Next".
Step 3: On the following screen, choose cloud storage and log in with an account. Now set upload preferences. Click "Next". Choose a backup frequency and hit "BACK UP NOW".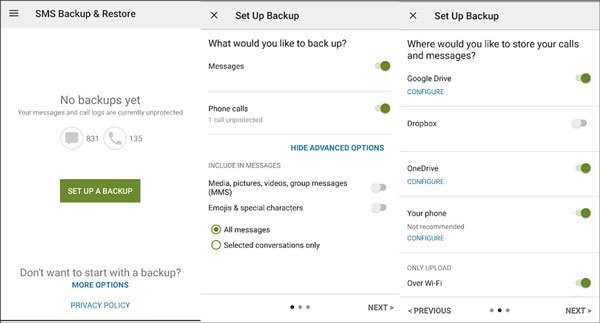 Restore call history from Google Drive with this app:
Step 1: Open the app and allow permissions.
Step 2: Click on the three-dot menu at the top and choose "Restore".
Step 3: Choose the storage location to restore from, then log into your account. Then choose a backup to restore call logs and hit "Restore".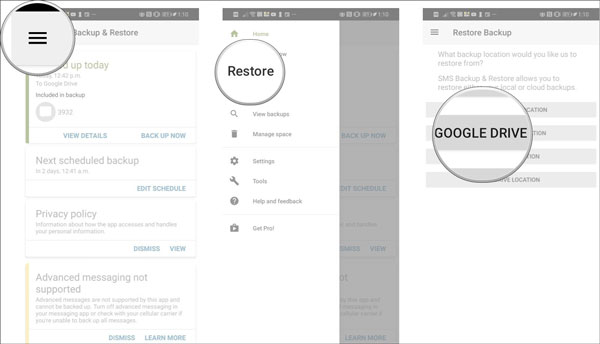 Further reading: Transfer Call Logs from Android to PC: 3 Helpful Tips Introduced for You
Part 4: How to Restore Call History from Android Devices Without Google Backup
If you notice your call records are missing on your Android phone, don't panic. They might be invisible on recent calls but are hidden somewhere in the virtual space of the phone. To restore them, you should use reliable software like Samsung Data Recovery - the best Android data recovery tool to restore deleted files from an Android device without a Google backup. As long as the files haven't been overwritten, getting them back will be easy.
This recovery program is equipped with Quick and Deep scan modes that quickly scan the device's internal memory and even an SD card and display the files for you to preview. Apart from call logs, it also supports restoring contacts, SMS, videos, music, photos, documents, and more in correct file formats.
It is widely compatible with thousands of Android devices, including Samsung, Google Pixel, OPPO, LG, Motorola, ZTE, and more. Furthermore, the data recovery procedure isn't risky because it strictly follow the read-only rule. It keeps the files in their original format without changing or damaging them. It also offers a backup option for current and deleted data, so you can transfer your Android data to your computer smoothly.
Key features and highlights of this recovery software:
- Recover deleted call logs, SMS, contacts, music, photos, documents, and videos from Android.
- The data recovery of Android SD cards is also available.
- Allow you to select the data you want before the recovery.
- Guarantee high rates of success in data recovery.
- Back up deleted/existing files from an Android to PC.
- Support more than 6000 Android devices.
Download this Android data recovery software.
Steps to recover call history from Android without Google backup:
Step 1: Install the program on your PC after downloading it. On the primary interface, choose the "Android Recovery" option. Link your device to your PC, then enable USB debugging. The tool will start detecting the phone.
Step 2: After the tool recognizes the software, you'll see all available files on Android on the screen. Select "Call Logs" and hit "Next" to proceed.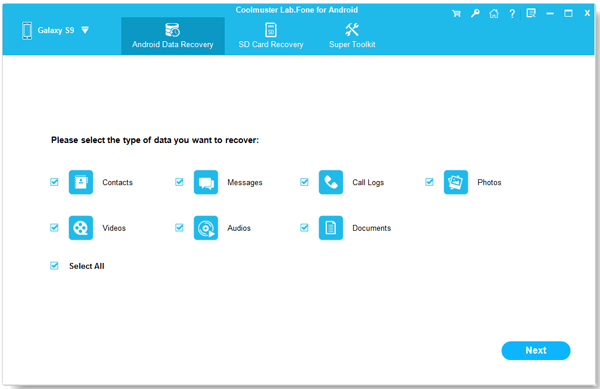 Step 3: Choose the "Quick Scan" or "Deep Scan" mode for scanning the files. Press "Continue" after that. You may need to root the phone.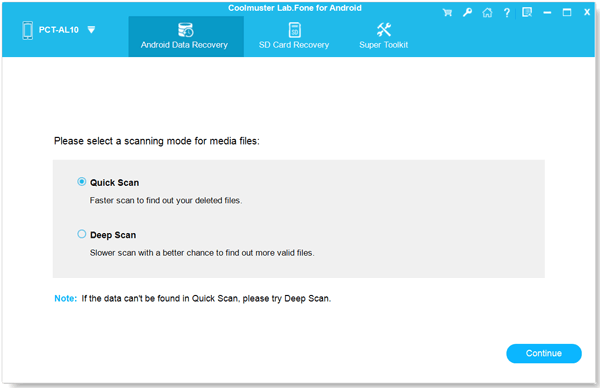 Step 4: After scanning, existing and deleted call history will be shown in the interface. You can also switch on the "Only display the deleted item(s)" icon to check the deleted call logs handily. Now select the call logs to recover and press the "Recover" button to regain the data.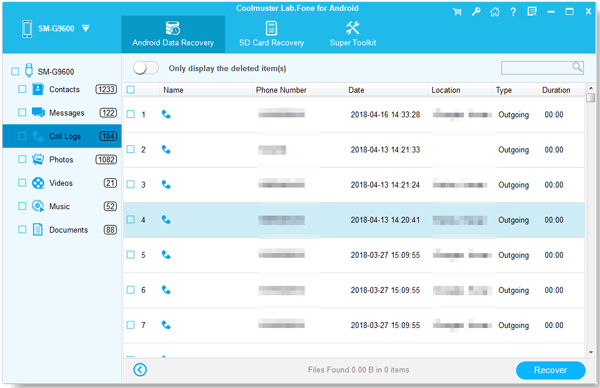 Conclusion
You never know when a data calamity that could result in the deletion of your most important call logs strikes. Having a backup will make your life easier. This article has mentioned some simple ways to restore call records from Google Drive.
But, using Samsung Data Recovery is the easiest way to restore call history from Android devices without Google backup. Its preview-based and selective data recovery makes it a better tool for restoring call logs from Android. You should try it as well.
Related Articles
Step-by-Step Guide to Recover Deleted Call History on Samsung [Safe]
Call Log Backup and Restore with 4 Advanced Methods [Full Guide]
Change Work/Home Location on Google Maps via 3 Easy Methods
Effortless Guide: How to Read WhatsApp Backup from Google Drive on PC
[Solved] Recover Deleted Text Messages on Google Pixel: 4 Must-Know Tips
9 Google Photos Alternatives: Manage Photos and Videos Easily