Summary
Are you planning to switch to a new iPhone but unsure how long to transfer iPhone to iPhone, especially when many files are being transferred? In fact, several factors determine how long to transfer data to a new iPhone. They are internet speed, the file size, and the method used. So, how long do iPhone transfers take? Read this guide till the end to know the average time it takes. Let's get going.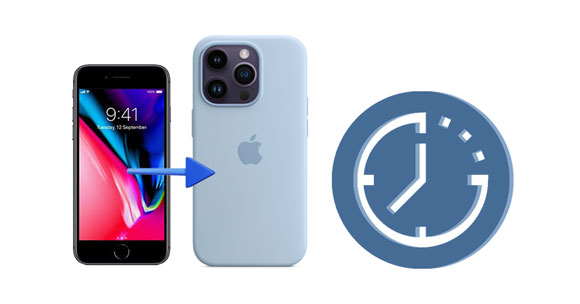 Part 1: FAQs on Transferring iPhone to iPhone
Q1. How long does iPhone transfer take?
With official transfer methods, it can take about 1 hour to transfer data from iPhone to iPhone. However, this time will depend on the size of the files and the internet speed. It can take more than an hour if you have many files and your internet isn't stable.
Q2. What is the fastest way to transfer from iPhone to iPhone?
The quickest way to share files from one iPhone to another is by using a one-stop transfer tool - Samsung Data Transfer, described in Way 1. Even if you have hundreds of files, transferring them will only take a few minutes. Besides, it doesn't rely on an internet connection, which is a plus.
Part 2: Factors that Affect Time to Transfer Data to New iPhone
Why is my iPhone transfer taking so long? The following are factors that may affect the time it will take to transfer data from one iPhone to another:
1. Wi-Fi network connection: Common iPhone-to-iPhone transfer methods rely on the Wi-Fi network. If the network is poor, the transfer will take longer than expected.
2. Volume of data: The size of the data you transfer also determines the time it will take. For instance, if you have large data to transfer, it will take longer. Few files will take less time.
3. Software updates: The iOS version you are using can determine the time the transfer will take to finish. An outdated iOS version on your iPhone device may slow the transfer process. That's why updating your iPhone device to the most recent iOS version is important for optimum data transfer performance.
4. Less storage space: If the receiving device does not have enough space to accommodate the files, the transfer will be slowed down. Therefore, you should check the storage space on the receiving device beforehand.
Part 3: Best Ways to Transfer Data from iPhone to iPhone
There are various methods of sharing files between iPhone devices. Below are the most common and useful:
Way 1. How Long Does It Take to Switch Phones via iPhone Transfer? [Quickest]
It can be challenging to move files from one iPhone to another, particularly if they are many. Besides, you may encounter network challenges that can interfere with the process. Fortunately, you can avoid all this. How? Using this iPhone transfer software - Samsung Data Transfer, copy files from one iPhone to another. This app can transfer files such as notes, calendars, books, contacts, and more from iPhone to iPhone in minutes. What's more, it can complete the task in about 15 minutes in most data transmissions.
Key features and highlights of this transfer software:
- Support 1-click iPhone to iPhone data transfer.
- Fast transfer calendars, bookmarks, contacts, notes, etc.
- Allow you to select file types before transferring data.
- No data will be overwritten on your destination iPhone.
- iPhone to Android transfer and vice versa are available.
- Work for the latest generations of iOS and Android devices.
How long does it take to transfer iPhone data? It can take minutes if you follow these steps:
Step 1: Download the software on your PC and plug in both devices to your PC. Now choose "Mobile Transfer" to get to the app's interface. Click on "Trust" on the devices to allow them to be recognized by the program.
Step 2: Confirm your target iPhone is on the "Destination" side, or you can tap "Flip". Then choose the files to transfer from the "Source" device.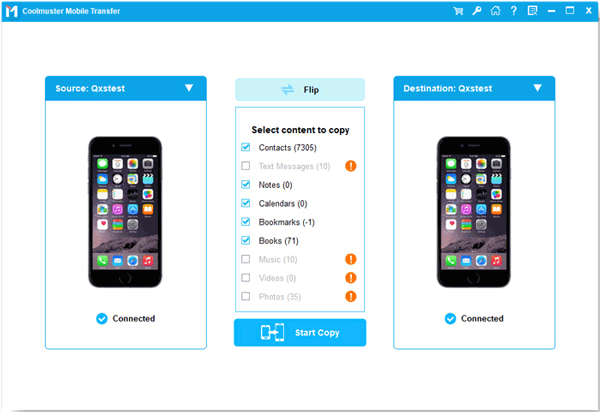 Step 3: Press the "Start Copy" tab to begin the process. It's as simple as that. All your files will be transferred to the other iPhone successfully.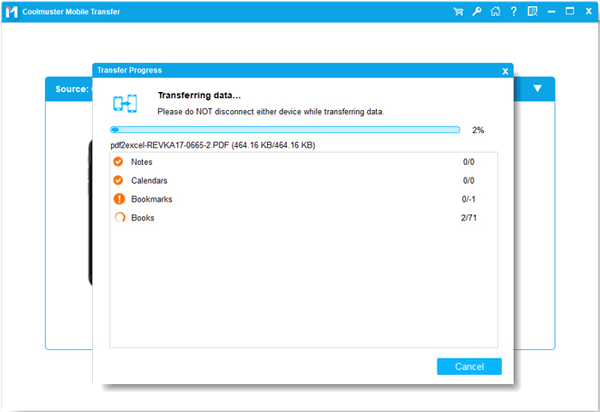 Learn more: Want to copy all contacts from your iPhone to an iPad? These ways will help you make it.
Way 2. How Long Does Transferring Data to iPhone Take Using iCloud?
iCloud is an Apple cloud-based service that allows iOS users to store and retrieve data. Then how about its efficiency? In general, it can transfer 50GB of data in half an hour, but it also depends on the network. By the way, it also takes time to back up your iPhone data to iCloud.
Here is how to use iCloud to transfer data between iPhone devices:
Step 1: Connect your old iPhone to the internet or Wi-Fi and go to the Settings page. Click "[Your Name]" > "iCloud" > "iCloud Backup" > "Back up Now". Wait until all data is backed up.
Step 2: On your new iPhone, proceed with the setup instructions. Choose the option "Restore from iCloud Backup" when prompted.
Step 3: Choose the recently created backup and then wait for the transfer process to finish. Depending on your internet connection speed and the backup size, the time taken can be longer.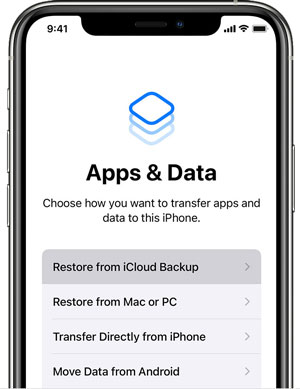 You might need: Can you sync videos between iPhones with ease? Learn about these expert tricks, and achieve the video transfer without effort.
Way 3. How Long Does iPhone Transfer Take Using Quick Start?
iOS 11 devices have a Quick Start feature that enables users to transfer data between iOS devices. It's convenient for users to set up their new phones, but its transfer speed is as fast as iCloud.
Here is how to use Quick Start to send data to your new iPhone:
Step 1: Check the iPhone's iOS version on both old and new phones. Make sure that they have iOS 11 or later.
Step 2: Place both phones next to each other. Using your iPhone, follow the on-screen guidelines until you reach the "Quick Start" screen.
Step 3: Scan the code on the new iPhone with the old iPhone. Now enter your old iPhone's passcode on the new iPhone.
Step 4: Finish the setup process by following the on-screen instructions. Since Quick Start transfers files from your new device to your old iPhone directly, it is quite faster when compared to iCloud.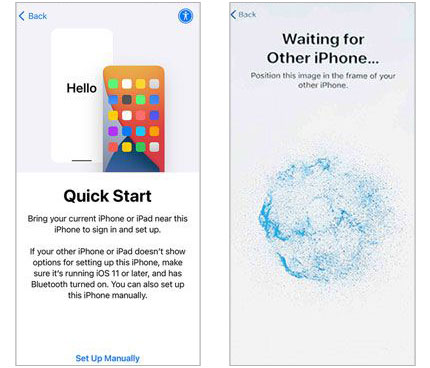 Way 4. How Long Do iPhone Transfers Take via iTunes?
iTunes is a library and media player from Apple to help manage your iPhone. You can also use it to transfer your files from one iPhone to another. Apple users generally transfer data using iTunes via a USB connection. In this situation, it takes about 20 minutes to transmit 64GB data. However, it requires you to sync data from your old iPhone to your computer first, which also takes some time.
Use iTunes to transfer data from one iPhone to another:
Step 1: Connect your old iOS device to your PC using a lightning cable. Then open iTunes.
Step 2: Hit the iPhone icon on the upper left, and click "Summary". Then press "Back up Now". Wait until all data is backed up.
Step 3: Disconnect the old iPhone and now connect the new iPhone to the PC. Now select it in iTunes and press "Restore Backup".
Step 4: Choose the backup you have already made and wait until all data is restored.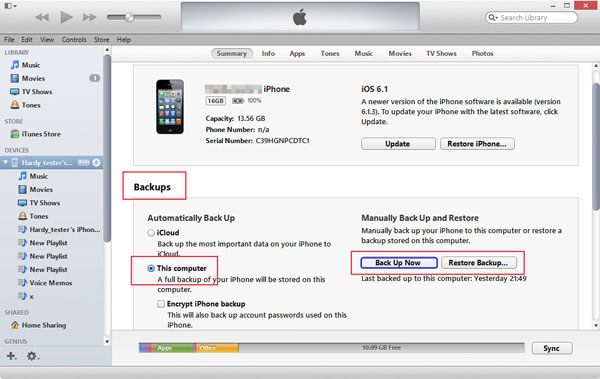 Further reading: How Long Does Move to iOS Take? How to Fix It When It Takes Long?
Part 4: iPhone to iPhone Transfer Takes Too Long? Here Are Fixes
If the iPhone-to-iPhone transfer takes too long, try out these simple solutions. They can fix the bugs on most iOS devices.
Fix 1. Restart Both iPhones
Sometimes, an iPhone may have a system failure, making it unable to properly get the data transfer signal from another device. You can solve this problem by restarting the iPhone. Please long-press the "Side" button and drag the slider to turn off the device. After a while, press the "Side" button and do not release it until the Apple logo shows up on the screen. Once done, you can transfer your data again.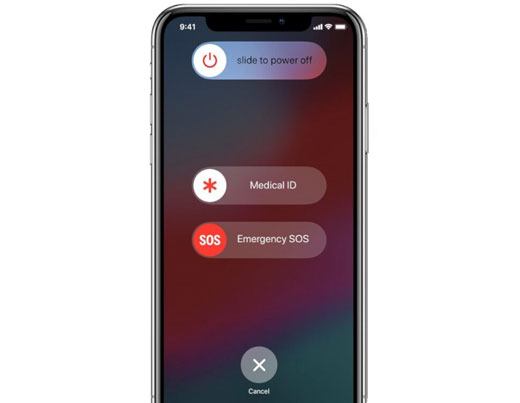 Fix 2. Put Your iPhones Closer
Quick Start relies on Wi-Fi and Bluetooth connection. Therefore, the distance between the two devices matters. If the two devices are far apart, moving the data will take a lot of time. Bringing these devices close to each other may increase the transfer speed.
Fix 3. Update Software
There are probably some hiccups on an old system, so updating software is necessary for your iOS devices. Besides, as mentioned earlier, Quick Start is compatible with iPhones with iOS 11 or later versions. If your iPhone has an older iOS system version, the data transfer may fail, resulting in slow performance.
Go to your iPhone settings. Click "General" and then click "Software Update".
If you find a new iOS version available, follow the on-screen instructions to update it.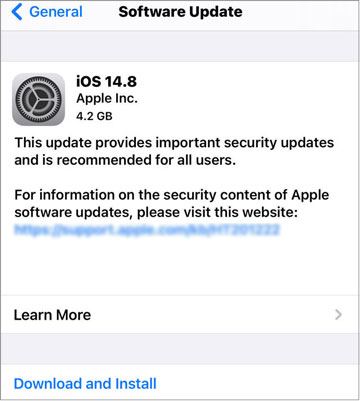 Conclusion
How long does transferring data to iPhone take? This post has answered that. Remember, the time it will take to transfer data from iPhone to iPhone will depend on the size of the files and network connection. If it takes too long, there are some quick fixes to speed up the process.
If nothing helps, don't sweat it. There is reliable and faster software like Samsung Data Transfer to help move files from iPhone to iPhone. Its advanced algorithms allow you to transfer files quickly without delay or lagging issues.
Related Articles
Efficient Migration: How to Transfer Data from One Apple ID to Another
[Guide 2023] How to Transfer Songs from iPhone to iPhone Using Airdrop
Elevate Your Mobile Journey by Switching from Android to iPhone
Why Is Move to iOS Unable to Migrate? How Can You Fix It? [Solved]
Couldn't Download Video from WhatsApp on iPhone? 6 Useful Solutions
How to Change Weather Location on iPad in Trouble-free Ways [Settled]