Summary
Living in a region where the weather is unpredictable requires checking the weather regularly. And if you're planning to go on an outdoor adventure, knowing the temperature of your destination beforehand can prove beneficial. Thankfully, technology has introduced smart devices, making it easier for users to check the weather. But what if you wish to know the weather in another location on your iPad?
Well, it's also possible. Get to understand how to change weather location on iPad with this easy-to-follow guide. You'll know the practical tips and techniques for changing weather locations on iPad.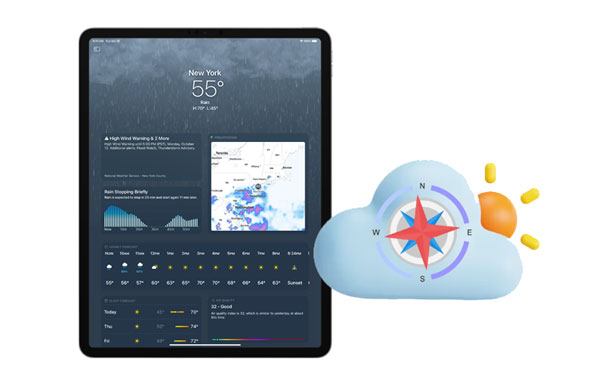 Part 1: Overview of iPad Weather Widget
iPads provide an effortless way to view all the weather information you need without downloading any third-party applications. With an iPad weather widget, a simple glance at your home screen will enable you to know the weather conditions in real-time.
Widgets are a fantastic way to access your favorite apps, content, or whatever else you need quickly and easily. The same is true with the weather widget. With it ready on your home screen, there's no more time-consuming swiping and tapping through multiple screens just to check out what tomorrow's forecast will be like. Wouldn't it be much more convenient if all you had to do was glance down for an instant update?
Weather widgets allow users to bring live weather data directly to their channel. You have complete control over how you want to display your forecasts, be it on a single day or over multiple days. Also, you can search for locations using city names, states, countries, or ZIP codes. By incorporating this convenient tool into the platform, everyone is kept up-to-date with all the latest information regarding local weather conditions.
Similarly, changing the location of the weather widget is helpful. After all, being able to check the weather at home is great, but what if you're away for the weekend? To ensure you're always getting accurate readings regularly, it's important to update your iPad's Weather widget location.
Learn more: It is easy to change your GPS location on an Android phone if you know these useful approaches.
Part 2: How to Change Weather Location on iPad Easily
How do I change the weather location on my iPad? Well, we understand the need to get the correct weather updates. However, you may find it hard to change the iPad weather widget location since you can find yourself in a place you didn't want. In that case, we introduce a powerful and reliable GPS changing tool that never fails. Location Changer stands as the top software that can fake your device's location anywhere in the world instantly.
The joystick feature makes it easier to fake your GPS movement and be to that exact location you want. Besides, this software can fake Android locations without hassle.
Hallmarks of this location changer:
* Change the weather location on the iPad to anywhere you want.
* The Joystick feature freely fakes GPS movement.
* Plan a route to use with a customized speed.
* Work on most iOS models.
* Support location-based applications, such as changing the location of Instagram.
Download this GPS changer below.
Change the location on the iPad weather widget with this program:
Step 1: Launch the program on the PC after downloading it. Plug the iPad into the computer and hit "Trust" to trust this computer. Click on "Get Started".
Step 2: The map will now start loading automatically. Choose the place you wish to set the iPad after choosing "Teleport Mode" from the right corner. Scroll on the mouse as you zoom in and out of the map and choose your preferred location. You can also enter the GPS coordinates at the left corner to search for the destination.
Step 3: After choosing your destination, you'll see a sidebar showing the destination details. Click "Move" to change location.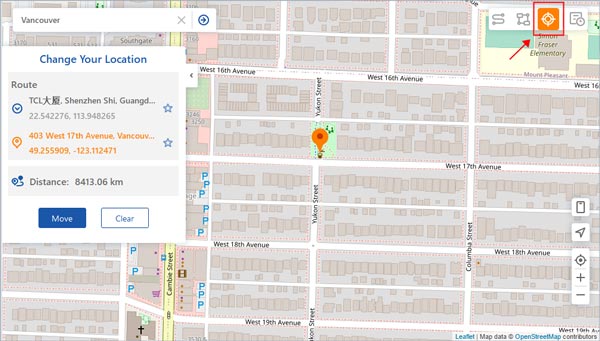 Read also: How can you spoof Pokemon Go on an Android device? Open this guide, and get effective methods.
Part 3: How to Change Weather Location on iPad Home Screen
Usually, a weather app requires your location, and if you haven't provided your current location, you will likely get the wrong weather updates. Some users have experienced issues with their iPad's weather widget not working, being buggy, or failing to update the temperature. That's why they are searching for how to change the weather location on iPads. To help remedy this problem, here is a simple guide as to how one can change the weather widget location on iPad:
Step 1: Press and hold the weather widget from your iPad's home screen. Then hit "Edit 'Weather'" to see the locations added to the weather widget.
Step 2: If the wrong location is displayed, you have two options. You can manually add your current address by tapping on the location field or letting your iPad detect it.
Step 3: Once you have determined the ideal spot, simply tap any empty space on your screen to navigate back to the homepage and save your location.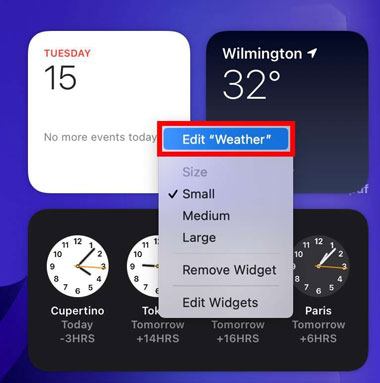 Further reading: Which Is the Best Fake GPS App? Check the List - 10 Excellent Options
Bonus: Tips on iPad Weather Widget
If you have an Apple device, the capabilities for personalizing your home screen are practically limitless. You can add and remove widgets from your screen in seconds, all while adjusting their size, shape, and placement. To take this feature further, consider these top strategies to stack widgets perfectly onto your iPad's home screen.
Tip 1. How to Add Widgets on Your iPad Home Screen
Adding widgets directly to your device's home screen makes it easier for you to quickly access what you need. Moreover, that widget can be placed anywhere on the screen. When it comes time to adjust settings like weather location on iPad, just go ahead and place a widget right onto your home screen. Here's how:
Step 1: Hold down on the empty area on your iPad's home screen, and click on the "+" icon located at the top left corner.
Step 2: Scroll down and choose the widget you want to add, select the size and layout of the widget, and click on "Add Widget".
Step 3: Now place the widget in a position you see it fits on the screen and click "Done".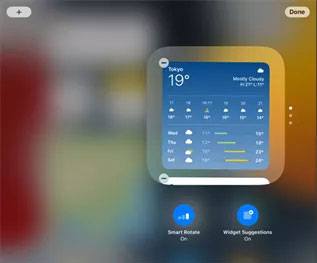 Tip 2. How to Use Widget Stacks
Stacks widget allows you to quickly and easily arrange widgets one on top of the other. It even dynamically changes throughout the day to showcase content from different applications or services saved on your device. All it takes is a mere swipe up or down to browse these items conveniently. Here's a step-by-step process on how to easily make widget stacks on iPad home screens.
Step 1: Press and hold on to a widget and choose the "Edit Stack" option.
Step 2: Click on the "-" or "+" icons to Delete or Add the widgets.
Step 3: Hit "Done" when you finish stacking the widgets.
Conclusion
Finding ways to customize the home screen of your iPad is a fun and exciting way to make the user experience even better than it already is. It just takes a little bit of patience and know-how for you to be able to stack widgets onto your device's home screen. With these instructions, you'll have no trouble changing location on iPad weather widget and setting up widget stacks. If you want to easily change the weather location on your iPad, use GPS Changer. It can also change your device's GPS simultaneously.
Related Articles
Easily Fake Twitter Location on Your Device [Informative Guide]
Best iSpoofer Alternatives for Android and iOS [Updated]
Fake GPS Not Root on Android and No Jailbreak on iOS (Ultra Guide)
How to Transfer Music from iPad to iPod with/without Computer(iOS 16 Supported)
Handily Transfer iBook from iPad to Another iPad | 6 Fantastic Methods
How to Mirror iPhone to iPad with Ease? Show You All Details