Summary
A touch screen is the most delicate part on an Android device. What's more, it is indispensable for a mobile phone. Thus, when an Android touch screen is not working, you can't unlock the device directly. But luckily, this doesn't mean that you cannot unlock your Android device forever.
You can use effective methods to unlock an Android phone when the touch screen is not working. You can get 9 tips below, which are effective in software and hardware issues for Android unlocking.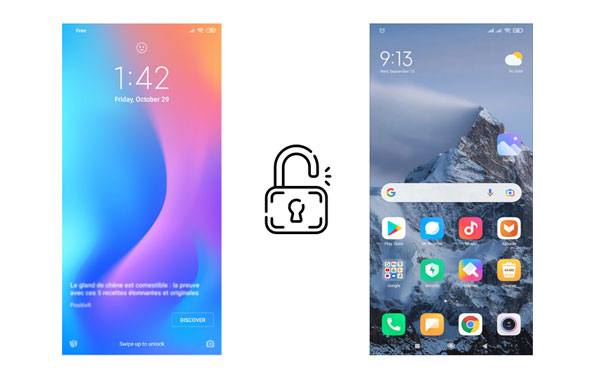 Part 1: Check Why Your Android Touch Screen Is Not Working
When your Android touch screen isn't responsive, you might wonder why. Furthermore, finding the reason is beneficial to fix it. So, why isn't your Android touch screen working? Generally speaking, there are multiple causes as below:
1. Some system errors occur on your Android device, which influences your screen.
2. You have installed malware on your mobile device.
3. The inner parts of your Android screen are damaged because of dropping, watering, or other physical damage.
4. The surroundings of your phone impact the display, like temperature, magnetic field, static, etc.
Learn more: Can you unlock your ZTE phone without losing data? Maybe these solutions will help you.
Part 2: How to Unlock Android Phone When Touch Screen Is Not Working for Software Issues
If your touch screen is not working due to software issues, you can fix your Android phone via these 6 methods.
2.1 Force Restart Your Android Phone
Force restart can fix smartphones in many situations. Generally, restarting your phone can solve some sudden system problems. Hence you can restart your Android phone if the screen is abnormal.
You can press the "Power" button for multiple seconds, and do not release it until you see the "Power off" icon appears. Then tap the "Restart" option twice, and your phone will be restarted automatically. Once done, please try unlocking your phone.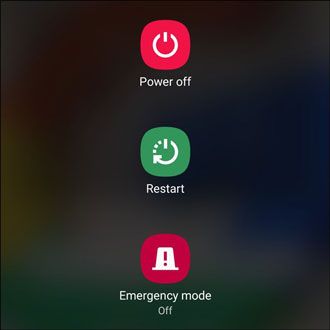 See also:
Here are top 8 unlocking tools for Android for your reference. Let's check it out.
Follow this guide to get an app for changing GPS location on Android.
2.2 Reinstall Your SIM Card and SD Card
In some cases, a damaged SIM card or micro SD card will lead to a touch screen not working. So you can use a paper clip to release the card tray from your smartphone, and take out your card. If the screen is working after removing the card, you need to replace your SD card or SIM card. Next, you can unlock your phone without trouble.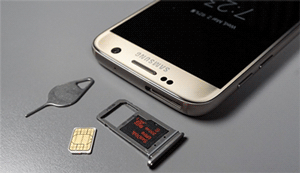 2.3 Boot Your Phone Into Safe Mode
It is useful to boot your Android phone into Safe Mode to unlock the phone if the screen is reactionless. You can uninstall those third-party apps from your phone if they are malicious.
To get your Android device into Safe Mode, please turn off your phone first, and switch it on after a while. As your phone logo shows up on the screen, please press and hold the "Volume Down" Key. Your cell phone will be in the Safe Mode.
Next, you can eliminate useless or hazardous apps directly. Finally, reboot the device, and you will unlock your phone smoothly.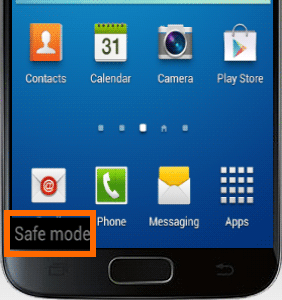 Tips: Want to unlock your Samsung phone when you forget the password? You might need these 5 solutions.
2.4 Factory Reset Your Android Phone
What if the previous methods are ineffective? Don't panic. You can still factory reset your Android phone even though the screen is unresponsive.
First of all, switch off your Android phone. Then tap the "Volume Up" and "Power" buttons simultaneously. As you see the Android robot appears, release the bottoms.
Then choose the "Wipe data/factory reset" option using the volume keys, and confirm it by clicking the "Power" button. Next, select the "Factory data reset" option to start the procedure. Once done, tap the "Reboot system now" icon to restart your device. At last, please check your screen and unlock your phone.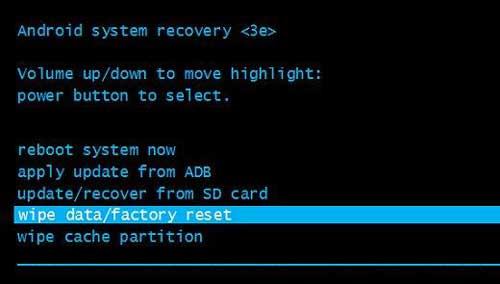 2.5 Use External Mouse and Keyboard
If you cannot fix your screen immediately but want to unlock your phone, you can use an external mouse and keyboard to make it. You can connect your phone to these accessories via USB. By the way, you can make use of a Bluetooth keyboard and mouse. Then you can type your password without a cable.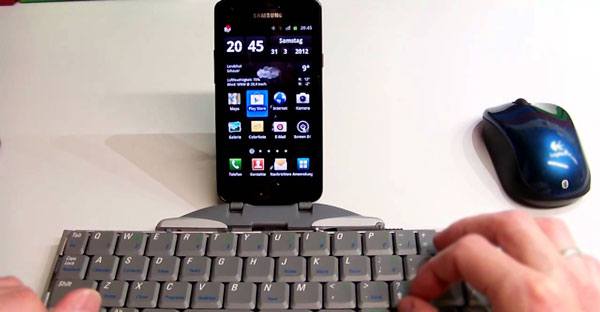 Further reading: What if your Android phone screen is broken? Then how can you unlock it? If so, you can browse this guide.
2.6 Use Android System Repair Software
To fast fix different Android system issues, you can utilize this Android System Repair software. It is easy to use and supports most Android devices, including Samsung Galaxy S22 Ultra/S22 Plus/S22/S21/S20/S10/S9/S8, Samsung Galaxy Note 20/Note 10/Note 9/Note 8, and more.
With it, you can solve the black screen of death, crashing apps, system stuck, and other touch screen not working problems. Therefore, you can easily unlock and access your Android phone after fixing the screen.
Download this repair software below.

Steps on how to unlock the Android phone when the touch screen is not working:
Step 1: Install the software on your computer, run it, and choose the "System Repair" > "Android Repair" tab.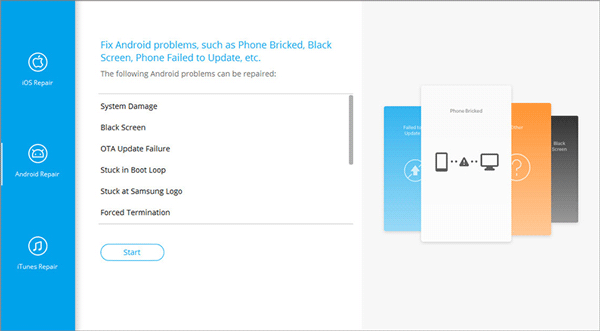 Step 2: Connect your Android handset to the computer via USB, and tap "Start" to select the correct information of your Android device. Then click the "Next" icon.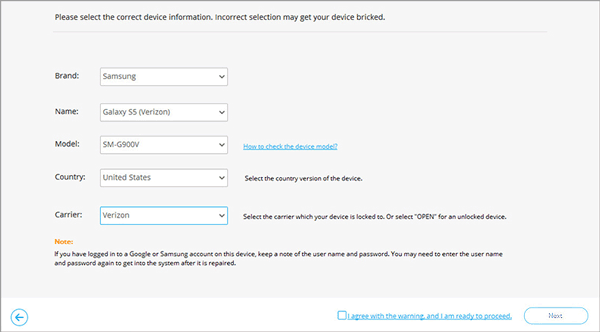 Step 3: Please input "000000" to the blank for confirmation, and tap the "Confirm" icon. Next, follow the guide on the interface to get your phone into the Download Mode, and hit "Next" to start downloading the firmware. Wait until the repair process is over, and you can check if you can unlock your phone.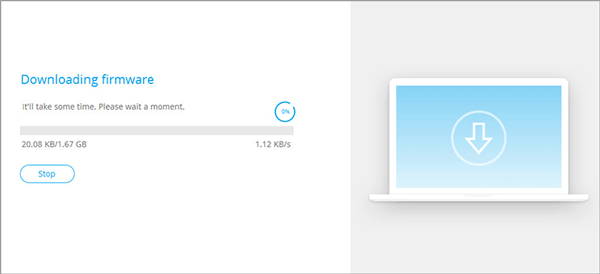 Read also: You can remove a lock from Android without performing the factory reset, because there are easier methods in this post.
Part 3: How to Unlock Phone If Touch Screen Won't Work for Hardware Issues
If you cannot unlock your phone with those methods in Part 1, maybe your touch screen is physically damaged. You can check it with the following tips.
3.1 Test the Phone Display
Perhaps you feel your phone screen is not sensitive enough. In this situation, you can test it with a built-in feature on your Android phone. But the operation is different on different Android devices.
On Android Samsung phones, you can make it in this way: open Samsung Members, and tap DIAGNOSTICS > Test hardware > Touch screen. Then you can start the test.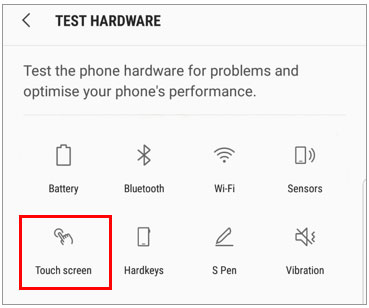 3.2 Remove the Screen Protector
Maybe your touch screen not working is due to a too thick screen protector, especially on a curved screen. In this case, you can remove the protector and then try your screen. Additionally, you can install those protectors designed for curved monitors.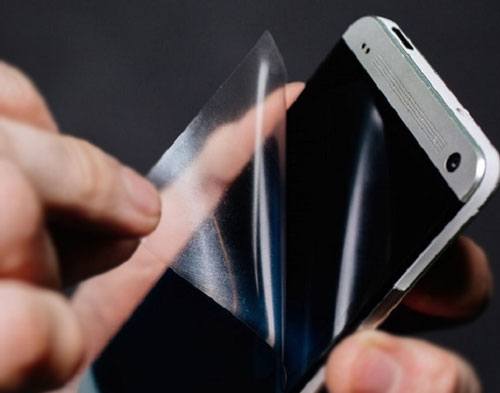 Maybe you need: Forgot your Android phone PIN? Follow this post, and you can access your device soon.
3.3 Take Your Phone to a Reliable Repair Center
Once you have tried all the methods mentioned above, and they are ineffective in repairing your Android touch screen, you can take your phone to a reliable repair center to have a check. Of course, if your Android device is still under guarantee, you can send it to the original manufacturer.
Bonus: Unlock Android Devices without Password When Touch Screen Is Not Work
This Android Unlock software can also help you unlock your Android phone when the touch screen is unresponsive. It can remove multiple lock types, including fingerprint, pattern, PIN, and password. As long as you connect your locked Android phone to a computer, you can remove the lock on the computer without trouble.
If you want to try this unlocking software for Android, you can download it below.

Conclusion
See? You can unlock your Android device, although the touch screen is not working. After discovering which part is damaged, you can fix this small snag breezily. If you need to repair Android system issues, you can use the Android Repair software. As long as you fix your phone, you can unlock it without effort. Moreover, the Android Unlock software can assist you in unlocking Android devices without a password.
Related Articles
Control Android from PC Conveniently | 7 Powerful Tools
How to Transfer Videos from Android to iPad without Losing Quality
How to Find Android Recycle Bin and Recover Deleted Files Easily
9 Excellent Apps to Transfer Data from Android to iPhone [Ultimate]
Recuva Software for Android: Useful Review and 5 Recuva Alternatives
How to Fake GPS on Android without Mock Location [Vital Tips and Useful Ways]