Summary
When setting up a new iPhone, one of the first things we do is transfer files from the old phone to a new one. Carrying forward your data when switching devices is crucial since you can easily access the files anytime. Move to iOS app makes this data transfer process possible. It's an app designed by Apple to help users transfer data from their old devices to new iOS devices. The app can transfer different data types from Android to iPhone.
However, recently, some users have been complaining about the app not fully working as intended. You may encounter 'Move to iOS did not transfer contacts' problems when using the app. Luckily, we will show you how to fix the problem and the reasons why it happens in the first place.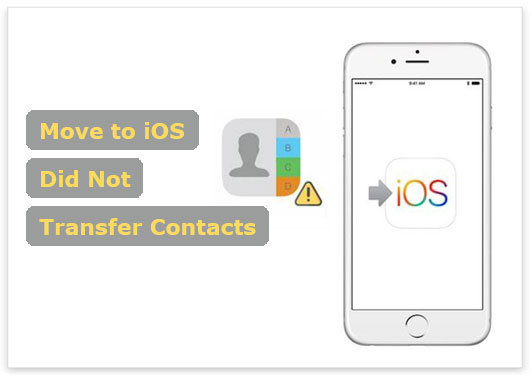 Part 1. Why Move to iOS Did Not Transfer Contacts?
Move to iOS is an application developed by Apple to allow users to move their files from Android to new iOS devices like iPhones and iPads. While this app is made to make the transition smoother, sometimes, it may not transfer your contacts successfully. Below are the most common reasons why that may happen:
Insufficient storage on iPhone
This is one major reason why the Move to iOS app may fail to transfer your contacts successfully. If there is insufficient space on the destination device, then contacts won't be transferred and even the Move to iOS taking forever. Your iPhone might have limited storage, and the files you are moving could occupy a large space.
Network issues
A stable and strong WiFi connection is required since the Move to iOS app relies on an internet connection to transfer files. If interruptions occur, you may encounter Move to ios did not transfer contacts issues.
App compatibility
Move to iOS app doesn't work on all Android and iOS devices. It works perfectly on Android devices running on version 4.0 and up and iOS running on 9.0 and up. So, if the devices aren't compatible with the app, you will likely encounter problems.
Some contacts are synced to Android
Move to iOS can also fail to move your contacts because the contacts are synced with the Android device. The app only transfers those contacts saved in a Google account, so if they aren't synced to cloud storage, you may run into 'Move to iOS contacts missing' issues.
Now you know why Move to iOS didn't migrate your contacts. You've probably detected the major cause of this issue by now is the phone. But you may want to fix it. In the next section, you will get your answers.
Read More:
Android to iOS Transfer - How to Transfer Data from Android to iOS Device
[100% Useful] How to Fix Move to iOS Low Battery Problem
Part 2. 5 Solutions to Fix Move to iOS Did Not Transfer Contacts
Move to iOS unable to transfer contacts is a common issue, but you should arm yourself with solutions to fix it. You can try the following steps to troubleshoot the issue:
1. Check Available Storage Space on iPhone
As said, insufficient storage space on an iPhone can bring this error of Move to iOS not transferring contacts. Therefore, when the app doesn't move your contacts, check if there is enough space on the iPhone. Here is how to check the available storage on an iPhone:
Step 1. Click on the Settings application on your iPhone's Home Screen. When on the Settings page, scroll down to "General" and click on it.
Step 2. Proceed to the "iPhone Storage" option and click on it. You'll see the available space on the iOS device.
Step 3. Check if the storage space is enough. You can delete some unwanted applications and unnecessary files to create more storage space.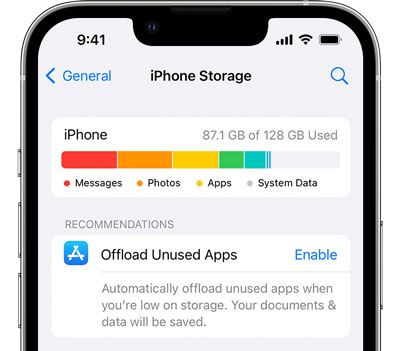 After that, now try transferring your contacts from Android to the iOS device again.
2. Check Your Network Connection
It is also important you inspect the internet connection you are using. The Move to iOS app works with a reliable internet connection, and if the available connection is weak, you will encounter contacts not transferred problems. So, ensure the WiFi connection is very stable on both devices.
Alternatively, you should reset the network settings on an iPhone by heading to "Settings" and "General". From there, click on "Reset" then "Reset the Network Settings".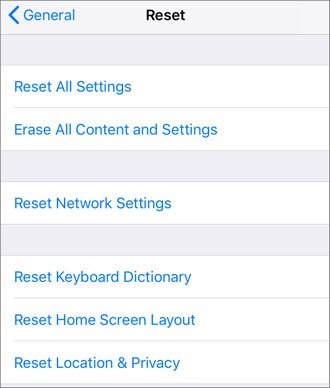 After doing that, you should now check if the Move to iOS app is working.
3. Add an Account to the iPhone and Sync your Contacts
Rather than being stored on the Android device, you'll find some contacts synced from a Google account. This means you won't find them on the iPhone. A better alternative is to add another account to the iPhone and sync your contacts from there.
Also, this solution does not need you to delete all files from an iPhone and move the files again with the app. It is a simple fix that can completely resolve this issue. Below are steps to add your account and then sync its contacts to the iPhone directly:
Step 1. Start by opening the Settings app on your iPhone and head to the "Contacts" option. Select it. Now click on the "Accounts" icon, then choose "Add Accounts".
Step 2. Choose the "Google" option, then log into your Google Account, where the contacts are saved.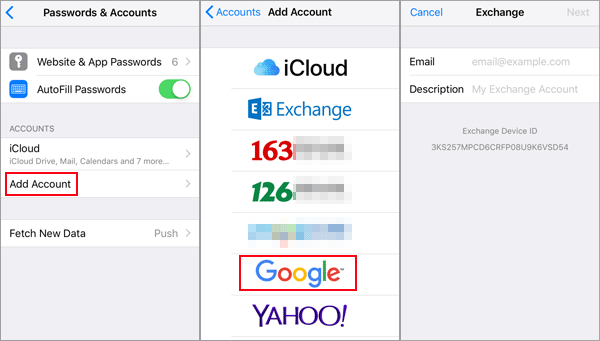 Step 3. When done, you will find the contacts on your new iPhone.
4. Restart the Transfer Process
During the transfer procedure, there could be something unexpected such as transfer glitches making not all contacts be transferred. Therefore, restarting the transfer process is a viable option to fix this issue. The steps for restarting the contacts transfer procedure are as follows:
Step 1. First launch Move to iOS application on the Android device.
Step 2. Next, erase all existing files on iPhone to set up the phone again. Finish all the requirements till you reach the screen for "Apps & Data".
Step 3. Make sure you follow the instructions on the screen to transfer files from an Android to iPhone with the Move to iOS app. (How to Transfer Data from iPhone to iPhone After Setup?)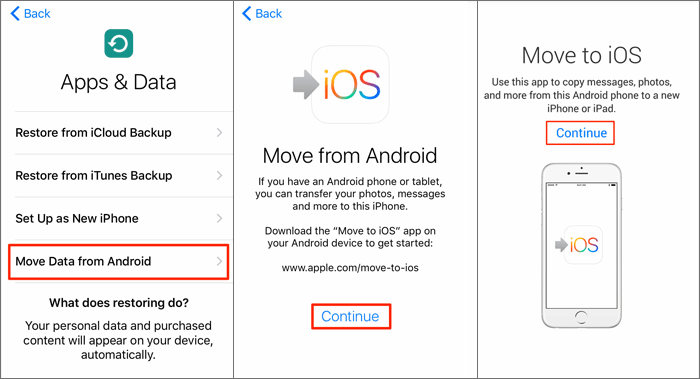 5. Contact Apple Support for Help
If none of the solutions help, then your last resort is to contact Apple Support for help. It is easier to reach out to Apple. However, you should explain the problem with Move to iOS in detail. Here is what to do:
Step 1. Head to the Apple Support website. Tap on the "Contact Support" at the lower page.
Step 2. Choose the device category and the specific topic. Now select the support option such as phone call, chat, or email.
Step 3. Follow the instructions to connect with the Apple Support representative. Explain the problem with Move to iOS failing to transfer contacts.
Read More:
Transfer Data from Motorola to iPhone in 4 Ways [Easy and Safe]
[Essential Guide] Transfer Contacts from HTC to iPhone with 4 Superb Tips
Part 3. Transfer Contacts with the Best Move to iOS Alternative
The ultimate option to fix the Move to iOS Contacts Missing issue is using Mobile Transfer, a one-stop data management program. It is a reliable software that guarantees successful data transfer between Android and iOS devices. It is a well-known smartphone transfer tool trusted by millions of users.
With this tool, you don't need to delete the transferred files on the iPhone. It lets you perform contact transfer tasks quickly and is also useful in transferring other data types, such as documents, from Android to iOS. It's robust software with a user-friendly interface that is easier to navigate.
Not only can you share files between Android and iOS but also iOS to iOS, Android to Android, and iOS to Android. The transfer process is very swift; all it takes is to connect your devices, select files, and hit the Start button to transfer contacts from Android to iOS. Irrespective of the number of contacts, Mobile Transfer makes the transfer process a snap.
Key features of Mobile Transfer:
- Transfer contacts from Android to iOS with a click.
- Transfer data from Android to Android, Android to iOS, iOS to Android, and iOS to iOS.
- Support transfer of various data types, including SMS, contacts, music, videos, photos, notes, calendars, etc..
- Work natively with all iOS devices, including the latest ones.
- Allow you to select file types before transferring.
- The transfer process is stable, simple, and swift.
Check out the steps to transfer contacts from an Android to an iPhone via Mobile Transfer:
Step 1: Step 1. Download and install the Mobile Transfer program on the computer. Run it and choose "Mobile Transfer". Plug the two mobile phones into the PC using USB cables. Click "Trust" on iPhone and enable USB debugging on Android.
Step 2: After establishing a connection, you will see the devices displayed on the screen. Ensure they are in their correct positions with Android as the Source. If they aren't, click on the "Flip" button to change their positions.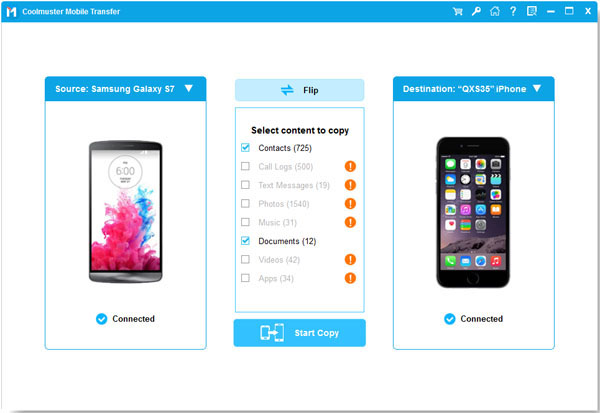 Step 3: Choose the contacts you want to move from Android to iPhone, then hit the "Start Copy" tab to initiate the transfer process. Wait for the process to finish.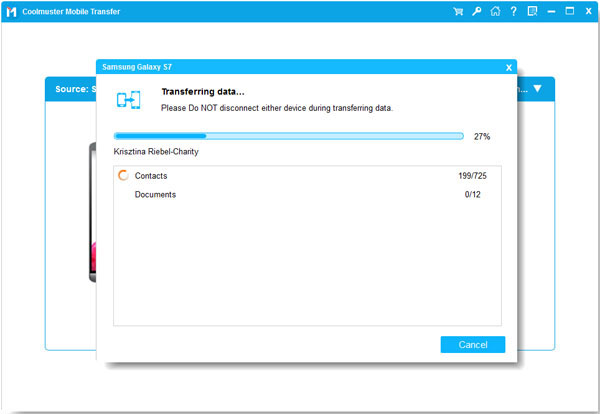 Conclusion
Even though Move to iOS is a dependable tool for transferring files from Android to iOS, users often encounter problems. You may run into issues like "Move to iOS contacts missing". Fortunately, resolving such problems is relatively easy with the tips mentioned in this guide.
However, using a robust tool like Mobile Transfer is the only way to transfer contacts from Android to iPhone without encountering issues like contacts did not transfer. It provides a simple, swift, and quick transfer process.
Related Articles
How to Print WhatsApp Messages Easily on Android and iOS Devices
Fix Move to iOS Transfer Interrupted without Hassle [Proven Tricks]
Best iPhone Transfer Software: 11 Excellent Tools for File Transfer
Sync Apps from iPhone to iPad in 3 Practical Ways [Proven Guide]
Fast Transfer Music from iPhone to Computer for Free (Quality Guide)
How to Transfer Photos from iPhone to SD Card Easily [5 Proven Ways]