Summary
Move to iOS is an easy way to move data from one mobile device, iCloud, or iTunes backup to a new iPhone/iPad/iPod touch. With simple clicks, the transfer will be finished, and you can view your data on the new device. How convenient it is! However, some people have recently found that the Move to iOS transfer is interrupted on their devices. So, how can we cope with this situation? Let's discuss it now.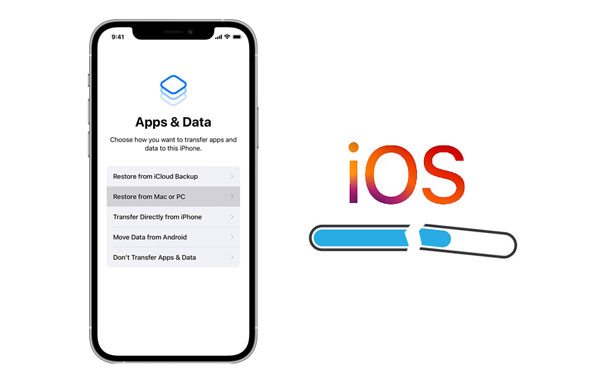 Tip 1: Why is Move to iOS transfer interrupted?
If you want to work out this problem, you'd better know why it happens. In general, there are main causes that lead to the interruption:
- Your network is unstable, so it can't transfer your data.
- You perform the data transmission from a device that runs a higher iOS than your target gadget.
- One of your device models is not supported by Move to iOS.
- You run too many apps in the background to influence the system's performance.
Tip 2: How long does it take to transfer data through Move to iOS?
As a matter of fact, how long it will take is up to your data size. It can complete the migration within several minutes because you only selected your contacts. On the contrary, it will last one hour and more to copy your lots of videos, songs, images, etc.
Part 1: How Do I Fix Move to iOS Transfer Interrupted?
Subsequently, you can fix the Move to iOS transfer error with simple and safe tricks in the following.
1.1 Enable and Disable Airplane Mode
Sometimes, the wireless network is out of order, but you cannot find out why it is. In this case, you can scroll down your screen on your mobile phone, and enable airplane mode. After a while, disable it, and connect to the network again. Then resume the transfer with Move to iOS.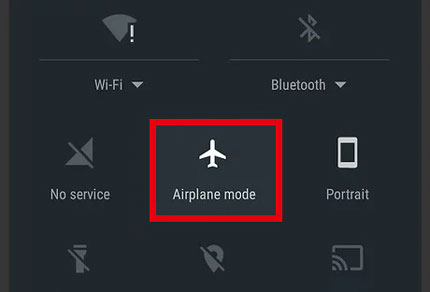 1.2 Check the Network
Maybe the network you are using on both phones is not steady so that the transfer is always failed. Please go to the Settings app, and check your network. It is best to change to another available network for connection. For example, you can turn on your mobile data to replace the Wi-Fi network.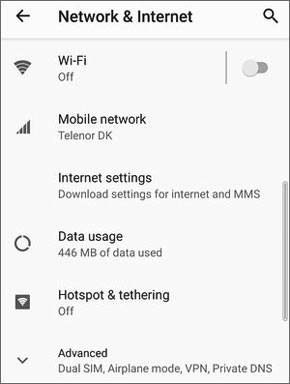 1.3 Reboot Your Mobile Phone
If it doesn't work after you try the previous methods, please reboot your Android phone. This measure can handle many system errors. Please long-press the "Power" button, and choose the "Restart" option to reboot your device.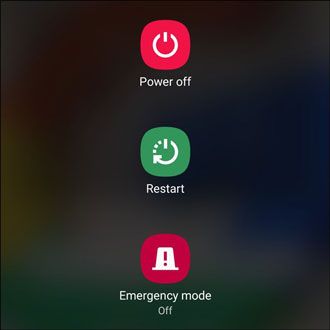 1.4 Uninstall Smart Switch and Close Other Apps
Smart Switch might be the factor to lead to the transfer of Move to iOS. If you install Smart Smart on your old phone, please remove it. Besides, close the apps running in the background to release more memory.
In case these methods are not helpful in fixing the interruption of the Move to iOS app, you can select an alternative to move data without Move to iOS.
Bonus: Want to move files from an iPhone to an Android phone? If so, you can try these 6 methods.
Part 2: Use an Alternative When a Transfer Error Has Occurred on Move to iOS
2.1 Replace Move to iOS with Samsung Data Transfer
Samsung Data Transfer is an efficient program to copy data between Android and iOS devices, so you can use it to achieve data migration. What's more, it works well on most Android and iOS devices, such as iPhone 13 Pro/13/12 Pro/12/11 Pro/11/XS/XR/X, iPad, iPod touch, Samsung, ZTE, OnePlus, Sony, OPPO, Vivo, Motorola, and more.
It supports Android OS 4.0 or higher, and iOS 5.0 or later. Thus, many phone models are supported. Additionally, it doesn't require the OS of your destination device is newer than the source phone. With it, you can transfer contacts, notes, bookmarks, books, and more between iOS devices. Also, you can carry out the transmission from Android to Android, Android to iOS and vice versa with this program.
Download this Move to iOS alternative below.
Here's how to use this transfer software to move your data between iPhones:
Step 1: Install the software on your computer, launch it, and connect both your iPhones to the computer via USB.
Step 2: Click the "Trust" option to establish the connection. Then check if your mobile phones are in the corresponding positions. If not, click "Flip".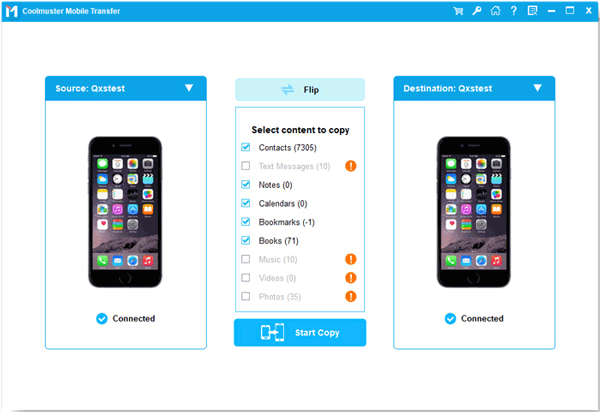 Step 3: Choose the data types on the panel, and click the "Start Copy" icon to begin the transferring process. After it is over, please safely remove your devices from the computer.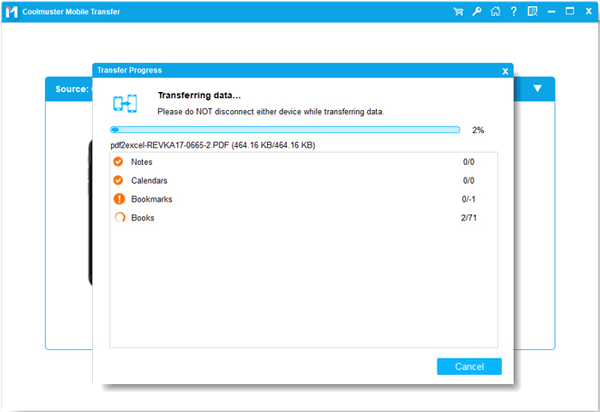 You might need: Click it to learn more tips on fixing Move to iOS not working.
2.2 Replace Move to iOS with AirDroid
AirDroid is a useful wireless transfer option to send data from one device to another. With it, you can not only transfer your data between mobile phones, but also send your files from a computer to a phone and vice versa. If you purchase the premium version, you can also use remote control and other amazing features.
Guide on using AirDroid if Move to iOS occurs errors:
Step 1: Install AirDroid on both your devices, and open the app.
Step 2: Sign up for an account. If you have an account, please log in with it on both phones.
Step 3: Go to the "My devices" tab on your sender, and choose your target device. Then tap the "Paperclip" or "Photo" icon to select and send your files. Finally, you will receive the files on another iPhone.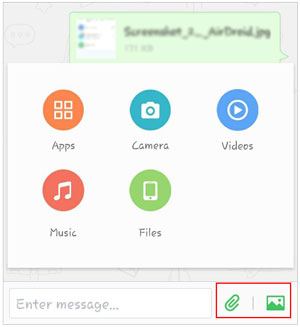 See more: How can you transfer iBooks from an iPhone to an iPad? If you want a hassle-free way, read this article.
2.3 Use Xender as the Alternative to Move to iOS
Xender assists you in sharing multiple media files, like videos, photos, applications, and so on. It is faster than Bluetooth, but does not need cellular data. Of course, it can run smoothly on Android, iOS, Windows and Mac. If Move to iOS cannot work well, you can choose Xender.
Replace Move to iOS with Xender to transfer data from Android to iOS:
Step 1: Install and run the app on your mobile gadgets. Then tap the "SEND" icon on Android, and allow the app to access your device.
Step 2: The app will display a QR code for a hotspot on Android. Please turn on Wi-Fi on your iPhone, and tap the "RECEIVE" option to scan the QR code.
Step 3: Select the file types you want and click the "Send" icon on your Android phone. Then you will get the files on your iPhone.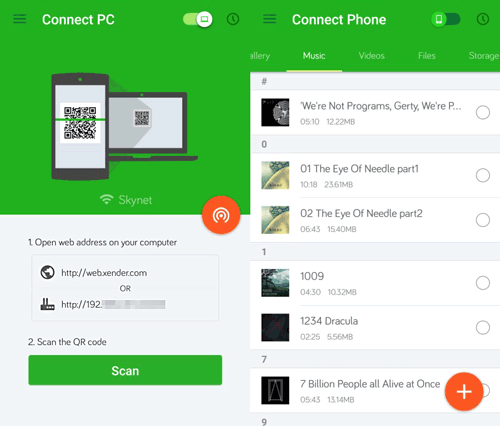 Read also: You can effortlessly copy your iPhone photos to an Android phone or tablet without losing quality. Let's take a look.
2.4 Use Google Drive to Replace Move to iOS
Google Drive is different from the former, because it can synchronize data with cloud storage space on one account, regardless of on different devices. As long as you sign in with the same account, you can view your uploaded files anytime. The disadvantage is that there is limited storage to store your data.
Here's how to use Google Drive to replace Move to iOS:
Step 1: Download and open Google Drive on both devices. Then log in with your Google account.
Step 2: Click the "+" > "Upload" icon on your sending phone to pick the desired files from the internal storage. Then the app will upload your files wirelessly.
Step 3: Refresh the app on your target iOS device, and you will view the uploaded files. You can save them to the iPhone if you like.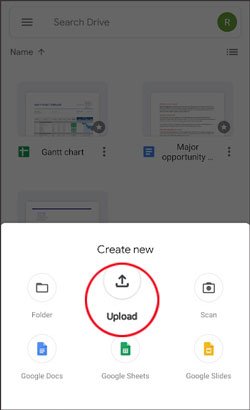 Conclusion
It sounds difficult to fix the Move to iOS being interrupted issue, but in fact, it is not. You can follow this guide to repair it on your own. Even though you don't want to transfer data with Move to iOS, you can select a trustworthy alternative to copy your data to your new iPhone/iPad/iPod touch. For instance, Samsung Data Transfer is nice one-stop transfer tool that works well on most Android and iOS mobile devices.
Related Articles
Share Contacts on iPhone without Trouble (5 Fabulous Approaches)
Fast Back Up WhatsApp from iPhone to PC with 4 Approaches [Updated]
How to Transfer Data from iPhone to iPhone After Setup - 3 Useful Ways
LG to iPhone Transfer Guide: Swiftly Transfer Content from LG Phone to iPhone
How to Clone an iPhone without Effort [Ultimate Guide with 5 Methods]
Transfer Data from OnePlus to iPhone 13 with 4 Practical Ideas [Recommended]