Summary
If you want to move data from an old iPhone or Android to a new iPhone, the Move to iOS application is the best application you can use. However, there are times it gets stuck. Imagine having transferred nearly 100 GB of files to your brand-new iPhone, only to get a 'Move to iOS stuck on 1 minute' notification. It can be really annoying.
But worry not, as we have found a couple of solutions for you. In this guide, we'll cover quick fixes to eliminate this trouble. Let's get going!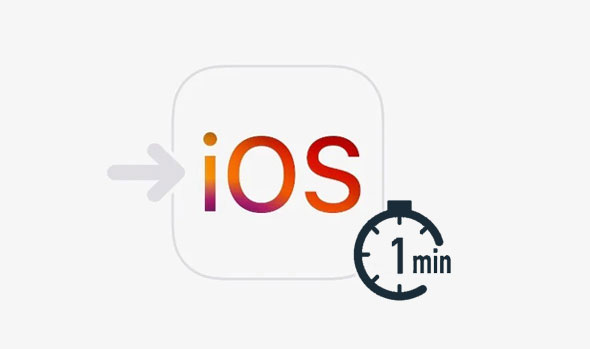 Part 1. Reasons for Move to iOS Stuck at 1 Minute
Move to iOS app stuck on 1 minute remains a common problem that some iPhone users experience when using the app. It shows that the transfer procedure is stuck and is not transferring data as it should. One reason is a poor internet connection. A stuck error will appear if the WiFi is disconnected for a few seconds. To prevent encountering the problem, you must ensure there is no WIFI disconnection throughout the operation.
Read More:
Transfer Text Messages from Android to iPhone Fast [iPhone 14 Is Supported]
Samsung to iPhone Transfer - How to Transfer Data from Samsung to iPhone 14?
Part 2. Solutions to Move to iOS Stuck at 1 Minute Remaining Problem
Below are some solutions to help you fix Android to iPhone transfer stuck at 1 minute error:
1. Clear the App's Cache
Clearing data and cache of the application on your Android can help fix any issues with the app. Here are the steps:
Step 1: Go to your phone's settings and select Apps & Notifications.
Step 2: Next, tap the Move to iOS option. In the storage section, click "Clear cache."
2. Turn on & Off Airplane Mode
This application transfers data from an Android device to iPhone using cellular data or WiFi. If the application is stuck while transferring files, turn the Airplane feature on and then off to reboot your network. Here are the steps:
Step 1: Scroll down from Android's screen and open "Quick Settings" window.
Step 2: Find Airplane Mode, then enable it.
Step 3: Wait a few seconds, switch it off, and then connect the device to WiFi again.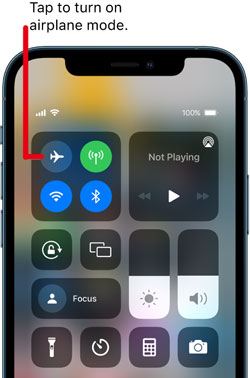 3. Connect to Stable WiFi Network
As said, a poor internet connection can bring issues like being stuck at 1 minute. When your WiFi assist is enabled, it may cause the WiFi to disconnect and switch to cellular data, leading to the stuck issue. Here are steps to turn on WiFi assistance:
Step 1: Click on Settings app on the phone and go to Mobile/Cellular data
Step 2: Scroll down to find WiFi assist.
Step 3: Besides WiFi assists, press on the slide to turn it off.
If you're moving the data from an Android phone, here are steps to follow:
Step 1: Go to phone settings and click Wireless Network. Then WiFi.
Step 2: From the top-right corner, press on the menu icon.
Step 3: Click "Advanced," then choose "Always" from the options under the Keep WiFi on During Sleep.
Step 4: Select Always.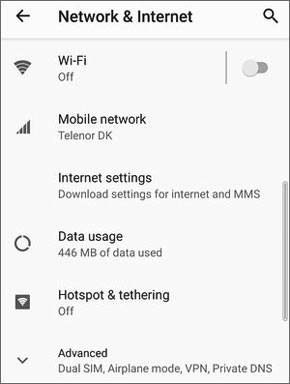 4. Connect the two iPhones to the Same Network
Both iPhones need to be connected to the same network when transferring data. Here's the method to verify it:
Step 1: Go to phone settings and click "WiFi."
Step 2: Check the connected network name.
Do the same thing on the other iPhone. Both of them should be connected to the same network.
5. Place Both iPhones Close to Each Other
When using the application to move data from one phone to an iOS, ensure they are close. If you don't keep them close, the transfer may be interrupted.
6. Restart Android & iOS devices
Restating both phones clears the cache files that may be present on either of the devices. Moreover, restarting prevents any background downloads from taking place. It also stops other applications from consuming excessive RAM. To restart an Android, press Power button and hold it for a few seconds, then click the "Restart" option. To reboot your iOS 16 device, here are the steps to follow:
Step 1: Press Volume Up key and immediately release.
Step 2: Press Volume Down key and immediately release.
Step 3: Long press the Side button.
Step 4: Once the phone logo appears, release it.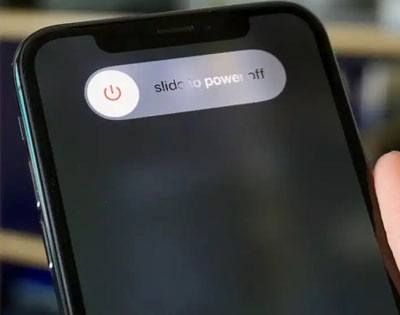 After both devices successfully reboot, confirm if the application is functioning well.
7. Check Devices Compatibility
If you find this Android-iPhone transfer app is not working or Move to iOS taking forever, check if your devices are compatible. For smooth running, the two devices must be compatible with the app. There could be an issue with device incompatibility if you see an error message of Move to iOS not connecting.
Here are steps to check Android device's compatibility:
Step 1: Go to phone settings menu.
Step 2: Scroll down to find "About phone." Check your Android version.
To check on your iPhone, use the steps below:
Step 1: Go to the Settings menu.
Step 2: Click on "General".
Step 3: Next, Select "About" to see your iOS version.
If any of your devices are incompatible with the application, you cannot transfer files.
8. Check the Storage Space of the iPhone
Even if the two devices are compatible, there must be enough storage space. If your iPhone memory is not enough to hold the data you are transferring into it, there could be an error. You need to confirm that your iPhone has sufficient data storage. Follow the below steps:
Step 1: Go to iPhone settings menu.
Step 2: Click "General"."
Step 3: Press on "iPhone Storage."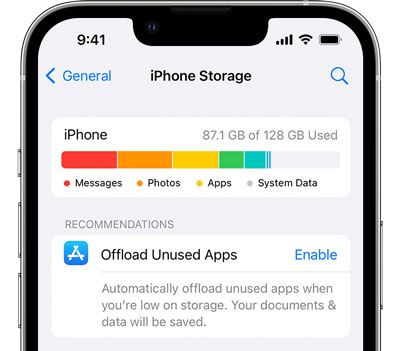 9. Turn Off the Connection Optimizer
If you use 8.0 or higher Android versions, turning off the connection optimizer feature before launching Move to iOS may help. If you fail to do this, the connection optimizer will interfere with the WiFi connection, affecting the smooth transfer. Here are steps to turn off the connection optimizer:
Step 1: Open your phone settings.
Step 2: Press on "Connection".
Step 3: Click "Mobile Networks."
Step 4: Tap on "Connection Optimizer" and deactivate Cellular Data on its setting.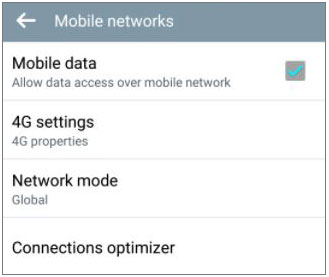 10. Forget the WiFi Network
Another contributing factor causing the Android to iOS transfer to get stuck for 1 minute could be the interruption in your phone's WiFi connectivity or your device is not working well with your WiFi. Your iPhone may also be having a slow internet connection. So, try forgetting your network to see if the issue will be resolved. Here are steps to forget the WiFi network:
Step 1: Start by opening your phone settings
Step 2: Look for WiFi option and click on it.
Step 3. Click on a network you are connected to. Choose "Remove this network" option.
Step 4. Wait for seconds to see your WiFi network appear in the "Available Networks" section.
Step 5. Click on your WiFi network and enter the passcode to log in.
Read More:
Transfer Data from Motorola to iPhone in 4 Ways [Easy and Safe]
[Essential Guide] Transfer Contacts from HTC to iPhone with 4 Superb Tips
Part 3. Best Alternative to Move to iOS
As seen above, Move to iOS has some limitations; we suggest opting for Samsung Data Transfer as a viable alternative. It is the best application for file transfer between phones. It stores and manages your files safely and securely transfers files from one device to another.
Samsung Data Transfer can transfer data between devices in a matter of seconds. Using this application, your eBooks, contacts, and other files can be easily synced from an Android phone to iPad/iPhone/iPod with just one click.
Key features of Samsung Data Transfer:
- Secure transfer of files from Android devices to iOS with a simple one-click.
- Support transfer of videos, photos, music, contacts, calendar events, notes, SMS messages, etc.
- The transferring procedure is very swift.
- Allow you to select file types before transferring.
- Supports the latest versions of Android 13 and iOS 16.
Here are steps to transfer Android files to an iPhone via Samsung Data Transfer:
Step 1: Install the program on the PC after downloading it. Open it and choose the "Mobile Transfer" option. Link the devices to computer using USB cables. Enable the USB debugging on Android and tap "Trust" on iPhone so that the program can detect the devices.
Step 2: After successfully detected, they will be displayed on your screen. Ensure they are arranged correctly in their positions. If not, you should click on "Flip" to change them.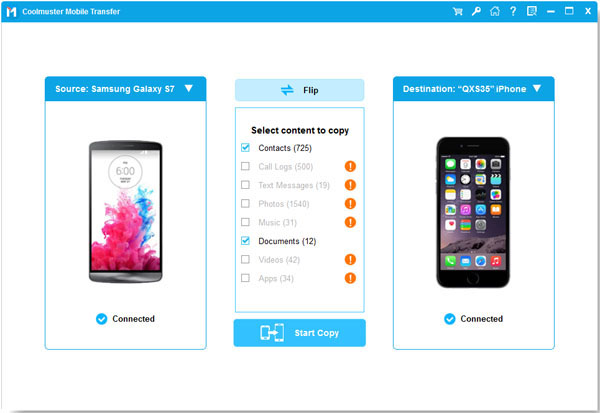 Step 3: Choose the files from the interface and click "Start Copy" tab to send them to your iPhone.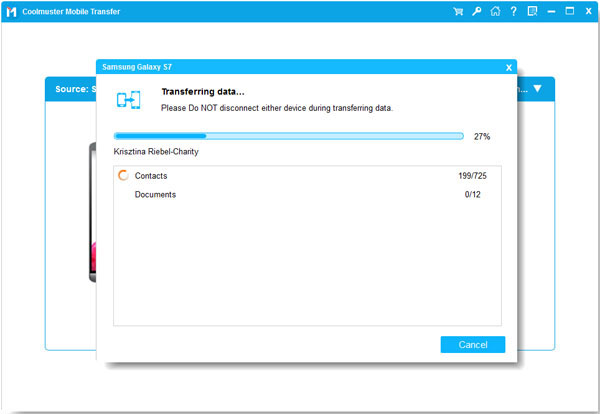 Part 4. How Long Does Move to iOS Take to Send Data
How long does Move to iOS take? It depends on many factors, including:
- The size of the files you're transferring.
- Your cellular/WiFi signal.
- The speed of the internet/WiFi.
If the WiFi you are using is fast enough, and the data being transferred aren't too many, it will only take a few minutes to transfer the files. However, it will take a lot of time if the internet speed is slow and the data size is large.
Conclusion
You may encounter challenges when using the Move to iOS application. Among these is the Android to iOS transfer stuck on 1 minute. We have listed 10 different methods to get you out of this problem. Use Samsung Data Transfer as the best alternative if the app does not meet your needs. The goal is to transfer your data as quickly as possible.
Related Articles
How to Print WhatsApp Messages Easily on Android and iOS Devices
Fix Move to iOS Transfer Interrupted without Hassle [Proven Tricks]
Best iPhone Transfer Software: 11 Excellent Tools for File Transfer
Sync Apps from iPhone to iPad in 3 Practical Ways [Proven Guide]
Fast Transfer Music from iPhone to Computer for Free (Quality Guide)
How to Transfer Photos from iPhone to SD Card Easily [5 Proven Ways]