Summary
One bizarre error Android users may face is SIM-related. Some users encounter no SIM card detected error, which implies telephony is impossible. This will stop mobile connectivity for your data connection and calls. Though you can use WiFi, sometimes you have to rely solely on a mobile network.
This situation can be frustrating, and immediate troubleshooting will be needed. If you are unsure what to do, we'll show you how to fix no SIM card error on Android.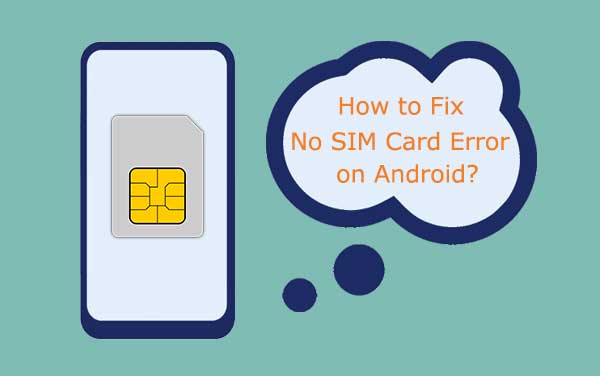 Part 1. Why Does My Phone Say No SIM?
An Android may display a No SIM error for various reasons. Some have to do with SIM cards, while others are a result of the hardware/software of the device. Below are the causes to the question 'Why does my phone keep saying no SIM card':
- Incorrectly inserted SIM card.
- Damaged SIM.
- Software bugs and glitches.
- Incompatible SIM card.
- Incorrect network settings.
Read Also:
Reliable Android Phone Repair Software - Fix Android System Issues
How to Flash a Dead Android Phone Swiftly and Safely (Ultimate Guide)
Part 2. How to Fix No SIM Card Error on Android in 13 Quick Solutions
These are some of the proven fixes to use if you are looking to troubleshoot no SIM detected issues on Android:
Solution 1. Reinsert the SIM Card
Starting with the basic tips, you should eject then reinsert the SIM again into the phone. Make sure your SIM has been placed properly in the SIM card tray.
Pull out the SIM tray from your Android, remove the SIM card, and wait a few seconds before putting it back into the tray. Now, slide the card tray into the phone. When the phone restarts, check if it reads the SIM card.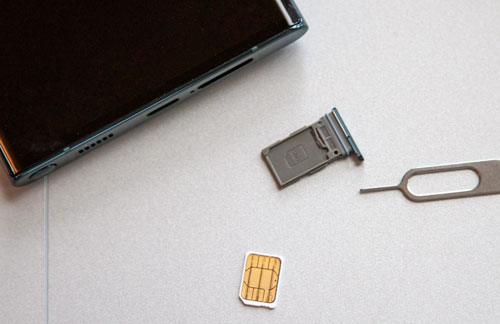 Solution 2. Check if the SIM Card is Damaged
Another reason your Android may show a 'No SIM' error is because the SIM has scratches after many insertions. This may hinder your phone from reading the SIM card properly. It is best to get a replacement from your Mobile Network Operator if your SIM has many scratches.
Solution 3. Check if the SIM is Enabled
Normally, an Android phone lets users turn off their SIM network, especially if it is a Dual SIM. Therefore, if you cannot see the network strength on the phone, you should check if the SIM has been deactivated. Here are steps to check if your SIM is enabled: (Transfer SIM Card Data to Computer without Data Loss)
Step 1. Click on the Settings application and on "Network & Internet".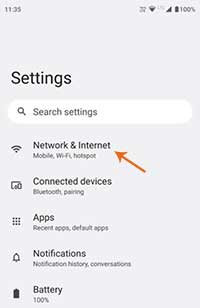 Step 2. Choose "Mobile Network".
Step 3. Click on the toggle beside the 'Use SIM' option to turn on the SIM network.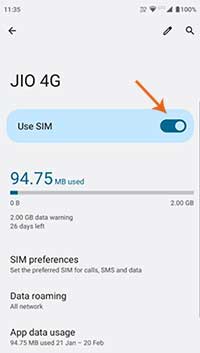 Step 4. Close the page and see if the issue is resolved.
Solution 4. Turn On and Off Airplane Mode
Airplane mode disconnects your phone from all the network services while on a flight. Nonetheless, you can use the AirPlane mode to resolve multiple network-related issues, such as not having a registered network, no internet from the connected WiFi, no service, and much more.
It is a simple fix if your phone says no SIM card Android as it disconnects the mobile network, Bluetooth, and WiFi on your phone.
Step 1. Swipe down on the status bar to open the notification drawer.
Step 2. Click on the "Airplane mode" button to enable it. Click on the mode again to turn it off.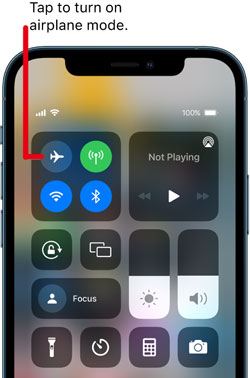 Solution 5. Restart the Phone
There could be a stuck program that may be preventing your SIM from being detected. In that case, a simple reboot might be enough to fix this no SIM card Android issue. After restarting, a phone resolves minor glitches in the phone, which can help your device to work as expected.
Restarting an Android phone is pretty simple. You need to hold down the Power button for a few minutes until you see the Restart option. Click on the option, and your device will switch off and back on.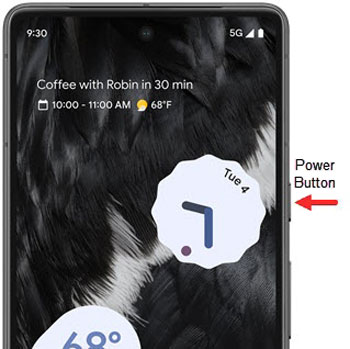 Solution 6. Set the Network Mode to Auto
Sometimes, Network Type Settings may get switched to the incorrect type, which leads to a No SIM error message. If you change network mode to Auto, your device will only connect to networks specially designed for cellular connections, such as 3G/4G. This should resolve most issues connecting to the network, thus restoring the SIM card.
Step 1. Head to Settings and "Mobile Networks". Click on "Network operators".
Step 2. Choose "Airtel/Vodafone IN/IND-JIO" Mode from the popup.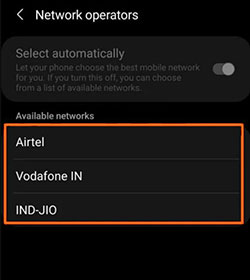 Setting your Network Mode to the "Auto Connect" mode should resolve the problem on Android devices.
Solution 7. Force Stop & Clear the SIM Toolkit Data
A SIM Toolkit is an app built into your phone that allows a SIM card to function. It serves as a driver software for the functions of the SIM. Like other software, the SIM card not working Android issue could occur if SIM Toolkit application files get corrupted.
This is a proven solution you can also give a try by doing this:
Step 1. Take out your undetected SIM from the phone, then proceed to "Settings". In the search bar at the top, enter "App Settings" and tap on it.
Step 2. After opening App Settings, head to the "SIM Toolkit" option on the application list.
Step 3. Tap on the application, then choose "Storage & cache".
Step 4. Clear the SIM Toolkit data and cache. After that, reboot the phone. (How to Wipe a SIM Card with Android Completely?)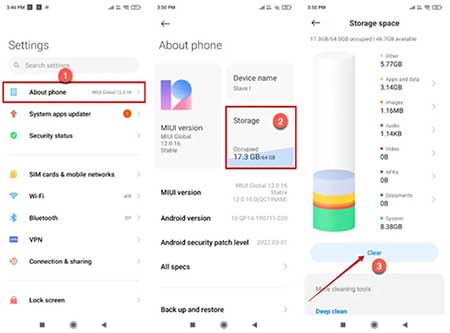 These steps may vary depending on your phone, but it should fix the phone says no SIM issue.
Solution 8. Reset Your Network Settings
If the network settings have been tampered with, there is a high chance you will get a SIM card not detected Android error. Besides, you might not be able to pinpoint the specific setting that was changed. In such a case, a network reset is what to do. This returns the network settings to default values, thus fixing the issue if a change in the settings caused it.
Follow these steps to reset the network settings on an Android:
Step 1. Launch the Settings app on the phone and tap on "System".
Step 2. Click on the "Reset" option and choose "Reset WiFi, mobile, and Bluetooth".
Step 3. Follow the instructions on the screen to confirm the reset operation.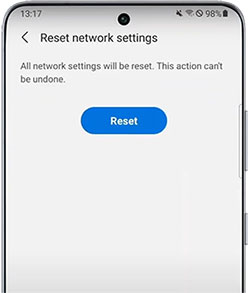 Solution 9. Update Android Version
Generally, Android updates come often and are, of course, helpful in removing bugs and glitches. So, if your old version has these bugs, bring the no SIM card error; updating it may solve the problem without a problem.
Check out the steps below:
Step 1. Launch Settings on an Android device, scroll down to "System Updates", and click on it.
Step 2. Click on the "Check for Updates" option.
Step 3. If there is an update, download it and then install it. After that, check if the issue has been resolved.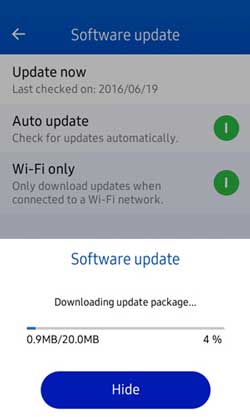 Solution 10. Manually Enter Your Network APN Settings
My phone says no SIM card; what should I do? Most probably, your SIM lost contact with a particular network it is supposed to connect to. If that has happened, you need to manually input the APN settings of the network operator.
These are steps to follow to accomplish this:
Step 1. Head to the "Settings" page on your Android phone and click on "SIM cards" then "Mobile Networks".
Step 2. Now, access the point names and hit the "+" icon.
Step 3. Contact your provider to get APN settings to add. Alternatively, you can check online and see if your network provider published the APN settings.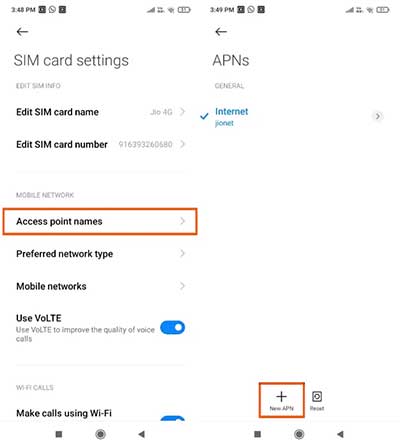 Solution 11. Put the Android Into Safe Mode
Unfortunately, not every application you download on your phone plays nice. Some apps will do more than good and bring this error. You should boot your device into Safe Mode, stay in the safe mode for a while, and check if the problem persists.
If the phone connects to the network without a problem when in Safe Mode, the issue lies with the installed apps. Uninstall newly downloaded applications and check if the issue goes away.
Steps to follow to boot an Android in Safe Mode:
Step 1. Switch off the phone and press the Power button till you see power options on the screen. On some devices, you need to press the Power and Volume Up keys at the same time.
Step 2. When the power menu, including Power Off, Restart, and Shut Down, appears, long press Power Off until an option to restart in Safe Mode appears.
Step 3. Confirm the process by clicking the "OK" button to put the phone in Safe Mode.
Step 4. Uninstall the newly installed apps to fix the problem.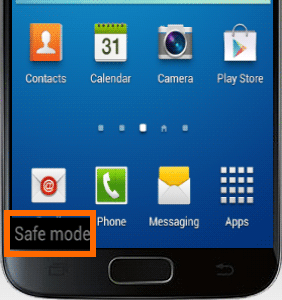 Solution 12. Choose the Correct Network Operator
If the network operator you are using isn't selected in the Android phone's settings, you will definitely run into a No SIM error.
To be sure you are using the right network operator, head to "Settings" and "Mobile Networks". Now tap on the "Automatically select Network" option. After your Android finishes searching and shows outcomes, click on your carrier.
Solution 13. Contact Customer Service
If none of the fixes helped to solve the problem, you should contact your network provider and check if there is an issue with settings or the network.
Also, you can contact the phone's manufacturer and see if they can help.
Read Also:
[Fixed!] What If Fail to Connect Android to PC
Back Up and Restore Text Messages on Android [5 Proven Methods]
Part 3. The Ultimate Solution to Fix No SIM Card on Android Error
Why does my phone keep saying no SIM card? Most likely, software glitches are to blame. To fix software problems, you need a reliable and professional tool like Android Repair. Since the Android phone can't properly read the contents on the SIM card, it implies the system has issues. Luckily, Android Repair offers a system tool to troubleshoot all Android system problems such as black screen of death, apps crashing, stuck in boot loop issues, etc. You can definitely count on it to fix Samsung Galaxy phone says no SIM card error.
Most Salient Features of Android Repair:
* Fix all Android system problems, such as the black screen of death, apps crashing, bricked devices, etc.
* Repairs Android systems back to normal.
* No tech skills needed.
* Highest rates of success in resolving Android system problems.
* Supports all mainstreams of Samsung devices.

Here are the steps for no SIM card detected on Android fix via Android Repair:
Step 1. Install the tool on your PC and run it. Choose "System Repair" from the toolbox. Next, plug in your Android to your PC with a USB and tap on "Android Repair".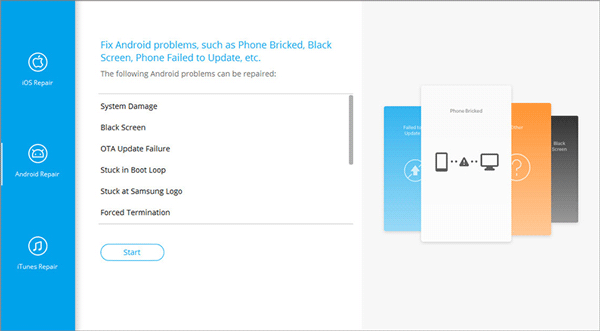 Step 2. Press "Start" and check the issues the program can fix. Now, choose the correct mode, country, carrier, and name of the Android device.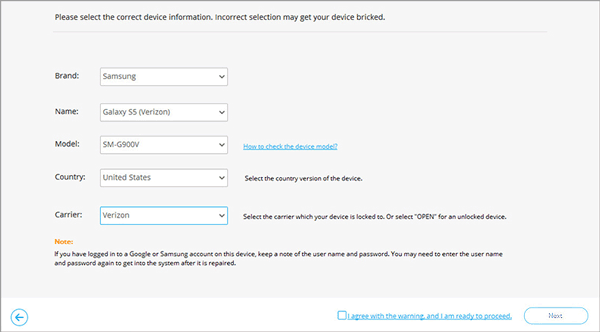 Step 3. Put the phone in Download Mode, and the firmware will instantly download. Key in "000000" in the box on the screen.
Step 4. The repair process will start, and when it completes, click on "Done".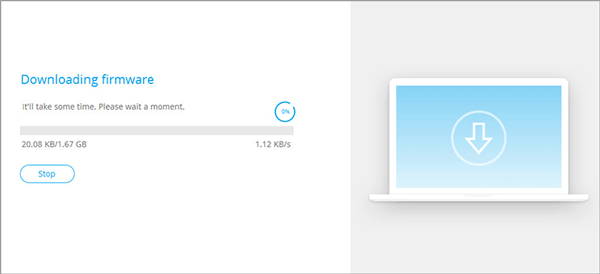 Winding Up
That's all for fixing the No SIM card detected error on Android devices. Various causes are associated with this error, but hopefully, the fixes above will help you out of this predicament.
Of all solutions, Android Repair is the best tool to repair an Android with no SIM detected problem simply and in just a click.

Related Articles:
How to Fix White Screen on Android Phone: Key Tips You Need to Know
Android Phone Keeps Turning Off? Get Solutions to Repair the Phone
How to Fix Samsung Black Screen in Minutes?
How Do I Fix the Blue Screen of Death on My Android Phone? 5 Ways for You
My Text Messages Disappeared on My Android - Find the Cause and Fix It
Why Does Android Crash? How Can You Fix the Issue? [Solutions Ready]