Summary
When an Android phone is dead, it will not be able to receive and follow your instructions. Generally speaking, you cannot unlock or charge it. What's worse, you will fail to turn it on or off, which is more terrible than the phone getting stuck. Som how to flash a dead Android phone? Is it caused by a software crash, a bad battery, or other issues?
Please don't worry about it too much. We'll help you flash your dead Android phone with 7 proven solutions to work out software and hardware issues.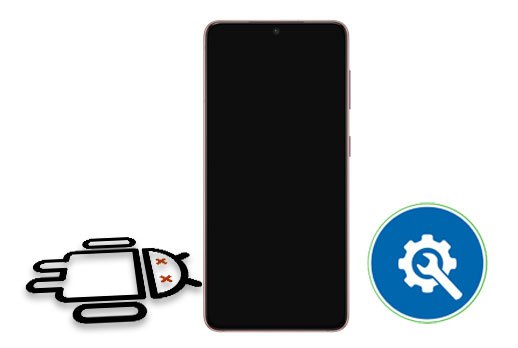 Part 1: How to Flash a Dead Android Phone for Software Issues
This part aims at solving the dead Android phone caused by software issues, so that you can get effective dead mobile flashing software in the following. You can try these approaches to fix your dead phone smoothly.
1.1 Flash a Dead Android Phone via Android Repair
Android Repair, the comprehensive dead mobile repair software, can fast flash a dead Android phone from a PC. You needn't be a tech-savvy guy because you can now use this software to fix your dead smartphone without technical skills. More importantly, it can also fix other Android system issues, like black screen, OTA update failed, etc.
Key features of this Samsung dead phone flashing software:
- Flash the phone that you cannot turn on on the computer with simple steps.
- Fix your bricked Android system with a high success rate.
- Repair various bugs on Android devices, including black screen of death, getting stuck in a boot loop, app crashing, and more.
- Highly compatible with multiple Samsung phones, such as Samsung Galaxy S10/S9/M10/M30/A90/A9s, Note series, and so on.
- Allow you to flash unlocked models, and other devices from Verizon, AT&T, Sprint, Orange, and the like.
Download the dead boot repair Android tool for free below.

Here's how to flash a dead Android phone from PC via this program:
Step 1. Connect the Dead Android Phone to PC
After downloading and installing the software on your PC, please launch it and link your dead phone to the PC via a data cable. Then tap the "System Repair" tab.
Step 2. Select Device Information
- Choose the "Android Repair" option, and click the "Start" icon to select the correct information of your dead Android phone.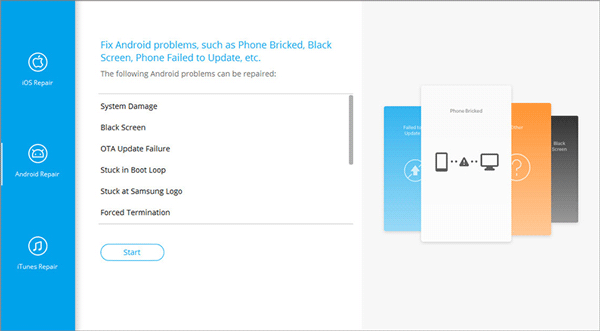 - Then hit the "Next" button, and type "000000" on the pop-up window to confirm.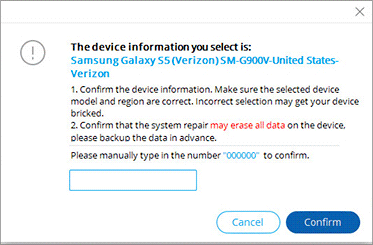 Step 3. Repair the Dead Phone
Follow the on-screen gesture to boot your dead phone in Download mode, and tap the "Next" icon. The program will start downloading firmware and repairing your device.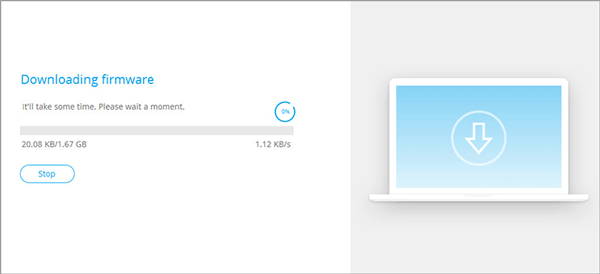 See also: How to Breezily Unlock Android Phone Password without Factory Reset
1.2 Manually Flash Android Phone via Factory Reset
Although you cannot access the Settings app on your dead Android phone, you can hard reset it for manual flashing of the Android phone.
Guide on how to repair dead phone via factory reset:
Step 1. Turn Off Your Dead Phone
Please long-press Volume Down and Power keys to switch off your dead Android phone.
Step 2. Enter Into Recovery Mode
Then hit and hold the Volume Up and Power buttons until you see the Android mascot on the screen.
Step 3. Repair Dead Boot Android Phone
Then use the Volume key to choose the "Wipe data/factory reset" option, and press the Power button for confirmation. Once done, select the "Factory data reset" and "Reboot system now" options.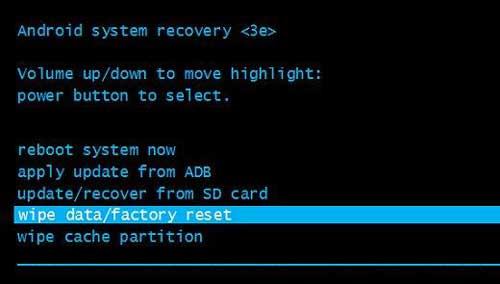 You might need: 4 Useful Methods on How to Back Up Android Phone before Factory Reset without Losing Data
1.3 Flash Dead Android Phone from PC via SP Flash Tool
SP(SmartPhone) Flash Tool is an application used to flash Android phones. It can flash Android ROM, Custom recovery, etc. You can directly search for it on the computer browser. But it can work on Windows computers and laptops only.
Tutorial on how to fix a dead Android phone via the SP Flash Tool:
Step 1. Download the Package
Please download the SP Flash package on your PC. Then open the Micromax USB Driver folder, and run the USB driver as administrator. If prompted, please choose the "Install this driver software anyway" option. After installation, please restart your PC.
Step 2. Launch Flash Tool
Then navigate to the SP Flash Tool folder, and double-click the "flash_tool" file to launch it. Then choose the "Download" tab, and click the "Scatter-loading" icon to choose the file.
Step 3. Connect Dead Phone to PC for Flashing
Click the "Download" icon, and use a data cable to connect the dead Android device and the PC. Then the tool will begin flashing your phone.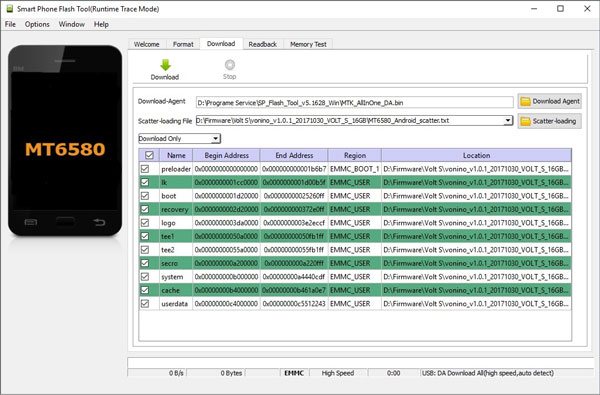 Further reading: How to Wipe a SIM Card with Android Completely? 3 Tips You Need to Know
1.4 Repair Dead Phone Using Odin
Another useful flashing tool is Samsung Odin, supporting Samsung Android mobile devices, including Samsung Galaxy S and Note series. You can use it for installing custom ROM and updating firmware. After you fix your dead device, you can install software on a dead mobile phone.
Steps on how to repair dead Android devices via Odin:
Step 1. Install a Suitable Samsung USB Driver
You can find a Samsung USB Driver from the official website. Then download and install it on the PC.
Step 2. Install the Flashing Program
- Please download the Odin ZIP file on your computer, and extract it on the desktop. Then find the exe file and right-click it to choose the "Run as administrator" option.
- Next, to boot your phone to the download mode, please power off your Android phone, and press the Volume Up and Power buttons for several seconds. Then connect it to the PC via USB.
Step 3. Flash the Dead Samsung Android Phone
Click the "PAD" icon to select the extracted stock ROM file, and hit the "Start" button. After the process is over, you can reboot your phone.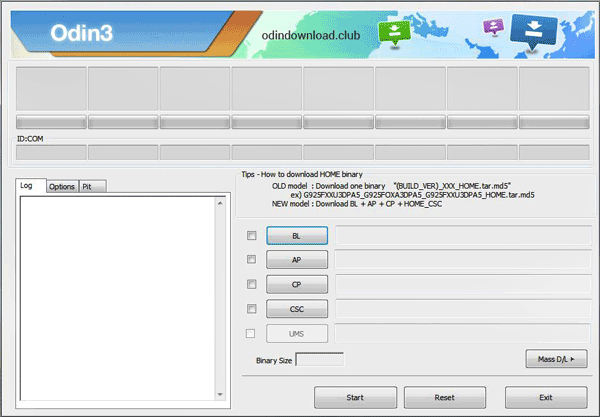 Bonus: How to Move Data Fast? Please Clone Android Phone with 7 Dedicated Tools
Part 2: How to Repair Dead Android Phone for Hardware Issues
Why is my phone dead after flashing? If you fail to fix your dead Android phone with the flashing software, maybe the problem is on hardware. This section will discuss how to repair dead phones by solving hardware issues.
2.1 Repair Dead Phone via fixing the Charging Problem
When you find that you cannot turn on or charge your Android phone, universally, the problem is on charging parts. You can check your charger, cable, USB port, and electrical socket.
To ensure whether the parts are unavailable, you can use another Android device to charge it with the same parts. If it can charge properly, you can exclude the charger, socket, and data cable. You can clean the port of the dead phone, and charge it again. If it doesn't work, please take the dead phone to a mobile repair store to check it further.
In case another Android device is also not charging, you can replace your charger, cable, and socket one by one. Then you will find the corrupted gadget.
Too much dirt on the socket and charger will prevent you from using it. Thus, please clean the charger and socket first. By the way, you'd better not use a damp cloth to wipe them.
2.2 Fix Dead Android Phone via Changing Battery
A mobile phone battery can last 2-3 years generally. Then its capacity will drop by about 20%. But a bad charging habit and more factors will shorten the battery lifespan. Therefore, if you have used your Android phone for several years and haven't replaced the battery, the damaged battery may make your phone dead.
Because all mobile phone batteries are irremovable, you cannot install a new one by yourself. Please go to the after-sales service center of your phone manufacturer. Then you can buy an original battery.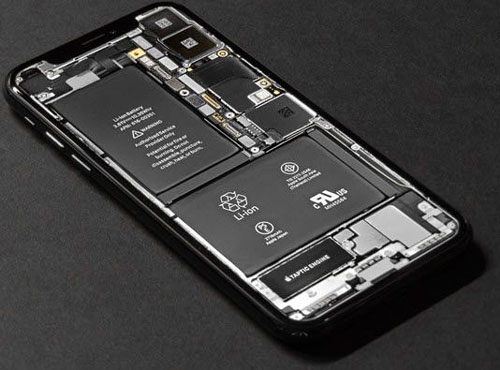 You might also like: Handily Transfer Files from PC to Android Phone without USB [5 Handy Solutions]
2.3 Flash Dead Android Phone via Checking Screen Faulty
The third method to repair a dead boot Android phone is to check for screen failures. You can force your phone to restart by pressing the Volume Up and Power buttons for about 15 seconds. If your dead Android phone vibrate as usual, your phone screen is faulty. Or you can ask your friend to call you for checking the phone. Once your cellphone rings, it illustrates that only the screen is broken. So you can change the phone screen.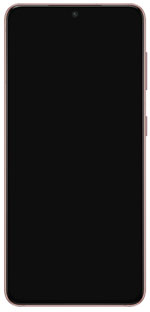 Conclusion
This article has talked about how to flash a dead Android phone from 2 aspects. What's more, you can easily fix the software issues via this Android Repair software. This program is good at fixing system problems of dead phones. Also, you can check your phone parts by following the hardware solutions. Last but not least, please remember to regularly back up your Android phone to avoid losing data due to fixing.
Related Articles
How to Recover Deleted Photos from SD Card on Android Phone with or without Backup?
How Do I Fix the Blue Screen of Death on My Android Phone? 5 Effective Ways for You
How to Wipe Android Phone before Selling It [Safely & Completely]
Android Internal Storage is Full: How to Free Up Android Space [5 Tips]
Android Manager for PC: Manage Your Android Phone on the PC Easily
How to Transfer Contacts from Android to iPhone with Ease in 2021?