Summary
Most people love using OneDrive to store their files. Furthermore, it's a great way to back up important documents, photos, and videos. The only issue is occasionally OneDrive not syncing data for some reason or another. Besides, you may not know when the last sync was made. Luckily, we are here to help you know why OneDrive won't sync and fixes that'll work out for you. So, stay tuned as we surf through!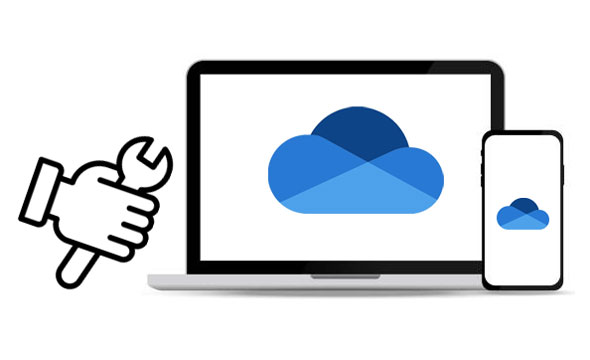 Part 1: Why Are My OneDrive Files Not Syncing?
Usually, OneDrive not syncing happens due to several reasons. If your OneDrive app is not syncing, then it can be any of the following reasons:
Account problems like signing into OneDrive with the wrong Microsoft account.
Outdated client software: If your OneDrive client app isn't up to date, you won't be able to sync your data in OneDrive.
Internet connection issues: Slow internet or weak Wi-Fi signals could lead to sync problems in OneDrive.
Wrong format of files/folders you are syncing.
Part 2: How to Fix OneDrive Not Syncing Problem?
Now, it is time for you to take immediate action. Follow these fixes closely to solve OneDrive sync issues.
1. Relaunch OneDrive
If you find OneDrive isn't syncing, you can try reinstalling it. There will be no data loss, and your files will sync once you reinstall the app. You can use the Microsoft store or OneDrive download link to reinstall the app. Here is how to reinstall OneDrive:
Step 1: Click on the "Start" tab on your computer. Go to "Settings" > "Apps" > "App & features".
Type "OneDrive" in the search section.
Step 2: After finding the app from the search field, tap on the three-dot button next to the size of OneDrive and choose "Uninstall" from the drop-down menu.
Step 3: After uninstalling the app, install the app's latest version on the PC, then sign in to your Microsoft account using the correct details. OneDrive will now resync all your files.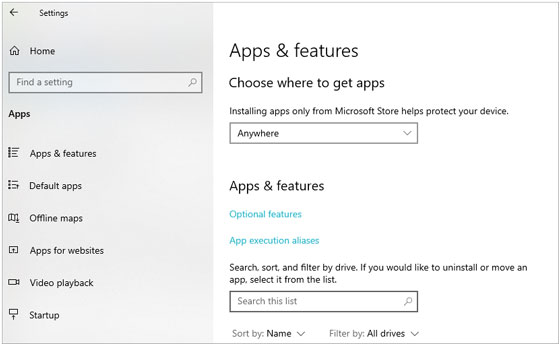 2. Check the Network
If your problem is still not solved after relaunching the app, check if you have a good internet connection. One thing to know is that OneDrive will not sync when you're offline. So, turn your Wi-Fi connection on and ensure it is connected to the right router.
To check if the internet connection is working, open any web browser and search for anything from the web. If you do not have the internet, you'll get an alert. So, restart the router or contact the service provider.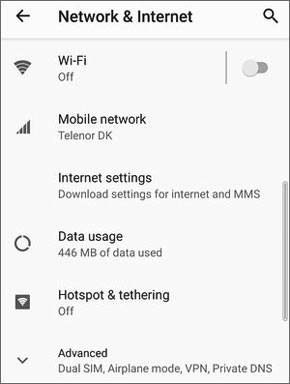 Learn more: How can you fast transfer music between Android devices? Please utilize this tutorial.
3. Restart Your Device
Also, try restarting your device. If OneDrive stops syncing, restarting your device and the app is enough to make things work without any issues. Restarting can reset the connection to servers, refresh the caches found from the program, or open missing background tasks.
To restart Windows 10 PC, close all programs and choose the "Start" menu. Tap on the power icon and select "Restart".
Once done, ensure the PC reboots properly, then try syncing your files to OneDrive again.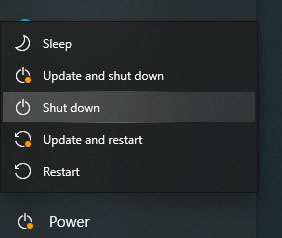 4. Sign In with Your Account Again
Another great thing is to try signing in with your account again. Maybe you didn't sign in properly. This can actually help. Sign in on your PC and mobile device. Make sure you have full accessibility to your OneDrive account's data, such as passwords. To sign into your OneDrive account, do the following:
Open your OneDrive program on your device, and log out of your account. After that, sign in with the account again. Then check if the app sync you data.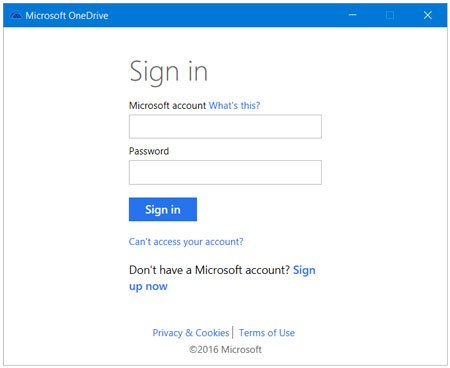 5. Reset OneDrive
Resetting the OneDrive app is also one of the best ways to fix the OneDrive sync problems. To reset OneDrive, do this:
Step 1: Press the "Win + R" keys to open the run dialog. Find OneDrive executable file by typing "%localappdata%\Microsoft\OneDrive\onedrive.exe".
Step 2: Enter the executable file location, then type "/reset". If installed in the default location, the executable file will be "%localappdata%\Microsoft\OneDrive\onedrive.exe /reset".
Step 3: Press the "OK" button and reopen the OneDrive app. All your settings will be reset after doing this, so you have to set them again with the OneDrive app.
You might like: Want to transfer Android files to Mac effortlessly? Try these 7 fabulous tools.
6. Update OneDrive
Usually, OneDrive updates to new versions automatically when Windows is updated. But, if there was an issue with updating, the app's version might be out of date. So, make sure you use the latest OneDrive app version. To update your OneDrive, do this:
Step 1: Right-click on the OneDrive button in the toolbar and choose "Settings".
Step 2: Find the tab written "About" and tap on the version number.
Step 3: You'll now get to the web page where you may download the latest version.
7. Update Windows OS
Updating Windows is very important for the security and stability of the system. Windows update helps in fixing bugs in Windows apps, including OneDrive. So, if you update the Windows OS, you could fix the sync bug in your OneDrive. Do the following to update your Windows OS:
Step 1: Tap "Start" and proceed to "Settings" > "Windows Update" from the left.
Step 2: Tap the "Check for update" icon on your right and download any updates available.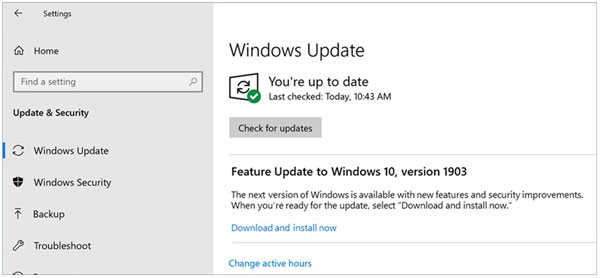 Tips: To find any updates on Windows 11, navigate to "Start" > "Settings" > "Update & Security". Then tap the "Check for updates" tab, then install available updates.
Guess you need: Why is Move to iOS interrupted when you transfer data to a new iPhone? To solve this problem, you can learn effective approaches from this post.
8. Free Up Storage Space
Your data may fail to sync in OneDrive due to insufficient storage either on the cloud or locally. To check the storage space:
Step 1: Tap on the "OneDrive" button and proceed to the "More" option. Tap the "Settings" option.
Step 2: Tap on the "Account" button and confirm if there's sufficient space in the OneDrive account.
Step 3: Delete unused items, and clear the trash to free up space.
9. Disable Proxies
Proxies can sometimes interfere with the internet. OneDrive might block the IP you are using, resulting in files not syncing. Even though you may still use a different VPN server, you can try disabling the VPN to see if your files will sync.
10. Make Sure the Files are Supported
One of the reasons for OneDrive not syncing is the lack of support for different file types. You may assume that every file on your PC will be synced in OneDrive. But you are wrong! Various files are not supported by cloud storage. If a file you're syncing contains any of these characters (" * : < > ? / \ |), then it won't sync to OneDrive.
11. Switch Off Office Upload
If you get issues while syncing your office files, it may be the office upload cache system interfering with OneDrive. Switch it off by unchecking the "Use Office applications to sync office files I open" button from the OneDrive settings window.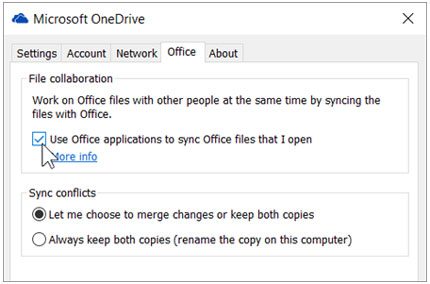 12. Turn Off Firewall Temporarily
Sometimes, it may also be a firewall problem, so turning it off can help.
Step 1: Navigate to the Windows Security panel by clicking the "Start" button > "Settings" > "Update & Security" and lastly to "Windows Security".
Step 2: Once there, tap on the "Firewall & network protection" option and select a network; it can either be a domain, private, or public network from the pop-up window. After that, a pop-up window will be shown where you can now turn off the Windows Defender Firewall.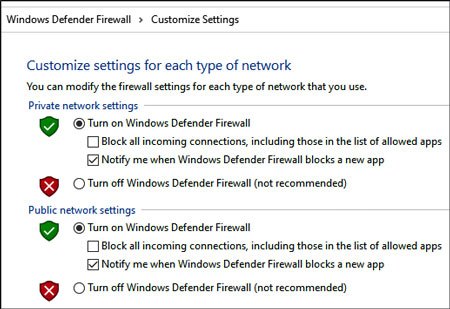 Part 3: Use a OneDrive Alternative
1. OneDrive Alternative for Android - Samsung Messages Backup
If you have turned your head on all the fixes above but nothing works out for you, it's time you get help from a powerful all-in-one tool like Samsung Messages Backup. It's a handy and easy way to transfer your files from Android to a computer without issues. With just one tap, all your files will be backed up to your computer with original quality. The best part is that you can export or import your files selectively to or from your Android device.
Highlights of this OneDrive alternative for Android:
- Easily back up and restore Android data on a computer via USB.
- Allow you to preview and Selectively transfer files.
- Support you in transferring photos, videos, contacts, music, apps, text messages, and more.
- Compatible with Windows, Mac OSes, and most Android OSes.
Download this OneDrive replacement.
How to use this software to replace OneDrive:
Step 1. Launch the Program on the Computer
Download, install, and launch the program on your computer. After launching it, you'll see a toolbox displayed on the screen. Click on the "Android Assistant" module to access the program.
Step 2. Connect Your Android Device
Use a USB cable to connect your Android device to the computer. Enable USB debugging for the program to detect your device. You'll see an interface displayed on the screen. Click "ALLOW" to access the data on your device. Then the connection will be set up.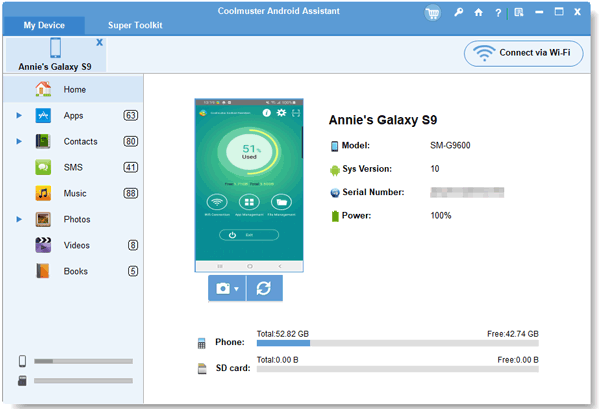 Step 3. Manage Your Data
Choose the data you want to back up from the left panel. Check the specific files to transfer and tap the "Export" button to save them to your computer.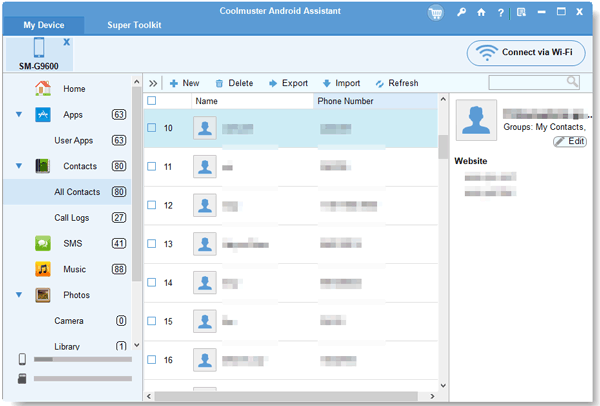 Further reading: If you want to transfer files from Android to PC via Wi-Fi without hassle, open this full guide to get the methods.
2. OneDrive Alternative for iOS - iPhone Transfer
This iPhone Transfer is also an excellent alternative to OneDrive. It allows you to connect your iPhone/iPad/iPod touch with a computer and back up iOS data on the computer without effort. With its user-friendly interface, you can simply transfer your files without any problem, including contacts, notes, bookmarks, TV shows, movies, songs, and so on.
Highlights of this OneDrive alternative for iOS:
- Preview before transferring files.
- Back up your iOS data to the iTunes default location on your computer.
- Compatible with iPhone, iPod, and iPad devices with iOS 15.
- Manage iTunes backup on a computer.
- Run smoothly on Windows 11/10/8/7/2003/XP/Vista.
Download this alternative to manage iOS data.

How to transfer iOS data to a computer via this program without OneDrive:
Step 1. Launch the Program and Connect Your iOS Device
After downloading and launching the software on your PC, open it to show the main interface. Connect the iOS device to your computer using an Apple USB cable.
Step 2: Trust the Computer
The app will automatically detect your device, and a pop-up window will show on the computer. Tap the "Trust" option on your phone and hit "Continue" to proceed. After the program detects your device, you'll see the main interface on the screen.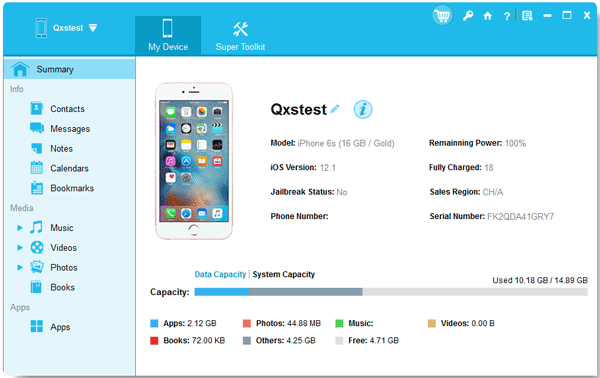 Step 3. Manage iOS Data
You can now choose specific files and categories by opening the folders, previewing and choosing the specific files to export to your computer, and clicking the "Export" button.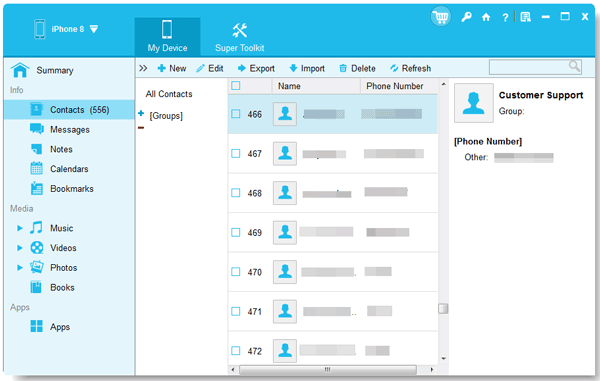 Maybe you need: There are 6 ways to help you copy files from iOS to Android. Let's check it out.
3. Other Cloud Services
There are other Cloud services you can use to sync your data. If you find yourself not satisfied with just OneDrive, here are some other Cloud Services you can try:
Google Drive
Google Drive is a powerful platform that enables you to sync your files, photos, and videos. With an average of 15GB storage capacity and an automatic backup option, it's a reliable Cloud storage solution.
How to use Google Drive:
Step 1: Open the Google Drive web page and log into your account
Step 2: Tap the "+" icon, proceed to "Upload", and sync files manually to Google Drive.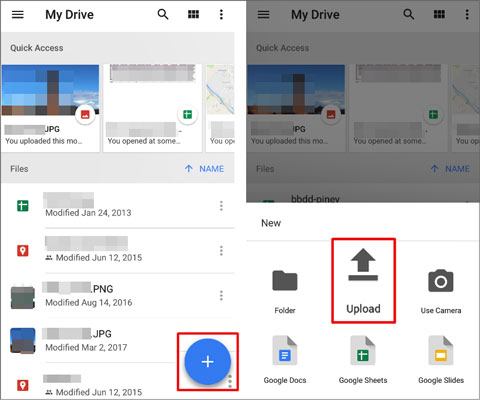 Dropbox
Dropbox is another Cloud storage that allows you to store, sync, and access your files from anywhere on any device. You can store up to 2GB for free.
Here's how to use Dropbox:
Step 1: Download and install the Dropbox desktop app on your computer or a mobile app on your Android device. Then, sign in using your account information.
Step 2: It's now time to use Dropbox by adding files by dragging and dropping them from the computer. Or you can add all files at once by clicking "All files" from the left sidebar, go to the folder you want to save, and tap "Upload" > "Upload files/folder". Once you add files or make some changes to your files, they'll automatically sync to Dropbox.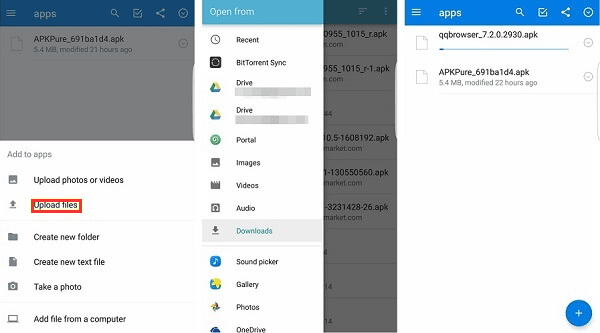 Part 4: FAQs on OneDrive Synchronization
1. How often does OneDrive sync data?
OneDrive syncs data continuously and automatically when it detects a change. Users have no control over OneDrive to sync. But, you may do a force sync by pausing the sync or resuming it.
2. How to check when your files were synced on OneDrive?
Click once on the OneDrive icon from the taskbar notification area to open the window showing the actions performed by OneDrive. For every file you synced, you'll see the date and time it occurred.
3. How to stop OneDrive from syncing data?
Choose a blue or white OneDrive icon from the notification section.
Right-click on the OneDrive icon from the taskbar and choose "Pause Syncing".
Choose the time you want to pause; it can be 2, 8, or 24 hours. Then check either the blue or white icon in the menu area that shows paused.
Final Remarks
Yay! Your OneDrive should now be working perfectly fine. We have listed the tricks above to help you fix any OneDrive issues. If nothing works out for you, consider using an alternative Cloud storage service like Google Drive or Dropbox. Besides, if you want USB transfer without a network, you can choose these replacement tools - Samsung Messages Backup and iPhone Transfer They are good at backing up mobile data on a computer.
Related Articles
How to Transfer Data from iPhone to iPhone After Setup - 3 Useful Ways
Breezily Transfer Data from Pixel to Pixel in 2 Ways [Transfer Everything]
Best Android Backup without Root: 10 Tools to Back Up Android Data Easily
Fixed: Fast Solve It If Contacts Didn't Transfer to New iPhone
WhatsApp Backup Stuck on Your Android or iOS Device? Safe and Effective Fixes
[Solved] Xperia Transfer Mobile Not Working? Get 10 Practical Fixes