Summary
When getting a brand new mobile phone, maybe you can't wait to use this awesome device. So, how can you move your useful data from the old phone to the new one? Move them one by one? Just joking. Manual data transfer has become history. Currently, phone cloning software is your ideal choice.
But which is the best cell phone cloning software? Well, it is a tough question, because everyone's criteria are different. It is up to you to choose the software that makes you most satisfied. Thus, we have selected 8 popular cloning tools and displayed them in this article.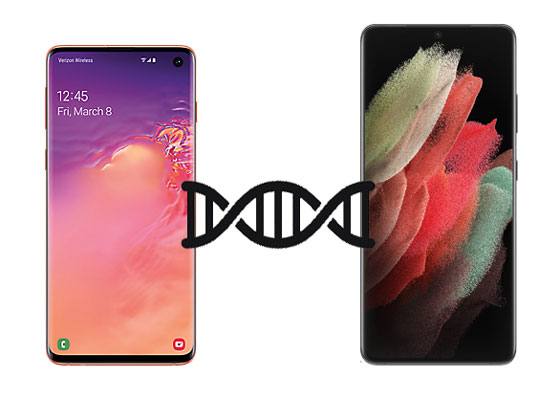 Note 1: What does phone cloning mean?
Phone cloning is to copy data from one phone to another. In general, it contains contacts, call logs, text messages, notes, media files, and more. It is an efficient data migration approach. Another meaning is to copy the identity of one cellphone and use it on another device.
Note 2: Can I detect that my phone has been cloned?
If you find more than one location after you sign in to your account and fix your phone's location, your phone is probably cloned. That means that someone else clones your phone identity. Or you can check your phone bill. In case you find additional costs that are not yours, you need to be careful.
Tool 1: Samsung Data Transfer
Samsung Data Transfer is not only for Samsung devices. In fact, it is a comprehensive cloning phones software. It supports iOS and Android devices, like iPhone 12 Pro/12/11 Pro/XS/XR/X, iPad Pro, iPad Air, Samsung Galaxy S21 Ultra/S21/S20/Note 20/S10/Note 10, OnePlus 9 Pro/8/7/6, Google Pixel 5/4/3/2, OPPO, LG, Motorola, and more.
What's more, it can transfer contacts, SMS, videos, music, apps, notes, calendars, documents, call logs, and so on. Thus, you can clone various data types from one phone to another in 1 click.
Highlights of this Android and iPhone clone software:
- Swiftly clone data from one phone to another without losing data.
- Transfer multiple data types from Android to Android, like contacts, applications, text messages, photos, music, documents, videos, etc.
- Support you to move contacts, notes, calendars, bookmarks, and books from an iOS device to another.
- Handily copy data from iOS to Android, including books, contacts, photos, videos, and music.
- Not overwrite existing files on the destination device.
- Read-only mode without leaking information.
Download this mobile cloning software for free below.
Merits:
- High compatibility to make recognizing mobile devices fast.
- User-friendly interface and Automatic transfer.
- Allow you to freely select whether to clear data before copying on destination Android device.
Demerits:
- Support contacts and documents only during the Android to iOS transfer.
Here's how to use this phone cloning software:
Step 1. Install the Program
After downloading the cloning software, you can install it on your computer, and run it on the desktop.
Step 2. Connect Mobile Phones to Computer
Link both your smartphones to the computer via USB cable. For Android, please enable the USB debugging mode, and for iOS, please tap the "Trust" option. The software will fast recognize your mobile devices.
Step 3. Clone Phone Data
- Select what you want to clone on the panel, and tap the "Start Copy" icon to start the transfer process.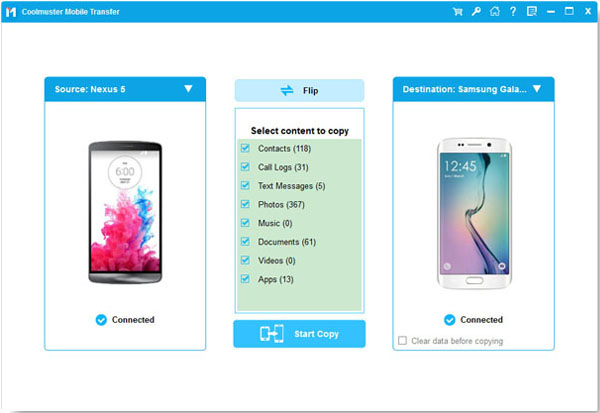 - Once done, you can remove the connection and check the data on the target phone.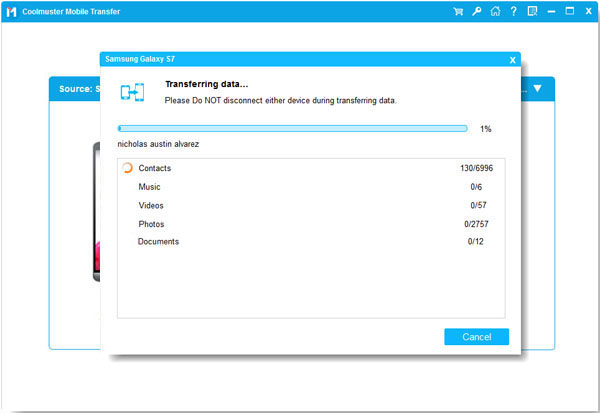 See also:
With this guide, you can easily transfer photos from an iPhone to an Android phone.
It is easy to move a large video from an iPhone to a computer because you follow this guide step by step.
Tool 2: Aiseesoft PhoneCopy
Aiseesoft PhoneCopy is another effective iPhone and Android cloning software. You can use it to clone Android to iOS and vice versa. Of course, it supports kinds of file types, movies, TV shows, ringtones, voice memos, audiobooks, and so on.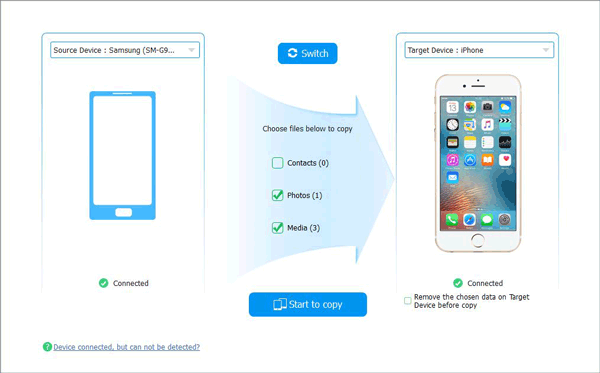 Highlights of this Aiseesoft phone cloning software:
- Fast transfer different file types from an Android/iOS phone to another.
- Allow you to select file types before copying data.
- Widely compatible with most Android OSes and iOSes, including Android 11, iOS 15, and more.
Merits:
- Support you to transfer various data types on iOS to Android, and iOS to iOS transfer.
- Detect connected devices in a short time.
Demerits:
- Only offer the "Media" option on the interface, so that you cannot choose pictures, music, or other categories.
- Cannot transfer text messages and call history.
Read also: Want to transfer music to your new Android phone? If so, please don't miss these 5 ways.
Tool 3: MOBILedit Phone Copier Express
MOBILedit Phone Copier Express is a cross-platform for Android, iOS, and BlackBerry OSes. If you want to transfer data from a feature phone to a smartphone, you can choose this mobile cloning software. Also, you can transfer contacts, messages, calendars, and multimedia files.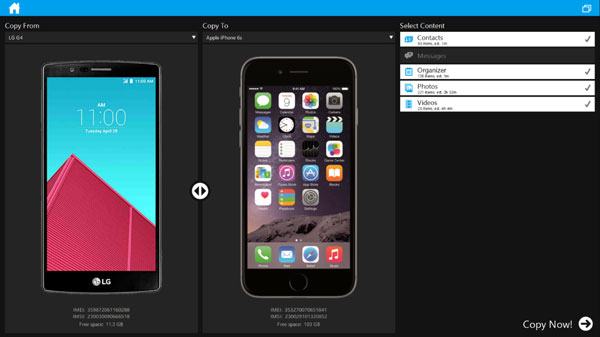 Highlights of this mobile phone cloning software:
- Support feature phones and smartphones, so that you can transfer data from a feature phone to Android, iOS, and another feature phone.
- Allow you to freely tick off data types before performing the transfer.
- Help you complete the cloning with minimum system requirements.
Merits:
- Work for more mobile phone OSes.
- Fast detect your device and transfer the most content possible to your new phone.
- Brief interface makes the transfer easier.
Demerits:
- The activation process is slightly complicated.
- Only the destination phone needs to be activated. If you activate your source phone, you need to buy a new license.
Tool 4: Phone Cloner
Want a phone cloning app? If so, you can use Phone Cloner, a valid app to transfer data from an old phone to a new one with fast speed. Although it is a small app for Android, contacts, calendars, photos, audios, videos, and more are supported. By the way, you needn't root your phone for the transfer.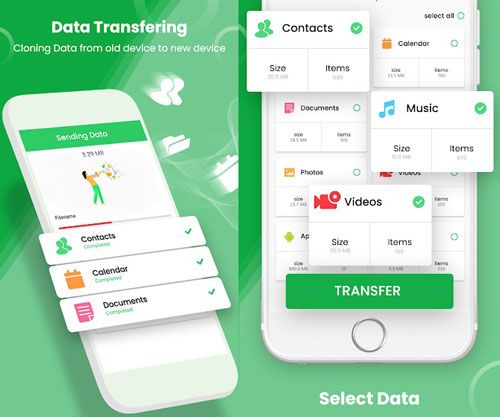 Highlights of this Android cloning app:
- Modern UI and easy operation.
- Allow you to choose detailed files or folders you want to clone to the new phone.
- Help you transfer application data and other Android files without root.
Merits:
- Scan a QR code for wireless connection.
- Transfer files selectively.
Demerits:
- There are ads during the transfer.
- Sometimes fail to connect your phones.
- Only support Android devices that run Android 5.0 and upper.
Maybe you need: What if you intend to sync your Android phone to your PC? Is there any useful method? Of course, you can utilize the 6 trustworthy ways in this article.
Tool 5: CLONEit
CLONEit is a free cell phone clone app for Android. It can clone at least 9 types of Android files to another Android device, like call logs, SMS, MMS, apps, and more. What's more, you can select specific files you want before cloning. Besides, the best transferring speed is up to 20M/s.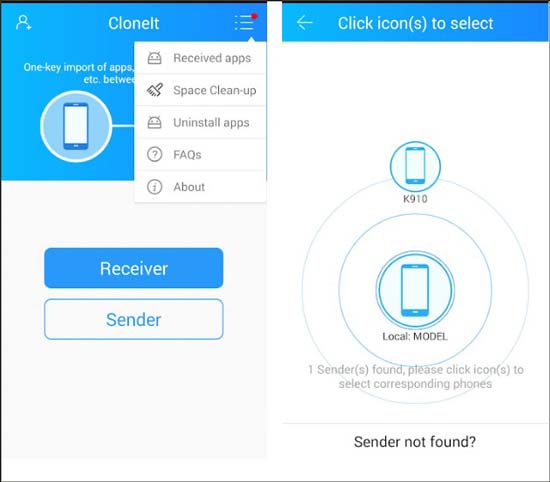 Highlights of this Android cloning app:
- Clone data from one Android device to another without a data cable.
- Real-offline data transfer without data leakage.
- Scan out the data from your installed SD card on Android.
Merits:
- It is free to download and transfer data.
- Batch transfer files from Android to Android.
Demerits:
- iOS devices are not supported.
- Contain ads.
- Difficult to make a connection between Android phones.
You might like: Deleted files from your Android phone by accident? Don't panic. Please use these proven ways to recover the deleted files.
Tool 6: SHAREit
If you want a cloning app for Android and iOS, you can choose SHAREit. It is good at transmitting media data, such as wallpapers, GIFs, songs, movies, and the like. With it, you can transfer files much faster than using Bluetooth. Additionally, it is also an excellent video player, so that you can watch interesting videos at any time.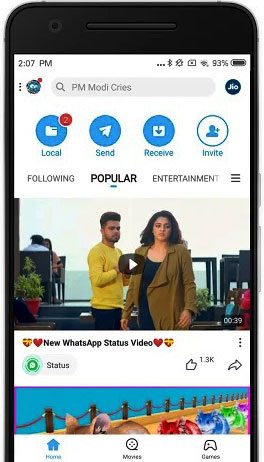 Highlights of this smartphone data cloning tool:
- Effectively move media files on Android and iOS devices.
- Transfer your data without losing quality or altering formats.
- Support 45 languages.
Merits:
- Not only a data clone app but also a media player.
- Allow you to download and share funny pictures and stickers.
Demerits:
- So many annoying popups on the interface.
- Online media file caches take much storage on your device.
Tool 7: Huawei Phone Clone
Phone Clone is a reliable app designed by Huawei. It can transfer data from one phone to a Huawei phone without a glitch. However, please note that it requires your destination phone is Huawei. Thus, you cannot use it to transfer data to other brands of Android phones.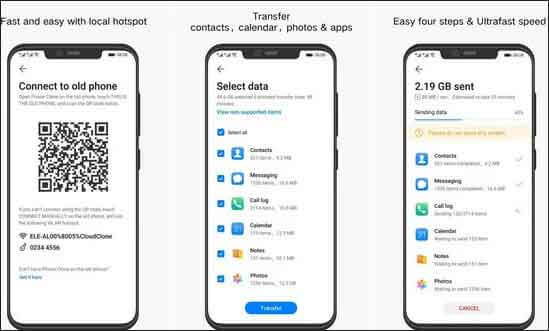 Highlights of Huawei Phone Clone:
- Support Android and iOS operating systems.
- It is an ad-free cloning application.
- Enable you to set up a connection via a WLAN hotspot.
Merits:
- Work on Android OS 4.4 and later.
- Totally charge-free for installation and transmission.
Demerits:
- Transfer files to Huawei phones and tablets only.
Further reading: It is simple to print out your Android text messages with these solutions.
Tool 8: Move to iOS
Are you looking for an iPhone clone software? Have you heard of Move to iOS? It is a data transfer app for iOS devices, including iPhone, iPad, and iPod Touch. You can use it to copy data from an Android or iOS device to an iOS device without a data cable. Also, you can restore data from your iCloud backup to your iPhone.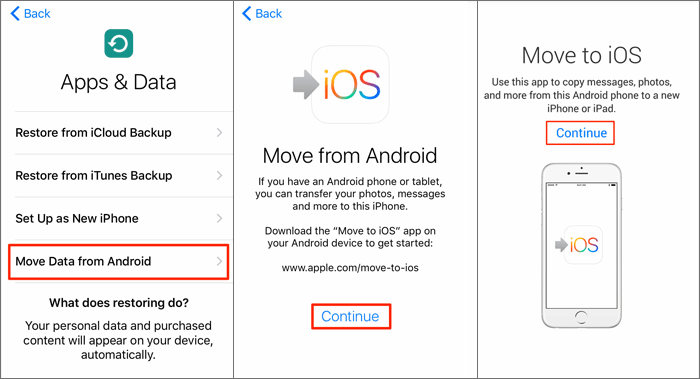 Highlights of this iPhone cloning app:
- Allow you to transfer camera photos, videos, mail accounts, message history, web bookmarks, etc.
- Help you quickly set up your new iPhone.
- Need your Apple ID, Face ID, and passcode before transferring files.
Merits:
- Easy to connect two mobile phones.
Demerits:
- You cannot copy data if you have set up your iPhone.
- iPhone to Android transfer is not supported.
Conclusion
With the help of phone cloning software, you can achieve your data transfer to the new phone without effort. So, have you found your best phone clone app? Using an app is convenient, but it easily fails to make a connection. If you want an efficient and reliable phone cloning program, you can try Samsung Data Transfer. It has helped lots of Android and iOS users. So, its transfer feature has been proven by many users, and you can use it without worry.
Related Articles
Android File Transfer Alternatives: Can't Miss the 5 Best Apps for Mac
6 Ways to Transfer Files from Android to PC via WiFi [Full Guide]
Transfer Music from Mac to Android -- 5 Simple Ways Enough
How to Print Out Contact List from Android Phone [4 Solved Ways]
How to Transfer Apps from Android to Another Android?
iTunes for Android: Manage Android Contents Hassle Freely