Summary
Today, almost everyone has become dependent on WhatsApp. Truly, WhatsApp is one of the most widely used social media platforms; without it, we would be lost for sure. Android users can back up their WhatsApp texts and attachments conveniently on Google Drive. This helps to ensure your precious memories remain safe and easily accessible. With the ability to restore data at any time, especially when switching devices, this feature is nothing short of a lifesaver.
We all know how to use similar tools, yet we may be unsure how to read WhatsApp backups from Google Drive on PCs. Fortunately, it's not as complicated as one might think. Often, most WhatsApp users wonder how to read Whatsapp backup from Google Drive on PC. Well, if you are one of them, you're in the right place. This article will walk you through the steps necessary to access and view your encrypted backups on your PC.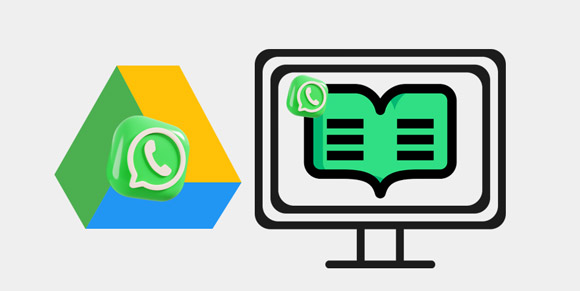 Part 1: Can I Read WhatsApp Backup File on Google Drive from a PC?
WhatsApp messages are encrypted and thus can't be accessed directly from a backup. Moreover, there is no official way to read WhatsApp backup files from Google Drive due to the fact that they are encrypted. The encryption is to ensure that the data is protected from leakages on the cloud.
Even though you can access your backup file, you will only view it when you've decrypted it. The only means to access your backup is through WhatsApp on any device by restoring the files using the same Google account.
Part 2: How to Read WhatsApp Backup from Google Drive on PC
There's no definitive way to read the backup WhatsApp file from Google Drive on your computer. Nevertheless, the Google Drive feature allows you to carry out a secure backup of all your data and restore it whenever necessary. Here's how to easily access these backups on Google Drive:
2.1 Extract WhatsApp Database from Google Drive on Android
Step 1. Back Up WhatsApp Data
If you haven't backed up your WhatsApp files, open the application and tap the hamburger button at the top. Then select "Chat Settings" and "Chat Backup" to see if your account has been added to WhatsApp. If you haven't added your account, tap "Add account" to link your Google credentials.
Now access the "Backup" feature to securely store the WhatsApp chats with a linked Gmail account. Choose how often you'd like the auto-backup to occur, and even decide whether or not videos should be included. With this simple step, you can ensure that your messages are long-lasting.
Step 2. Restore the Backup from Your Google Drive
After securely backing up your files, you may restore them on your device. First and foremost, delete WhatsApp from your phone and reinstall it. Then launch the application while ensuring it's connected to the Gmail account used before. During setup, enter precisely the same number associated with WhatsApp earlier. This allows you to restore the correct file backed up earlier.
WhatsApp will detect an available backup in a flash. All you need to do is press the "Restore" icon and ensure your internet connection is stable while it transfers all your conversations back onto your device.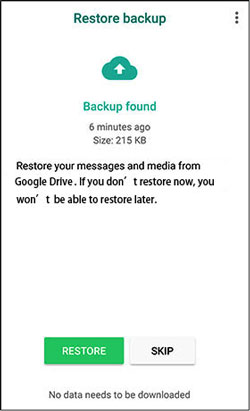 2.2 Extract Whatsapp Database from Google Drive on iPhone
Unfortunately, recovering WhatsApp Google Drive backup on an iPhone is not straightforward because of the difference between these platforms. Additionally, iCloud, which iPhones use for backups, is a completely different service than Google Drive - making this process even more complex. Therefore, restoring a previously backed-up version of your data from Google Drive onto an iPhone can sometimes seem impossible.
Read also: Luckily, you can now back up WhatsApp files from your iPhone to a PC. Let's check it out.
Part 3: How to Check WhatsApp Backup on Google Drive via WhatsApp Data Recovery
While there's no official method to help read your WhatsApp on Google Drive on a computer, options aren't over yet. WhatsApp Data Recovery is the best software so far to back up, view, and restore WhatsApp files on Android without a problem.
This software can display all your WhatsApp messages and WhatsApp attachments on the interface, so you can view them on your desktop directly. Even though it cannot access your Google Drive, it can extract your WhatsApp data after you restore the backup from Google Drive to your Android phone/tablet. Also, you can export WhatsApp messages and media files from Android to your computer for backup.
Key features of this WhatsApp recovery software:
- Back up and restore WhatsApp chat history on Android devices.
- Transfer WhatsApp files from Android to a computer with ease.
- Extract photos, videos, documents, and other media files from Android WhatsApp with original quality.
- Save your WhatsApp data in readable formats, HTML and CSV.
- Work for most Android devices, like Sony Xperia 1 V/ Xperia 10 V/Xperia 1 IV/Xperia 5 IV/Xperia 10 IV, Samsung Galaxy S23 Ultra/S23/S22/S21/S20, Vivo, OPPO, Xiaomi, ZTE, and more.
Download WhatsApp Data Recovery.

Here's how to see WhatsApp backup in Google Drive via this recovery software:
Step 1: Please restore your WhatsApp backup from Google Drive to your Android device first. Then install the recovery software on your PC, launch it and choose "WhatsApp Recovery". Then connect your Android device to the computer via a suitable cable, choose your device, and click "Next".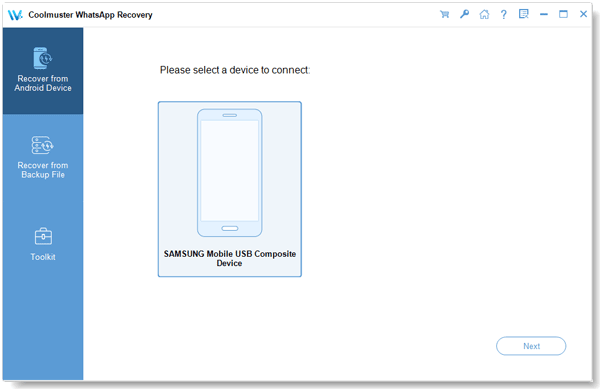 Step 2: Follow the instructions to turn on "End-to-end encrypted backup" on WhatsApp. Once you get a 64-digit key, the software will automatically fill it to the blank. Please click "Confirm" to go on.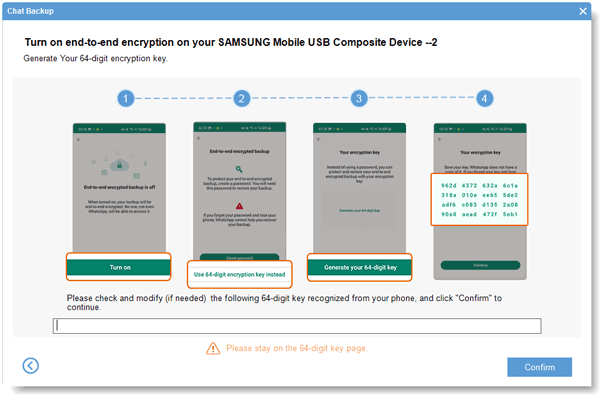 Step 3: After the backup is over, tap "View It" to access your WhatsApp data on your computer. Also, you can transfer them to your computer if needed.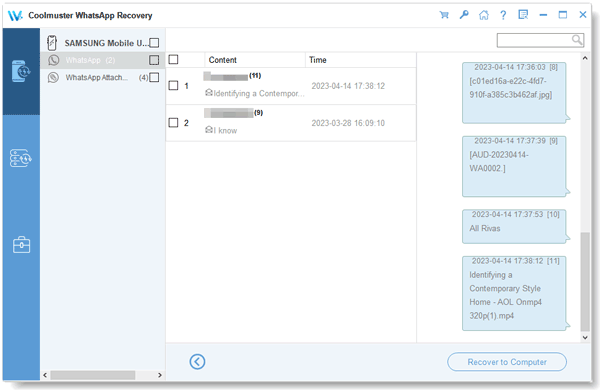 Further reading: How to Transfer WhatsApp Messages from iPhone to Android?
Part 4: How to Access Whatsapp Backup on Google Drive Using Elcomsoft Explorer for WhatsApp
You can also use Elcomsoft Explorer for WhatsApp to access your backed-up WhatsApp data. This software can decrypt WhatsApp chat histories from various local sources or cloud databases, including Google Drive backups.
Here's how to open the WhatsApp backup file via this software:
Step 1: Launch Elcomsoft Explorer for WhatsApp. Once done, you will see two green icons, one for Android and the other for iOS.
Step 2: Press the "Android" icon, and select "Download data from Google Drive". If you've enabled two-factor authentication for your Google Account, input the 2FA code before proceeding.
Step 3: Immediately, the download process will start and can take more time, depending on the data size. After the download, you'll receive a warning informing you that your data has been securely encrypted.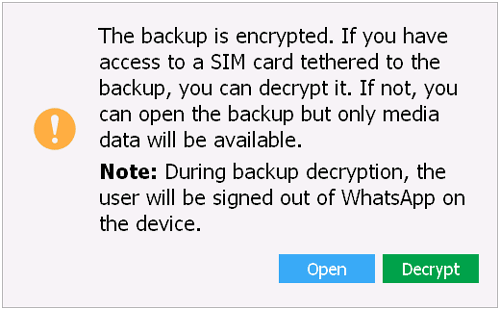 Step 4: To decrypt data, you can use the "Decrypt" option. Alternatively, click "Open" to access your data using the built-in viewer in this software. At this point, you can only access media files.
Step 5: When you try accessing the encrypted file, you must first request a verification code for WhatsApp. Tap "Send" and enter the provided code into the designated field to verify. When you input the correct code, your data will be decrypted instantly.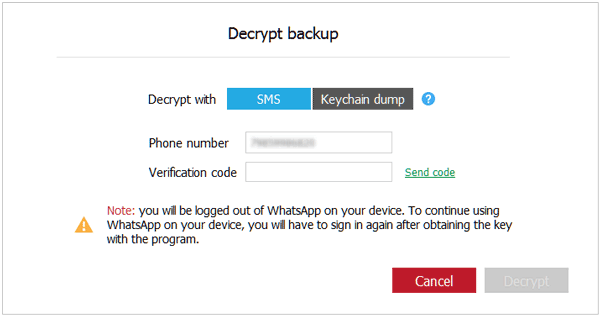 Even though this is a reliable method for extracting and reading WhatsApp backups from Google Drive, its technology primarily focuses on decrypting data from the cloud platform. Any changes or updates to Google Drive can pose potential risks.
Guess you need: WhatsApp Backup Extractor: Top 6 Options to Extract WhatsApp Easily
What Else: Where to Find WhatsApp Chat History Backup on the Google Drive?
Still don't know where to find your WhatsApp backup on Google Drive? No need to worry. We'll guide you through the process of locating your WhatsApp backup on Google Drive with the below step-by-step process:
Step 1: First, let's head over to the Google Drive website and log in. If you are using a smartphone to log tap on the desktop mode through "Menu" and "Desktop Version".
Step 2: After logging in, click the gear-like symbol to access "Settings". Click on "Managing Apps" to find the WhatsApp backup folder.
Step 4: You will now get the whole data list you did back up.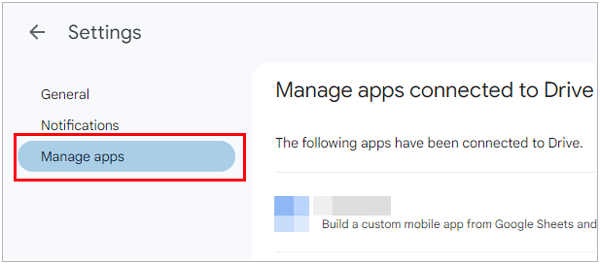 Final Verdict
Backing up your WhatsApp files to Google Drive is one of the best ways to ensure those important chats and other files stay safe. Yet, viewing the backed-up data on a PC can be difficult since these documents are encrypted. This guide has shown you how to see WhatsApp backup in Google Drive. For data security, WhatsApp data will be encrypted on Google Drive, but there are viable ways to check your WhatsApp backup data on a PC, such as using WhatsApp Data Recovery. It can list all messages and attachments of WhatsApp on a computer after you restore your backup from Google Drive to an Android device. As you can see, it is the safest method to extract WhatsApp database from Google Drive.
Related Articles
Transfer WhatsApp Backup from Google Drive to iCloud | Complete It in 3 Steps
How to Transfer WhatsApp from Samsung to Huawei with 4 Prominent Tricks
How to Retrieve Deleted WhatsApp Messages on Android (4 Updated Solutions)
How to Change Your Location on Snapchat with Ease? (Android and iOS Supported)
How to Transfer WeChat History to New Phone Smoothly [3 Helpful Methods]
How to Retrieve Deleted Kik Messages on Android without Trouble