Summary
The latest Motorola Moto G62 5G, released on June 28, 2022, carrying Android 12 and Snapdragon 480+ 5G chipset, and supporting 120Hz refresh rate, has become the most attractive Motorola phone. Furthermore, Motorola is famous for its good cost performance so that you can get this new smartphone at the price of 250 EUR. But if you lock it and forget the password, you cannot access it even though you are the owner. In this case, you need to learn how to reset a Motorola phone that is locked.
Is it difficult to reset a locked Motorola phone? Of course not. You can refer to detailed steps to complete the resetting and unlocking without trouble. Let's go.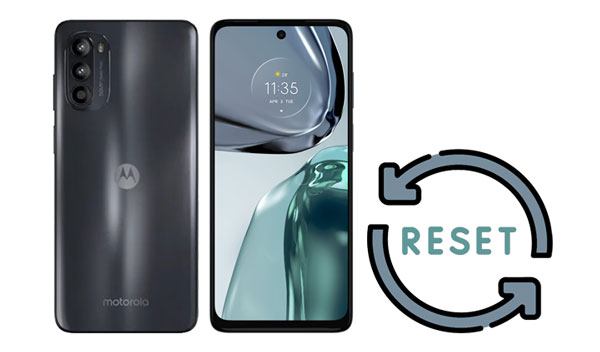 Part 1: How to Reset a Motorola Phone That Is Locked via Hard Reset?
You can hard reset your Motorola phone when it is locked in Recovery Mode. In this way, you will entirely wipe your data and customized settings, so you will lose all data. If you have backed up your data with Google Drive, you can restore it in the setup after finishing the resetting process. If you have attached your Gmail address to the Moto phone, the FRP lock is enabled, so you need to enter your Google account information to use your phone again.
Here's how to factory reset a Motorola phone that is locked:
Step 1. Switch Off Your Motorola Phone
Please charge your Motorola phone to at least 60%, long-press the "Power" key, and click "Power off" to turn it off.
Step 2. Get Into Recovery Mode
- Press and hold the "Volume Down" and "Power" keys for multiple seconds. When seeing the Android mascot shows up, release them.
- Press "Volume Down" to choose Recovery Mode, and tap the "Power" button for confirmation. Next, click and hold "Power" and quickly tap "Volume Up". Then release the buttons.
Step 3. Hart Reset the Locked Motorola
- To reset the locked phone, please choose the "Wipe data/factory reset" > "Yes" > "Userdata + personalized content" option using the Volume and Power keys.
- Then the resetting procedure will begin, and please choose the "Reboot system now" option after resetting your phone. Now, you can set up your Motorola phone.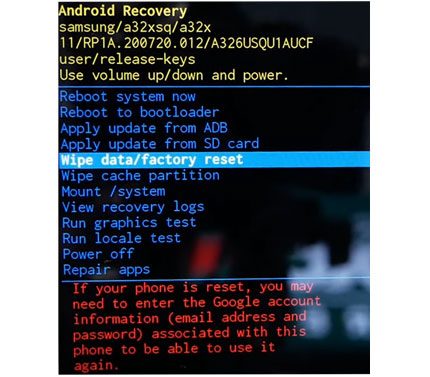 Bonus: It is the best choice to back up your Android phone before resetting it. Let's check it out.
Part 2: How to Factory Reset a Motorola Phone That Is Locked via Find My Device?
Have you added your Google account to your Motorola phone before locking it? If yes, you can make use of this account and its password to erase your device via Find My Device. But some conditions are involved: your phone is connected to an available network, and the Location and Find My Device feature is enabled.
Guide on how to reset your Motorola phone via Find My Device when it is locked out:
Step 1. Go to Find My Device
Open the Find My Device website on another mobile device or a computer, and log in with the Google account associated with your locked Motorola device.
Step 2. Erase the Lock Screen
- Tap the "ERASE DEVICE" twice, and enter your account and password again. Then click the "Erase" icon to start removing the lock. But please note that it will also eliminate your data at the same time.
- Once done, you can access your phone without unlocking it.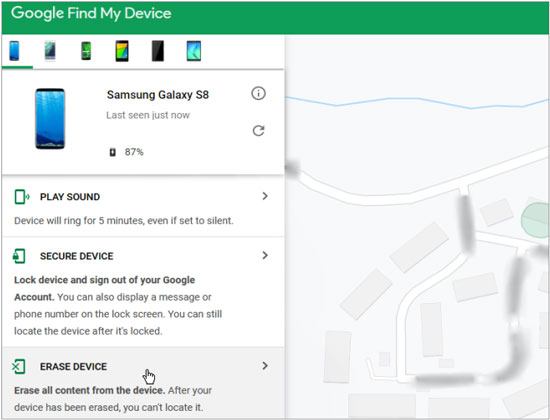 Read also: As long as you lick this link, you can easily transfer data from LG to Motorola.
Part 3: How to Get Into a Locked Motorola Phone via Safe Mode?
If you want to remove the lock of the third-party app on your Motorola mobile phone, you can remove the lock through Safe Mode without resetting the phone. This is the easiest and most reliable way to get into a locked Motorola phone. However, it can only work for those third-party apps.
Steps on how to get into the locked Motorola phone with Safe Mode:
Step 1. Enter Safe Mode
Press the "Power" button for seconds, and long-click the "Power off" option. Then you will see the "Reboot to safe mode" pop-up. Please tap "OK" to enter Safe Mode.
Step 2. Remove the Lock App
To remove the lock, you need to uninstall the third-party app from your Motorola phone. Please go to Settings, choose the "Apps" option, and select the app you want to remove. Then uninstall it.
Step 3. Get Into the Moto Phone without the Lock
After uninstalling the app, restart your mobile phone to exit Safe Mode. Then you can directly get into the device.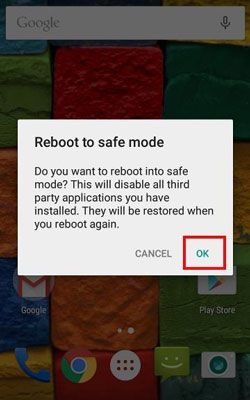 Further reading: It is simple to copy Motorola contacts to an iPhone after learning these useful methods.
Part 4: How to Reset Motorola Phone When Locked Out Using Android Unlock?
What if you haven't attached your Google account to your Motorola phone, or you forgot the password of the account? Don't worry. You can use Android Unlock, a program to remove different locks on Android devices, including passcodes, fingerprints, patterns, and passwords. With this software, you can reset and unlock your Motorola phone without any skill.
Key features of this Android unlock software:
- Reset a locked Motorola phone without any account.
- Support 4 types of lock screens on Android phones.
- Fast remove Samsung FRP lock without a Google account.
- Compatible with a wide range of Android devices, like Motorola Moto G82/G71s/G71/G62 5G/G52/G51 5G/G42/G22/E32, Samsung Galaxy S22 Ultra/S22/S21/S20/S10/S9/S8, LG, ZTE, OPPO, Xiaomi, Vivo, OnePlus, etc.
Download the unlocking program below.

Here's how to reset a Motorola phone when it is locked with this unlocking tool:
Step 1. Install the Program
After downloading the software, please double-click the package to install it on the PC. Then choose the "Screen Unlock" > "Unlock Android Screen/FRP" > "Unlock Android Screen" feature.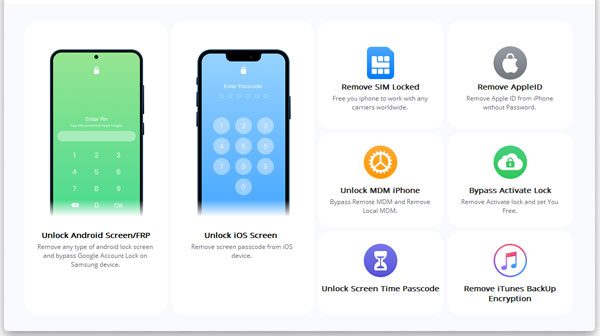 Step 2. Choose Your Device Model
Connect your locked Motorola phone to the computer, and click the "100% Remove Screen Lock" option. Then select the "Motorola" brand.
Step 3. Enter Download Mode to Reset the Motorola Device
- Please follow the on-screen guide to get your locked device into Download Mode. Then the software will download the recovery package.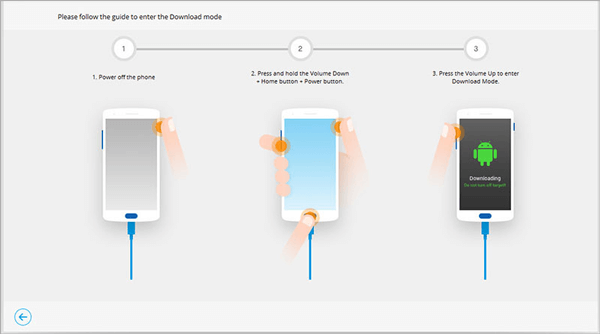 - After that, click the "Remove Now" icon to reset and unlock your mobile phone.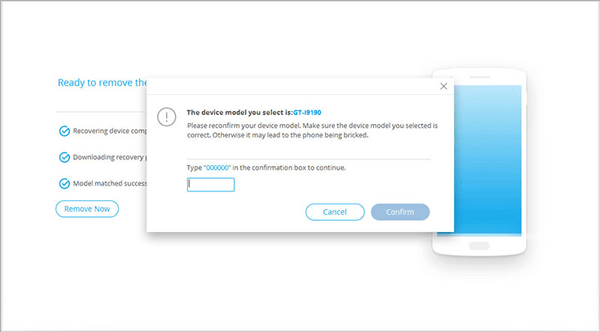 You might need: Searching for a reliable way to transfer your text messages from Motorola to a computer? You've got it.
Part 5: How Do You Bypass a Motorola Screen Lock with Google Account? (OS 4.4 or Lower)
For some old Motorola phones running Android OS 4.4 and lower, there is an easy way to bypass the screen lock. That is to use the "Forgot pattern" icon with your Gmail account.
Here's the guide to unlocking a Motorola phone:
Step 1. Type a Wrong PIN
Enter a random PIN/pattern to your Motorola phone three to five times, and then there is a "Forgot password/pattern" icon on the screen. Click it.
Step 2. Enter Your Gmail Information
To bypass the lock on your Motorola phone, you need to enter your Gmail address and password.
Step 3. Create a New Lock
- It will send an email to you, so please log in to your Gmail account to check the email. Then click the link in the email to make a new passcode.
- Use the new passcode to unlock your Motorola phone.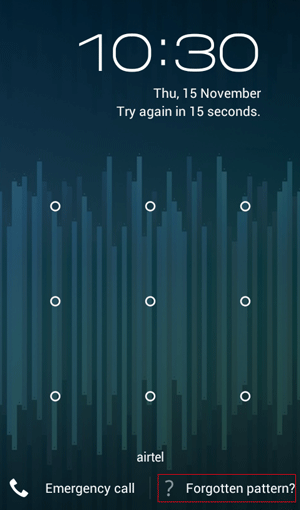 Conclusion
These 5 ways can effectively reset your locked Motorola phone, but some of them are conditional. That is, they only work when you're required to meet their conditions. But the lucky thing is that you can choose the Android Unlock software, a practical unlocking tool compatible with many Android devices. With it, you can unlock your Motorola phone without using a Google account or any skill. Therefore, it is worth a try.
Related Articles
How to Back Up and Restore Android Phone/Tablet on Computer? (5 Ways)
Easily Transfer Contacts from Motorola Phone to Computer in 4 Simple Ways
[Solved] Transfer Data from Samsung to Motorola with 5 Brilliant Methods
How to Factory Reset Android Phone in Easy Ways? [Powerful Tricks]
How to Reset A Samsung Phone That Is Locked [Work for Most Samsung Phones]
What Can You Do When Locked Out of Android Phone? Here Are 4 Handy Tips Offered to You