Summary
Even though iPads are generally more expensive than Android tablets, thousands of people choose iPads rather than Android tablets. Perhaps they prefer iOS to Android OS, or think Apple chipset is better. So, how about you? Do you plan to switch from Android to iPad? If yes, this guide is supportive for you. You will learn how to transfer videos from Android to iPad today.
Of course, you can safely and quickly copy your videos after learning these ways. So, let's go on reading this guide.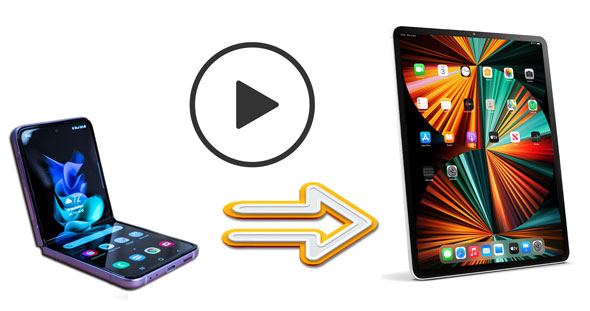 Part 1: How to Transfer Videos from Android to iPad via Android to iOS Transfer
Do you want to transfer all your movies from Android to iPad at once? If your answer is yes, you can choose this Android to iOS Transfer software. It is a professional desktop app for data transfer between Android and iOS devices. It can directly copy videos with original formats and quality, and also transfer contacts, photos, and audio files from Android to iOS without effort.
Key features of this video transfer software:
- Automatically send videos from an Android device to an iPad.
- Easily transfer other media files from Android to iOS and vice versa.
- Widely work for different generations of iPads, iPhones, and Android phones and tablets, such as iPad Pro, iPad mini, iPad Air, iPhone 14 Pro/14 Pro Max/14/13 Pro/13 Pro Max/13/12 Pro/12/11/XS/XR/X/8/7, Samsung Galaxy Tab S8 Ultra/Tab S8+/Tab S8/Tab S7/Tab S6, Xiaomi, OnePlus, ZTE, OPPO, etc.
- Allow you to complete the data migration from Android to Android, and iOS to iOS.
- Never cover your existing files on your iPad after the transfer.
Download the video transfer tool for free below.
Seamlessly transfer videos from Android to iPad via this software:
Step 1. Install the Transfer Software
After downloading its package, please install it correctly on your computer, and run it on the desktop.
Step 2. Connect Mobile Devices to the Computer
Please connect your Android tablet and iPad to the computer via their own data cable. Then the program will remind you to enable the USB debugging feature on Android, and choose the "Trust" option on the iPad. Once connected, please make sure you choose your Android device from the connected devices.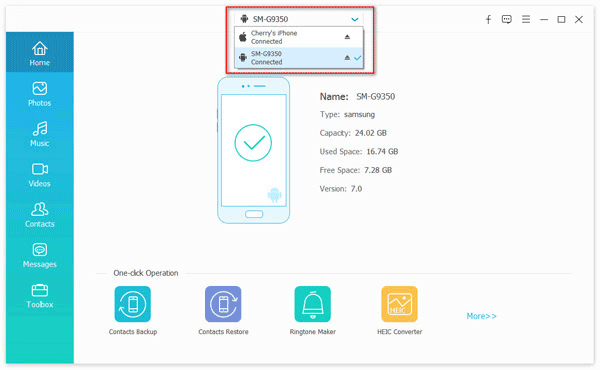 Step 3. Send Videos from Android to iPad
To transfer all videos from Android to the iOS device, you can tap the "Videos" option, and select the desired video files on the interface. Then click the "Export to Device" icon and select the iPad to start the process.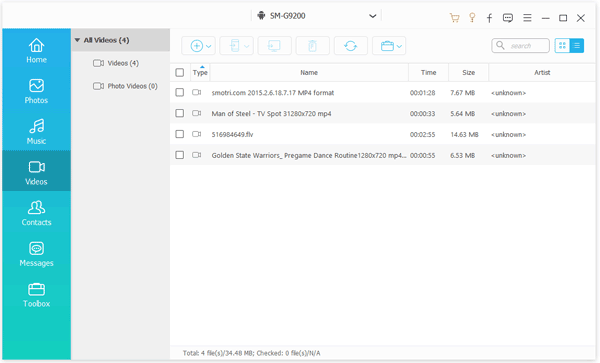 Bonus:
With these 6 methods, you can deftly move videos from an Android mobile phone to a computer.
Looking for an efficient way to move books from an iPad to another? You can now get 6 powerful methods in this article.
Part 2: How to Transfer Camera Videos from Android to iPad via Move to iOS
Move to iOS to a handy app to transfer Android data to an iOS device without a cord. Therefore, you can use it to move videos from Android to iPad during the setup. However, it can only send camera videos but not other movies; and it doesn't work after you finish the setup.
How do I transfer videos from Android to iPad via Move to iOS? Here's the guide:
Step 1. Install the App
Please install and open Move to iOS on your Android device. Then turn on your iPad, and start to set it up.
Step 2. Get a Code for Connection
When seeing the "App & Data" screen, you can tap the "Move Data from Android" option. Next, hit the "Continue" icon to get a code on the iPad.
Step 3. Enter the Code to Send Videos
Get to the "Enter Code" screen on Android, and input the code displayed on the iPad to your Android device. After that, select the "Camera Roll" item, and tap "Next" to start the process.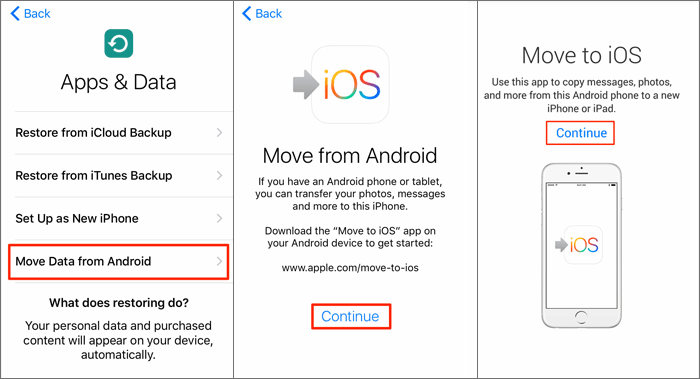 Read also:
Intending to retrieve your deleted videos on Samsung? Then you can try these trustworthy methods.
Read this article, and then you will know whether Smart Switch needs Wi-Fi to transfer data.
Part 3: How to Transfer Videos from Android to iPad without Computer via Email
Send media files via email is also a good choice, but it cannot send files over 50MB at a time. Thus, you'd better check the size of your video in advance. Besides, you will need an available network for sending and downloading your videos.
Here's how to send videos from Android to iPad without a computer using email:
Step 1. Compress Your Video Files
Navigate to the file manager on your Android device, and find your videos. If you want to send several videos, you can compress them into a file, and make sure the file is within 50MB.
Step 2. Send Videos on Android
After compressing videos, please tap the "Share" or "Send" icon, and choose your email app. Then type your email address, and send it.
Step 3. Save the Video File to Your iPad
Log in to your email account on your iPad via the browser, open the email, and download the file to your iPad.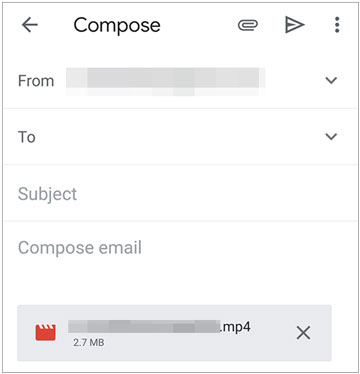 Further reading: Here are multiple practical methods to transfer videos from an iPhone to an iPad for your reference.
Part 4: How to Send Videos from Android to iPad via SHAREit
Using SHAREit can share different files between Android and iOS devices, including videos, images, apps, and more. This cross-platform app is faster than Bluetooth and helps you transfer files without using mobile data. But you might dislike ads on the app.
Follow these steps to share Android videos to your iPad via SHAREit:
Step 1. Download SHAREit
Please download and install SHAREit on both mobile devices, then open it.
Step 2. Select Videos on Android
Opt for the "Send" feature, and choose the "Videos" tab. Then you can pick the videos you want to send on the screen. Next, tap the "SEND" icon.
Step 3. Share Videos to iPad
- Choose the "Receive" tab on the iPad. The app will begin searching for the nearby available devices. If your Android device appears, please tap on it for connection.
- Once the connection is established, the app will immediately transfer the selected videos to the iPad.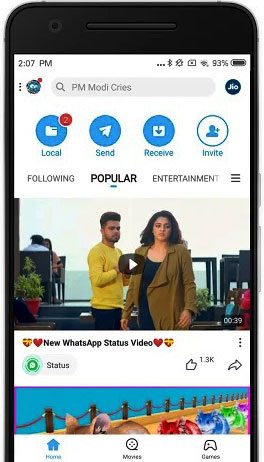 Bonus: How to seamlessly transfer iBooks from an iDevice to another? This article will show you the step-by-step guide.
Part 5: How Do I Transfer Movies from Android to iPad Google Drive
With the help of Google Drive, you can utilize Google cloud space to sync movies from Android to iPad smoothly. Plus, you can upload other files without hassle, such as documents, pictures, etc. As long as your device is connected to Wi-Fi or a cellular network, you can access your data on Google Drive whenever you want.
Sync movies from Android to iPad using Google Drive:
Step 1. Launch Google Drive
Please install Google Drive from the app store on your Android phone, and sign in with your Google account.
Step 2. Upload Videos from Android
Tap the "+" > "Upload" icon to select and import your Android videos to the Drive.
Step 3. Save Videos to iPad
Log in to the same account on your iPad on Google Drive; then you can view the uploaded videos. If needed, please save them to your iPad's local folder.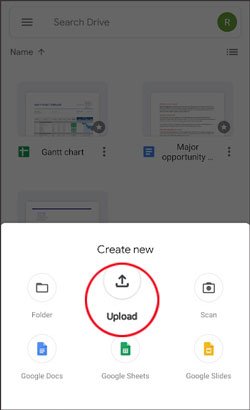 Part 6: How to Transfer Videos from Android to iPad via Bluetooth
Well, Bluetooth is built-in for Android and iOS devices. But how do you transfer videos from Android to iPad with Bluetooth? Enable Bluetooth and pair both devices? It is feasible between Android devices, instead of Android and iOS devices.
Although they can detect each other if you turn on Bluetooth on them, they will fail to pair or connect because they run different OSes. That is, at present, there is no way to transfer videos via Bluetooth between Android and iPad.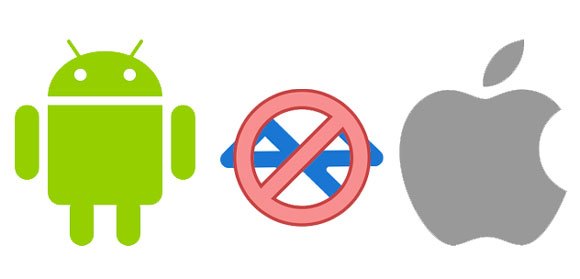 Conclusion
The topic on how to transfer videos from Android to iPad is going to end, so it turns to you to select a way and transfer your videos. Even if using Bluetooth is unavailable, you can use other 5 reliable approaches.
If you feel like sending all videos in 1 click, you can choose the Android to iOS Transfer program. It can swiftly transmit your video data without loss.
Related Articles
How to Recover Deleted Videos from Mi Phone | 5 Secure and Effective Solutions
[9 Options]Best Video Recovery App for Android: Easily Recover Android Videos
Great Guide - How to Transfer Videos from Android to Mac in 6 Methods
How to Transfer Music from iPad to iPod with/without Computer? (iOS 16 Supported)
How to Transfer Photos from Samsung Phone to iPad Expediently [Solved]
How to Transfer Contacts from iPhone to iPad Fast [4 Ways]