Summary
Generally, the memory within the SIM card can store all text messages and contact information on the phone. Unfortunately, your SIM card can be damaged, or your phone may indicate no SIM card has been inserted. Additionally, you may have unintentionally erased all of the data on your SIM Card.
With these various scenarios surrounding losing SMS from SIM, you need to know how to retrieve text messages from a SIM card. But, since there are plenty of methods for recovering texts from SIM cards available on the Internet, it is no surprise that choosing the proper technique for SMS recovery can be complicated. If you have difficulty in it, please read this guide first. It will tell you practical approaches.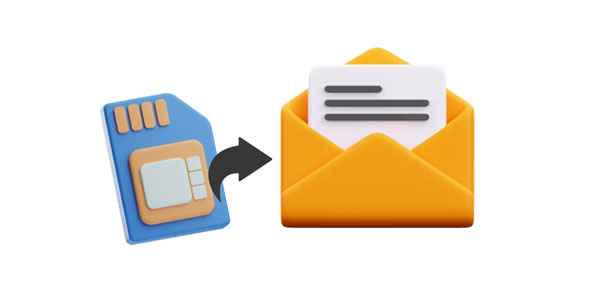 Part 1: Can I Recover Deleted SMS From My SIM Card?
Yes. You can recover deleted text messages from a SIM card on your phone. It may seem impossible at first glance, but it's achievable, and you can carry out the recovery process without requiring help from an expert.
As long as you have a reliable recovery programs, SIM card data recovery is a few taps away. Aside from the online tool, you'll learn other ways from this article. But please notice that those deleted data will be fast overwritten by new data, so you'd better stop using your device and recover the deleted files as soon as possible.
Part 2: What Types of Data Are Stored on a SIM Card and How to View Them?
SIM cards are extremely versatile since they come with various storage capacities of up to 256 KB. This is more than enough space to store about 250 contacts. Besides, you can keep text messages on your SIM. Therefore if you ever switch devices, all the essential contacts and messages on your old device will be transferred seamlessly onto the new one via the SIM card by inserting the SIM into your new device. However, the data that can be stored on a SIM varies between SIM cards.
SIM cards store files on our devices that contain personal information like phone numbers, text messages and contact information. Moreover, they also store vital data like the Service Provider Name, Mobile Subscription ID and International Mobile Subscriber Identity (IMSI). In other words, these little chips offer an array of essential features that make staying connected easier.
Here's how to view data stored on SIM cards:
You can access SIM data on Android by heading to "Settings" and selecting "About phone". From there, choose "Status" followed by "SIM status". You'll be able to view all information stored on your mobile phone's SIM card, such as service provider details, signal strength & network type, and roaming info.
On your iPhone, head to Settings and tap "Cellular", then select "Cellular Data Option" to check your account and SIM information. To check data usage, click on the "SIM Applications" option in the Setting.
Alternatively, you can use a SIM card reader to access all information on your SIM without inserting it into your phone. This useful device grants you quick access to the information stored on your SIM card without any hassle.
Read also: What if you want to read your text messages online? Actually, it's also easy to solve. Read this guide here to get it.
Part 3: How to Retrieve Text Messages from SIM Card?
Are you feeling overwhelmed about recovering deleted messages from your SIM card? Don't be because we will provide simple ways for SIM card recovery. Scroll through the ways, and you'll definitely find at least one that matches your needs.
Way 1. How to Recover Deleted Text Messages from SIM Card Without Backup (Best Way)
If you're looking for a great solution to help recover deleted text messages from your SIM card, we have just the right tool. Samsung Data Recovery is a fantastic piece of software that will provide an easy way to restore those deleted texts. Plus, the software supports almost all Android phones, including Samsung, Huawei, and OnePlus devices. So, no matter the type of Android phone you have, this data recovery software is an absolute lifesaver.
Also, it can recover deleted contacts, photos, documents, and more file types. You can preview and select your deleted SMS and other data before the recovery. As for your existing text messages, it can help you transfer the SMS you want from your mobile device to your computer for backup.
Key features of this SIM card recovery software:
- Scan file storage on your Android and recover deleted data with ease.
- Support recovery of SMS, contacts, pictures, call history, videos, and more.
- Recover data from SIM, Android internal memory, and SD cards.
- Support over 6000 Android devices.
Download the recovery software.
Check how to retrieve text messages from a SIM card for an Android phone below:
Step 1. Run the Program
Start by installing the SIM card recovery program on the computer. Launch it and connect an Android phone with the target SIM card to the same computer. You will get to its primary interface, where you can start your SIM data recovery.
Before proceeding, ensure you enable USB debugging on Android.
Step 2. Scan the SIM Text Messages on Android
- Select "Messages" and other files you'd like restored before clicking "Next". After that, choose the scanning mode you need and click "Continue".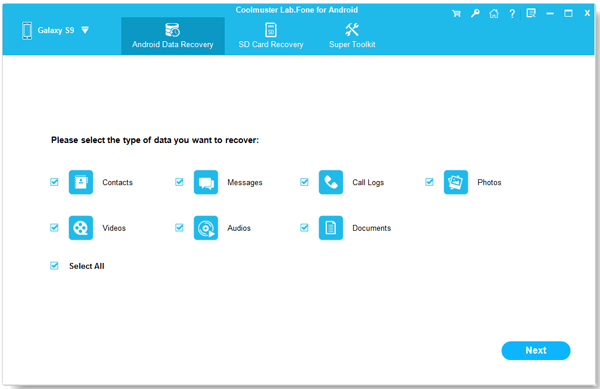 - Then the software will remind you to root your phone, which is necessary if you want a complete scanning of your deleted data. If you have rooted, skip the steps. The program will immediately start scanning your device.
Step 3. Preview and Recover Messages from SIM
After the scanning process is complete, you can preview every scanned-out text message and select which ones you would like to restore. Once those are selected, simply click "Recover" and customize an output location where all of your restored SMS can be saved. It's as easy as that.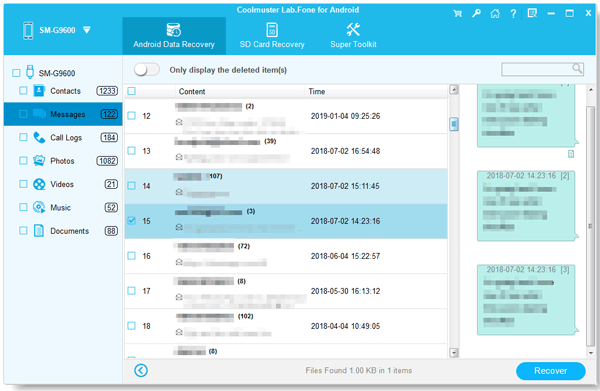 You might need: Android Data Recovery on Mac with 7 Reliable Tools
Way 2. How to Retrieve Text Messages from SIM Card on Android via Service Provider (Low Recovery Rate)
If you'd rather not use any external tool to retrieve your text messages from SIM, you can always turn to your Cell Service Provider. Your provider can help restore your lost messages even if you don't have a SIM card. However, they may require certain personal details from you to employ their services. Follow these steps:
Step 1: Check your SIM company contact information from their official and contact them.
Step 2: Ask their representative to retrieve your messages. Give them all the necessary information, such as your name, phone number, address, and security code, for authentication purposes. Once they have confirmed that it is indeed your account, they will begin the process of recovering any lost chats.
Step 3: Now, you have to wait for their reply to be delivered within the requested time frame. The company may also send your recovered messages directly to your email.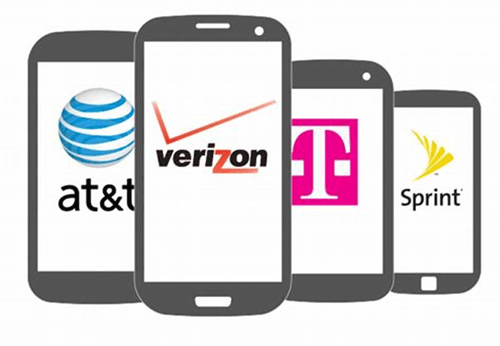 Concluding Words
That's all on how to recover deleted text messages from a SIM card for Android phone. It is not a complicated task. With the tips above, you fully understand how to get information off a SIM card. Samsung Data Recovery stands out as a reliable and efficient tool for recovering deleted text messages from SIM cards on Android. It is the best SIM card sms recovery software due to its ease of use. You will restore your deleted messages with just simple clicks. More importantly, it guarantees a higher recovery rate.
Related Articles
How to Recover Deleted Photos from SD Card?
How to Completely Remove Contacts from Android SIM Card
How to Retrieve Contacts from SIM Card with 3 Useful Methods
Which Is the Best WhatsApp Recovery App? Take A Look At These Options
How to Wipe a SIM Card with Android Completely? 3 Tips You Need to Know
How Do I Recover Deleted Facebook Messenger Messages on Android? (Solved)