Summary
Samsung is the giant of Android devices, and its advanced technology keeps it leading the mobile phone market. Many people are users of Samsung phones. Furthermore, lots of Samsung users want to get privileged control of their smartphones. Are you the same as them? If yes, you will need Samsung root software.
For your convenience, this article has introduced 8 powerful Samsung root tools below. You can directly select one to root your Samsung mobile device. By the way, you'd better back up your Samsung data before rooting.
1. OneClickRoot
OneClickRoot is a secure Samsung root toolkit. It can support Samsung devices and other Android mobile devices, like Vivo, Xiaomi, Motorola, Huawei, Google, and more. Besides, it is easy to root a Samsung phone. In general, you can make it in 4 steps.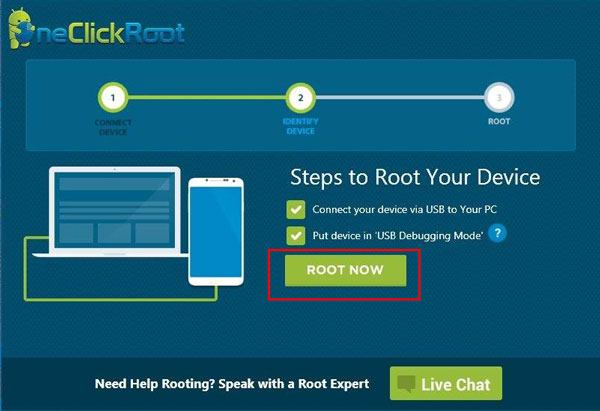 Pro:
- Root Samsung phones and other Android devices without damage.
- Root your Samsung device in minutes with a high success rate.
- The interface is user-friendly and brief.
Cons:
- Only the full version can root your mobile phone.
- The cost depends on how many devices you plan to root.
- There is no obvious download icon on its website.
Bonus: Want to back up your Samsung phone? Here are 5 useful Samsung backup applications for your reference.
2. Kingo Root
Kingo Root is also a Samsung mobile root software for PC. You can root your Samsung device by installing Windows and mobile versions. Also, it supports many Android phones and tablets. After rooting your Samsung Galaxy phone, it will help you block ads without effort, including pop-up ads and auto-playing videos.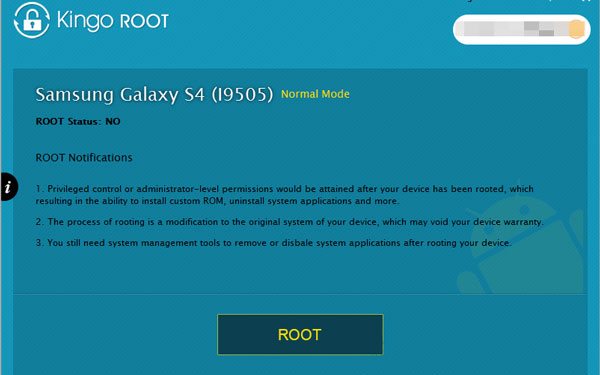 Pro:
- Enable you to easily download and install the program.
- There is no ad during the whole process.
- Allow you to unroot your Android device at any time.
- Offer different guides to help you root various mobile phones.
- Always root your Samsung device for free.
Cons:
- There is no Mac version for download.
- Some new Samsung smartphones running Android 6.0 or upper are not supported.
- Require you to connect your phone to a stable network.
3. KingRoot
So what is KingRoot? As you can see, its name is similar to the previous one. It is also the safe and effective Samsung root software for PC. But it allows you to root your phone without a PC, which is more convenient than others. Thus, you can directly download the APK file on the smartphone.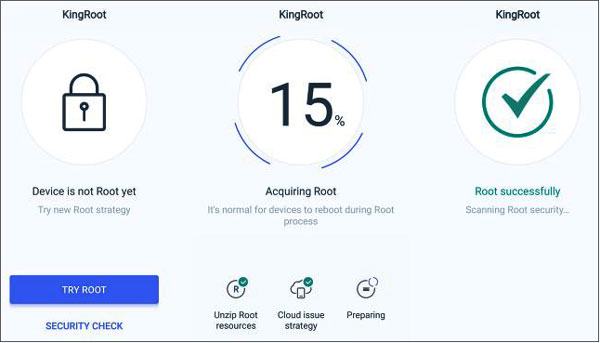 Pro:
- Quickly root a Samsung mobile device without a computer.
- Support you to optimize your cell phone with ease before and after rooting.
- Its installation package is small, so it is easy to install.
- The prompts on the screen will tell you how to root your Samsung Galaxy phone.
Cons:
- Cost more time to root a mobile phone.
Further reading: Can you recover your Android data without root? If needed, please click the link to get the methods.
4. Framaroot
Whether you root or unroot your Samsung device, Framaroot can help you complete the task in 1 click. With it, you can root your smartphone without connecting to a computer.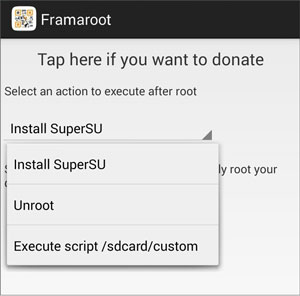 Pro:
- Work with Android OS 4.4 and upper, so that you can root most Samsung Galaxy devices.
- The interface is straightforward for rooting.
Cons:
- Require you to root your Samsung cellphone manually.
- The latest version v1.9.3 was updated in 2017.
- The system will ban you from installing this app, so you need to modify permissions to install it manually.
Maybe you need: You can also get Android rooting software in this post. Let's take a look.
5. iRoot
iRoot is another Samsung Galaxy root toolkit. The latest version v3.2.4 is released by Magyun team. As long as your smartphone runs Android 2.2 or higher, it can root your phone with ease. Additionally, it provides full tutorial on the its webpage, so that you can check it out before downloading the app.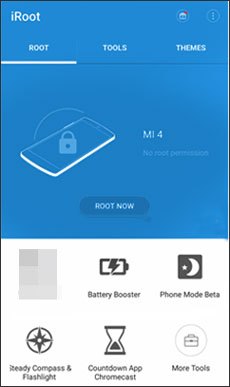 Pro:
- The whole rooting process is within 5 minutes.
- Allow you to root a mobile device by tapping one icon.
- Efficiently root Samsung Galaxy S4 and S5.
Cons:
- There are ads on the screen when you launch the app.
- It will slow down if the network is unstable.
- Fail to root Samsung Galaxy S21 in the tests.
You might like: How to recover deleted Samsung contacts with ease? Maybe these tips will help you out.
6. Samsung Odin
Although Samsung Odin is not a Samsung official root tool, it supports Samsung devices only. For smooth rooting, it is recommended that you can read the guide before the performance. You will see an obvious caution on the top of the webpage. Please be careful to read it, since you will take some risk in rooting if you are not familiar with this software.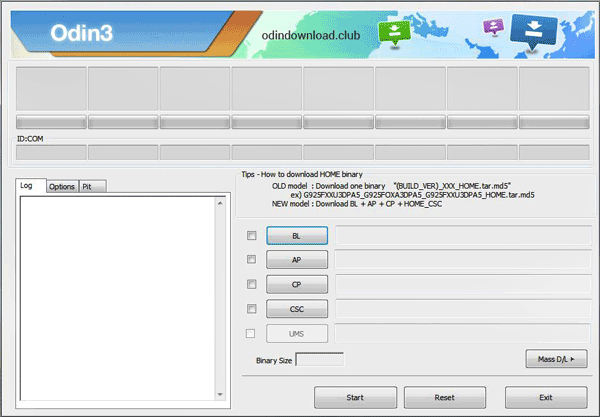 Pro:
- Supply different versions for download, and the latest version is Odin 3.14.1.
- Compatible with Samsung Galaxy S9/S8/S7, and so on.
- Suitable for those who are tech-savvy.
Cons:
- Very complicated to use.
- Require you to download a Samsung USB driver, and CF-AUTO ROOT package.
- Need to link your Samsung phone to the computer via USB.
See also: What if you want to transfer apps from Samsung to Samsung? Don't worry. This article has displayed 7 effective transfer ways, so that you can select one breezily.
7. Root Genius
Root Genius, supporting plenty of Android devices, can root Samsung phones without a hitch. It supports English, Russian, Spanish, and French, but the latest version 3.1.7 is only available with a Chinese interface. For your convenience, please download 2.2.84 version, which supports English.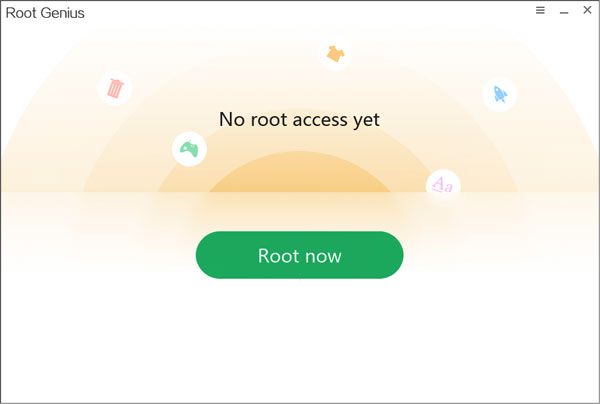 Pro:
- Need no tech skill to root a Samsung phone.
- The latest version is more steady and supports more Android phones.
Cons:
- Multiple app promotions on the screen.
- Sometimes fail to connect and detect your Samsung device.
Bonus: Accidentally deleted files from your Samsung tablet? Calm down. You can now smoothly recover deleted data from your Samsung tablet.
8. Dr.Fone Root
Dr.Fone Root can root Samsung devices with a high success rate by connecting to a computer, and it is secure to use. What's more, this software has not only the Windows version but also the Mac version. You can download the version you need and try it for free.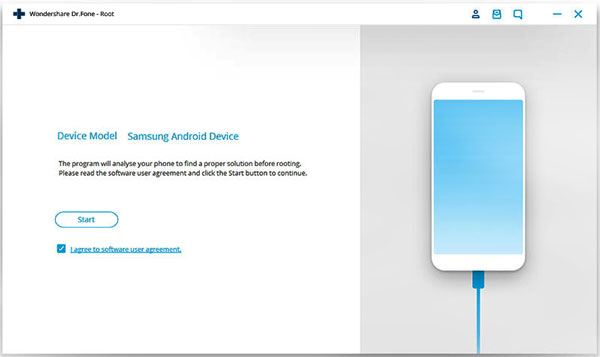 Pro:
- Have a user-friendly interface, and clarify why it needs to analyze your phone before rooting in detail.
- After the successful detection of your Samsung phone, it will root the device in 5 minutes.
- Its guide can teach you to root your Samsung phone step by step.
Cons:
- It is not free to root your Samsung phone via the full version.
- It will take about half an hour to detect the connected Samsung device.
Check if you need: Is my phone rooted? Are you curious about that? If so, you can get help from this link. Let's take a look.
Conclusion
So, which Samsung root software do you like best among the mentioned above? If you have studied what Android rooting is, you will understand rooting is not hazardous. But if you use an unsafe rooting tool, or root your Samsung device in the wrong steps, perhaps you will lose data, or make your device blocked. Thus, be clear of the operation guide before doing it.
Related Articles
How to Back Up Android Phone before Rooting With Ease | Check the Full Guide
[6 Tips] Broken Samsung Data Recovery: Extract Data from Broken Phone
Samsung File Transfer for Mac: Fast Transfer Samsung Files on Mac
Samsung File Manager - How to Manage Samsung Files Effectively?
Wi-Fi File Transfer - How to Transfer Samsung with Wi-Fi?
How to Transfer Music from iPhone to Samsung | Freely Select 5 Smart Methods