Summary
Screen mirroring has become prevalent lately due to technological advancements in the mobile industry. Mirroring your phone onto a bigger screen can be useful for watching presentations or videos without struggles.
Screen mirroring on Huawei can be a real pain because it operates on a completely different OS, Harmony OS. Honestly, it may seem a very daunting task even for the skilled. But, after reading this guide, screen mirroring your Huawei device should be a smooth-sailing process. Let's take you through these steps and see how the process can be simpler.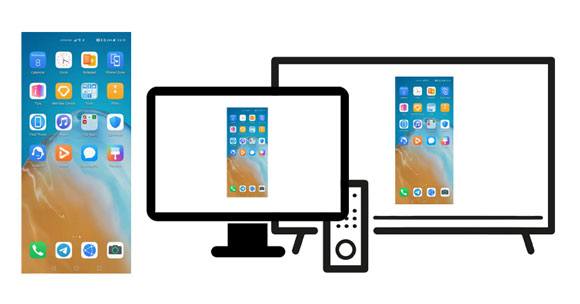 Part 1: What's Huawei Phone Screen Mirroring?
Phone screen mirroring is the process of projecting a phone's screen to a larger display of a computer or a TV. After mirroring your Huawei screen, you can do many more things, from watching videos to making presentations.
Here are some additional tips for screen mirroring your Huawei phone:
- Make sure that both your phone and the display you are mirroring to are connected to the same Wi-Fi network.
- If you are mirroring to a TV, make sure that the TV is turned on and that the input is set to the correct source.
- Some apps may not be compatible with screen mirroring. If you are having trouble mirroring an app, try closing the app and then reopening it.
Part 2: How to Cast Huawei Phone to Laptop in Different Ways (Reliable)
Screen mirroring a Huawei device can be challenging. But with the right approaches, you can achieve what appears impossible.
We have done extensive research on Huawei screen mirroring and found the best and easiest ways to cast a Huawei screen onto a bigger display. See how easy it is to share Huawei screen to PC and TV.
Method 1. Screen Mirroring on Huawei with a Professional Tool
If you want to effortlessly mirror a Huawei phone screen to a computer, it would be best if you use a powerful tool - Screen Mirror. It is the best screen mirroring app for Huawei that makes the screen mirroring process seamless and straightforward. It is also the most proficient screen mirroring software that allows users to stably mirror their Android and iOS devices to a computer. What's more, you can link multiple phones with the latest OSes.
If you've been yearning to play those amazing videos you kept on your Huawei device on a bigger screen, the Screen Mirror app is here for you. Besides, you can quickly transfer media data from the phone to the computer. In addition, you can play your mobile games, send messages, view files, and do a lot more.
Key highlights of this screen mirroring app for Huawei:
- Allow mirroring Huawei screen onto a PC in high quality.
- Enable you to play games stored on the phone on the laptop smoothly.
- Manage applications, send messages, and play games easily.
- Let you control the phone from the PC without difficulty.
- Compatible with Android & iOS devices such as Huawei, Google Pixel, and iPhone/iPad.
- Have an easy and smooth process.
Download this Huawei Miracast app.

Below are steps on how to cast a Huawei phone to a laptop using this Huawei Miracast app:
Step 1: Install the program on the computer after downloading it. Run it to open the primary interface. Press "Android Mirror".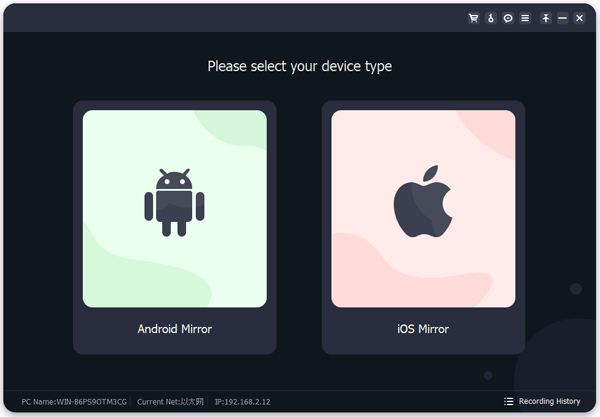 Step 2: Select "USB Connection" to connect the Huawei device to the laptop with a USB cable. Ensure USB debugging is activated on the mobile phone.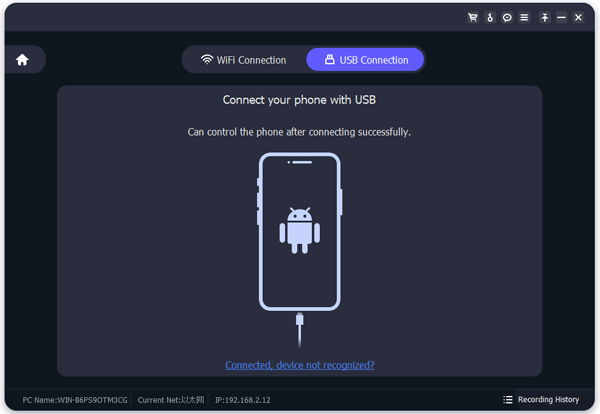 Step 3: It will remind you to install the mirroring screen app on your phone. Your phone's screen will instantly be mirrored to your laptop. You may now watch videos, play games from your laptop without worry.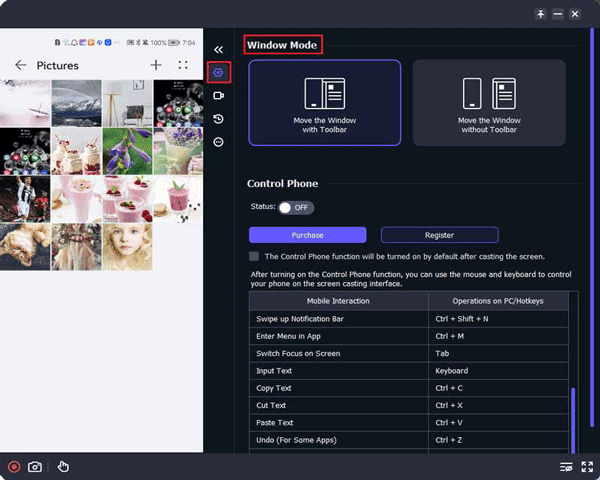 See more: Run Android Apps on PC with or without Emulator [Easy Methods]
Method 2. Huawei Screen Mirroring Using MirrorShare
MirrorShare is a great app created by Huawei that enables users to display content from their Huawei smartphone to a TV or computer screen. After casting the screen, you can conveniently share files, watch videos, listen to music, or play games, among other functions. However, this app can only be used on Huawei laptops.
MirrorShare is different from Huawei Share since they operate differently. MirrorShare enables you to project content from your smartphone to a larger monitor. As for Huawei Share, it is a technology that allows you to share files, such as photos, music, videos, etc., across various devices. It uses Bluetooth to transfer data wirelessly to nearby devices that support Huawei.
Guide on Huawei phone screen mirroring using MirrorShare:
Step 1: First, connect the Huawei device and TV to the same Wi-Fi. Take the phone, swipe down on the screen from the top, and choose "MirrorShare".
Step 2: Search for your television from your phone by heading to "Settings" > "Advanced settings" and finding "MirrorShare". Click on it.
Step 3: Select your TV's name. Go to "Network settings" of the TV and select "Screen Sharing". The phone and TV will get connected. It's as simple as that, and you can now start watching your favorite shows on your TV.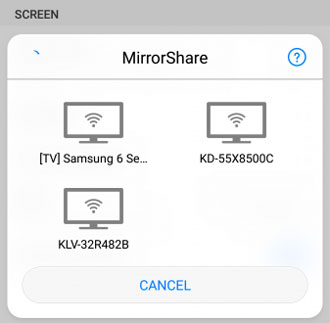 Maybe you need: If you want to access Snapchat on your PC, read this guide to get useful approaches.
Method 3. Huawei Mirror Share to PC with Huawei Wireless Projection
If you don't have a Huawei laptop, you won't be able to use MirrorShare to cast your Huawei phone to a computer. But all is not lost. Huawei's Wireless Projection can help. If your computer runs on a Windows 10 or 11, the Huawei mirror share to PC will be possible.
Below are steps on how to cast a Huawei phone to a laptop via Wireless Projection:
Step 1: Ensure that your phone can use Wireless Projection to screen mirror to a laptop. After that, open the "Settings" app on your phone and select the "Device connectivity" option.
Step 2: Connect your computer and Huawei device to the same Wi-Fi connection. After that, go to your computer and open the "Settings" option. Navigate to the "Systems" option and select it. You will see a list of options.
Step 3: Hover through the options and select the "Projecting to this PC" option. Then choose the "Optional features". After that, select the "Add a Feature" option. Look for the "Wireless Display" and install it.
Step 4: On the Huawei device, access the status bar, and enable "Wi-Fi & Wireless Projection". The process for searching for the available devices will automatically start. When your computer's name appears, click on it, and the two devices will connect instantly.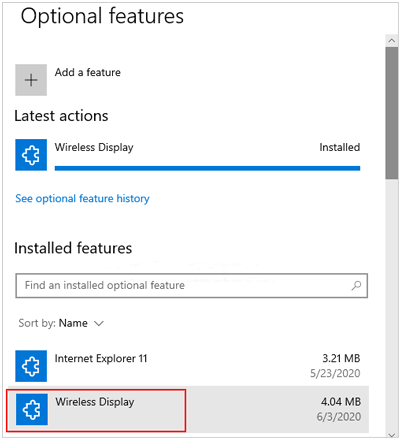 Further reading: An Authentic List of Virtual Meeting Apps [Trustworthy Guide]
Method 4. Huawei Tablet Mirror Share Using Cast for Chromecast & TV Cast
Cast for Chromecast & TV Cast is an app to mirror your Huawei phone screen to a TV. It is compatible with most Huawei phones and TVs that have Chromecast built-in. Thus, you will need a Chromecast device that allows you to carry out various digital tasks, such as streaming videos. You can also use it to cast content from your phone to your TV. You'll first need to buy the device and pay for streaming services but casting your apps is free.
The process of screen mirroring Huawei phones using Chromecast is as outlined below:
Step 1: Connect the Chromecast device to your TV using the HDMI port.
Step 2: Go to your phone's app store, download and install the Chromecast app. Ensure your TV and Huawei phone are connected to the same Wi-Fi network.
Step 3: Navigate to the Chromecast app and tap it to launch it. After opening the app, allow it to search for nearby devices.
Step 4: You'll then get a prompt on your phone asking you to allow Chromecast to connect to devices in your network. Press "OK" to connect. You'll get a list of all the available devices. Choose your Chromecast device to continue.
Step 5: After that, you can use the device to cast your phone to your TV and enjoy watching videos, music, photos, etc.

Method 5. Mirror Huawei Screen to TV via LetsView App
LetsView is a great application for casting your Huawei screen into a television. This tool provides plenty of benefits to the users. Besides, it is very simple to use, and for anyone looking to share their phone's content on a larger TV screen, LetsView can save the day. With this app, you can screen mirror the favorite content you want to see from a larger display at no cost. It is indeed a valuable tool for mobile phone users.
Steps to mirroring a Huawei screen to a TV using the LetsView app:
Step 1: Install the application on your Huawei device and TV. After that, use the onscreen instructions to connect the devices. For the app to work, both devices should be connected to a similar Wi-Fi network.
Step 2: Tap the "Scan" button on the phone, and scan the provided QR code on the TV screen. When you do that, the Huawei phone will be mirrored to your TV.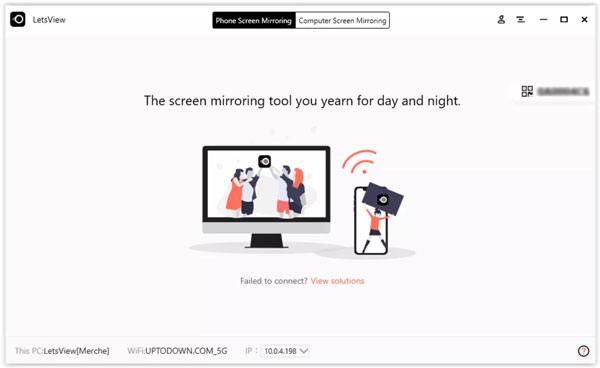 Conclusion
Nothing is more fun than displaying the contents of your phone on a larger screen. If you've been wondering how to screen mirror a Huawei device to a TV or laptop, then you have your answer. This article has shown you all the possible ways to do Huawei tablet mirror share.
For instance, you can use a Huawei MirrorShare, LetsView, Chromecast, Wireless Projection, or the Screen Mirror software, to quickly cast your phone's screen onto a TV or a computer. Choose your preferred option from the above and enjoy casting your phone on a larger monitor.
However, from all the options mentioned, using Screen Mirror is more stable than other methods. It can fast cast your Huawei screen to a computer without trouble. Apart from just mirroring your phone's screen, you can also manage apps and control your phone on a PC freely.
Related Articles
Remotely Access PC Files from Android Devices [4 Easy Approaches]
How to Share Screen on Zoom Like a Pro - Screen Sharing Demystified
[New and Tested] Best Screen Share Apps for Different Devices
Huawei to Mac Transfer with 5 Authoritative Solutions (Solved)
Ultimate Solutions to Transfer Data from Samsung to Huawei P40/P50 Pro (Proven Tips)
How to Unlock Huawei Phone without Resetting | 7 Hassle-free Unlocking Tools