Summary
"I set a new password on my Huawei phone last night, but I totally forgot it now. How do I unlock my Huawei Android phone without resetting it? There are some important files that I haven't backed up."
How to unlock Huawei phones without resetting has been a hot topic in some discussion areas recently. If you search for it on the internet, you will get bulks of answers, some are useful, and some are helpless. To save you time, we have sorted 7 effective and reliable ways to help you unlock your Huawei phone when you forget the password.
Notice, some of them require you to reset your locked Huawei phone, but some do not. We will expound on this detail in every part's description. Please find it out before unlocking your Huawei phone.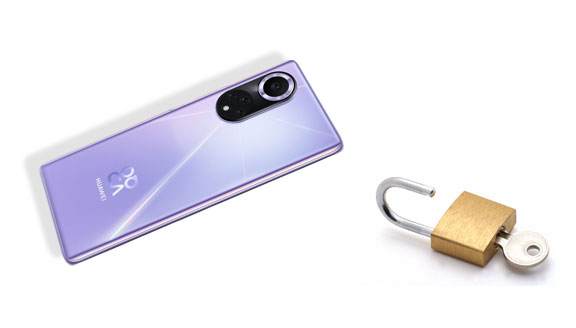 Part 1: How to Unlock Huawei Phone without Password via Screen Unlock Software
This Screen Unlock software is created for Android devices, including Huawei, Samsung, LG, ZTE, OnePlus, etc. One of the biggest highlights of this software is that it can unlock all kinds of screen locks without complicated steps. Thus, you can remove a pattern, PIN, passcode, and fingerprint without hassle.
What's more, this software works a wide range of Android OSes, including Android 2.1 and upper. There is no doubt that it supports many Huawei Android devices. However, this program cannot unlock Huawei phones without erasing data, so you will lose your data after using this tool to remove the lock.
Key features of this Huawei screen unlock program:
- Easily bypass Huawei password, pattern, fingerprint, and PIN.
- Work for many Huawei phones running Android OS, such as Huawei P40/P30/P20/P10, Huawei Mate 40/Mate 30/Mate 20/Mate 10, and more.
- The Advanced Mode can remove lock screens when you cannot find your Huawei model on the given list.
- No information leakage while unlocking your Huawei phone.
Download the unlocking software for free below.

Guide on how to unlock a Huawei phone without a password using this software:
Step 1. Launch the Program on Desktop
Please install the software on your PC, launch it, and choose the "Screen Unlock" tab on the toolkit.
Step 2. Connect Huawei to PC
Choose the "Unlock Android Screen" feature, and connect your Huawei phone to the PC via a USB cable. Then select the information on your phone from the list, and tap "Next".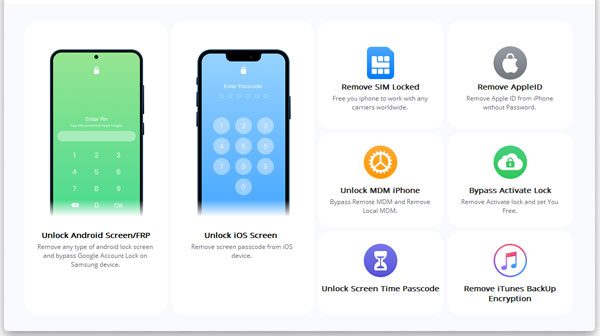 Step 3. Unlock Huawei Screen Lock
Follow the guide to get your Huawei phone into the Download Mode, and tap the "Remove Now" icon to start the unlocking process. Once it is over, you can access your Huawei device without a password.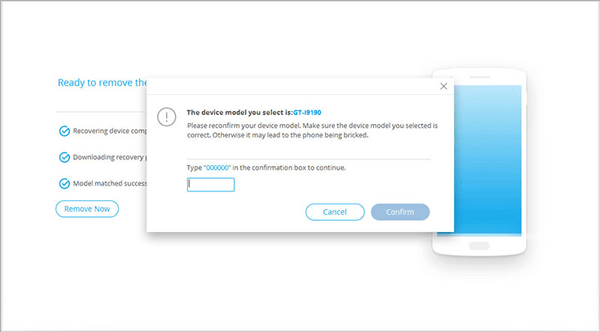 Bonus: Is it possible to bypass an Android lock screen without a Google account? Let's check it out.
Part 2: How to Unlock Huawei Phone without Resetting via ADB
Wonder how to unlock the Huawei screen lock without losing data? Please come here. This part will show you the unlocking way of using ADB (Android Debug Bridge). As the name suggests, it is often used by developers. Anyway, it is not difficult to unlock a phone. But please ensure that you have enabled the USB debugging feature on your locked phone.
Here's how to bypass Huawei password without resetting via ADB:
Step 1: Use a data cable to connect your Huawei phone to the computer, and download and install the ADB package on your computer.
Step 2: Open the command prompt on the PC, and type "adb shell rm/data/system/gesture.key" on the window. Then click the "Enter" key.
Step 3: After that, please reboot your Huawei phone, and then you will unlock it successfully.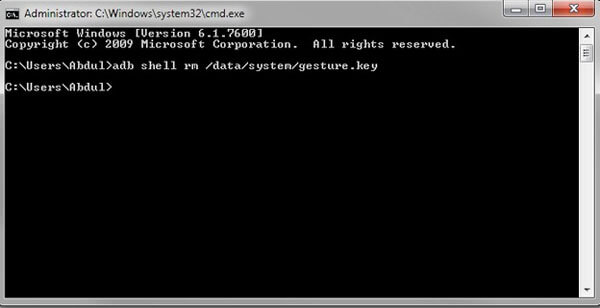 Read also: Can you unlock a Samsung tablet without losing data? Maybe you need this guide.
Part 3: How to Unlock a Huawei Phone Password via Factory Reset
Factory reset is a frequently used way to unlock mobile phone screen lock. But it surely will wipe all the data from your Huawei phone. If you don't mind that, please go ahead.
Here's how to bypass Huawei P20 Pro lock screen with factory reset:
Step 1: Charge your phone at least 50% battery.
Step 2: Turn off the Huawei P20 Pro, press, and hold Power and Volume Up buttons for multiple seconds. Then use Volume buttons to choose "Wipe data/factory reset", and tap Power to confirm.
Step 3: Enter "yes" to the screen, and select "Wipe data/factory reset" again. Then the procedure will begin. After that, your screen locked will be removed, and your phone will be reset.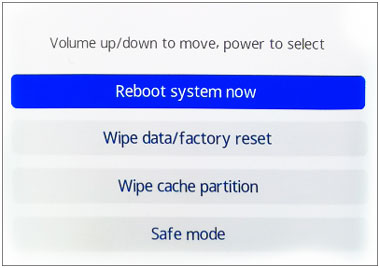 Further reading: It is also easy to unlock an Android tablet if you master these 5 proven ways.
Part 4: How to Bypass Huawei Password with Huawei Cloud
Forgot the Huawei phone password? With the help of Huawei Cloud, you can unlock the pin code using the Find My Phone feature. But please note that you need to enable Find My Phone on the locked phone in advance. If not, you cannot bypass the screen lock on Huawei. By the way, it will not erase your cloud backups.
Steps on how to unlock a Huawei phone pin code via Huawei Cloud:
Step 1: Open Huawei Cloud on a mobile device or a computer, and log in with your Huawei ID used on the locked phone.
Step 2: Choose "Find My Phone", and select your locked Huawei phone.
Step 3: Tap "Erase data" to wipe all content and settings from your Huawei phone. Wait for several minutes, and you can freely access your Huawei phone.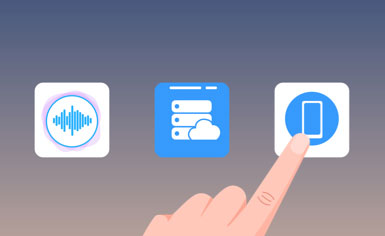 Learn more: Perhaps you store too many files on your Huawei phone, which will make your phone slow and is not safe. But now, you can transfer your Huawei files to Mac to release some space.
Part 5: How to Unlock Huawei Pattern Lock via Google Account
If you have attached your Google account to your Huawei phone, you can utilize it to unlock your Huawei smartphone.
1. Using Find My Device
Google Find My Device, also named Android Device Manager, provides the services for Android users to erase data from their lost phones remotely. It can also eliminate the lock hence. Besides signing in to your Google account on Huawei, you need to connect the phone to Wi-Fi or mobile data, and turn on the Location and Find My Device features.
Here's how:
Step 1: Go to the Find My Device web, log in with your Google account, and choose your locked Huawei device.
Step 2: Tap "Next" and "ERASE DEVICE". Then type your account and password again, and hit the "Erase" icon to unlock the Huawei phone.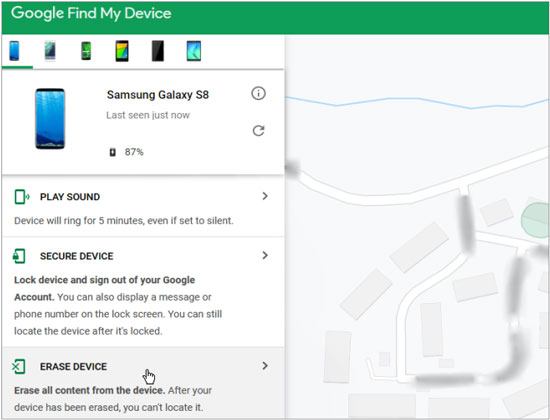 Maybe you need: When you want to transfer images from Mac to Android, you can use these hassle-free ways.
2. Using Forgot Pattern
On some old Android phones, they support Forgot Pattern/Password feature, which can help you bypass the screen lock without resetting the phone. But it needs your Google account, and works on Android 4.4 and lower.
Here's how:
Step 1: Randomly enter a passcode several times on your locked Huawei phone.
Step 2: When seeing the "Forgot password" icon on the screen, please tap on it. Then input your Google address and password.
Step 3: You will receive an email on Gmail to reset your passcode for your locked phone. Next, follow the guide in the email, and you will remove the lock easily.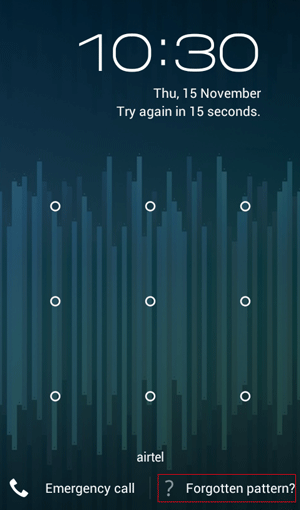 Part 6: How to Unlock FRP Lock on Huawei in Safe Mode
Every Android mobile phone supports Safe Mode. This feature is to help you find problems with your apps. After enabling it, your Huawei phone will perform without any third-party apps. Plus, you can also remove the FRP (Factory Reset Protection) lock in Safe Mode.
Once you sign in with your Huawei account or other accounts on Huawei, FRP has activated automatically. Then, you will be required to log in to your account, although you have reset your Huawei phone.
Here's the tutorial to unlock FRP lock on Huawei via Safe Mode:
Step 1: Get your Huawei phone into the Recovery Mode: hold Volume Up and Power keys until you see the Huawei logo appears.
Step 2: Choose the "Wipe data/factory reset" option to reset your locked phone. After resetting, please select the "Safe mode" option.
Step 3: In the Safe Mode, open the Settings app, and click the "System" > "Reset" > "Reset phone" icon. Then confirm the operation. As this step is over, your will bypass the FRP lock on your Huawei phone.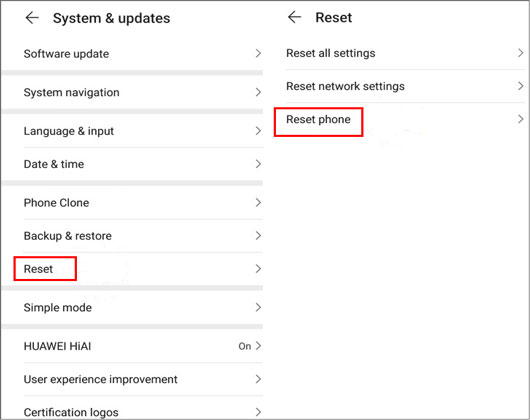 Part 7: How to Unlock a Huawei Phone Pin Code via Fingerprint or Face ID
As you know, almost all Huawei smartphones are installed the fingerprint and face ID functions. They are very handy, especially when you forget the Pin code. As long as you put the correct finger on the induction zone of your Huawei phone, it will be unlocked quickly, as long as you have set your fingerprint ID.
To set your fingerprint ID on a Huawei phone, you can follow this guide:
Step 1: Go to Settings, and choose "Biometrics & password" > "Fingerprint ID". Then it prompts you to set a screen password.
Step 2: Write down the password on a paper, and go on to select "New in-screen fingerprint" to enroll your fingerprint.
Step 3: Place your finger on the fingerprint sensor. After it is completed, tap "OK" on the screen. Now, you can unlock your Huawei phone with your fingerprint.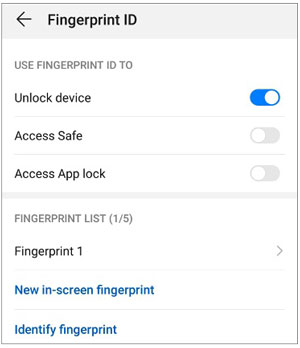 Conclusion
It is viable to unlock a Huawei phone without resetting, but it still has some restrictions. Thus, it will be best to back up your data on Huawei regularly. In this way, you can restore your data with the backup after unlocking it with the Screen Unlock software. This program will erase your data, but it is simple to unlock a Huawei Android phone.
Related Articles
How to Transfer Photos from iPhone to Huawei in 5 Effective Ways?
Phone Clone Troubleshooting: How to Fix Huawei Phone Clone Not Working Issue? (Proven Tips)
[Full Guide] Transfer from Huawei to iPhone with 3 Effective Ways
Full Guide: How to Transfer Data from Huawei to Huawei without Effort
How to Recover Lost Contacts on Huawei Smoothly: Use 5 Ways to Make It
Transfer Data from Huawei to OnePlus Efficiently [Including Most File Types]