Summary
Now that global companies have become a norm, a reliable method of virtually collaborating with teams has become essential. Even if you work physically close to each other, online meetings are always an advantageous choice due to their efficiency in terms of resources. Virtual meeting platforms save employees' time while simultaneously cutting down on administration costs.
With various virtual meeting platforms available in the marketplace today, you can seamlessly access audio and video meetings with customizable features like analytics, reliable data encryption for your videos, screen-sharing capabilities, security measures to ensure privacy, and much more.
Utilizing virtual meeting platforms has revolutionized the way businesses work, making them both productive and cost-effective. They provide quick and straightforward collaboration opportunities, help facilitate employees during mentoring sessions, and offer extensive training materials.
If you're searching for the most suitable online meeting platform to meet your needs, this article provides all the critical information. Take a look at the top platforms in terms of features as well as their respective pros and cons so that you can confidently make an informed decision.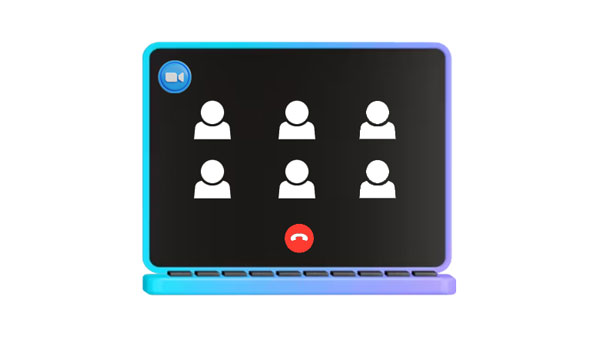 Part 1: What Are Virtual Meetings, and How Should You Choose a Virtual Meeting Platform?
A virtual meeting is a virtual space where two or more business associates can virtually "meet" and collaborate without the need to meet physically. A virtual meeting is beneficial for companies with multiple offices located in different parts of the world, as it eliminates the need for employees to travel and meet face-to-face. Various types of virtual meetings include:
1. Video Conferencing
It is a virtual meeting that allows participants to communicate with each other through video conferencing tools like Zoom, Webex, and GoToMeeting. These virtual meeting platforms allow users to easily interact with one another, share files and collaborate remotely.
2. Audio Conferencing
If you want to focus solely on the audio component of a meeting, an online audio conference can be tremendously helpful. You won't need any visual features or other people in the room for this digital gathering!
3. Web Conferencing
This is a meeting where participants join via a virtual platform and communicate with one another through audio, video, or both. This type of meeting typically includes options for sharing content like documents, presentations, images, and videos.
It is prudent to consider the following factors when choosing a virtual meeting platform:
1. Check on the Meeting Capacity
The meeting capacity is the number of participants that can join a virtual meeting. The best virtual meeting platforms will allow for unlimited participants without compromising on quality. This is essential if you have a large team or frequently host virtual meetings with clients or external partners.
2. Consider Ease of Use
A virtual meeting platform should have an intuitive user interface. This will make virtual meetings easier to organize and participate in. Look for platforms that have features such as drag-and-drop scheduling, virtual whiteboards, virtual breakout rooms, and other helpful tools that can improve collaboration during virtual meetings.
3. Security Features
When deciding on virtual meeting platforms, data security is an essential factor that should be considered. Make sure the platform of your choice has high-security protocols, such as end-to-end encryption and two-factor authentication, so that you can rest easy knowing all your personal information will remain secure and confidential during meetings.
4. Support Virtual Meetings
Screen sharing and virtual whiteboard features are essential for virtual meeting platforms for enhancing collaboration. It is also beneficial to look for virtual meeting platforms that offer features such as recording, transcription, and screen-sharing so that everyone attending can review or refer back to the discussion after the session has ended.
5. Integrate with Other Applications
Look for virtual meeting platforms that integrate with other applications. This allows you to easily switch between virtual meeting software and other applications during virtual meetings, enabling colleagues to collaborate more effectively.
See more: What if the screen doesn't work on your Android phone? How can you unlock it?
Part 2: The Best Virtual Meeting Platforms
1. Zoho Meeting
With 25 years of industry experience, Zoho provides cutting-edge solutions to help businesses succeed. Zoho offers Unified endpoint navigation and security services, Remote work management, IT operations monitoring, Identity management, and much more. Zoho Meeting is a secure and user-friendly virtual meeting platform trusted by over 280,000 organizations like Certis, HCL, Bahrain Airport Services, Sony, L'Oreal Paris, and Vizstone. This powerful solution offers the best video conferencing experiences.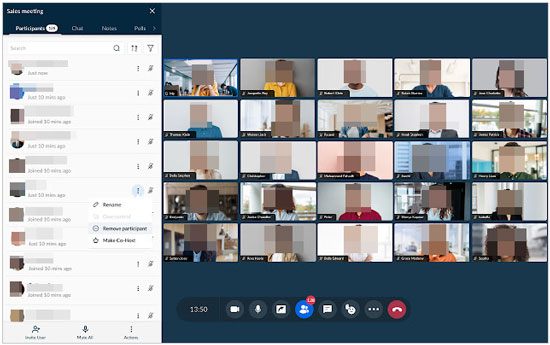 Main featues:
- Offers live video and audio conferencing capabilities, whiteboard features, and an array of screen-sharing options.
- Enables you to easily capture, download, and retrieve your meetings.
- The comprehensive analytics and reporting tools enable you to track the performance of your webinars.
- Works seamlessly with Gmail, Outlook, Microsoft Teams, and leading platforms.
Pros:
- Fair Pricing.
- Supports free trial and has a free version.
- Has a mobile application for Android and iOS devices.
- Supports web meetings.
Cons:
- Its users say that long video conferences stop before the meetings end.
Maybe you need: How can you recover deleted screen recording videos from an Android device? Read this guide and get effective solutions.
2. Zoom
Zoom is an outstanding free online meeting software that makes it easy to host face-to-face meetings from any device. The Basic plan allows individuals and small businesses of up to 100 attendees. However, the duration of these gatherings is limited to 40 minutes. In addition, whiteboards, chatting capabilities, and file-sharing features are included. Zoom is widely recognized and recommended for its convenience and impressive security and privacy measures.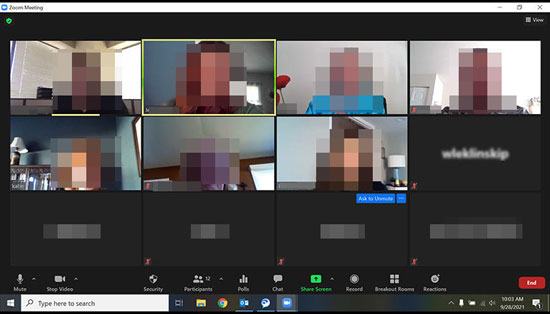 Main features:
- Has user-friendly tools that make it simple to start, join, work together on projects, and schedule gatherings seamlessly.
- You can join Zoom meetings from anywhere, no matter the device.
- Zoom security features are unparalleled.
- It integrates more than 2000 applications.
- Has Android and iOS applications.
- Has meeting transcribing and recording features.
Pros:
- You can easily use Zoom.
- Support all devices.
- Its free version is instrumental.
- It allows 1000 video participants.
Cons:
- Its Video downloading feature should be improved.
3. Skype
Skype, created by Microsoft, is an excellent virtual meeting platform that provides instant messaging, calling, document sharing, and video conferencing services. It's a free virtual meeting platform that is highly recommended because you can join meetings with just one click. Skype is the perfect solution to keep in touch with your friends, even if they are off the platform. You can easily make international or local voice calls at a low rate through Skype while enjoying features such as screen sharing, call recording, live subtitles, and smart messaging. On top of that, you have peace of mind knowing that your conversations are encrypted for maximum security.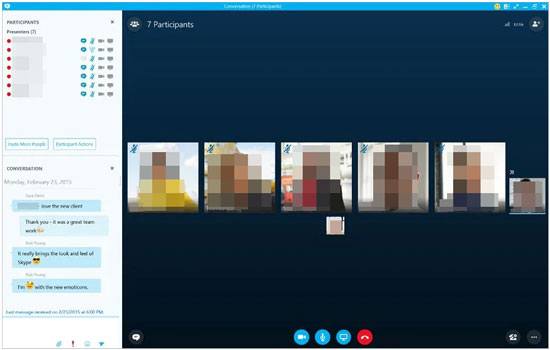 Main features:
- Enables its users to enjoy crystal-clear audio and HD video calling, either in a group or one-on-one.
- Features smart messaging.
- Supports live subtitles and call recording.
- Affordable international calling feature.
- Works natively with Web, Xbox, Tablets, phones, and Desktops.
- Users can share files using the Skype screen-sharing tools.
Pros:
- Works natively with any device.
- All conversations are encrypted.
- You can join a call even without downloading the application.
- Supports international and local calls.
Cons:
- Supports a maximum of 100 participants
- Some of its users have reported poor sound quality.
Read also: Easily Change GPS Location on Android Device
4. Microsoft Teams
Microsoft Teams is a globally renowned online meeting platform that caters to businesses and individuals. As a trusted name, Microsoft works diligently towards eco-friendly methods of operation while offering 24/7 customer service and administrative tools like analytics access to onsite servers. With their cool chat features and top-notch versatility, you can host up to 10,000 participants in one virtual session! You can enjoy advanced options such as private and team conversations, file sharing, real-time collaboration tools, and voice and video calling.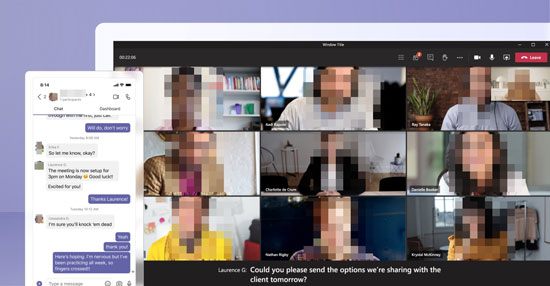 Main features:
- Has excellent tools that enable you to create a meeting and invite participants.
- Supports great functionalities like meeting scheduling and invite sharing.
- Has organizing, file sharing, and chat tools.
- Social features include chat animations, GIFs, memes, and emojis.
Pros:
- Integrated with tools for suspending noise.
- Encrypts data.
- The pricing plan is flexible.
- Its free version is instrumental.
- Almost 100% uptime.
Cons:
- Consumes more data.
5. Google Meet
Google Meet is a robust and secure video conferencing tool that can be used on web or Android devices. With a download size of only 21.49 MB, Google Meet runs smoothly on any device running Android 6.0 and up, making it perfect for small businesses looking to host virtual meetings with up to 250 people in the free version! It is a trustworthy and reliable platform that is highly recommended for all your online conference needs.

Main features:
- Easy to use with no download required.
- End-to-end encryption of data for optimal security.
- Supports up to 250 participants in the free version.
- Can be accessed from Android, iOS, Windows, and Mac devices.
Pros:
- Seamless integration with Google Calendar and other G Suite tools.
- Supports easy and secure sharing of documents, images, videos, and audio files.
- Reliable video quality and call clarity, even in low bandwidth areas.
- Robust security features that keep your conversations private and secure.
Cons:
- Some users have reported audio or video interruptions.
Further reading: Select Best File Manager for Android from A Full List
Part 3: How to Stream a Virtual Meeting on PC
Are you struggling to attend a virtual meeting using your phone's small screen? With Phone Mirror, you can easily stream a virtual meeting from your mobile device to your PC. It is a mirroring app that allows you to cast your Android or iOS devices onto a Windows computer. It is a secure and easy way to enjoy virtual meetings on a larger screen with better sound and video quality. This mirroring software has an intuitive user interface that makes it easily usable by beginners and advanced users. Below are some of the features that make the program a great choice.
Main features of this phone mirroring software:
- Supports screen-sharing Android and iOS gadgets on your PC.
- Enables its users to control their phones using a computer.
- Users can manage social applications and play games without delays using their PCs.
- Streams in application displays and audio to the conferencing software.
- Supports file transfer from a personal computer to an Android device.
Download this software for virtual meetings.

Here's how to start a virtual meeting with the mirroring software:
Step 1. Download and Install Phone Mirror on Your Computer
Firstly, you need to download the mirroring program from its official website. Install the application on your personal computer and launch it. Launch the application and ensure the two devices are connected to the same Wi-Fi connection. You will see "Android Mirror" and "iOS Mirror" options. Click one option according to your mobile device.
Step 2: Choose the Connection Method
If you opt for "Android Mirror", please choose a connection: "WiFi Connection" or "USB Connection". Then install the mirroring app on your mobile phone.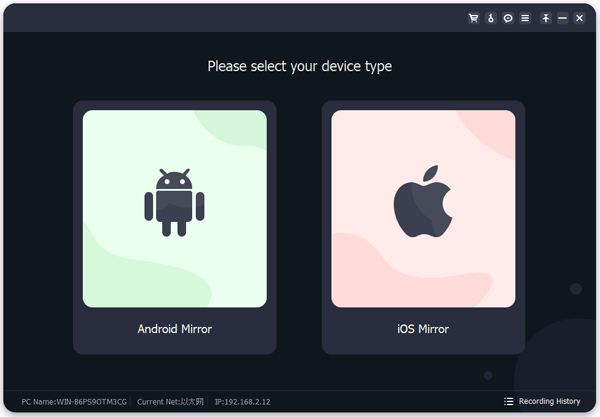 Step 3. Begin Virtual Meeting with the Mirroring App
- To make a Wi-Fi connection, you can click "Detect" icon on your phone to search for your computer. Then your devices will be connected.
- Once done, you can see your phone screen on the PC. Then tap the "Settings" icon and choose a mode you like. You can now hold a virtual meeting on your PC.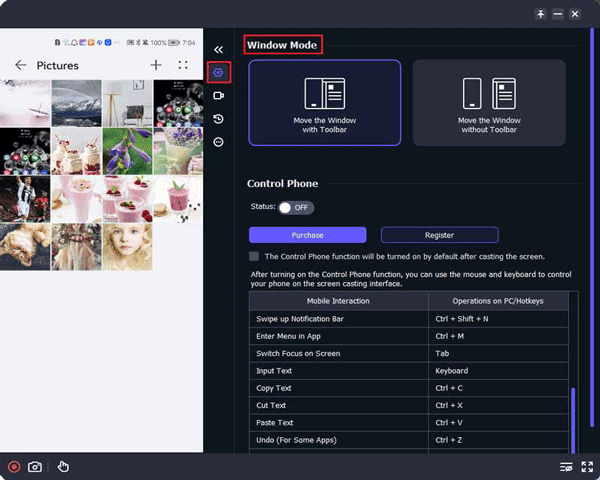 You might like: Ultimate AnyDesk Review - Learn About AnyDesk and Get Alternative to AnyDesk
Part 4: Frequently Asked Questions
Q1. Is Zoom Better Than Google Meet?
When it comes to reliable and user-friendly video conferencing platforms, Google Meet and Zoom stand at the top. Both are compatible with all types of devices, but when compared side by side, Zoom wins out due to its superior free version and impressive security features.
Q2. What are the Best Free Virtual Meeting Platforms?
Some of the best free virtual meeting platforms include Zoom, Skype, Microsoft Teams, and Google Meet. They provide audio/video conferencing and are highly secure and private. Each platform provides different features that can be useful for businesses or individuals.
Conclusion
A virtual meeting is an excellent way to connect with colleagues, friends, and family. As a result, virtual meeting platforms are becoming increasingly popular. We have discussed some of the best virtual meeting platforms, their features, pros, and cons. You can choose the one that best suits your needs.
However, sometimes you may be uncomfortable attending a virtual meeting using your phone's small screen. In such instances, you can use Phone Mirror to mirror your phone's screen to your PC. This software is a great tool that lets you stream a virtual meeting from your phone to a computer. It is secure and easy to use, making it an ideal solution for those looking for an effortless streaming experience.
Related Articles
Fast Put Music on Android Devices
Quickly Bypass FRP Google Account (Useful Tips and Solutions)
Full Guide: How to Back Up Android Phone in Different Ways [Easy]
Why Is Move to iOS Unable to Migrate? How Can You Fix It? [Solved]
Couldn't Download Video from WhatsApp on iPhone? Fixed
How to Reset Samsung Tablet via 4 Safe Methods [Cushy Guide]