Summary
A SIM card is the core of mobile devices. It's crucial to the iPhone's ability to make and receive calls or messages. But, there comes a time when you need to change the SIM card to another iPhone. For instance, you may be traveling abroad, or you've changed devices. No matter the reason, switching SIM cards between iPhones is pretty simple.
If the SIM cards are from different carriers, an iPhone SIM card swap can only happen if the phone is locked to a carrier. With that in mind, let's explore a safe way to switch SIM cards between iPhones. We'll also introduce a supreme tool to seamlessly transfer data from one iPhone to another. Keep reading!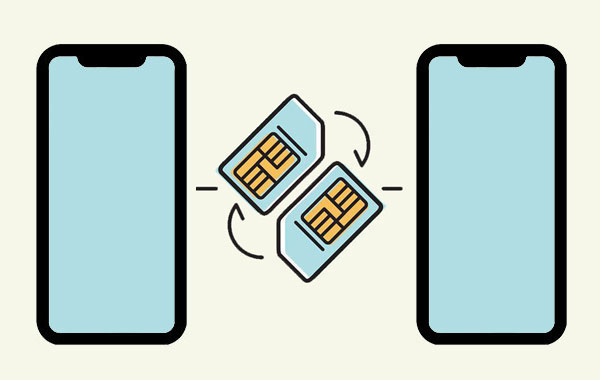 Part 1. What Happens if You Switch SIM Cards in iPhones?
Switching SIM cards between iPhones is a feasible task that will take only a short time. Even though SIM card swapping won't affect your files, it is advisable to create a backup prior. A SIM card can get damaged physically during the process, leading to contact loss. So, you should create a backup of your iPhone contacts before proceeding. (How to change SIM card on iPhone?)
When you switch SIM cards in iPhones, your phone number will change. Your data will not be affected. Usually, a SIM card is linked with a phone number, so changing it will change the number used to make calls or send and receive text messages.
If you are using a new SIM temporarily, you do not have to let people know you have changed your phone number. But, if you wish to switch the SIMs permanently, you must inform those in your contacts of the change in the number. Some messaging applications, such as WhatsApp, will work on your previous phone number unless you delete the app and reinstall it.
The SIM swap will not affect your phone's settings since SIM cards have nothing to do with files stored on your phone. You will not be logged out of your iCloud account, so you can continue using your previous Apple ID.
However, if you face challenges using your iPhone after the SIM switch, check if your phone is locked to a network. If it is, then it's the cause behind such issues.
Bonus:
Tutorial on Switching SIM Card from Android to iPhone Seamlessly
Top 5 Ways on How to Transfer Contacts from iPhone to iPhone without iCloud
Part 2. What To do before Switching SIM Cards between iPhones
Here are some things to do before the switch:
1. Check if the iPhone is locked
If your iPhone device is unlocked, it implies it is not tied to any specific cellular network. In this case, it will be easier to switch your current SIM with another one of a different network and start using your new SIM card immediately.
If you purchased your iPhone as new or refurbished from the Apple Store, it is usually unlocked. It makes it easier to use SIM cards from other carriers. As for dual SIM devices, they can use any two SIMs from different networks at the same time. However, before switching the iPhone's SIM, ensure you check if it's unlocked by following the steps below:
Step 1: Open the Settings application, then click on "General".
Step 2: Choose the "About" option, then scroll down".
Step 3: Below the EID number, you'll see a line with the "Carrier Lock" option. If your phone isn't locked, you will see "No SIM restrictions" beside it. However, if you see a message that shows the carrier the phone is locked to, you will only use SIMs from that carrier.
Also, you can insert a SIM card from a different carrier in your phone and see if it will work. And if it works without any issue, the device is probably not locked.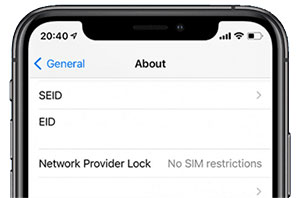 2. Check for SIM Card Compatibility
Another important thing to consider is ensuring the SIM is compatible with your iPhone. Current iPhones use nano SIM cards, the smallest type of SIM cards. If your old iPhone uses a standard SIM card, it will not fit the other latest iPhone model.
3. Save Contacts to the iPhone
A SIM card can get destroyed during the swapping process, meaning all the contacts available will be lost. If you usually save your contacts on a SIM card instead of the phone, you should import them to the phone before the SIM swap.
To backup contacts, click Settings on your iPhone and choose "Contacts". Tap the "Import SIM Contacts" option, and all your contacts will be saved to the iPhone. (How to retrieve contacts from SIM card?)
4. Switch the Phone Off When Switching SIM Cards
It's best to switch off your iPhone during the switching process. It will help avoid any software anomalies.
Read Also:
How to Transfer Ringtones from iPhone to iPhone Easily? Here Are 5 Excellent Tricks
How to Transfer WhatsApp from iPhone to iPhone [4 Smart Ways]
Part 3. How to Switch iPhones with SIM Card
Let's show you how to swap a SIM between iPhones. However, before you start, ensure you have an ejector tool to pull out the SIM card tray. You'll find this tool in the package that comes with the phone. If you cannot find an ejector tool in the phone's package, use a paper clip or a pin.
Here are the steps for moving SIM card to new iPhone:
Step 1. Switch off iPhone
You should first turn off your iPhone to protect the SIM card's processor. To switch off your iPhone, head to "Settings" and to "General", then click on the "Shut Down" option. Drag the slider to switch off the device.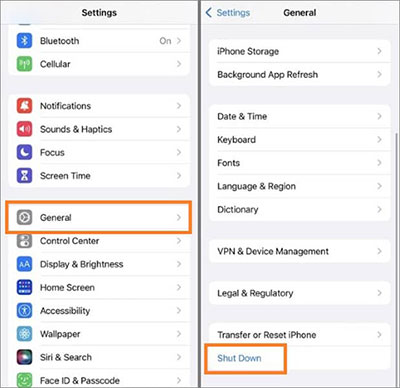 Step 2. Remove SIM tray
Locate the SIM card tray on your iPhone. It's on either side of the iPhone with a hole beside it. iPhone 12 or up models have the tray on the left. On other iPhone models, you'll find it on the right side. Insert your SIM ejector into the tiny hole next to the tray. Slowly push it inwards into your phone, but do not force it.
When the card tray pops out, remove it carefully.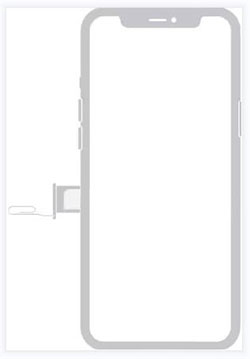 Step 3. Switch the SIM card
Now place the SIM into its right position, then insert the SIM card tray into the phone. After that, switch off the iPhone, then start using it as usual.
Part 4. How to Transfer Data Between iPhones
Only your contacts will be transferred when switching SIM cards between iPhones. What if you want to transfer other files? Mobile Transfer is your best choice. It's a noteworthy phone-to-phone transfer software that can easily copy data from one iPhone to another. Instead of starting from scratch, use this tool to transfer all necessary files to your new iPhone.
Mobile Transfer is an outstanding tool that gives users the satisfaction needed during data transfer. Since it is also compatible with Android devices, you can transfer data across different platforms without overwriting.
It boasts of highest success rate in data transfer and an easier-to-use interface. With its extensive advanced features and excellent security measures, transferring data from one iPhone to another will be smooth.
Key Features of Mobile Transfer:
- Supports multiple data transfers like contacts, videos, text messages, pictures, music, etc.
- Transfer data from iPhone to Android, Android to iPhone, iPhone and iPhone, Android and Android.
- Allows data selection before transfer.
- Safe to use with no data loss.
Steps to transfer files from iPhone to iPhone via Mobile Transfer:
Step 1. After installing the software on the PC, run it to open the primary interface. Tap on "Mobile Transfer".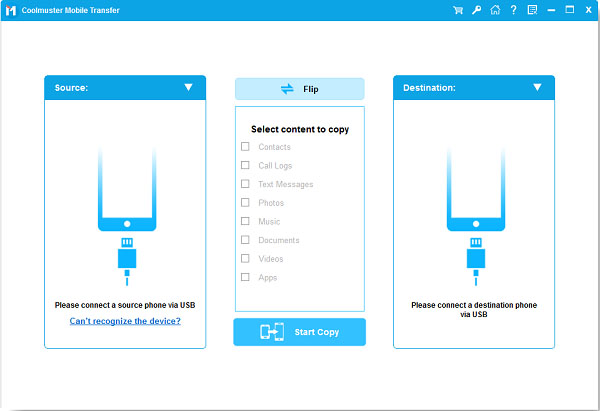 Step 2. Link the two iPhones to the PC with USB cables. Click "Trust" on the devices to authorize a phone and PC connection. Ensure the devices are in the correct positions. You can change them if they're not by pressing on "Flip".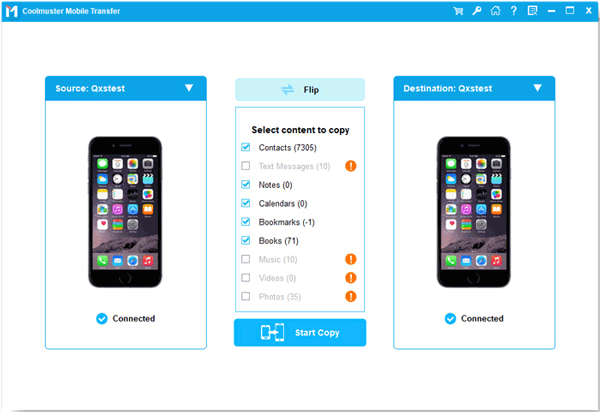 Step 3. Select the file types you want to transfer from the data types on the screen and hit the "Start Copy" button.
Conclusion
Can I swap SIM cards between phones? Yes, you can. We have outlined simple steps to achieve that and enlightened you on what happens when you switch SIM cards between iPhones. As said, no data will be lost since you are only dealing with SIM cards. But a backup in place would be better.
To transfer data between iPhones, Mobile Transfer is your best bet. Its ease of use and high success rates position it at the top.
Related Articles
SIM Card Data Recovery: Recover SIM Card Data on Android (3 Tips)
How to Transfer Photos from iPhone to Huawei in 5 Effective Ways?
Transfer iPhone to Samsung with 5 Hassle-free Methods [Easy and Safe]
How to Transfer WhatsApp from iPhone to Samsung with 4 Ideal Methods
3 Ways to Quickly Transfer Messages from iPhone to Samsung (Latest)
iPhone to Android Transfer - How to Transfer Data from iPhone to Android?