Summary
For most of people, having a mobile device within reach is mandatory. However, when engaging in workday tasks or conversing with your esteemed colleagues and customers, it may not be best to rely solely on pocket-sized devices for business messaging. So, texting from a computer to a cell phone is a useful method for work.
For completing complex tasks and multitasking, computers are the tool of choice for many people. If you feel more effective typing on a keyboard or looking at a larger screen, why not learn how to send text messages from your computer?
In this article, we'll discuss methods that can help streamline your conversations with clients so you can focus on getting things done faster! Keep reading to find out how texting from computer to cell phone can be done and the method that best fits your needs.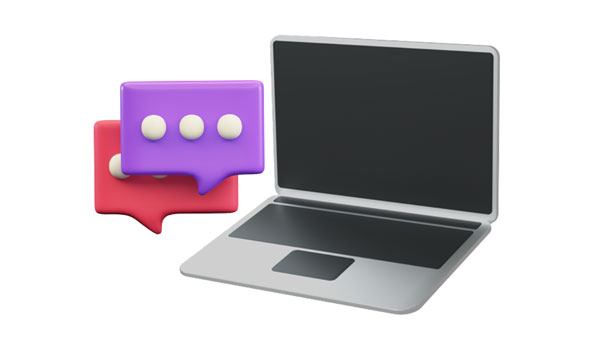 Part 1: FAQs on Texting from Computer to Cell Phone
Q1. Can I send a text message from my computer?
Yes, you can send a text message from your computer to a cell phone. Text messaging has become an increasingly popular way to communicate, and the convenience of typing messages on your computer instead of using a mobile device is appealing. To send an SMS from the computer, you must have an active mobile connection and have your mobile phone turned on. This way, it'll be very easy to text a number from the computer.
Q2. What app can I use to text from my computer?
Many different applications and services allow you to text from your computer to your cell phone. We'll talk about useful tools in the following that you can use to send text messages from your computer without difficulty.
Part 2: How to Text from Your Computer
We've all heard of texting from a computer, but the technology has come a long way since its introduction when the first text was sent from PC to phone. While some techniques for sending texts remain outdated and limited, there are others that offer more texting features than you would expect from today's smartphones. So let's take an in-depth look at various ways of texting from a computer to cell phones.
2.1 Send Mass Text from Computer via Samsung Messages Backup
Looking to send multiple text messages at once? Get the help of the powerful and most reliable software - Samsung Messages Backup. The tool is widely compatible with Mac and Windows computers, giving you a vast platform to send messages.
The software also offers the option to back up and restore SMS from your Android phone on your computer. Not only can you easily send mass SMS on Android from your PC, but you also receive texts while exporting, importing, resetting, resending, or forwarding them directly from your phone. No matter what kind of Android device you have, this app is sure to work for you. Plus, you can transfer photos, videos, music, apps, contacts, and more from Android to your computer.
Key features of this software:
- Allow you to send SMS from computer.
- Send mass texts from your computer at once.
- Resend, copy, delete, and forward text messages on a computer.
- Back up and restore Android text messages in one click.
- Export and import data selectively between Android and computer.
- Add, delete, edit and transfer other Android files on the computer.
- Support contacts, music, videos, books, call logs, photos, SMS, etc.
Download this texting software.
How to text from your computer with ease:
Step 1: Start by Launching the software on a PC or Mac. Then connect your Android phone to the computer with a working USB cord.
Step 2: Enable the USB debugging mode on Android, and you'll see a primary interface showing your device.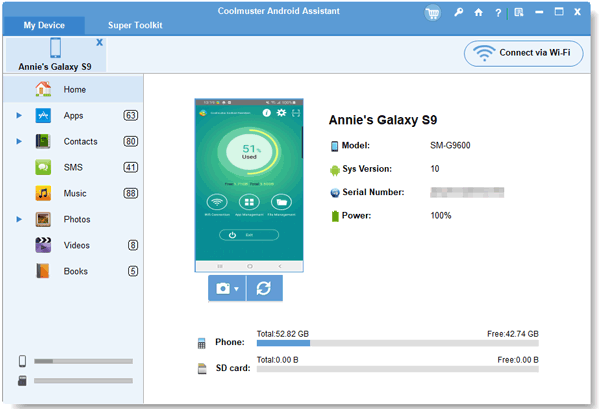 Step 3: Look for the "SMS" option on the left sidebar. Then click "New" to edit your text messages. After that, tap the "Contacts" icon to select contacts, and tap the "Send" button.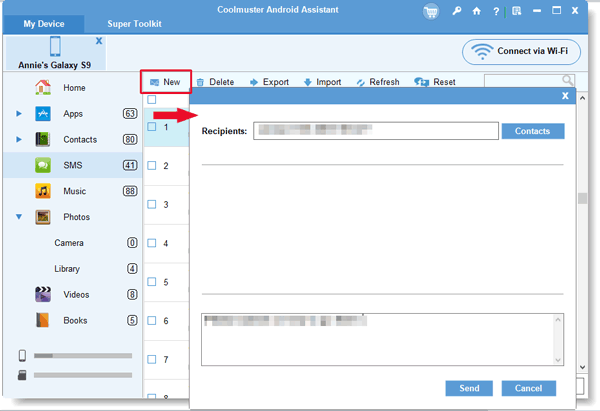 Read also: Export Text Messages from Android to PDF Handily (Advanced Tutorial)
2.2 Text a Number from Computer through Email
Are you one of those office workers who are stuck in their inbox? It's time to break free and get the most out of your email platform! You can now send text messages for no cost - it's an added bonus many might not be aware of. Stop wasting time scrolling through emails when you could leverage this convenience instead.
As soon as you log into your email account, you can start drafting a new message. Enter the 10-digit phone number of your desired recipient in the "To" field and append it with the gateway address of their carrier. Now hit send. As simple as that.
Remember, SMS and MMS have separate email gateways to send messages. SMS are usually text only, while MMS can contain a picture or any other media. The SMS message sent to the Verizon number looks like this: @vtext.com and MMS message is @vzwpix.com. Long text messages will be broken into multiple texts, and messaging rates may apply to the recipients.
Here is the process for sending text messages through email:
Step 1: Sign into your email account, and enter the phone number (ten-digit number) into the "To" field in the email.
Step 2: Add the "@" symbol just after the number, and enter the correct SMS/MMS gateway address for the contact you're texting.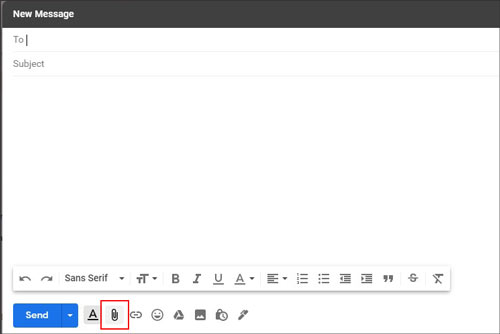 You might need: Why did text messages disappear on your Android device? To find out reasons and solutions, you can refer to this guide.
2.3 Send a Text Message from My Computer with Messages by Google
Android users can now communicate effortlessly with anyone, anytime, and anywhere through Google's web-based application called "Messages". This app allows you to send or receive text messages over RCS but also comes with a fallback to MMS and SMS.
Now it is possible for people using both Android phones and iOS devices to use Messages as their default messaging platform! With the added convenience of being accessible on laptops, desktops, and PCs, you can stay connected easily, no matter where you are. How to use the Messages app to send text messages from a computer:
Step 1: Install the Messages app for the phone from Play Store and open the Messages app on the browser on your computer.
Step 2: Open the app on the Android phone, click on "Menu" from the conversation list, and choose "Device Pairing". Once you do that, your phone and browser will sync to open your text messages and contacts on the screen.
Step 3: Lastly, tap "Start Chat" on the PC and enter the phone number from your contact list. Press "Enter", then input the message.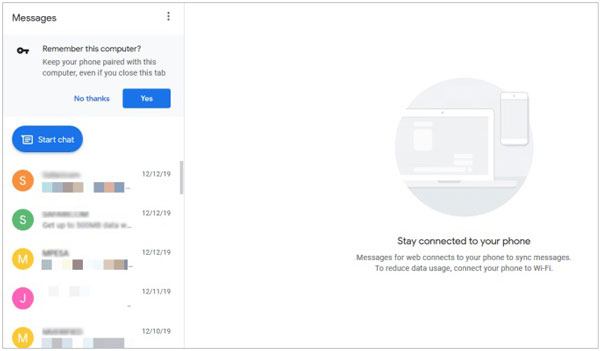 2.4 Text from Mac Computer to Cell Phone via Messages
Are you an iPhone or iOS user? Take advantage of Apple's amazing iMessage platform. Your device comes with it already installed, but you can also access it through the Messages app on a MacBook Air, MacBook Pro, and your desktop computer.
Here is how you can send SMS from the computer using iMessages:
Step 1: Open the iMessage application on Mac from the "Apps" folder. Still, you may press the "Command" + "Space" bar to get to the Messages app. Ensure the Mac computer is running on OS X Yosemite and above. The iPhone must be on and connected to a Wi-Fi network.
Step 2: Tap on "Messages" from the menu at the top left corner of the screen in the Messages app and choose "Settings". Select the "@ iMessages" option at the upper part of the window and tick the box for "Enable this account". Make sure you log into the same Apple ID used on iPhone on Mac.
Step 3: Open the Settings app on your iPhone and go to "Messages". Switch on the "iMessages" option at the top of the screen. The slider should be green. Click "Text Message Forwarding", and then select your Mac.
Step 4: Now open the Messages app on Mac and click on the pencil button to compose a new email. Enter the recipient's number or name. If the person is saved in your contact list, tap on the "+" button to choose. Type the message in the bottom window and press "Enter" on the computer to send it.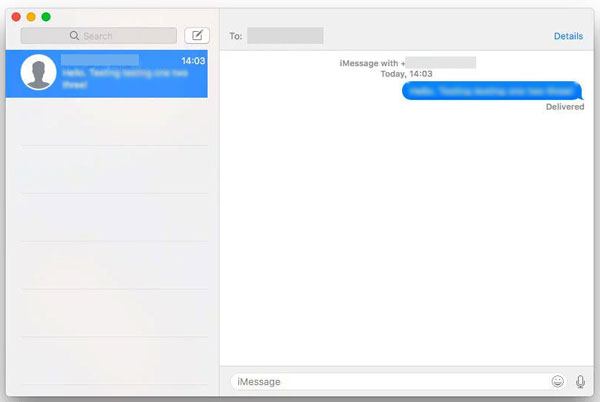 2.5 Send Texts from a Computer Using Google Voice
Google Voice makes sending SMS simpler; you can download the app right to your phone or just log in on any web browser. Additionally, Google Voice comes with a new 10-digit telephone number that will make communication even easier and more efficient!
With Google Voice number, it's possible to send SMS messages and MMS messages, set up a voicemail box, and also make some voice calls.
How to send a message with Google Voice:
Step 1: Head to the Google Voice site and log in.
Step 2: Choose "Send message" to compose a message, or if you want to continue, you can choose a conversation.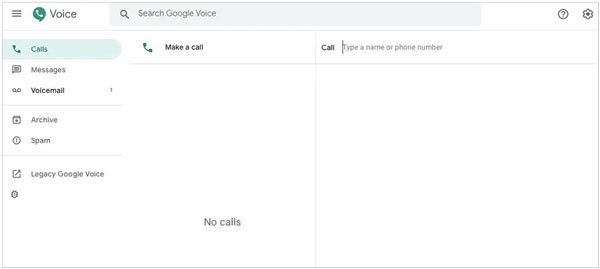 Conclusion
As you can see, it's possible to text a number from the computer. Furthermore, Samsung Messages Backup is highly recommended for texting from a computer to a cell phone. The process will take a short time, just a few button clicks. Moreover, the tool can help send mass text messages to multiple recipients.
Related Articles
How to Send Text to Multiple Contacts without Group Message on Android? (Solved & Simple)
Fantastic Android SMS Recovery Apps | Easily Recover Deleted Texts from Android
4 Methods to Transfer Contacts, SMS, Pictures, Movies from Lenovo to PC
How to Transfer SMS from Samsung Galaxy to Computer Effectively?
Back Up Text Messages Android Device with 5 Approaches [Safe]
How to Transfer Messages to New iPhone in 4 Ways [Worked Out]