Summary
Just got your hands on a new iPhone? If you switch from an Android to an iPhone, you will likely experience new features that aren't present in an Android. But, the problem comes when you need to transfer files between these devices. Since Android and iPhone operate on different platforms, how to transfer data from Android to iPhone can be scary and intimidating at first.
We all go through the experience of moving contacts, pictures, calendars, call logs, and more from one phone to another. But if you've done your research, it shouldn't be an issue at all. With these methods for Android to iPhone transfer, it should be a smooth sailing process. So, let's take you through them.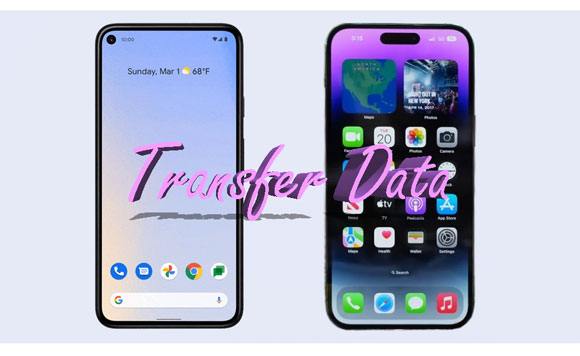 Method 1. How to Transfer Data from Android to iPhone via Samsung Data Transfer [Fastest]
Samsung Data Transfer is a friendly application that aims to transfer almost all files between phones. It supports data transfer even between devices operating on different platforms, from Android to iOS and vice versa. You can transfer your contacts and documents to your new iPhone at once. Also, you can easily move videos, photos, music and more from iOS to Android without quality loss.
Furthermore, the Android-to-iOS transfer process is not a time-consuming procedure anymore. In just 3 steps: connect phones> choose files> start transfer, you can move your data from one device to another without hassle. No matter how many data there are on your old phone, the software will transfer all of them at a high speed.
The speed and cleanness of its interface are what make it top-notch software. It can share files without overwriting the existing ones. Works flawlessly on various Android devices like Samsung, Huawei, HTC, and more and iOS devices operating on iOS 5 and up with iOS 16 included.
What the Android to iOS transfer software can do for you:
- Transfer files such as contacts and documents from Android to iPhone in 1 click.
- Support the latest Android OS and iOS.
- The transfer of Android to Android, iOS to Android, and iOS to iOS are also supported.
- Swift and stable process.
Download this Android to iPhone transfer program.
How do I transfer data from Android to an iPhone with this software? Steps are here:
Step 1: Install the software on the computer, run it, and enter the "Mobile Transfer" module on its interface.
Step 2: Link the Android and iPhone devices to PC with USB cables and make sure you enable USB debugging on Android and trust the computer on iPhone.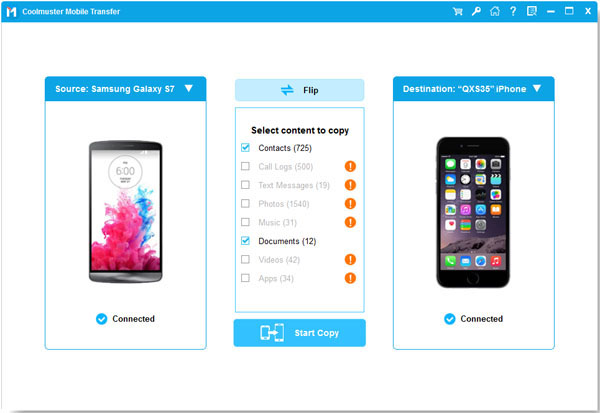 Note: The Android should be in the "Source" position and iPhone in the Destination position. You can switch them to change their positions by clicking on "Flip" if they are set incorrectly.
Step 3: Check the file types you want on the table, and then click the "Start Copy" tab to begin the transfer procedure. Keep the devices connected throughout.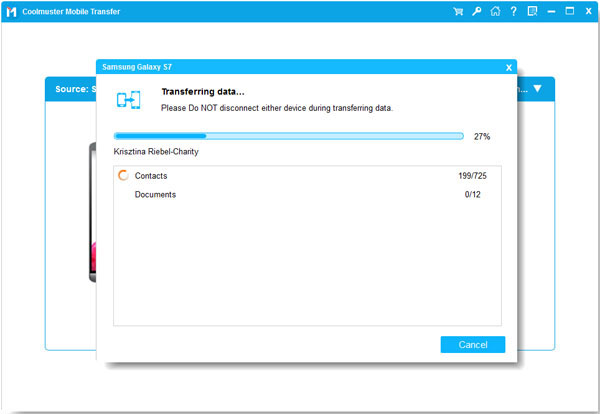 See more: It's easy to copy files from an iPhone to an Android device as well. Here are 6 ways that you can chooose.
Method 2. How to Copy Data from Android to iPhone via Move to iOS
Move to iOS app is an official app given by Apple to help its users move files from Android to the new iPhone. So, if you are a new iPhone user, you stand a chance of directly moving your files from Android to the new iPhone. You don't have to use iTunes.
The app is mainly developed for Android devices, thus letting individuals switch from Android to iOS. While you can use it for free, it might be complicated.
Here's how to migrate Android to iPhone via Move to iOS:
Step 1: First, you should connect Android to a stable Wi-Fi and download the Move to iOS on an Android phone from Play Store. Start the initial setup on your iPhone and follow the onscreen instructions till you reach the restore interface.
Step 2: You can restore data from iCloud, iTunes, Android, or set up a new iPhone. You'll have to choose the Move data from Android option. After that, you can check the Android app and click "Continue".
Step 3: You'll get a one-time code on the iPhone that you should enter on the Android to connect the devices securely. After the phones are connected, you may choose the files to transfer.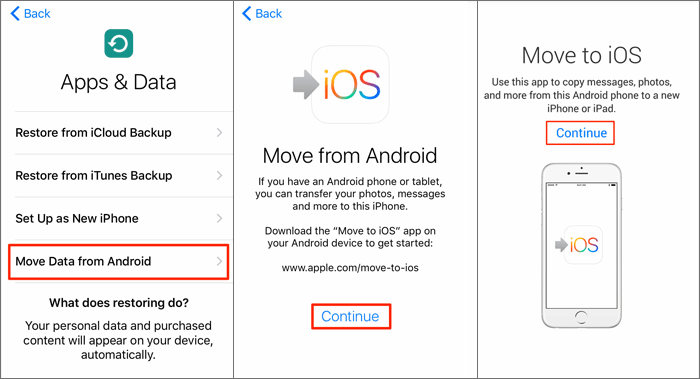 Read also: [Fast Transfer] How to Transfer Your Photos from iPhone to Android
Method 3. How to Migrate Android to iPhone via Dropbox
Dropbox is a cloud storage service that allows users to keep their files in the cloud and update them on other devices linked to the same account. The files will be synced to the computer, Android, and iOS devices. This, in turn, helps you to transfer files from Android to an iPhone.
Here are steps to import data to iPhone from Android using Dropbox:
Step 1: Download Dropbox on an Android phone, then open it and select "Settings" from the menu to change the backup and fire share settings.
Step 2: After that, choose the "Sync Contacts" option and also enable camera uploads. Doing this will ensure all pictures are synced to Dropbox automatically.
Step 3: Return to the Dropbox homepage, then tap on the "+" button to reveal the option of "Upload Files". Just choose the data you wish to copy to the iPhone.
Step 4: Now download the Dropbox application on your iPhone, then sign into the same account. The files will be uploaded from the Android phone and ready to be downloaded onto iPhone.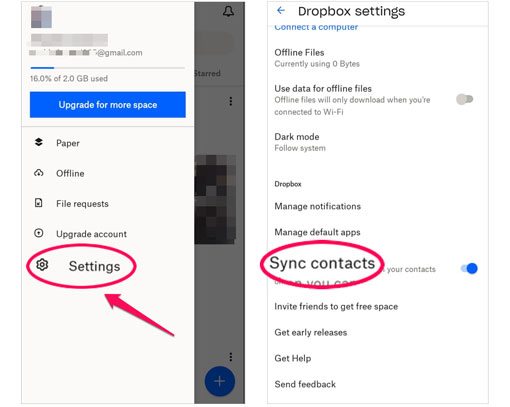 Further reading: How can you repair the WhatsApp app when it is stuck at transferring media data between Android and iPhone? Read this guide if you wonder.
Method 4. How to Import Data from Android to iPhone via Google Drive
Just like Dropbox, Google Drive also enables users to store their data in the cloud. This is an effective way to migrate files from Android to iPhone devices via Wi-Fi. The good thing is that Google Drive gives users 15GB of free space for all their files. However, before proceeding with this method, ensure both devices have Wi-Fi and are charged.
Here's how to transfer info from Android to iPhone using Google Drive:
Step 1: Start by downloading the Google Drive application on Android. Open the application, then log in or sign up if you don't have an account.
Step 2: Click the "+" > "Upload" icon to upload the files from your Android phone to Google Drive. By the way, you cannot back up all data at once because they will fail to access on your iPhone.
Step 3: You can now download the Google Drive application on your iPhone, then choose all files you uploaded to download and then onto your iPhone.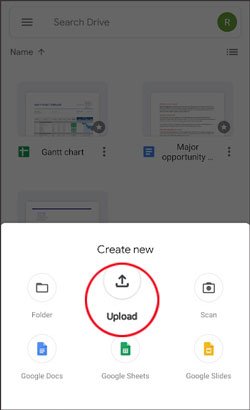 Read more: How to Transfer Photos from iPhone to SD Card Easily [5 Proven Ways]
Method 5. How to Move Data from Android to iPhone via Email
This kind of "back-to-basic" technique relies on manually sending the files over an email. You just require an email account, access it on both devices and send files.
Here's how to do data transfer from Android to iPhone over an email:
Step 1: Click on the email application on Android and choose the "New Message" option, then add the recipient as your own email. This way, you will be sending email to yourself.
Step 2: From there, click on a paperclip button to add your files to the email. Choose as many files as you want from the Android.
Step 3: Tap "Send". Now open the email on your iPhone to find the uploaded files. Download them onto the iPhone and repeat the procedure until all the files are moved to iPhone.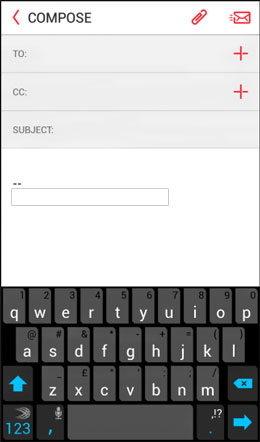 Method 6. How to Transfer Android to iPhone via iTunes/Finder
If you're okay with a time-consuming and complicated process, you can try using iTunes/Finder to move songs, videos, and photos from Android to iPhone. However, note that iTunes will erase all files available on your iPhone. So, you should back up your data first before proceeding.
You can follow these steps to transfer Android to iOS:
Step 1: Link Android to PC. Copy songs, pictures, and videos to a folder on the PC. Besides, You can download Android File Transfer if your computer is Mac to move files to the computer smoothly.
Step 2: Disconnect the Android, then link the iPhone and open iTunes.
Step 3: Now sync your files to the iPhone. Tap on the "File" option, then select "Add folder to Library". Select all the folders you saved the files to and transfer them to the iTunes library. Tap on the "Device" tab, then choose the data category you need, and then tap the "Sync" or "Apply" option.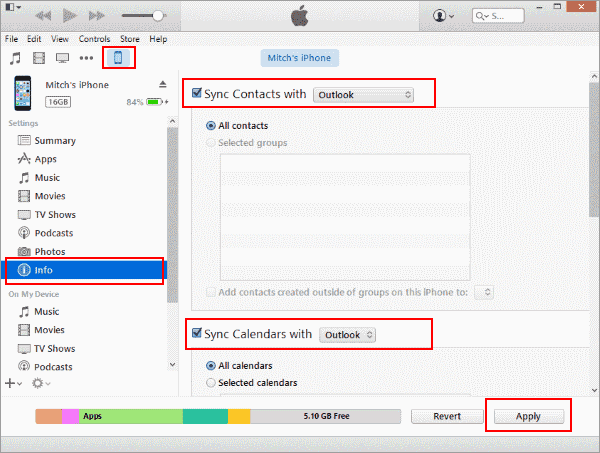 Method 7. How to Send Files from Android to iPhone via SHAREit
Want to migrate from Android to iPhone? SHAREit is an impeccable file-sharing app designed to work on most devices. Mostly, you can use it to transfer videos, photos, music, installed apps, and more from Android to iPhone without a computer. It is not a must for you to use an internet connection. However, the devices should be on the same Wi-Fi. SHAREit creates its own Wi-Fi hotspot, and the transfer speed is fast.
Use SHAREit to send files from Android to iPhone:
Step 1: Install the app on Android and iPhone devices. Make sure Bluetooth is turned on and connected to the same Wi-Fi.
Step 2: Run the app on the devices and hit the "Send" icon. Select the files and hit the "Send" icon.
Step 3: Tap the "Receive" tab on the iPhone device, and the application will search nearby devices to share files. Just click on the iPhone name, and the transfer procedure will start.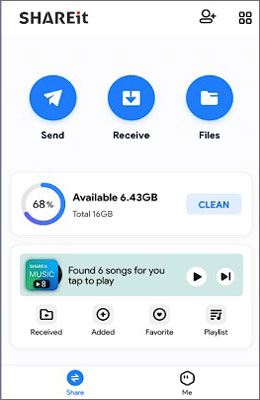 Method 8. How to Transfer Samsung to iPhone via Smart Switch
Do you wonder how to transfer from Samsung to iPhone? Well, if you are switching from Samsung to iPhone, Smart Switch cannot help because it can only transfer data from one phone to Samsung. Thus, Smart Switch from Android to iPhone is inaccessible.
Conclusion
How do I transfer from Android to iPhone? We have outlined and explained top 8 ways here to send Android files to iPhone. Some require a computer, while others only need an internet connection, and you can effortlessly move your files over to your new iPhone. If you want to move files in 1 click stably, Samsung Data Transfer will be the most suitable option. In addition to the transfer stability, it has great compatibility, supporting most Android and iOS mobile devices. You will get a handy and efficient experience.
Related Articles
Elevate Your Mobile Journey by Switching from Android to iPhone
Expertly Transfer Large Videos from iPhone to PC in 7 Ways (Newest)
How to Transfer Messages to New iPhone in 4 Ways [Worked Out]
How to Transfer iBooks from iPhone to iPad with 5 Hassle-free Methods
How to Transfer Data from iPhone to iPhone After Setup - 3 Useful Ways
How to Transfer Data from iPhone to OnePlus Expeditiously via 4 Methods