Summary
Plenty of music files will make the transfer slower from iPad to iPhone, but you can troubleshoot it with this article, for it will introduce 4 instant transferring approaches to you. With the following methods, how to transfer music from iPad to iPhone will be simple to solve.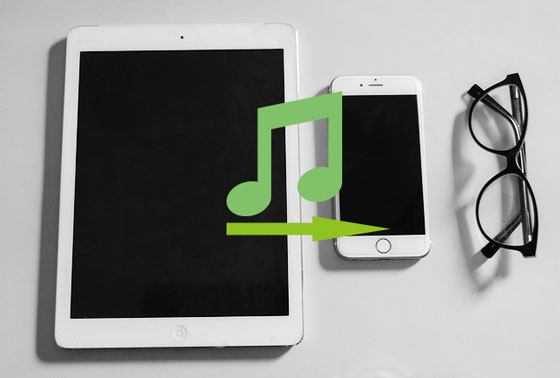 Part 1: How to Transfer Music from iPad to iPhone with iOS Transfer
This kind of iOS Transfer software is good at transferring music to iPhone, which can send plenty of songs and other audios files from iPad to iPhone. Besides, it also supports to transfer contacts photos, videos, podcast, ringtones and so on from iOS to iOS. What's more, it works with Android and iOS devices perfectly.
Key features of this iOS transfer software:
- Transfer songs to iPhone without effort;
- Convert other media files from phone to phone automatically, including photos, movies, ringtones, TV shows and more;
- It can also send contacts from iPad to iPhone;
- Transfer data from Android to Android, from iOS to Android and vice versa;
- Support iPhone 11 Pro/11/XS/X/8/7/6, iPad Pro, iPad Air 2/1, iPad Mini, iPad 3/2, iPod, Samsung, Sony, Motorola, Huawei, LG, HTC, ZTE and so on.
Download the iPad to iPhone transfer program for free below.
Guide on transferring music to iPhone with iOS transfer software:
Step 1: Install iOS Transfer Application
To start with, please download and install this iPad to iPhone transfer software on your computer, and then launch it on the PC.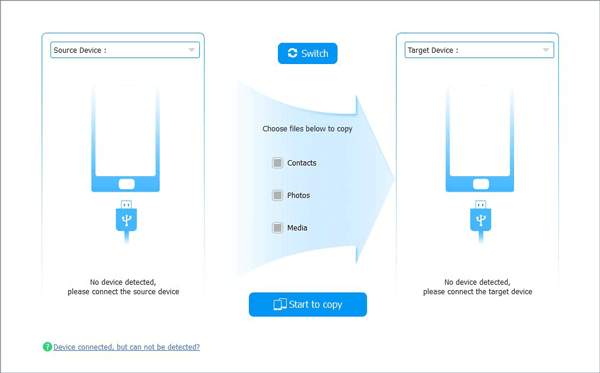 Step 2: Connect iPad and iPhone to Computer
Then please use the USB cables to connect the iPad and iPhone to the computer. If prompted, click the "Trust" on both iOS devices.
Step 3: Transfer Music from iPad to iPhone
Next, tick off the "Media" option on the middle panel and hit on the "Start to copy" button. The program will begin to transfer your music from iPad to iPhone.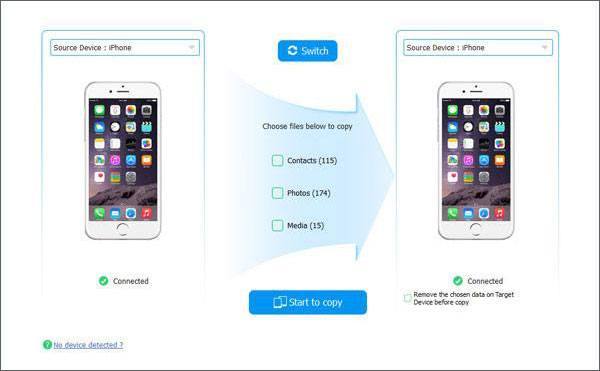 You may need:
How to transfer music from Mac to Android breezily? Here are 5 approaches you can try.
With this guide, you can smoothly copy books from an iPad to another.
Part 2: How to Send Music from iPad to iPhone Using AirDrop
How do you put music on iPhone? It is known that iOS devices have built-in AirDrop feature, so you can send the music files you want from iPad to iPhone conveniently. However, it is slower than the professional, which is suitable to transfer a few songs.
Here's how to send music from iPad to iPhone with AirDrop:
Step 1: Sep Up for Preparation
Make sure your iPad and iPhone have connected a stead Wi-Fi. Then enable the AirDrop feature on the Control Center of both iOS devices.
Step 2: Send Songs from iPad to iPhone
Then on your iPad, please find your music files and click on the menu icon. And you can choose the "Share Song" icon and select the "AirDrop" option on the screen.
Steps 3: Receive Music on iPhone
After that, you need to choose your iPhone device as the receiver and then wait for the transfer. When it is complete, you will get your music on iPhone.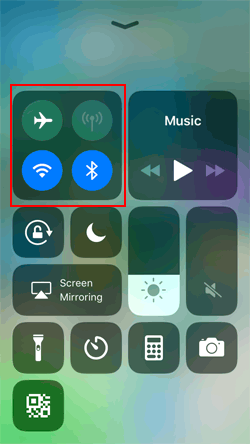 Read also:
If you deleted your music from the SD card and want to recover them, don't miss this article which will tell you the effective Android music recovery.
How can you recover your deleted songs from a Samsung phone? To solve this problem, you can read this full guide.
Part 3: How Do You Put Music on iPhone with iTunes
To transfer music from iPad to iPhone, many people are fond of using iTunes. If you have installed iTunes on your computer, you can have a try on it to send your music. By the way, maybe you need to update the version of iTunes in advance, for it will make the transferring process more fluent.
Tutorial on how to copy songs to iPhone with iTunes:
Step 1: Launch iTunes and Link Devices to iTunes
Firstly, enter iTunes on your computer, and then make a connection between iPad, iPhone and the PC with two USB cables.
Step 2: Select Music to Transfer On iPad
Then choose the iPad since you transfer music from it, and click on the "Sync" icon.
Step 3: Sync Music File to iPhone
Next, choose your iPhone device and select the "Music" category on the left panel. After choosing the "Sync Music" and the "Entire music library" options, please tap on the "Apply" button. Your music will be sent from iPad to iPhone soon.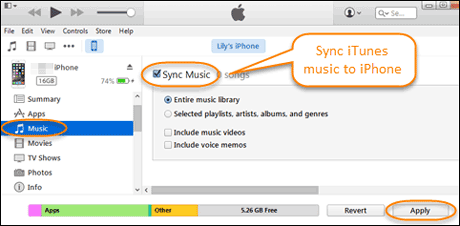 Further reading: To back up music on Android, have you browse the Internet for a long time? Don't worry. This post will show you 9 magic methods.
Part 4: How Do I Copy Music to My iPhone via Apple Music
How to download music from iPad to iPhone? If you have subscribed to Apple Music on your iPad, it would be more convenient to solve this problem. Apple Music can sync your music files from one iOS device to another without any hassle. Anyway, you need to upgrade your iOS devices to the latest version at first. Once done, let's see the following steps.
here's how do I copy music to my iPhone with Apple Music:
Step 1: Download Latest Version of iTunes
On your computer, please download the latest iTunes and install it. Then subscribe to Apple Music.
Step 2: Sign In with the Same Apple ID
Sign in to both iOS devices with the same Apple ID that you use on Apple Music as well. And you can connect your iPad and iPhone to Wi-Fi.
Step 3: Send Music from iPad to iPhone
Next, navigate to the Settings app on your iPhone and choose the "Music" option. Then switch on the "Sync Library" button.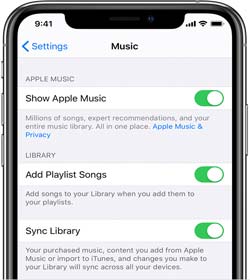 Conclusion
Transferring music to iPhone perhaps is not easy for you before reading this post, but now, it is believed that you can transfer your songs from iPad to iPhone effortlessly. If your friends face the same situation, it would be helpful to share this article with them.
Related Articles
6 Ways on How to Send Video from iPhone to Android Phone in Minutes
Top 5 Ways on How to Transfer Contacts from iPhone to iPhone without iCloud (Latest in 2020)
How to Transfer Contacts from iPhone to iPad Fast [4 Ways]
6 Best Android Music Manager For Android and Computer [Recommended]
How to Transfer Music from Samsung to Samsung Rapidly (4 Approaches)
iPhone to Android Transfer - How to Transfer Data from iPhone to Android?