Summary
Smartphones have transformed our lives remarkably. They are the digital keepers of our most cherished moments, from capturing a baby's first steps to filming an amazing sunset.
iPhone and Android are the two most popular mobile devices offering users exciting features. While each is different and, at the same time, powerful, it can be challenging to transfer data between them. The reason is there isn't an official way to transfer data between them.
Even if there's a slight technical hurdle, there are still ways to transfer photos from Android to iPhone wirelessly. You will understand how easier it is to send your photos. So, keep reading!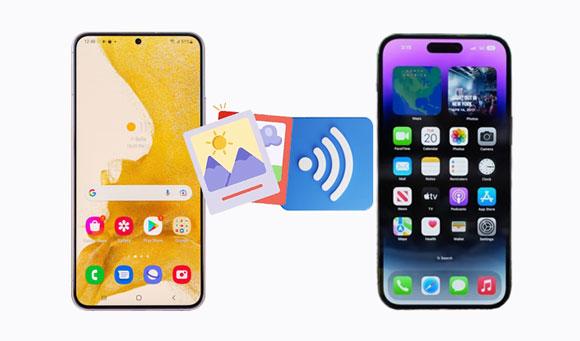 Part 1: Can I Transfer Photos from Android to iPhone Without Computer?
The question may seem obvious, but you should be sure before proceeding, right? As you may have guessed, you can send photos from an Android to iPhone without requiring a PC.
You may think you can't move data between these devices without the help of a computer due to their system incompatibility. Indeed, the process isn't straightforward as it would be if they had the same OS. There might be hiccups along the way, but that shouldn't discourage you from moving your pictures to your newly acquired iPhone.
Lucky for you, there are more than enough ways to get you going; there is email, cloud storage services, and third-party apps, to name a few. With all these at your disposal, nothing should hinder you from sharing photos from an Android device to iPhone. Check how to transfer photos from Android to iPhone without computer wirelessly in our next steps below.
Part 2: How to Transfer Photos from Android to iPhone wirelessly
As technology advances, transferring photos to iPhone from an Android without cables has become the norm. We have listed a few ways how to transfer photos from Android to iPhone wirelessly. Take your pick depending on the size of data you need to send.
Method 1. Mail Photos to iPhone
Email is known as the simpler and more popular way to send files across Android and iPhone wirelessly. The catch is that it is free to use; you just need a Gmail account. However, the downside is that you may only attach photos of no more than 25MB to one mail attachment.
But if you don't have large photos, this should be one of the best ways to move the files between devices. Here are the steps:
Step 1: First of all, you should open email app on Android and compose a new message.
Step 2: Attach all photos and enter your email as the recipient to send the photos over to your email.
Step 3: Open your iPhone then click on the email application. Look for the mail received containing the photos. Once you find it, open the email and download the attached photos on your iPhone. Note that the time to download the pictures may vary, depending on the number of photos you attached and the internet connection.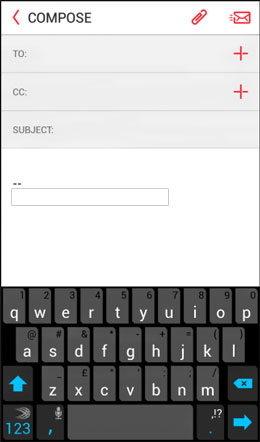 Please be aware that emails often set limits on the size of attachments that can be sent. If you need to share many large photos or high-quality images, you may need to send several emails or consider alternative methods.
You might like: Effortlessly Transfer Pictures from Alcatel Phone to Computer in 5 Simple Steps
Method 2. Use Move to iOS
Move to iOS is a third-party app for all your Android-to-iPhone data transfer needs. It being Apple's official app makes it even better, as you will transfer files to the iPhone smoothly. It supports the transfer of photos, contacts, videos, messages etc. from Android to a new iPhone. All you require is a stable Wi-Fi connection. Besides, your phones should be compatible with the app. Android should be version 4.0 or later, and iOS version 9.0 or later.
However, if you don't have your iPhone set up, the Move to iOS app won't work. Besides, the transfer process may take longer, and glitches could make the process unsuccessful. So, it's not really the best, but it can help move pictures from an Android to iPhone. Here's how:
Step 1: Start by setting up an iPhone till you get to the screen for App & Data. Choose the option for Move Data from an Android; you will see a code.
Step 2: Install the application on Android and agree to the terms and conditions.
Step 3: Enter the code received on Android to establish a connection with the iPhone. After that, choose your desired photos.
Step 4: Wait until the progress bar finishes. When done, set up the iPhone and then access your files.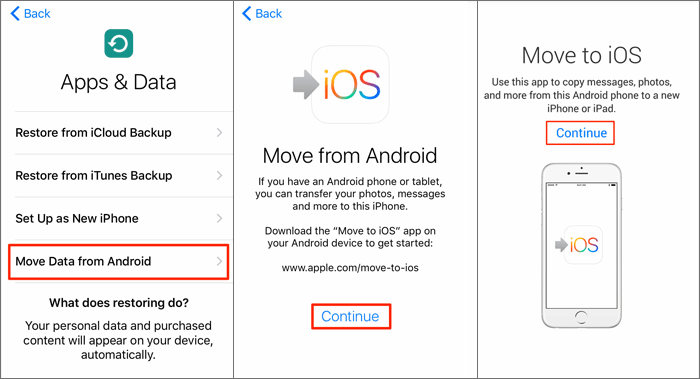 Before using Move to iOS, you must set up an iPhone first. So, if your iPhone isn't new and you don't want to set it up, this option won't be ideal. So, choose another method that matches your needs.
Maybe you need: But can you delete your Android photos completely? Yes, learn from this guide to get effective methods.
Method 3. Use Google Drive
Cloud storage services such as Google Drive come to your rescue when stranded on how to share photos from Android to iPhone. Google Drive remains the best cloud service that's unbeatable when storing files. Its cross-platform compatibility and ease of use make it the most preferred option to share data between Android and iPhone. Follow these steps:
Step 1: Install the Google Drive application on your Android phone. Open the app on Android and log in with your account credentials.
Step 2: Once done with signing in, choose the Upload option and select the pictures to be transferred. Wait patiently as the upload process continues. It may take a while if you have many pictures. Or you can go to Settings on Drive, and enable the Back up & Sync feature. Your pictures on Android will be uploaded to Google Drive automatically.
Step 3: Download and install the Google Drive app on iPhone, then log into the same account used on Android device. Wait as the pictures sync to iPhone. The process could take a while if the uploaded pictures are many and your internet connection is slow.
Step 4: After the photos finish synchronizing, you can open the Photos app to see them.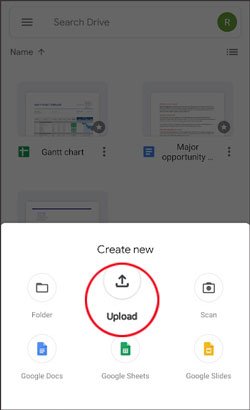 Method 4. Use SHAREit
SHAREit is an app that can help you move data between Androids and iPhones without cable. The app is known for its speedy data transfer process. You can move photos, documents, videos, etc. from Androids to iPhones. Here's a step-by-step process to transfer photos from Samsung to iPhone without a computer via the SHAREit app:
Step 1: Download the right SHAREit app for iPhone and do the same for your Android.
Step 2: Open SHAREit on Android and click on Send and select the pictures to be transferred. Then click Connect to iOS > Continue to create a hotspot on the Android device. And you will get a QR code on the screen.
Step 3: Run the app on your iPhone, and click Receive > Connect to Android to scan the QR code. Tap on the Join option to make a connection. Then SHAREit will send your selected photos from Android to iOS wirelessly.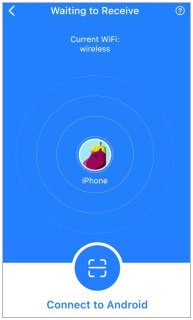 Read also: You can back up your photos from your iPhone to an SD card, effectively protecting your pictures from losing.
Bonus: How to Transfer photos from Android to iPhone via USB on Computer Using Photo Transfer
We know most people would prefer wireless photo transfer, but that's not the safest way, and there are limitations. One is the size of the pictures you can transfer and requires an internet connection to move files. With all these, you better look for a way that won't limit you and not put your data at risk.
Why not use a USB to transfer Android data to iPhone over a computer? This is the only way to be sure that you won't face issues with data leaks on the cloud. The best app to transfer data from an Android to iPhone via a USB cable over a computer is this Photo Transfer.
It is a round Android-iOS transfer software that helps sync files among iPhone, iPad, iPod touch, Android, and computer. Also, it enables you to manage various types of files like contacts, pictures, audio, videos, messages, and more.
Key features:
- Allow you to transfer files between iOS, Android, and your computer.
- You can also back up photos, music, contacts, videos, and messages to your computer.
- Easily manage your data by classifying, deleting, merging, and previewing.
- Compatible with iOS 16 and Android 13.
Download this Android to iOS transfer software.
Here's how to move photos from Android to iPhone via USB:
Step 1: First, download the software and install it on the computer. Connect the smartphones to the same computer using USB cords. This app will recognize your devices. Now, choose your Android device from the list on the interface.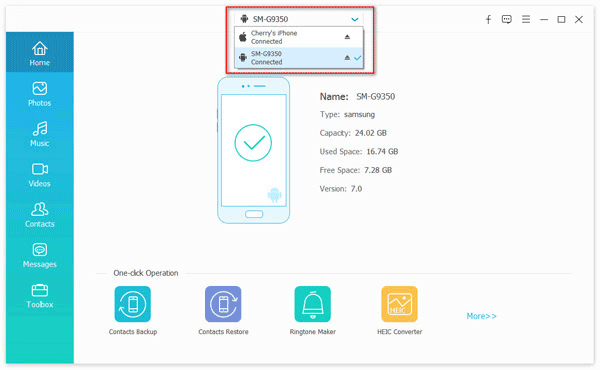 Step 2: Click the Photos category, and check the pictures you want to transfer.
Step 3: Click the Export to Phone icon, and select your iPhone. Then the program will send your photos to the destination iOS device.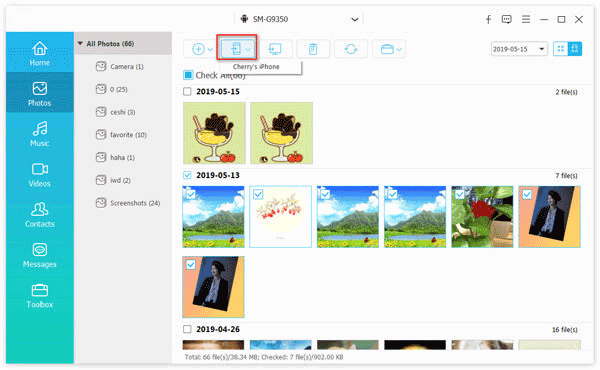 Further reading: How to Move Photos from iPhone to HP Laptop? 7 Solutions
Conclusion
How can I transfer pictures from Android to iPhone wirelessly? The above methods are your trump card. Whichever method you choose, you will safely get your snaps to your iPhone.
If you prefer to transfer data via USB, use the Photo Transfer software, the most reliable, fast and safe application guaranteed to get all those precious memories transferred from Android over to iPhone in a jiffy.
Related Articles
How to Transfer Photos from Mac to Android in 5 Expeditious Ways
How to Save WhatsApp Photos on Android Fast via 3 Proven Methods
[5 Ways] How to Recover Deleted Photos from Samsung S8/S8+ with Simple Steps?
9 Google Photos Alternatives: Manage Photos and Videos Easily
How to Recover Deleted Screen Recording Video on Android via 3 Easy Methods
Expertly Transfer Large Videos from iPhone to PC in 7 Ways (Newest)