Summary
Keeping data on our device safe is essential, so having a password on your screen is necessary. It keeps those unauthorized from accessing what you don't want them to see. If you're reading this post, chances are that you have forgotten your phone password and need assistance with unlocking it.
Although it can be disheartening to forget your phone's password, you can solve this issue without jeopardizing your files. If you are a smartphone user, you have at least been locked out of your device once, which means it isn't a new thing. Due to that, we've identified top-tier ways to unlock your device with a universal unlock PIN for Android. Let's get started.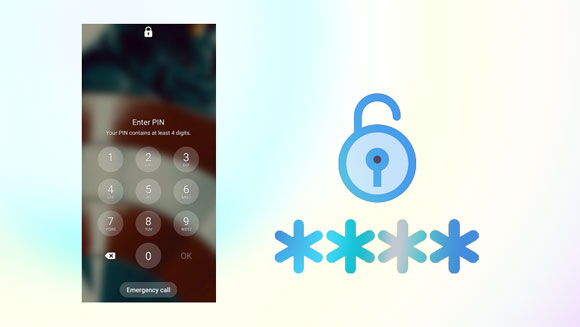 Part 1: What's Universal Unlock PIN/Pattern for Android?
Have you ever felt the frustration of being locked out of your Android phone? There can be a variety of potential reasons causing a restricted screen on Android devices. Maybe you had to create a new pattern or PIN and now can't recall it. Or, you recently purchased a second-hand phone that is locked with an unknown passcode. Whatever the case, there are ways to help get around this issue.
But what is a universal unlock? It is a sequence of taps you can use on Android to remove the lock without entering its password. It can be helpful when you forget the security code.
But have you ever asked yourself if you can find a universal unlock PIN for Android without losing data? Well, the answer is no. Sadly, there is not an all-encompassing universal unlock code for Android that can bypass lock screens on every Android device.
While the concept of one pattern or PIN that could unlock all Android phones might seem great, it would be riskier to the security of your files. If such a universal pattern or PIN were to exist, and by bad luck, your device gets stolen or lost, any individual could easily access the data of that PIN.
Despite some people's idea to use a master code to reset their Android phones, it's advisable to use Android Unlock (Windows) to remove the screen lock since it's very secure and efficient.
Part 2: What Are Some Common Unlock Patterns or PINs?
Before you head to ways to unlock your screen lock, you can take some time to recollect the device's password. You never know; doing this can jog your memory and find yourself recalling it. If you do not have a challenging hard password, it can be easier to remember it.
If you like using simple patterns, you can try alphabet-shaped patterns like your name.
If you've set a PIN as a lock screen, the most popular unlock codes are 123456 and 0000. Likewise, "password" or "p@$$word" is still one of the popular alphabetical passwords. Additionally, many individuals opt for simple dots for passwords. Anyway, there is no omnipotent PINs. You will need effective unlocking ways if you fail to recall your PIN.
Part 3: Universal Ways to Unlock PIN or Pattern on Android
Now let's show you ways to remove the lock from your Android easily and quickly. But before doing that, you should ensure your data is backed up safely. If you already did, then you can confidently try these unlocking tricks.
Way 1. Best Way to Unlock Screen Lock On Your Android Device
Android Unlock is an effective tool for removing screen locks on Android devices. It is one of the ideal universal PIN lock removal tools that can never let you down on unlocking your Android device when you've forgotten or lost your password.
It's also an unbeatable tool that can quickly bypass screen locks of any type, such as passwords, patterns, PINs and fingerprints. If you're stuck with the FRP lock you had reset your Samsung device, this app will help unlock it without erasing your data.
You no longer have to worry if you forget your Android lock screen password, or get a second-hand device with a locked screen. With simple click operations, you can bypass any lock screens and gain access to your device again in just several minutes without a universal unlock code for Android devices.
Key features of this unlocking software:
- Unlock PINs for Android devices with ease.
- Effectively remove patterns, fingerprints, and passwords as well.
- No technical skills are needed to use.
- Bypass screen locks on some old Samsung and LG models without deleting data.
- Support most Android, including Huawei, Samsung, Xiaomi, and many more.
Download this Android unlocking software on your computer.

Follow these steps to unlock your device's screen lock:
Step 1. Run the Software and Connect the Phone
Open the program on your computer and choose "Screen Unlock" from the list of tools. Connect your phone to a computer with a USB cord, then choose "Android" and "Unlock Android Screen".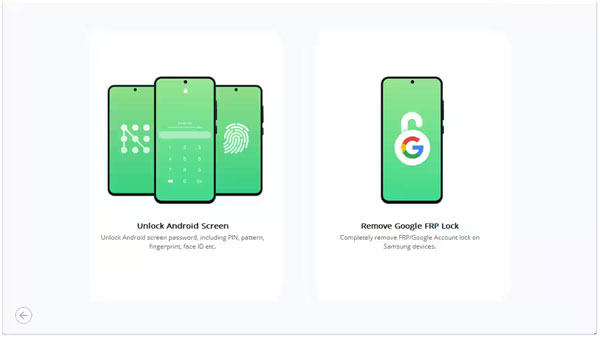 Step 2. Choose Your Device Brand
Please select the brand of your Android device, and choose the model info on the interface. Then click "Next".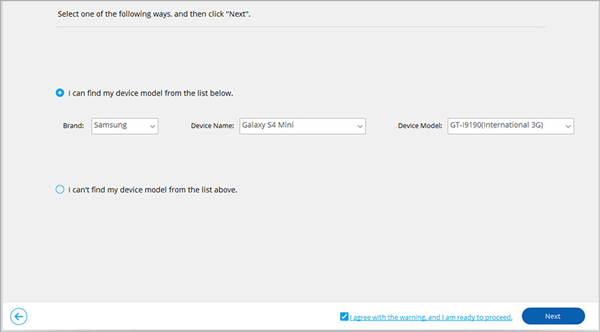 Step 3. Boot the Device into Download Mode
To enter Download Mode on your Android phone, please follow the guide displayed on the interface. Once you boot your phone into the download mode, it'll start downloading the recovery package. Wait patiently until this process is finished.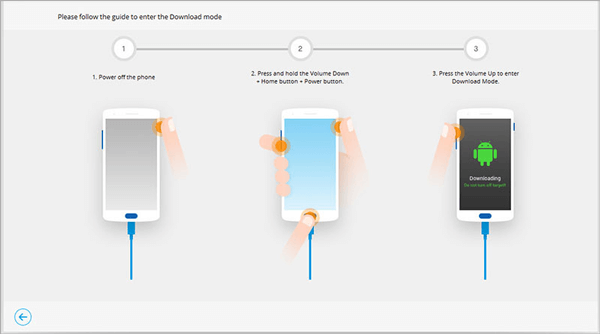 Step 4. Remove the Android PIN Lock
- When the repair package downloading has been completed, simply hit "Remove Now" to initiate the unlocking process. No data will be lost during this process.
- When the procedure is complete, you can access your Android device without any restrictions. No password will be required to view all your data on the device.
Check it if needed: Android SIM Unlock Guide: Fast Unlock SIM Card on Android
Way 2. Use Forgot Pattern to Unlock Pattern on Android
Another way to quickly unlock an Android device is through the Forgot Pattern feature. A remarkable benefit of this method is that no data will be lost during the unlocking process. This gives you peace of mind knowing your information and critical data stored on your phone will remain safe.
Besides, this method works effectively on devices operating on Android version 4.4 and below; the device should be linked to a network and signed into a Google account. Moreover, it won't require any additional third-party tools or PCs to unlock the device. Just follow the below steps:
Step 1: Enter the wrong password on Android more than five times in a row.
Step 2: When the "Forgot pattern?" display pops up, tap it.
Step 3: A new window will appear; simply tap "Enter Google account details" to continue.
Step 4: Input your Google account credentials, such as your Gmail address and password. You'll log into your account with ease.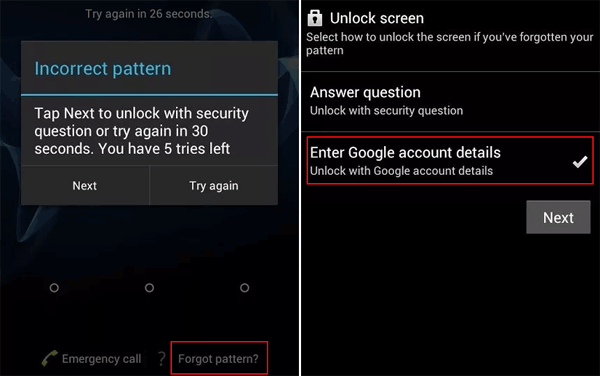 Unlocking your Android phone with a Google account is easy. However, ensure your device runs on the supported version and is connected to the network since it does not work for all models.
Way 3. Unlock Android Pattern Lock with Backup PIN
Whenever you set up a lock screen on Android, you can opt to create a security Backup PIN as an alternative solution should your device become locked. You may use this Backup PIN to unlock the device when locked. Here are the steps for unlocking Android when you can't recall the screen password:
Step 1: Head to the Pattern Lock, then enter the wrong pattern five times. A prompt message will then appear on the screen, requesting you to access your Android.
Step 2: After that, you can select "Backup PIN" and then hit on it to move forward.
Step 3: Quickly enter the PIN and hit "OK". Your device will be unlocked in a moment.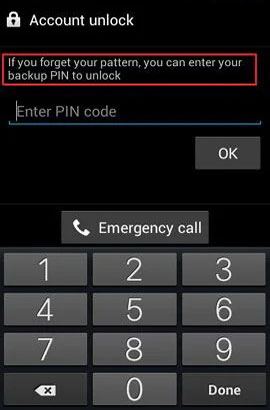 Learn more: If you want to clean up all the junk data from an Android phone, don't miss these effective methods.
Way 4. Unlock PIN on Android Using Find My Device
Is there a universal unlock pattern/PIN for Android without losing data? Actually, there isn't. But you can ask Find My Device for help. Its incredibly robust tool allows users to unlock their devices anywhere. However, it will erase all data from your device.
Besides, there are a few things to note for the unlocking process to be successful. First, you should confirm your device is connected to an active internet connection. Also, you should have your Samsung account with its password. After ensuring all these conditions are fulfilled, follow these steps:
Step 1: Navigate to the Find My Device website from any browser on the computer or device and log in using the associated Google account credentials.
Step 2: Choose the device you intend to unlock the PIN if your account is associated with different mobile phones and tablets.
Step 3: Click "Erase" and it will require you to enter your email and password again. Then confirm your action by choosing "Erase" on the prompt, and the process will start.
Step 4: Once done, all your data and the PIN lock will be removed from your Android device. Now, you can access the device without any PIN or pattern.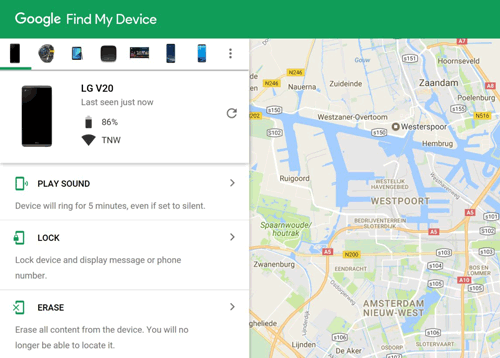 Further reading: Easily Recover Deleted Screen Recording Video on Android
Way 5. Enter the Device Into Safe Mode to Unlock It
If you're using a third-party lock application, rebooting your device into Safe Mode is the best way to unlock it. Follow these steps to unlock your phone:
Step 1: Press then hold the "Power" key until the power menu appears, then release it.
Step 2: Click and hold the "Volume Down" key, and a prompt will appear informing you of rebooting your device into Safe Mode.
Step 3: After rebooting into Safe Mode, all downloaded apps, including any third-party lock application, will be immediately disabled.
Step 4: Afterward, reset your data or uninstall any other lock screen applications. Finally, reboot your device and exit the Safe Mode and complete the process.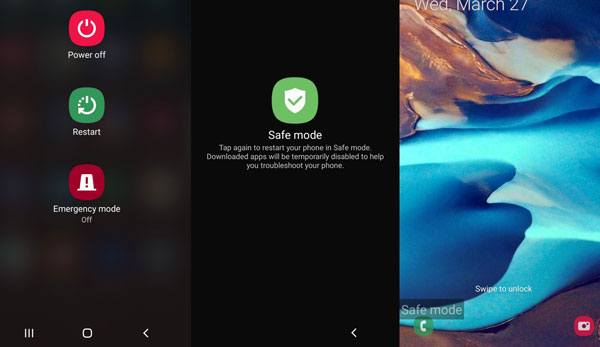 Note: Entering Safe Mode become easier on new Android models. As long as you pull down the notification menu, and click "Power". Then touch and hold "Power off"; you will see the "Safe mode" icon. Click it and done.
Way 6. Unlock Android PIN via Emergency Call
Did you know that with some Android devices, it's possible to unlock your device by dialing Emergency Call? This trick has become widely known among tech-savvy individuals and provides great relief to those who want to quickly regain access to important information stored on their phones. However, this method can help if you have an Android device running on version 4.4 or below. Here's how:
Step 1: Click on the "Emergency Call" tab from the device's screen. Doing this will open the dialler screen.
Step 2: To continue, enter a unique series of special characters; for example, type the asterisk (*) six or seven times.
Step 3: Tap twice to highlight the characters and copy them onto your clipboard. Paste this code into the dialer, then repeat these steps ten times until you can't highlight the combination anymore.
Step 4: Finally, return to the locked screen. Locate the camera option, then pull down the notification bar. Press the gear icon at the upper right of your device's screen to open the settings page.
Step 5: When you're presented with the passcode prompt, enter the copied combination until it crashes. Then, your device will be unlocked, and its camera interface will take over instead of the lock screen.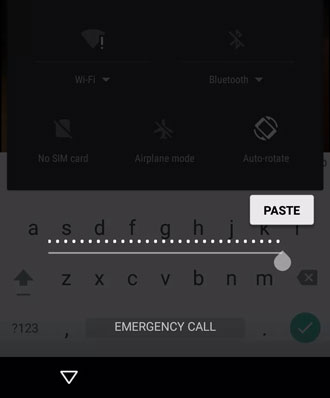 Conclusion
We've finally come to the end of this guide about Android's universal unlock PIN. As we discussed before, there's no universal unlock PIN for Android. You can only take extreme measures like resetting your device or using an external unlocking tool. Both alternatives will likely cause your phone data to be lost forever. The best way to remove the screen lock will be via Android Unlock. It's easier to use and very reliable. Besides, it is a guarantee that your screen lock will be removed in mere minutes. So why not try it?
Related Articles
How to Get Pictures Off a Locked Android Phone: 4 Ways Help You Out
What Can You Do When Locked Out of Android Phone? Here Are 4 Handy Tips
Is Android Touch Screen Not Working and You Can't Unlock It? 9 Solutions
Reset A Samsung Phone That Is Locked [Work for Most Samsung Phones]
How to Unlock LG Phone If You Forgot Password? 6 Effective Unlocking Methods
Print Out Text Messages from Android Phone Smoothly