Summary
The appearance of OPPO phones is one of the biggest highlights, especially its Reno series. Of course, its powerful selfie function, the fast charging up to 65W, and more are also the sparkles to make OPPO successful on the mobile phone market. However, some OPPO users easily forget their passwords to their OPPO phones. Thus, this thorough guide has offered 5 easy ways for how to unlock OPPO phone without password.
If you encounter the same problem, please take a look at this page to learn about these unlocking solutions.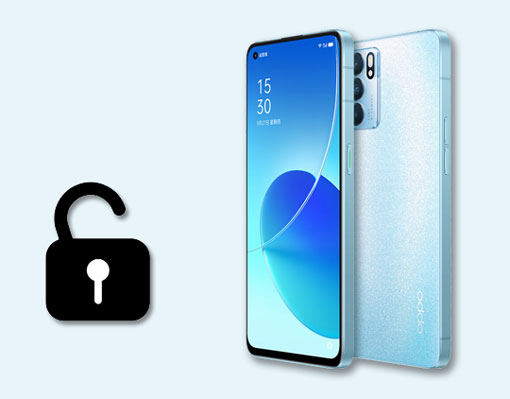 Part 1: How to Unlock OPPO Phone without Password via OPPO Password Unlock
Wonder how to unlock OPPO phone swiftly? You can use this OPPO Password Unlock software, which can remove 4 kinds of screen locks, including password, PIN, pattern, and fingerprint. You will find that there is no skill needed to unlock your OPPO device. What's more, this unlocking software supports OPPO phones and other Android devices, like Samsung, LG, Xiaomi, Huawei, Vivo, and more.
Key features of this OPPO unlocking program:
- Unlock password, pattern, and other lock screen types for OPPO phones with simple steps.
- Unlock Samsung and LG phones without clearing data.
- Display detailed operation guide on the interface.
- Support Android 2.0 and upper, including Android 11.
- Smoothly work on Windows 11/10/8/7.
Download this OPPO unlocking program for free below.

Guide on how to unlock OPPO phone password if forgot via this software:
Step 1. Choose Screen Unlock
Download, install, and launch the software on your computer, then choose the "Screen Unlock" module.
Step 2. Select Device Model
- Please make a connection between your OPPO phone and PC via a data cable, and tap the "Unlock Android Screen" option.
- Then select your device model on the interface, and hit the "Next" icon.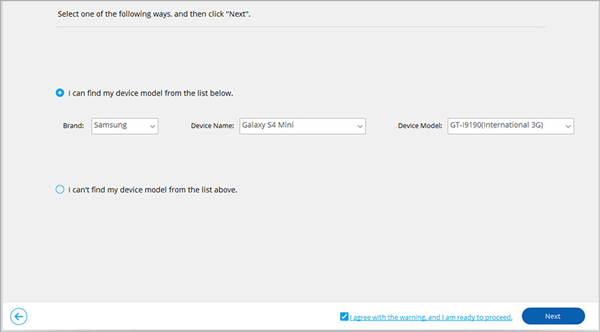 Step 3. Unlock OPPO Password
Next, follow the instructions to enter the Download Mode, and the program will download the recovery package. Once done, tap the "Remove Now" icon to begin removing the password.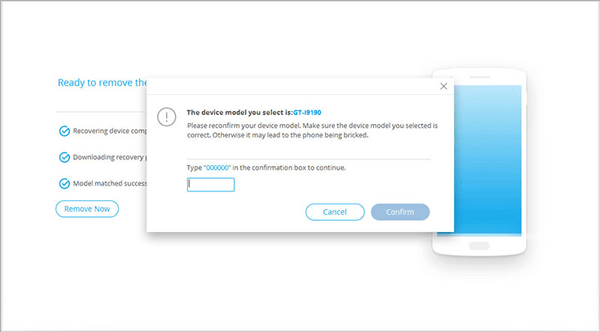 Bonus: Here are 5 ways to bypass Android lock screen without using a Google account. If needed, you can check it out.
Part 2: How to Factory Reset OPPO Phone without Password
Have you backed up your OPPO phone before forgetting the password or pattern? If yes, you can unlock the OPPO phone password without losing data, even though you perform the factory reset. Besides, you still retain your contacts, messages, and photos after the factory reset without backup.
Here's how to factory reset an OPPO phone without a password:
Step 1. Turn Off OPPO Phone
First of all, please long-press the Power button to turn off your OPPO phone.
Step 2. Enter Recovery Mode
- To hard reset your OPPO phone without the password, you can press and hold the Volume Down and Power buttons at the same time. When you see the OPPO logo, you can release both buttons.
- Please select a language, and you will see the "RECOVERY" screen.
Step 3. Wipe Data to Unlock the Phone
Choose the "Wipe data" option twice, and tap the "OK" for confirmation. Then it will wipe the OPPO phone data. After that, you will unlock your OPPO device successfully.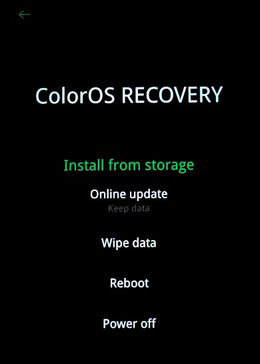 Read also: Want the best Android backup software for PC? You'd better know these details.
Part 3: How to Unlock OPPO Phone Password If Forgot Using Find My Device
Google Find My Device is also a helpful OPPO A3s unlock tool. As long as you attach your Google account on your OPPO device, turn on Find My Device, and connect the phone to an available network, you can utilize it to erase the lock without hassle. However, it will erase data from your OPPO phone.
Here's remove password from OPPO phone via Find My Device:
Step 1. Visit Find My Device Website
Please open the Website of Find My Device on your computer, and sign in with the Google account used on the locked OPPO phone.
Step 2. Choose the Erase Device Option
Select your OPPO phone, tap the "ERASE DEVICE" option twice, and enter your Google account and password again.
Step 3. Unlock OPPO Phone without Password
To unlock the OPPO phone, you can tap the "Erase" icon to remove all the data, including the passcode and other locking settings.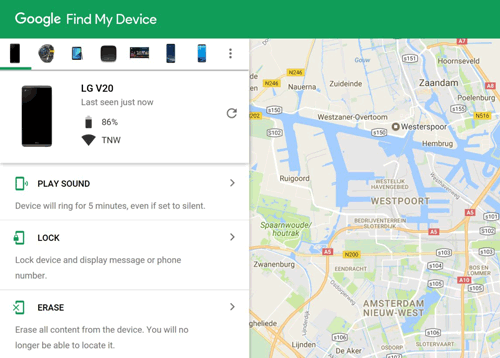 Further reading: You can fast transfer data from an iPhone to an OPPO phone via these 5 methods.
Part 4: How to Unlock OPPO Phone with Engineer Mode
If you want to remove pattern lock in OPPO without using your Google account, you can follow this part. This way is a little more complicated than the previous methods, but it can help you bypass the lock screen without a hitch. Please note that this way is only used for legal purposes.
Tutorial on how to unlock pattern lock in OPPO via manual reset:
Step 1. Go to Emergency Call
Please swipe the screen and click the "Emergency call" icon on the locked OPPO phone.
Step 2. Enter Engineer Mode
Type *#899# on the dialing screen, and you will enter the EngineerMode. Then choose the "Manual test" option.
Step 3. Access OPPO Phone without Pattern
Click the "Reading reset complete indicator" option, and go back. Then click the "Key Status" option, and return to the dial. At last, click the Return key, and you will access your OPPO without the pattern.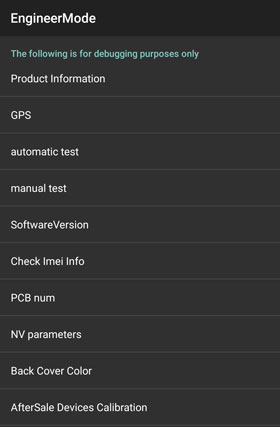 Maybe you need: This post has introduced 4 reliable tips about OPPO data recovery. Want to take a look?
Part 5: How to Unlock OPPO Phone Password without Losing Data via Fingerprint
Surprisingly, you can use your fingerprint to unlock your OPPO phone password without losing data as long as your phone supports the fingerprint feature, and you have enabled Fingerprint Unlock. By the way, most OPPO phone supports this feature, which effectively avoids data loss because of forgetting password.
Here's how to unlock the OPPO phone password without losing data via a fingerprint:
Step 1. Enter the Wrong Passcode
Please enter the wrong passcode multiple times on your locked OPPO device. Then you will see the "Forgot Passcode" icon in red on the screen.
Step 2. Reset a New Passcode
After clicking it, you can put your correct finger on the fingerprint button. Next, you can reset a new passcode directly.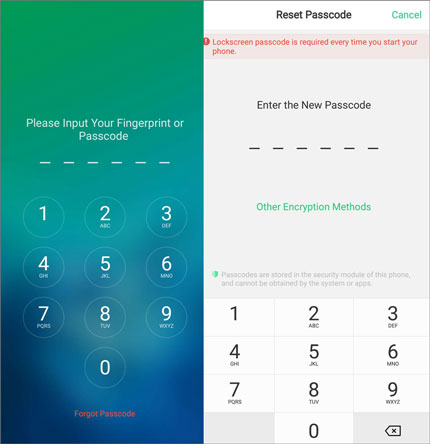 Tips: How can I remove the OPPO password? In this case, please go to Settings, and choose the "Fingerprint, Face & Passcode" > "Lockscreen Passcode" option. Then draw your pattern or input the passcode, and click the "Disable Passcode" icon to type the passcode again. Now, you have removed the lock from the OPPO phone.
Conclusion
Now you have known how to unlock your OPPO phone without a password. If your friends have trouble unlocking OPPO phones, you can also share these methods with them. Additionally, the unlocking software is the most comprehensive tool for OPPO unlocking. You can also use it on other Android devices.
Related Articles
Top 5 Ways to Bypass Samsung Lock Screen without Losing Data 2023
Checklist on How to Transfer Contacts from Samsung to OPPO? (6 Easy Ways)
Oppo File Transfer: How to Transfer File from Oppo Mobile to PC? (Top 7 Ways)
[Proven] How to Access a Locked Android Phone via USB with Ease
[Informative Introduction] 8 Top Options of Android Data Eraser Software
[9 Options]Best Video Recovery App for Android: Easily Recover Android Videos