Summary
Many people would like to set a complicated password, pattern or PIN on Android phones to protect their privacy from leakage. However, it is universal that they forget the access key created by themselves. In this case, how to access a locked Android phone via USB?
Maybe you are going through the same situation, and wonder about the solution. Don't panic. This article has shared practical methods to help you unlock your Android phone via USB. Besides, it also displays other effective unlocking ways below. Now please go on reading to get approaches.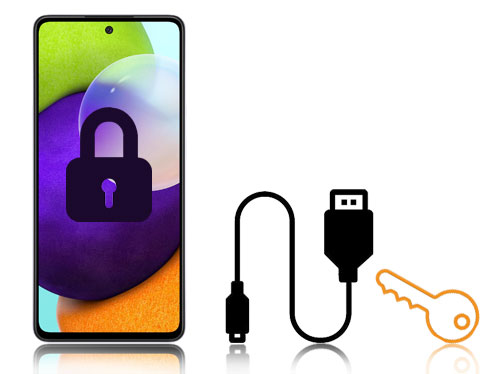 Part 1: How to Access a Locked Android Phone via USB?
In this section, you can learn how to access the locked Android phone from a PC in 2 practical ways, including using a professional unlocking program and via ADB.
1.1 Using Android Unlock Software
How can I access my locked Android phone from a PC without effort? The answer is that I use this Android Unlock Software. It can remove my password from Android quickly. In addition to the password, it can unlock the pattern, fingerprint, and PIN. What's more, for some LG and Samsung phones, it can unlock them without wiping data.
Main features of this Android unlocking program:
- Help you access the locked Android phone with simple taps.
- Support you in removing 4 kinds of locking screens on Android.
- Allow you to bypass your locked LG/Samsung phone without losing data.
- Support Android OS 2.0 and upper.
- Widely compatible with most popular brands and different models of Android phones, like Samsung Galaxy S23/S22/S21/S20/S10/S9, Huawei Mate 40 Pro/Mate 40/Mate Xs/Mate 30/Mate 20, Sony Xperia Pro/Xperia 5 II/Xperia 5/Xperia 1 II/ Xperia 1, OnePlus 9 Pro/9/Nord N10 5G/Nord 100/Nord/8, Google, Xiaomi, OPPO, Motorola, ZTE, and more.
Download the Android Messages Manager for free below.

Here's the guide:
Step 1. Connect the Locked Phone to PC
Install the program on your computer, launch it and connect your locked Android phone to the PC via USB.
Step 2. Select Your Phone Model
Click the "Unlock" > "Unlock Android Screen" icon. Then select your Android phone's brand, name, and model on the interface.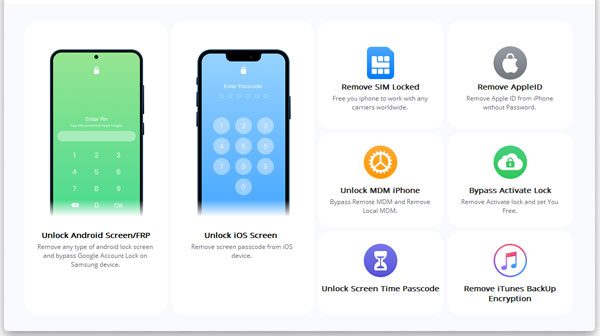 Step 3. Unlock the Android Phone
- Follow the on-screen guide to enter into the Download Mode.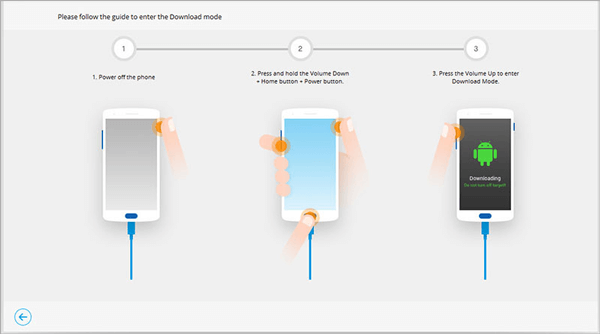 - Next, click the "Remove Now" icon to start removing your screen lock. Once done, you can access your Android phone without a password.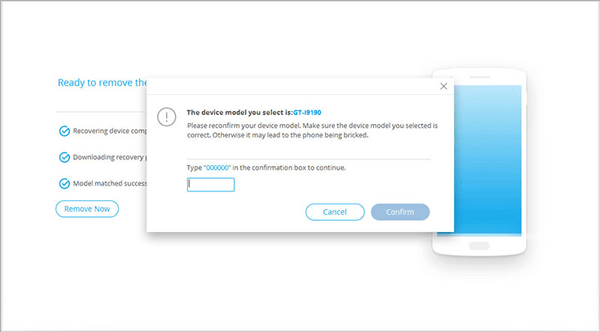 See also: To keep your Android data secure, you can back up the Android phone before rooting or unlocking. Here's the full guide for your reference.
1.2 Using ADB
How can I unlock my locked phone with USB in another way? You can choose to use ADB (Android Debug Bridge). However, you need to make sure that you have enabled the USB debugging mode on your Android phone before locking. Otherwise, it is useless for you.
Here are the steps:
Step 1. Establish a Connection
Please use a USB cable to connect your Android device to the computer.
Step 2. Enter the Dos Window
Press "Windows" and "R" keys at the same time, and enter "cmd" on the pop-up window. Then type the "adb shell rm/data/system/gesture.key" command, and click the "Enter" key.
Step 3. Freely Access the Locked Phone
Reboot your Android phone, and you can access it without a lock screen.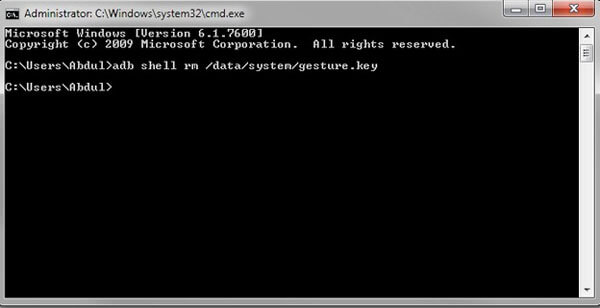 Bonus:
How to deal with it when the Android contacts disappeared? With these tips, you can now find them without trouble.
How to get deleted Facebook messages back on an Android device? Don't worry. You can try these practical ways.
Part 2: How Can I Access My Android Phone from PC without Unlocking?
How can I access my locked files on Android? Indeed, I have an Android data extraction tool, which can extract files from the locked phone without hassle. Additionally, even if your Android phone is frozen, crashed, black-screen, and more, it can recover your data from the damaged phone, containing contacts, messages, photos, call logs, etc. By the way, it supports Samsung Galaxy Note 5/4/3, Galaxy S6/5/4, and Galaxy Tab Pro 10.1.
Here's the guide:
Step 1. Download and Install the Program
First of all, please download the software on your computer. Then install and open it on the desktop.

Step 2. Let the Software Detect Your Android Phone
Connect your locked Android phone to the PC, and choose the "Broken Android Data Extraction" tab on the left side. Then it will detect your Android handset.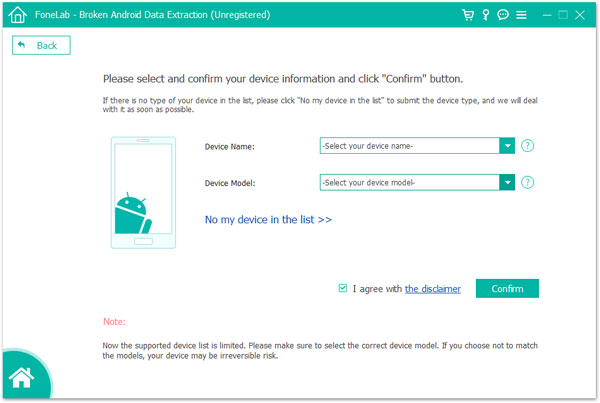 Step 3. Enter the Download Mode
- Hit the "Start" icon, select your Android handset's model, and click the "Confirm" button. After that, please press the "Start" button to fix your device.
- Once done, it will begin to scan your Android data, and you can select the files you want on the interface. Finally, tap the "Recover" icon to save them to your computer.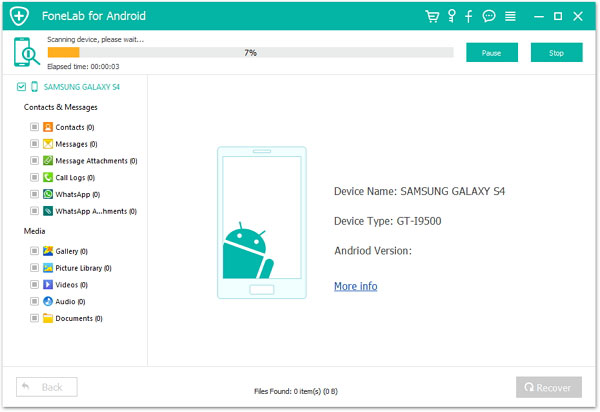 Read also: Want to transfer music from the iPod to Android? You can get help from this article, which has 4 powerful methods.
Part 3: How to Unlock Android Phone with Other Methods?
In addition to the approaches mentioned above, you can use the following methods to unlock your Android phone without a data cable. If needed, please go ahead.
3.1 Using Find My Device
Using Find My Device can unlock your Android phone. But you need to sign in to your Google account on the locked phone, and switch on the Location and Find My Device features.
Here's the tutorial:
Step 1. Go to Find My Device Web
Please open the Find My Device website on the browser, and enter your Google account attached to your Android device.
Step 2. Erase Android Device
Click the "ERASE DEVICE" twice and type your Google account again. Then click the "Erase" icon to begin the process. Once finished, you can access your Android phone without a passcode.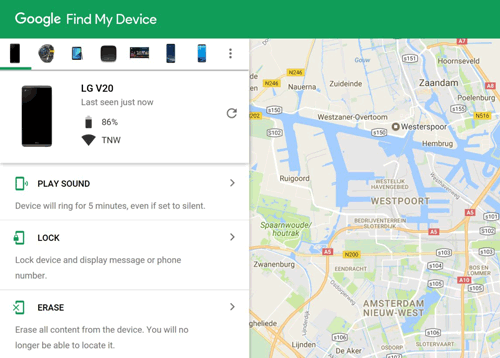 Check if you need:
Can you install APK on Android from the PC? If you want, you can have a try with 4 methods.
You can now stop your parents from tracking your cell phone with these methods.
3.2 Using Factory Reset
Another way is to factory reset your Android phone. In this way, you can directly remove the lock from the device, but you will lose all your data simultaneously.
Here's the guide:
Step 1. Turn Off the Phone
Please turn off your Android in advance. Then press the Volume Up and Power buttons for a few seconds until you see the Android mascot shows up.
Step 2. Wipe Android Data
- Use the Volume keys to select the "Wipe data/factory reset" option, and hit the power key for confirmation. Next, click the "Factory data reset" icon and press the Power button.
- At last, choose the "Reboot system now" option, and confirm it by hitting the Power button. Wait for a while, and you can freely access the Android phone.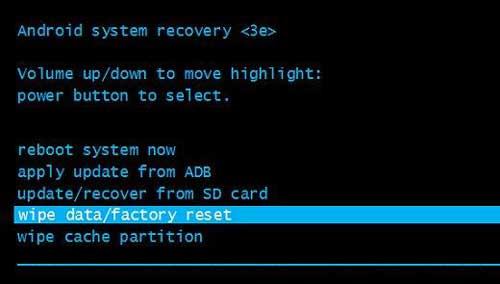 You might like: Is there a way to transfer photos from Android to Mac wirelessly? Of course, please click this link to get the solutions.
3.3 Using Find My Mobile
If your phone is Samsung, you can access your locked phone via Find My Mobile. It is a tool similar to Google Find My Device. But luckily, it can unlock your Samsung phone without wiping your files, but you are required to sign in to your Samsung account.
Here's how to use it:
Step 1. Visit the Website
Please browse its webpage on your computer, and click the "Sign in" icon to enter your Samsung account attached to your phone.
Step 2. Unlock the Mobile Phone
Click the "Unlock" feature, and click it again on the next page. Then enter your account and password, and click the "Next" icon. It will begin to unlock your cellphone.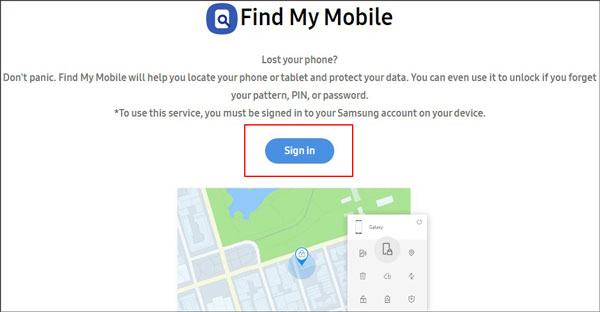 Further reading: Galaxy S2 is too old now. If you intend to unlock the Samsung Galaxy S2, you can try these options.
Conclusion
Now you only know how to access a locked Android phone via USB, but also learn about other unlocking solutions without a cable. You can follow the detailed guides to make it without a hitch. More handily, you can use the Android Unlock Software to remove the lock screen and access the phone with a few clicks. So, let's unlock your phone now.
Related Articles
AirDroid Alternative: Get 11 Practical Tips to Replace AirDroid
How to Wipe a SIM Card with Android Completely? 3 Tips You Need to Know
Android Storage Manager: 6 Useful Storage Managers to Free Up Android Space
How to Transfer Files from PC to Android Phone without USB [5 Handy Solutions]
6 Ways to Transfer Videos from PC to Android Seamlessly
Phone Memory Recovery for Android: How to Recover Data from Phone Memory? (Internal & External)